ANALISIS || Copa Mundial de la FIFA Catar 2022 - Previa Semifinales [ESP-ENG] ⚽️⚽️⚽️

ANALISIS || Copa Mundial de la FIFA Catar 2022 - Previa Semifinales [ESP-ENG] ⚽️⚽️⚽️
Han caído tantas estrellas en los cuartos de final que parece que el cielo nocturno se ha apagado. Eso pudieran pensar muchos, pero lo cierto es que aún quedan grandes jugadores en los equipos que están a un paso de jugar éste domingo el gran partido en Lusail. Por supuesto que los cuartos de final nos tenía reservado grandes emociones. Ahora, ¿qué nos deparará hoy y mañana? Hablemos de ello.
So many stars have fallen in the quarterfinals that it seems as if the night sky has gone out. Many might think so, but the truth is that there are still great players in the teams that are just one step away from playing the big game in Lusail this Sunday. Of course, the quarterfinals had great excitement in store for us. Now, what will today and tomorrow bring? Let's talk about it.
---
ARGENTINA vs. CROACIA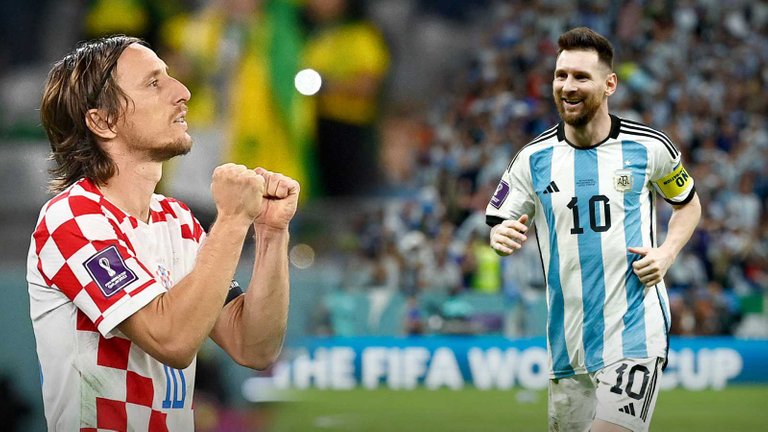 ARGENTINA tuvo un durísimo partido frente a Paises Bajos, donde los lanzamientos desde el punto penal fueron el factor de diferencia. Con todo, el futbol no fue lo único por lo cual éste partido acaparó los titulares, sino también por las trifulcas entre jugadores y la singular celebración de los sudamericanos al ganar la tanda de penales. Además, Mateu Lahoz se convirtió en el árbitro en pintar de amarillo a más personas en un partido de la copa del mundo, incluido a Lionel Scaloni y el legendario Walter Samuel, parte del cuerpo técnico de la albiceleste. En lo particular, el español no es uno de mis preferidos, y aplaudo que haya tomado su retorno a casa y no lo veamos más en el torneo. Argentina de seguro contará en éste nuevo cotejo con una de las aficiones más grandes que se ha visto en los estadios árabes éstos días. Es impresionante el ruido en el estadio que hacen estos muchachos y del volúmen de personas en las calles apoyando al equipo de Messi. Tendrán la baja de Acuña y Montiel por amonestaciones. Será la oportunidad de Tagliafico ser titular en la Scaloneta, mientras que el personal médico espera terminar de dar el alta médica a De Paul, Di María y Papu Gomez para tenerlos a completa disponibilidad para el duelo de hoy. Será el partido 25 de Lionel Messi en los mundiales de futbol, dejando atrás a Miroslav Klose e igualando al líder de esa tabla: Lothar Matthäus. Así que probablemente "la pulga" sea el lider absoluto en éste departamento, luego que juegue su partido del fin de semana, sea el sábado o el domingo, quedando en 26 encuentros en total.
CROACIA también pasó a semifinales luego de una electrizante tanda de penaltis ante Brasil. A pocos minutos de terminar la prórroga, los europeos empataron y se aferraron a la estadística favorable que ostentan en ésta definición. Fue tan emocionante que algunos aseguran que tembló el suelo gracias a la celebración de los europeos al realizar algunas de éstas celebraciones. El arquero Livakovic tuvo una noche increíble, al atajar una, una, una y otra vez los disparos de los sudamericanos durante los 120 minutos, permitiendo entrar sólo uno. Una de las preguntas importantes es cómo estará el capitán Luka Modric luego de ésta maratónica jornada. Se quedó hasta el final, aprovechando su oportunidad de anotar en su turno para disparar. Ya no es un muchacho. De seguro Zlatko Dalic lo alineará desde el inicio, pero buscando que esta vez el partido no se prolongue más de la hora y media de juego. Por cierto que el entrenador se ha mostrado optimista ante el encuentro, dejando ver que no temen enfrentarse al 10 argentino a quien ya vencieron en el mundial pasado y buscarán aplicar una sencilla formula, sencilla al explicarla, pero un tanto más compleja de aplicarla: rodearlo y no darle espacios. Parece que no habrán marcas personales, en lo cual estoy de acuerdo, en vista de que Messi sabe quitarse las referencias y explorar otros sectores del campo.
En copas del mundo se han enfrentado dos veces. La primera vez fue en Francia 1998, cuando en el Grupo H los acobijó y los argentinos pudieron ganar por la minima. Posteriormente, en Rusia 2018 también estuvieron en el mismo grupo, ésta vez en el D, y los cuadriculados ganaron con goles de Rebic, Modric y Rakitic, y ninguno para los argentinos. Daniele Orsato es el árbitro escogido.
ARGENTINA had a tough match against the Netherlands, where penalty kicks were the difference. However, the soccer was not the only reason why this match made headlines, but also because of the brawls between players and the singular celebration of the South Americans after winning the penalty shootout. In addition, Mateu Lahoz became the referee to give the most yellow cards to more people in a World Cup match, including Lionel Scaloni and the legendary Walter Samuel, part of the Albiceleste's coaching staff. In particular, the Spaniard is not one of my favorites, and I applaud that he has taken his return home and we will no longer see him in the tournament. Argentina will surely have one of the biggest crowds ever seen in Arab stadiums these days. It is impressive the noise in the stadium that these guys make and the volume of people in the streets supporting Messi's team. They will be without Acuña and Montiel due to yellow cards. It will be the opportunity for Tagliafico to start for La Scaloneta, while the medical staff is waiting for De Paul, Di María and Papu Gomez to be medically cleared to be fully available for today's match. It will be Lionel Messi's 25th match in World Cups, leaving behind Miroslav Klose and equaling the leader of that table: Lothar Matthäus. So "la pulga" will probably be the absolute leader in this department, after he plays his weekend match, either on Saturday or Sunday, leaving him with 26 matches in total.
CROATIA also advanced to the semifinals after an electrifying penalty shootout against Brazil. A few minutes before the end of extra time, the Europeans equalized and held on to the favorable statistics they have in this definition. It was so exciting that some say the ground shook from the Europeans' celebrations as they performed some of these celebrations. Goalkeeper Livakovic had an incredible night, saving shot after shot, shot after shot from the South Americans during the 120 minutes, allowing only one to go in. One of the important questions is how captain Luka Modric will be doing after this marathon day. He stayed until the end, taking his chance to score on his turn to shoot. He's not a kid anymore. For sure Zlatko Dalic will line him up from the start, but looking for this time the match not to last longer than the hour and a half of play. By the way, the coach has been optimistic about the match, showing that they are not afraid of facing the Argentine 10, whom they already defeated in the last World Cup and they will try to apply a simple formula, simple to explain, but a bit more complex to apply: surround him and do not give him spaces. It seems that there will be no personal marks, which I agree with, given that Messi knows how to get rid of references and explore other sectors of the field.
They have faced each other twice in World Cups. The first time was in France 1998, when they were drawn in Group H and the Argentines were able to win by the minimum. Subsequently, in Russia 2018 they were also in the same group, this time in Group D, and the squares won with goals from Rebic, Modric and Rakitic, and none for the Argentines. Daniele Orsato is the chosen referee.
---
FRANCIA vs. MARRUECOS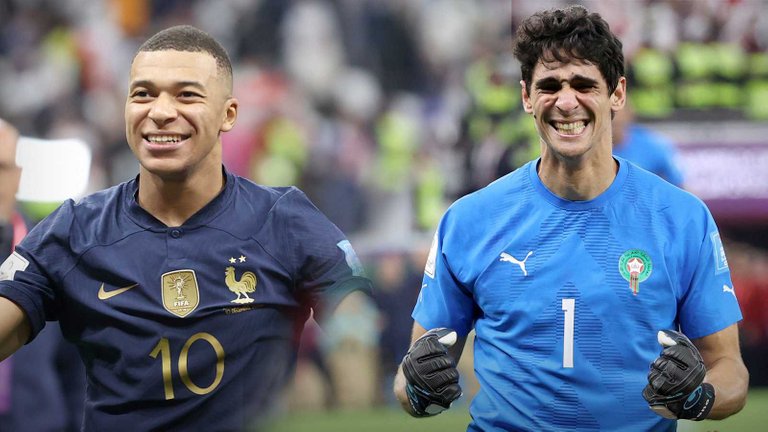 FRANCIA partió como una de las favoritas y sigue en pie, luego de un duelo trepidante ante la selección inglesa. Pudo haberse ido al alargue si Kane hubiese anotado el penalti fallado. Ahora Francia se ha metido ya en el cuadro de honor, donde quizás no quede precisamente en el cuarto lugar. Los 10 jugadores de ésta plantilla que ya levantaron la copa querrán volverlo a hacer. Ya se ha hablado del record de Giroud como máximo anotador de la selección, y de Hugo Lloris con su números de partidos jugados para su país. Eso sí, las rotaciones y sustituciones luego de la derrota en el tercer encuentro de la fase de grupo dan a entender que ésta plantilla no tiene mucha profundidad, no tiene mucho de donde echar mano. Así probablemente sigamos viendo a los mismos titulares mañana, lo mejor de lo mejor. ¿Alguien extraña a Benzema? Es un mal momento para hablar de eso, pero no cabe duda que estos hombres están demostrando el nivel que tiene el futbol francés. Con todo, Didier Deschamps, quien parece tener asegurado su puesto para la próxima Eurocopa, ha mostrado respeto y admiración por su rival, y de seguro estará pidiendo que no se menosprecie. Pero para nadie es un secreto que los europeos son favoritos.
MARRUECOS jugará siete partidos en ésta competición. ¿Estás entre los pocos que habían previsto ésto? Ningún equipo africano ha logrado jugar seis partidos, así que los marroquíes serán los primeros. Walid Regragui ha hecho un trabajo estupendo con tan solo unas semanas de haber ocupado el puesto. Ha sacado lo mejor de jugadores que militan en grandes clubes de Europa, como el Besitkas, Fiorentina, West Ham, PSG, Chelsea, entre otros. Venció a Bélgica y Portugal. A su vez, no fue superado por España ni el otro semifinalista, Croacia. Actualmente es el equipo con menos goles recibidos: sólo uno. Los marroquíes tendrán otra oportunidad para celebrar en las calles, en donde quiera que estén. Por supuesto, estamos a favor que lo hagan de forma pacífica. Pero lo cierto es que independientemente de lo que pase en éste partido, ya han escrito sus nombres en la historia del futbol mundial.
Ésta será la primera vez que ambas selecciones se enfrenten en una copa mundial. Cesar Ramos es el elegido para sonar el silbato mañana.
FRANCE started as one of the favorites and is still standing, after a thrilling duel against England. It could have gone to extra time if Kane had scored the missed penalty. Now France has already made it into the honor roll, where they may not exactly finish in fourth place. The 10 players in this squad who have already lifted the cup will want to do it again. The record of Giroud as the top scorer of the national team and Hugo Lloris with his number of games played for his country have already been mentioned. Of course, the rotations and substitutions after the defeat in the third group game suggest that this squad does not have much depth, not much to draw on. So we'll probably still see the same starters tomorrow, the best of the best. Does anyone miss Benzema? It's a bad time to talk about it, but there's no doubt that these guys are showing the level of French soccer. Yet Didier Deschamps, who seems to have secured his place for the next European Championship, has shown respect and admiration for his opponent, and will surely be asking not to be underestimated. But it is no secret that the Europeans are favorites.
MOROCCO will play seven matches in this competition. Are you among the few who had foreseen this? No African team has ever managed to play six matches, so the Moroccans will be the first. Walid Regragui has done a wonderful job in just a few weeks in the job. He has brought the best out of players who play for big clubs in Europe, such as Besitkas, Fiorentina, West Ham, PSG, Chelsea, among others. He beat Belgium and Portugal. At the same time, it was not beaten by Spain or the other semifinalist, Croatia. It is currently the team with the fewest goals conceded: only one. Moroccans will have another chance to celebrate in the streets, wherever they are. Of course, we are in favor of them doing so peacefully. But the truth is that whatever happens in this match, they have already written their names in world soccer history.
This will be the first time that both teams will face each other in a World Cup. Cesar Ramos is the one chosen to blow the whistle tomorrow.
---
EL JUGADOR || THE PLAYER
KYLIAN MBAPPE seguramente tendrá dos partidos más en el torneo. Ya tiene cinco goles anotados y es el máximo artillero en la competición, y dos asistencias. Aunque está muy lejos de los 13 goles que anotó su compatriota Just Fontaine en una sóla copa mundial, probablemente llegue más cerca de alcanzarlo pero viéndolo como estadística histórica, ya que Mbappé ha anotado 9 veces en los dos torneos que ha disputado. ¿Podrá hacer la misma hazaña de Pelé, y coronarse dos veces seguidas en la mayor competencia del fútbol mundial?
KYLIAN MBAPPE is likely to have two more games in the tournament. He already has five goals scored and is the top scorer in the competition, and two assists. Although he is a long way from the 13 goals scored by his compatriot Just Fontaine in a single World Cup, he will probably come closer to reaching it but looking at it as a historical statistic, as Mbappé has scored 9 times in the two tournaments he has played in. Can he do the same feat as Pelé, and be crowned twice in a row in the biggest competition in world soccer?
---
Tres confederaciones tienen representantes en las semifinales. ¿Habrá final europea, o será entre dos confederaciones? ¿Estás abierto a los finales inesperados en estos dos partidos? La copa del mundo está llegando a su fin y también terminarán las expectativas de dos de las selecciones que jugarán semifinales. Semana crucial en Catar. ¡Disfrutemos el futbol!
Three confederations have representatives in the semifinals. Will there be a European final, or will it be between two confederations? Are you open to unexpected endings in these two matches? The World Cup is coming to an end and so will the expectations of two of the teams that will play in the semifinals. Crucial week in Qatar. Let's enjoy soccer!

⚽️⚽️⚽️

FUENTES / SOURCES
| IMAGENES | IMAGES |
| --- | --- |
| | |
| 1 | 2 |
Banner: Realizado por mi en GIMP con imágenes propias y recursos gratuitos de la página pfpmaker.com/ // Banner: Made by me in GIMP with my own images and free resources from the site pfpmaker.com/
---
---