ANALISIS || PREMIER LEAGUE - Previa Gameweek 20 [ESP-ENG] ⚽️⚽️⚽️
ANALISIS || PREMIER LEAGUE - Previa Gameweek 20 [ESP-ENG] ⚽️⚽️⚽️
¿Cómo tendríamos que catalogar a una jornada donde tendremos un derby de Manchester y un derby de Londres? Y además, agrégale un Manchester City vs. Tottenham para poner al día uno de sus partidos pendientes. En unas horas empieza una nueva jornada de la Premier League que podría ser una de las más intensas del mes. Repasemos tres de esos partidos y finalmente comentaremos algo de un de los mejores porteros del campeonato.
How should we categorize a day where we will have a Manchester derby and a London derby? Tottenham to catch up on one of their pending matches. In a few hours a new Premier League matchday starts and it could be one of the most intense of the month. Let's review three of those matches and finally we will comment on one of the best goalkeepers in the championship.
---
MANCHESTER UNITED vs. MANCHESTER CITY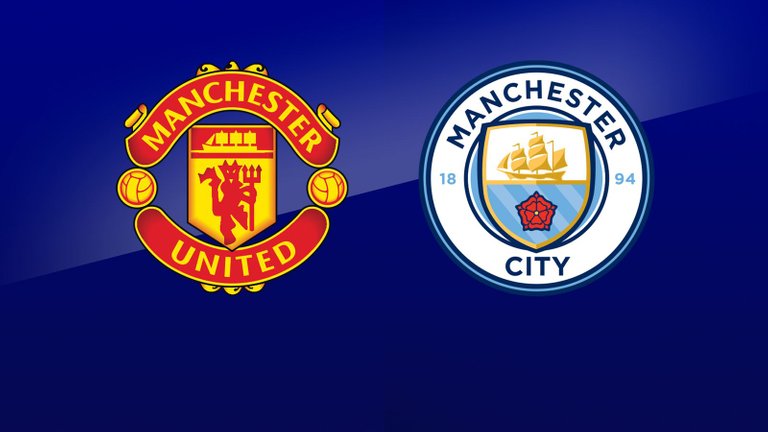 MANCHESTER UNITED viene de golear al Bournemoth 3-0 en Old Trafford. Vuelven a jugar en casa buscando mejorar aún más sus estadísticas en casa. De las ocho veces que han sido locales en el torneo, han podido ganar seis encuentros, un empate y una derrota. Eriksen es uno de los armadores que tienen los diablos rojos, el cual se ubica de segundo en la tabla de asistencias con 6 de ellas. Junto a Casemiro están logrando el equilibrio del mediocampo que tanto necesitaban. Con todo, ya los de Erik ten Hag han hechado mano del mercado de invierno, trayendo al portero Butland y al peculiar delantero Wout Weghorst en calidad de cedido, quien lo vimos luchando varios minutos en los partidos de la naranja mecánica en Catar. Así parece que están queriendo atender las posibles necesidades que pudieran tener bajo los tres palos en la etapa crucial de las competiciones europeas y la salida de Cristiano Ronaldo. Cabe destacar que no estarán disponibles Van de Beek y Sancho para este encuentro, y Dalot aún es duda si estará o no.
MANCHESTER CITY sigue tratando de hacer lo que le toca para no distanciarse más de la punta. En un cerrado encuentro pudo tomar por asalto el Stanford Bridge y vencer al Chelsea 0-1. Sin embargo, han sufrido una dolorosa eliminación de la copa nacional por parte del Southampton, que por cierto, es el último de la tabla actualmente. ¿Quizás le faltó minutos a los jugadores habituales? Lo cierto es que Halaand sigue liderando la tabla goleadora del equipo y la liga, con 21 anotaciones, y Kevin De Bruyne es lider en asistencias, con 9. Es suficiente evidencia para meter miedo y ponerse un paso más adelante en las apuestas de algunos. De seguro lo tendremos a ésos dos, pero no sabemos si estará Stones, quien se esperará hasta último momento. Los ciudadanos buscan mejorar sus estadísticas como visitantes, ya que han dejado escapar 7 puntos de los 24 jugados, aunque su diferencial de goles en +8 oculte magistralmente ése detalle. Será el partido 18 de Guardiola en un derby de Manchester, acumulando 9 victorias, 2 empates y 6 derrotas.
El Manchester City ha ganado las últimas tres veces que se han visto en la Premier League con doce goles para los ciudadanos y cuatro para los diablos rojos. En la primera parte de ésta misma campaña hubieron nueve goles en total, tres para Haaland y tres para Foden. El de Antony y los dos de Martial no le fueron suficientes a los diablos rojos. ¡Manchester se paraliza! ¡Es el primer partido del sábado!
MANCHESTER UNITED are coming off a 3-0 win over Bournemouth at Old Trafford. They return to play at home looking to further improve their home stats. Of the eight times they have been at home in the tournament, they have been able to win six games, one draw and one loss. Eriksen is one of the playmakers the Red Devils have, who ranks second in the assists table with 6 assists. Together with Casemiro they are achieving the midfield balance they needed so much. However, Erik ten Hag's team has already made use of the winter market, bringing in goalkeeper Butland and the peculiar striker Wout Weghorst on loan, who we saw fighting for several minutes in the Clockwork Orange matches in Qatar. So it seems that they are looking to address the possible needs they may have under the three goalkeepers in the crucial stage of European competitions and the departure of Cristiano Ronaldo. It should be noted that Van de Beek and Sancho will not be available for this match, and Dalot is still in doubt whether he will be there or not.
MANCHESTER CITY is still trying to do its part to avoid being further away from the top. In a close encounter, they were able to take Stanford Bridge by storm and beat Chelsea 0-1. However, they have suffered a painful elimination from the domestic cup by Southampton, who, by the way, are currently at the bottom of the table. Perhaps the usual players lacked minutes? What is certain is that Halaand still leads the team and league scoring charts, with 21 goals, and Kevin De Bruyne is leading the way in assists, with 9. We'll have those two for sure, but we don't know if Stones will be there, who will wait until the last minute. The Citizens are looking to improve their away stats, as they have dropped 7 points from 24 played, although their goal differential of +8 masks that detail. It will be Guardiola's 18th game in a Manchester derby, accumulating 9 wins, 2 draws and 6 defeats.
Manchester City have won the last three times they have met in the Premier League with twelve goals for the Citizens and four for the Red Devils. In the first half of this season there were nine goals in total, three for Haaland and three for Foden. Antony's and Martial's two were not enough for the Red Devils. Manchester comes to a standstill! It's the first game on Saturday!
---
TOTTENHAM vs. ARSENAL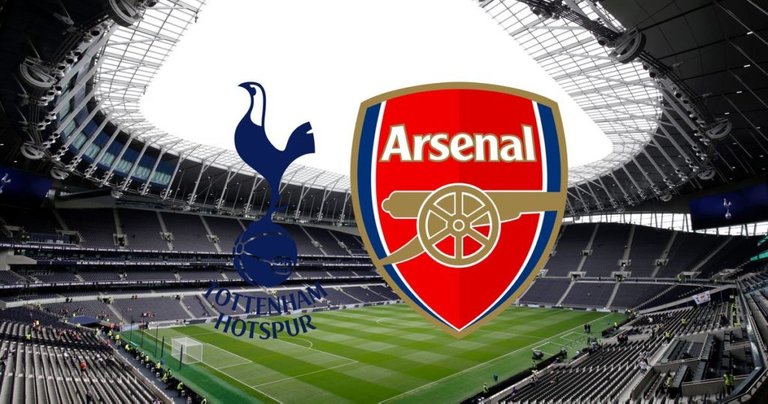 TOTTENHAM es el anfitrión de otro derby de Londres. Vienen de enfrentar a otros vecinos de Londres, y se llevaron la victoria como visitantes: Crystal Palace 0 - 4 Tottenham. Sigue siendo Harry Kane el principal referente de éste equipo. Desde que llegó de Catar ha conservado su concentración, liderazgo, influencia de gol y por supuesto, respeto del rival. Sus quince goles le bastan para ubicarse en la segunda plaza de la tabla de goleadores, aunque lejos aún del lider. Se empieza a escuchar que piensan en el sustituto de Hugo Lloris, por su edad y finalización de contrato para el año que viene. ¿Quién será el verdadero candidato ante una directiva con una chequera recortada? Las espuelas buscarán volver al top cuatro que los meta a la Champions League, aunque se antoja difícil, en vista que el actual ocupante tiene dos puntos de diferencia y un juego menos. Por ahora, deben ocuparse en sus propios asuntos, y pensar en esquivar los cañones. Hasta ahora, en casa no han empatado, o se gana o se pierde.
ARSENAL sí empata. Acaba de hacerlo en la última jornada frente a las urracas, en Londres. No obstante, sigue como lider debido a la generosa diferencia de puntos que ha logrado alcanzar. Y sus credenciales pasan por ser uno de los mejores goleadores del torneo, es el segundo, con 40 goles. A la vez que es el segundo menos goleado, con sólo 14 goles en contra. Por todo esto y otras cosas más, es el mejor visitante hasta ahora, logrando 22 puntos de los 27 jugados. Así que va seguro de que puede vencer de nuevo a un Tottenham que ya ha perdido tres veces como local éste campeonato, ante Newcastle, Liverpool y Aston Villa. Mientras con un ojo planean éste partido, con el otro ven al mercado invernal, siendo Mudryk uno de los principales objetivos, quien pudiera tener tres dígitos el número de millones que tendrían que desembolsillar. ¿Valdrá la pena?
Tottenham lidera el historial, dueño del 44% de victorias ante los gunners, quienes tienen un 28% a su favor. Pero que no se confíen, puesto que ya en la jornada 9 el Arsenal fue superior en el Emirates imponiéndose 3-1.
TOTTENHAM is hosting another London derby. They come from facing other London neighbors, and took the victory as visitors: Crystal Palace 0 - 4 Tottenham. Harry Kane** continues to be the main reference of this team. Since his arrival from Qatar, he has kept his concentration, leadership, goal-scoring influence and of course, respect for the opponent. His fifteen goals are enough to place him in second place in the scoring charts, although still far from the leader. It is beginning to be heard that they are thinking about the replacement of Hugo Lloris**, because of his age and the expiration of his contract for next year. Who will be the real candidate in front of a board of directors with a reduced checkbook? The Spurs will be looking to get back into the top four that will take them into the Champions League, although it seems difficult, given that the current occupants have a two-point gap and a game in hand. For now, they must mind their own business and think about dodging the canyons. So far, at home they have not drawn, it's win or lose.
ARSENAL does draw. They just did so on the last matchday against the Magpies in London. Nonetheless, they remain at the top due to the generous points difference they have managed to achieve. And his credentials include being one of the tournament's top scorers, second with 40 goals. At the same time, it is the second lowest scorer, with only 14 goals conceded. For all this and more, they are the best away team so far, taking 22 points out of 27 played. So they are confident that they can beat again a Tottenham that has already lost three times at home this season, against Newcastle, Liverpool and Aston Villa. While with one eye they plan for this match, with the other they look to the winter market, with Mudryk being one of the main targets, who could have triple digits the number of millions they would have to shell out. Will it be worth it?
Tottenham leads the record, owning 44% of wins against the Gunners, who have 28% in their favor. But don't be complacent, as Arsenal were the better side at the Emirates in Matchday 9, winning 3-1.
---
BRIGHTON vs. LIVERPOOL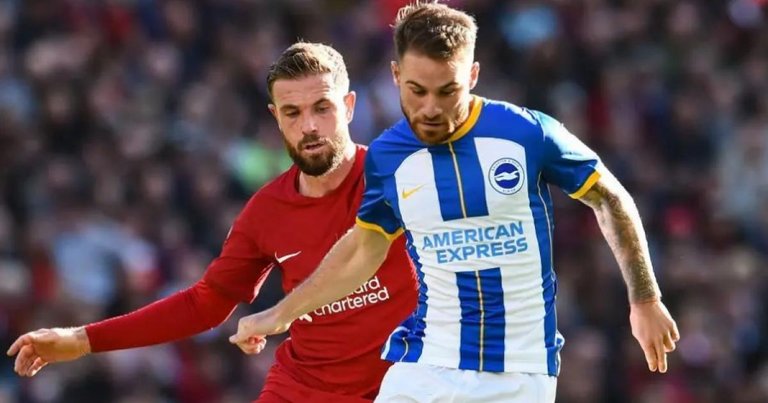 BRIGHTON sigue volando en la primera mitad de la tabla. Cómodamente aprovecha los momentos que puede sacar ventaja de los malos momentos de sus rivales de nivel similar. Ese fue el caso del Everton, quien perdió en casa ante ellos en la última fecha. Ahora, con un *Mac Allister activo y disponible buscan defender su casa ante ésta dura visita. Actualmente han jugado ocho veces en el Amex, ganando tres veces e igual número de derrotas, con dos empates. Desde la jornada 13 las gaviotas vienen alternando victorias y derrotas: victoria ante el Wolverhampton, derrota ente el Aston Villa, victoria ante el Southampton, derrota ante el Arsenal, y victoria ante el Everton. ¿Le tocará perder ahora? ¡No respondas!
LIVERPOOL cortó su racha de cuatro victorias seguidas y cacyó en casa del Brendfort 3-1, perdiendo un importante eslabón en su carrera por situarse en el top 4 de la competición. Los de Klopp luchan con la mala salud de su delantera, y ahora se le ha sumado otra ausencia en la defensa: Van Dijk se perderá unas semanas por lesión. De seguro, Gomez y Konaté serán los encargados de conformar la dupla defensiva, aunque no descartamos la presencia de Matip en esos lugares, donde ya ha estado en casos de emergencia. pensaríamos tambien en el omnipresente Milner como último caso, pero también es duda para éste encuentro. Darwin Nuñez está golpeado pero probablemente llegue para jugar desde el mismo inicio. Los reds son unos de los peores visitantes del torneo. En sus ocho visitas a otros estadios ha cosechado cuatro derrotas y sólo dos victorias. ¿Caminarán solos ésta vez en el Amex Stadium? ¡Abrázame muy fuerte!
Pero presten atención a esta estadística: el Brighton nunca le ha ganado cuando el Liverpool lo ha visitado en la Premier League. Para muestra un botón: la última vez que se enfrentaron así fue en marzo del año pasado, donde los dirigidos por Graham Potter se fueron sin anotar, pero Salah y Luís Díaz dijeron presente en el marcador.
BRIGHTON continues to fly in the first half of the table. They comfortably take advantage of the moments when they can take advantage of the bad moments of their rivals of similar level. That was the case with Everton, who lost at home to them last time out. Now, with an active and available Mac Allister, they are looking to defend their home against this tough visit. Currently they have played eight times at the Amex, winning three times and losing just as many, with two draws. Since matchday 13, the Seagulls have been alternating wins and losses: win over Wolverhampton, loss to Aston Villa, win over Southampton, loss to Arsenal, and win over Everton. Will they lose now? Don't answer!
LIVERPOOL cut short their run of four wins in a row and lost at home to Brendfort 3-1, losing an important link in their race to move into the top 4 of the competition. Klopp's Klopp side are struggling with the poor health of their forward line, and have now added another absence in defense: Van Dijk will miss a few weeks through injury. For sure, Gomez and Konaté will be in charge of the defensive duo, although we do not rule out the presence of Matip in those places, where he has already been in emergency cases. We would also think of the omnipresent Milner as a last case, but he is also a doubt for this match. Darwin Nunez is banged up but will probably be fit to start. The Reds are one of the worst visitors in the tournament. In their eight visits to other stadiums, they have four losses and only two wins. Will they walk alone this time at the Amex Stadium? Hold me tight!
But pay attention to this statistic: Brighton have never beaten them when Liverpool have visited them in the Premier League. The last time they met like this was in March last year, when Graham Potter's side went scoreless, but Salah and Luis Diaz were both on the scoresheet.
---
EL JUGADOR || THE PLAYER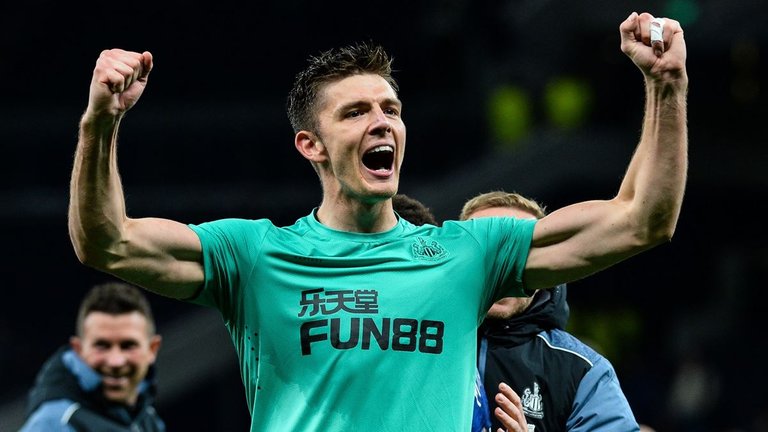 Nick Pope es el portero del momento en la Premier League. Con 18 apariciones ha logrado dejar invicta su portería en diez ocasiones. Es cierto, parece trabajar menos que otros porteros, puesto que tiene 50 salvadas a ésta altura, pero junto con sus demás compañeros conforman la mejor defensa del campeonato. El inglés de 30 años que perteneció a las filas del Burnley durante seis años fue el portero indiscutible en las últimas tres que estuvo allí. Y ahora llegó al Newcastle para conformar el proyecto que llevan a cabo de la mano de Eddie Howe, quien por cierto le gusta tener una presencia importante de ingleses en sus equipos. Estamos seguros de que Nick podrá engordar sus números favorables en ésta jornada.
Nick Pope is the goalkeeper of the moment in the Premier League. With 18 appearances, he has managed to keep ten clean sheets. It is true, he seems to work less than other goalkeepers, since he has 50 saves at this stage, but together with his other teammates they form the best defense of the championship. The 30-year-old Englishman, who belonged to Burnley for six years, was the undisputed goalkeeper in the last three years he was there. And now he has arrived at Newcastle to shape the project that they are carrying out under Eddie Howe, who by the way likes to have an important presence of English players in his teams. We are sure that Nick will be able to increase his favorable numbers this matchday.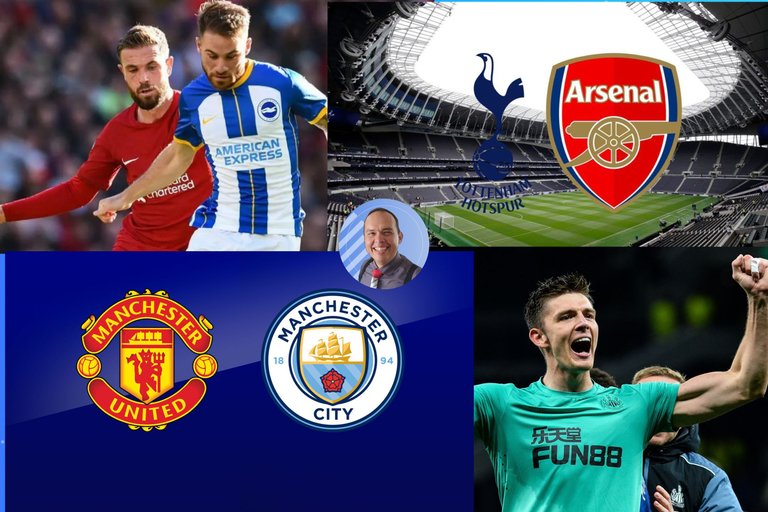 No nos olvidemos que los últimos cuatro equipo de la tabla también se enfrentarán entre sí: el Everton recibe al Southampton, y el West Ham United visita al Wolverhampton. Puede ser un salto para salir de la zona roja, o sencillamente patalear en arenas movedizas. ¡Esta es la Premier League! ¡Disfrutemos el fútbol!
Let's not forget that the bottom four teams in the table will also face each other: Everton host Southampton, and West Ham United visit Wolverhampton. It could be a leap out of the red zone, or simply kicking in quicksand - this is the Premier League! Let's enjoy the soccer!

⚽️⚽️⚽️

FUENTES / SOURCES
Portada: Realizada por mi en GIMP con imágenes debidamente señaladas // Cover: Made by me in GIMP with images duly marked.
Banner: Made by me in GIMP with my own images and free resources from the site pfpmaker.com/
---
---