PREMIER LEAGUE Previa Fecha 19 // Previa Gameweek 19 [ESP-ENG] ⚽️⚽️⚽️
PREMIER LEAGUE
Previa Fecha 19 // Previa Gameweek 19
[ESP-ENG] ⚽️ ⚽️ ⚽️
¡90 contagios por COVID-19 la semana pasada! Entre jugadores y personal de los clubes. Ésto es más que las últimas 10 semanas juntas. No cabe duda de que hay razones para preocuparse. Hoy les hablo de los tres mejores paridos de la jornada de Boxing Day a partir de mañana. Según Premier League, los partidos se jugarán si el equipo cuenta con 14 jugadores sanos: 13 jugadores y un portero.
90 COVID-19 infections last week! Between players and club staff. This is more than the last 10 weeks combined. There is certainly reason for concern. Today I tell you about the top three Boxing Day fixtures from tomorrow. According to the Premier League, matches will be played if the team has 14 healthy players: 13 players and a goalkeeper.
MANCHESTER CITY / LEICESTER
Segundo Round // Round Two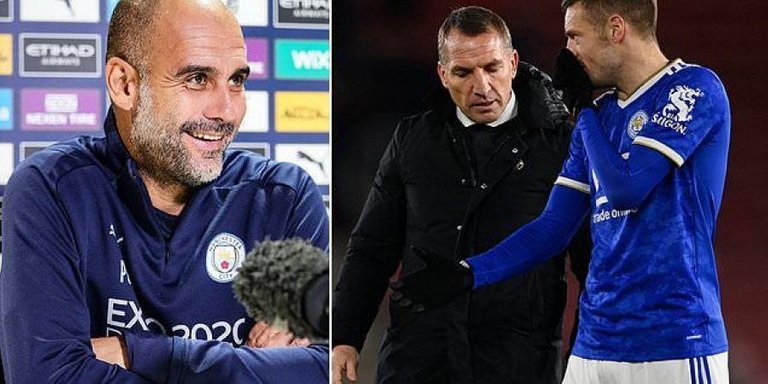 El Manchester City llega como flamante líder de la Premier League. Independientemente de lo que pase en este partido, lo seguirá siendo, ya que si pierden, el Chelsea no podrá alcanzarlo si gana, y el Liverpool no jugará en ésta jornada. El monstruo celeste ha marcado trece goles en los últimos dos partidos. Y sigue en los primeros lugares de las tablas ofensivas, como goles anotados, disparos, disparos al arco y pases. Pep Guardiola ha encendido los comentarios al mencionar que quizás una huelga sea lo que necesitan las personas para tomar en serio el peligro del virus, tanto de aficionados como directivos que toman las decisiones en cuanto a jugar o no. Por supuesto, existen varios comentarios en favor y en contra de ésta situación. Lo cierto es que los ciudadanos no tienen bajas importantes para éste partido y podemos esperar que vuelvan a exhibir buen fútbol.
Por su parte, el Leicester visita al Etihad con la esperanza de no dejar la primera mitad de la tabla de posiciones. Entre semana fue víctima del Liverpool al caer en la Carabao Cup en la tanda de penales. Con dos partidos menos, se muestra esperanzado de buscar un buen resultado en ésta jornada. Por supuesto, es mucho pedir esperar repetir un marcador favorable como el último que obtuvieron ante el Newcastle: 4-0. Pero es interesante que la última vez que se enfrentaron en Manchester, los lobos ganaron 2-5. ¿Es posible ganarle al Manchester City? ¡Claro que es posible! Y Brendan Rodgers lo sabe. Así que dispondrá de lo mejor de su plantilla para éste encuentro. Estos lobos muerden, y cuando lo hacen, no sueltan a su presa.
Manchester City arrives as the brand new leader of the Premier League. Regardless of what happens in this match, they will remain so, as if they lose, Chelsea will not be able to catch them if they win, and Liverpool will not play this matchday. The Celeste monster has scored thirteen goals in the last two games. And he remains at the top of the offensive charts for goals scored, shots, shots on goal and passes. Pep Guardiola has ignited commentary by mentioning that perhaps a strike is what people need to take the danger of the virus seriously, both from fans and managers who make the decisions as to whether to play or not. Of course, there are many comments for and against this situation. What is certain is that the Citizens have no major casualties for this match and we can expect them to return to good soccer.
For their part, Leicester visit the Etihad hoping not to drop out of the top half of the table. In midweek they fell victim to Liverpool as they lost the Carabao Cup on penalties. With two games in hand, they will be hopeful of a good result this matchday. Of course, it's a tall order to expect a repeat of the favorable scoreline they last got against Newcastle: 4-0. But it's interesting that the last time they met in Manchester, Wolves won 2-5. Is it possible to beat Manchester City? Of course it's possible! And Brendan Rodgers knows it. So he will have the best of his squad at his disposal for this match. These wolves bite, and when they do, they don't let go of their prey.

ASTON VILLA / CHELSEA
A mejorar la cara // Improving the face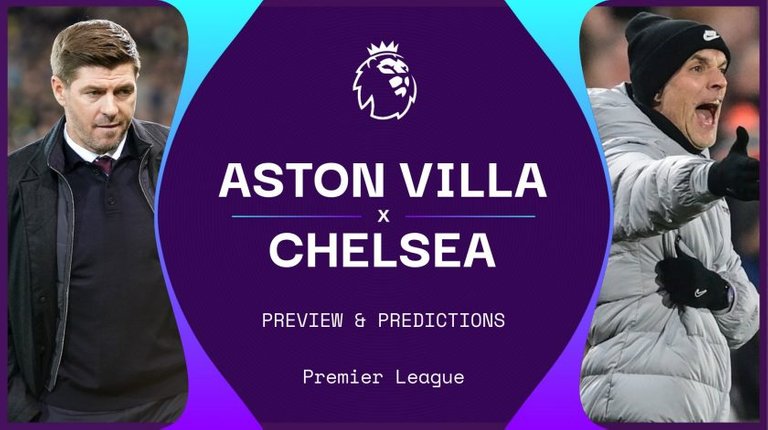 Aston Villa está feliz con su técnico. Está satisfecho con lo que se ha logrado, con los recursos que se disponen. Aunque es temprano decirlo, Steven Gerrard tiene la oportunidad de ser uno de los pocos con los que podemos afirmar que fueron grandes jugadores de futbol y luego pudieron ser grandes entrenadores de clubes. Esperamos lo mejor de éste entrenador. Y de seguro tendrá mucha importancia su petición para éste mercado invernal: Glen Kamara. El finlandes perteneciente al Rangers parece ser la pieza que le falta al equipo para seguir mejorando la cara del equipo. Aunque la inversión no sería tan alta, el entrenador afirma que sí se reflejará en el funcionamiento del equipo.
El Chelsea sigue en su naufragio de resultados. De nuevo, logró una sufrida y tardía victoria para pasar de ronda en la Carabao Cup entre semana. Obviamente no salieron al cesped con los habituales, ya que es mejor darle descanso para estar en mejor forma para los partidos de la liga. Thomas Tuchel ha admitido de que el comportamiento del equipo cambia cuando van ganando, y ésto es un asunto que deben mejorar. Las buenas rachas en la competición principal siguen haciendose esperar. La buena noticia es que Romelu Lukaku ya dio negativo en los últimos test y se ha reincorporado a los entrenamientos del club. Es muy probable que vea minutos en éste partido. Éstos dos equipos ya se enfrentaron en la presente temporada, ganando los Blues en casa 3-0. ¿Recuerdan ése Chelsea tan contundente a principio de temporada? ¿Podrá repetir la dosis mañana domingo?
Aston Villa is happy with its coach. He is satisfied with what has been achieved, with the resources that are available. Although it is early to say it, Steven Gerrard has the opportunity to be one of the few with whom we can say that they were great soccer players and then they could be great club managers. We expect the best from this coach. And for sure his request for this winter market will have a lot of importance: Glen Kamara. The Finnish player from the Rangers seems to be the piece that the team is missing to continue improving the face of the team. Although the investment would not be so high, the coach claims that it will be reflected in the team's performance.
Chelsea continues to be on the wreckage of results. Once again, they managed a long-suffering and late win to go through in the Carabao Cup in midweek. Obviously they didn't go out on the pitch with the regulars, as it's better to give them rest to be in better shape for the league games. Thomas Tuchel has admitted that the team's behavior changes when they are winning, and this is an issue they need to improve. The good runs in the main competition are still a long time coming. The good news is that Romelu Lukaku has already tested negative in the last tests and has rejoined the club's training sessions. It is very likely that he will see minutes in this match. These two teams have already faced each other this season, with the Blues winning 3-0 at home. Do you remember that Chelsea were so convincing at the beginning of the season? Will they be able to repeat the dose tomorrow, Sunday?

TOTTENHAM / CRYSTAL PALACE
"Hola, me llamo Antonio Conte" // "Hi, my name is Antonio Conte"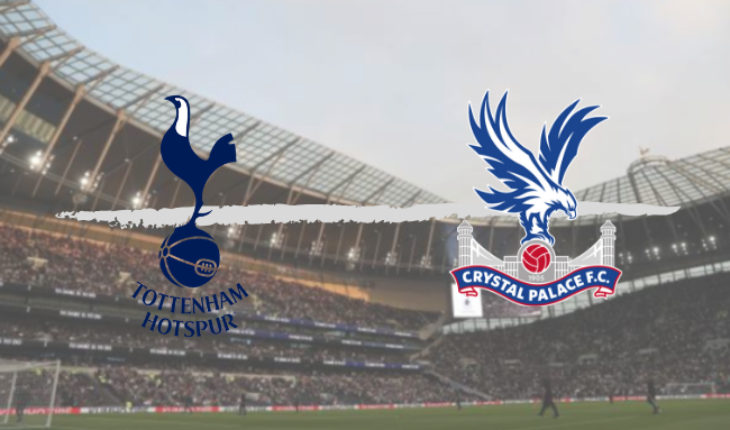 El Tottenham es uno de los más afectados por el virus. Una de las noticias más relevantes ha sido de que el personal técnico ha reseñado que han usado maniquíes en los entrenamientos en vista de la falta de jugadores. El resciliente entenador Antonio Conte ha dicho de que hacen lo que pueden y no es igual usar éstos métodos. Además, dice haber notado un cambio en el estado físico de los jugadores que han sido infectados con el COVID-19, afectando su rendimiento en los entrenamiento y en el compromiso como tal. Sin duda, esto lo hace un hombre realmente preocupado por el bienestar integral de su plantilla. En cuanto a los rumores de fichajes, se habla que el club podría estar intersado en Frank Kessie (AC Milán) y en Weston McKennie (Juventus), dos jugadores que conoce bien el entrenador italiano, que acaba de pasar por el Calcio de forma victoriosa. De modo que podría ser un importante factor para traerlos al club, ya que Antonio no los querría para llenar huecos o ser sustitutos, ya tendría en mente en qué lugar del campo los ubicará y sus respectivas funciones.
Crystal Palace está en el puesto 11 de la tabla. Su último partido fue el 15 de diciembre donde empató con el Southampton 2-2. Aunque algunos pueden tener varios días de descanso, otros apenas estarán recuperando su buena forma. Patrick Vieira ha dicho que no está de acuerdo con una posible huelga, como se ha mencionado. Lo que le preocupa es el virus, y no la cantidad de partidos que tiene la liga. ¡Y vaya que lo dice con conocimiento de hecho! Ya que el ex capitán del Arsenal sabe lo importante que es el calendario de diciembre en Inglaterra. También podemos mencionar que se muestra como posible fichaje para las aguilas a Borja Mayoral, que actualmente milita en las filas de la Roma, pero su ficha pertenece al Real Madrid. ¿Podrá adaptarse éste español a la liga inglesa? Ya estos dos equipos se vieron las caras en la jornada 4 ésta temporada. Si recordamos, éste fue el primer partido de la mala racha de resultados que resultó en el despido de Nuno Espirito Santo. En ésa oportunidad Zaha fue el gran protagonista, haciendo el juego psicológico y deportivo. Éste reciente recuerdo podría hacer que las águilas lleguen envalentonadas... ¡Ah! Pero eso fue con el capitán portugués... Ahora tendrán al mando a un italiano con credenciales: "Hola, me llamo Antonio Conte".
The Tottenham is one of the most affected by the virus. One of the most relevant news has been that the technical staff has reported that they have used dummies in training in view of the lack of players. Resigned coach Antonio Conte said that they do what they can and it is not the same to use these methods. In addition, he says he has noticed a change in the physical condition of players who have been infected with COVID-19, affecting their performance in training and commitment as such. No doubt, this makes him a man truly concerned about the overall well-being of his squad. As for signing rumors, there is talk that the club could be interested in Frank Kessie (AC Milan) and Weston McKennie (Juventus), two players who are well known to the Italian coach, who just came through Calcio in a victorious manner. So that could be an important factor in bringing them to the club, as Antonio would not want them to fill gaps or be substitutes, he would already have in mind where on the pitch he will place them and their respective roles.
Crystal Palace are 11th in the table. Their last game was on December 15 where they drew with Southampton 2-2. While some may have several days off, others will be just regaining their good form. Patrick Vieira has said he does not agree with a possible strike, as has been mentioned. It's the virus he's worried about, not the number of games in the league - and boy, does he say that with knowledge of the fact! Since the former Arsenal captain knows how important the December calendar is in England. We can also mention that Borja Mayoral, who currently plays for Roma, but belongs to Real Madrid, is shown as a possible signing for the Eagles. Will this Spaniard be able to adapt to the English league? These two teams already met on matchday 4 this season. If we remember, this was the first game of the bad run of results that resulted in the sacking of Nuno Espirito Santo. On that occasion Zaha was the main protagonist, playing the psychological and sporting game. This recent memory could make the eagles come emboldened.... Ah, but that was with the Portuguese captain? Now they will have an Italian with credentials at the helm: "Hello, my name is Antonio Conte".

EL JUGADOR / THE PLAYER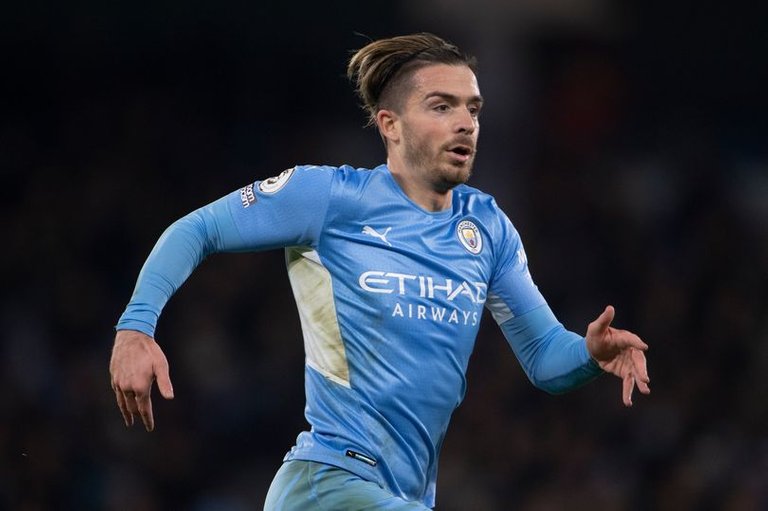 JACK GREALISH fue uno de los fichajes que rompió el mercado de verano, antes de que vinieran otros ruidosos fichajes también, pero ruidosos por los nombres. En el caso de éste inglés era ruidoso por el enorme monto. Sin embargo, ya a mitad de temporada no hemos visto la justificación de éste monto con lo que se ha logrado. La pasada campaña éste hombre intervino en 18 anotaciones (6 goles y 12 asistencias). Pero en la 2021-2022 lleva sólo 4 participaciones (2 goles y 2 asistencias). Él mismo ha confesado que esperaba un mejor rendimiento, pero no lo ha logrado. Está lejos de lo que esperaba hacer, como lo era tener participación en unos 30 o 20 goles. De seguro los aficionados celestes esperan que ésta situación se encarrile, y el nacional pueda mostrar por qué vació las arcas del club hace unos meses.
JACK GREALISH was one of the signings that broke the summer market, before other noisy signings also came, but noisy because of the names. In the case of this Englishman it was noisy because of the huge amount. However, already halfway through the season we have not seen the justification of this amount with what has been achieved. Last season he had 18 goals (6 goals and 12 assists). But in the 2021-2022 he has only 4 participations (2 goals and 2 assists). He himself has confessed that he expected a better performance, but he has not achieved it. It is far from what he expected to do, as it was to have participation in about 30 or 20 goals. Surely the sky-blue fans are hoping that this situation will get back on track, and the national can show why he emptied the club's coffers a few months ago.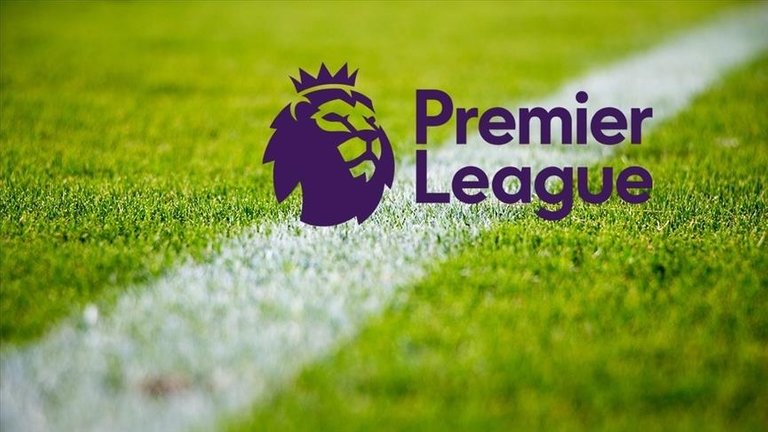 Se han suspendido tres partidos para ésta jornada 19, y esperamos que no suba el número, principalmente porque no queremos que más personas se enfermen. Si vas a alguno de los estadios ingleses mañana, recuerda llevar tu pasaporte de vacunación o PCR negativa. Si vas a ver los partidos por televisión, recuerda levantarte temprano para no perderte el primera partido y tener unos buenos snacks. Cuídense mucho. ¡Disfrutemos el futbol!
Three matches have been suspended for this matchday 19, and we hope that the number does not go up, mainly because we do not want more people to get sick. If you are going to any of the English stadiums tomorrow, remember to bring your vaccination passport or PCR negative. If you are going to watch the games on TV, remember to get up early so you don't miss the first game and have some good snacks. Take care of yourselves, let's enjoy the soccer!

⚽️ ⚽️ ⚽️
My social media / Mis redes sociales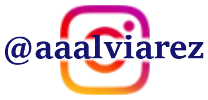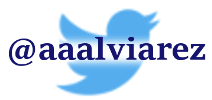 FUENTES / SOURCES
---
---