I like playing with balls

Since I retired from unprofessional 5-a-side football after busting a medial knee ligament in a 'tackle' by some idiot who had no right being on a football pitch, I've hardly played any sport at all.
This year I've been pretty active in the gym and have been religiously following a number of online workouts, but it's not just the same as playing a sport. There is certainly less chance of injuring oneself, but the sole competitor is always you, and that can get a bit boring after a while.
I was reminded just how much fun playing with other people can be, even if you are mostly on the receiving end of a good hiding, this summer when I visited a friend in the south of Spain. Before then, I'd never played padel tennis, but had seen the odd game and heard many games (mostly grunts and Spanish swear words) when I lived in Valencia and Mallorca, and I fancied my chances as the sport involves a tennis ball, a net, and sides which you can use to play the ball off.
Due to composition of the bats (palas), no string like a tennis racket and not particularly 'grippy' on the face, a lot of the momentum needs to come from the arm and the body. Twenty minutes into my first game, after not listening to my opponent/coach on the other side of the net, my wrist was starting to get really sore as i attempted to generate spin and power with the wrist - not a good idea. It is possible to add effect to the ball, but it must be done with arm, I was using my wrist like a table-tennis player would do to generate spin, except the bat and especially the ball, are a hell of a lot heavier.
I think the reason for this was that the sport I have played the most which uses a bat is table-tennis, and I would love to get a few more games of that in.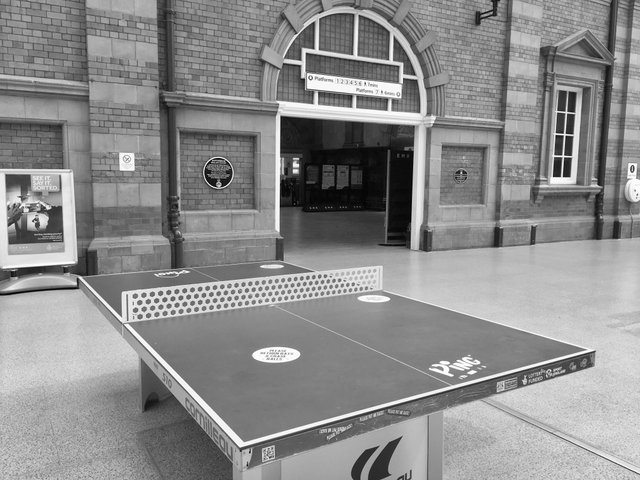 So much so that I recently stuck a not on the apartment complex notice board with my phone number asking if anyone wanted a game on the table shown above. After three weeks, today in fact, I finally took the note down. In that time, one guy has text me, and after a short exchange said he'd text again when he was free - which hasn't been yet. More than once, I've loitered at the table with two bats and a few balls, but asking strangers for a quick game has felt just a bit random - I should pluck up the courage and just go for it, eh?
The table-tennis has drawn a blank so far and the nearest padel tennis court is over 50km away - the sport is is growing in the UK I hear, but I think I'll need to head back to the sunshine in Spain to play regularly. As mentioned, there is a court close to where I'd be staying, all being well, and so I'd look to find a coach and give it a proper go.
In the meantime though, I have finally found someone who'll give me a game of Tennis. My time on a court totals about 10 minutes, and I was 10 or 11, but what the hell :) It's non-contact, and involves a bat/racket, ball, and a net - can't be that hard, can it? My opponent is a graduate from one of the UK's best universities with regards to sport, but they have promised to go easy.
I actually don't care if they batter me - there is something hot (and angering) about being beaten by a girl, or is that just me? Anyway, we'll see if I still feel that way tomorrow evening, I'm looking forward to the laughs (mostly at my expense) and a run around.
Enjoy the weekend, I hope you get some sport in :)
Cheers
Ash
---
---