Moycullen march on to the Connacht Semi Final

Another great day for the parish!
My sons and have been following our local Gaelic Football team Moycullen all year and two weeks ago they won the Galway Senior Championship for only the second time ever. This Moycullen team have serious talent and boast 4 county players. Next year I suspect that there will be more, with Peter Cooke a certainty for a call up in my opinion and other players also doing everything they can to turn Padraic Joyce's head.
Having dispatched Salthill-Knocknacara in the County final in a great game, the lads celebrated in style I'm sure, but it was straight back to training then afterwards as there was a Connacht Quarter final to be played. The draw was tough in so far as they drew Mayo county champions Westport. That game took place today at McHale park in Castlebar, County Mayo. Here's how the teams lined up: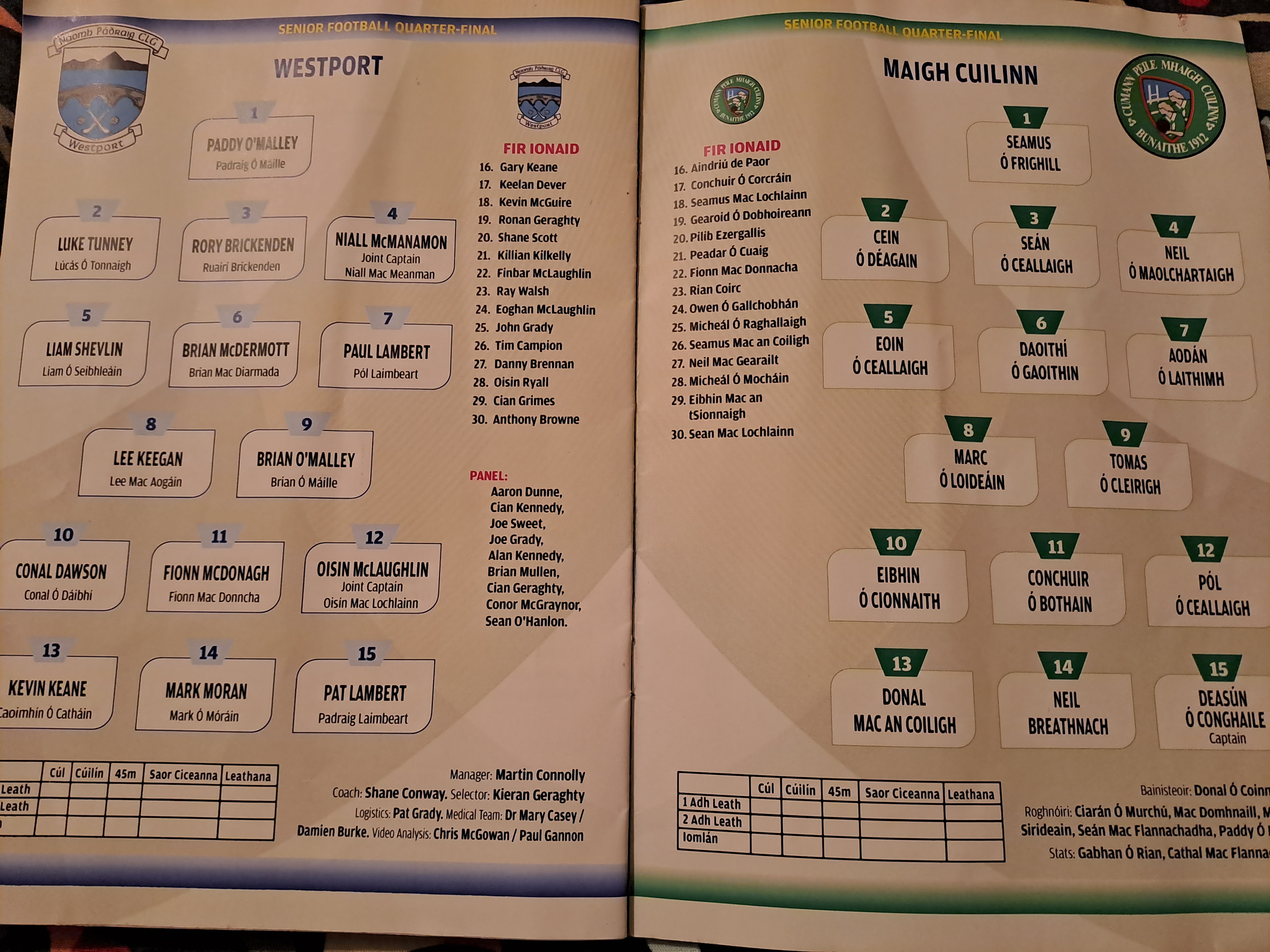 And a closer look at the Moycullen team. The match kicked off at 1:30pm. It was a 1 hour 20 minute drive and we left a bit early, so ended up missing the first few minutes.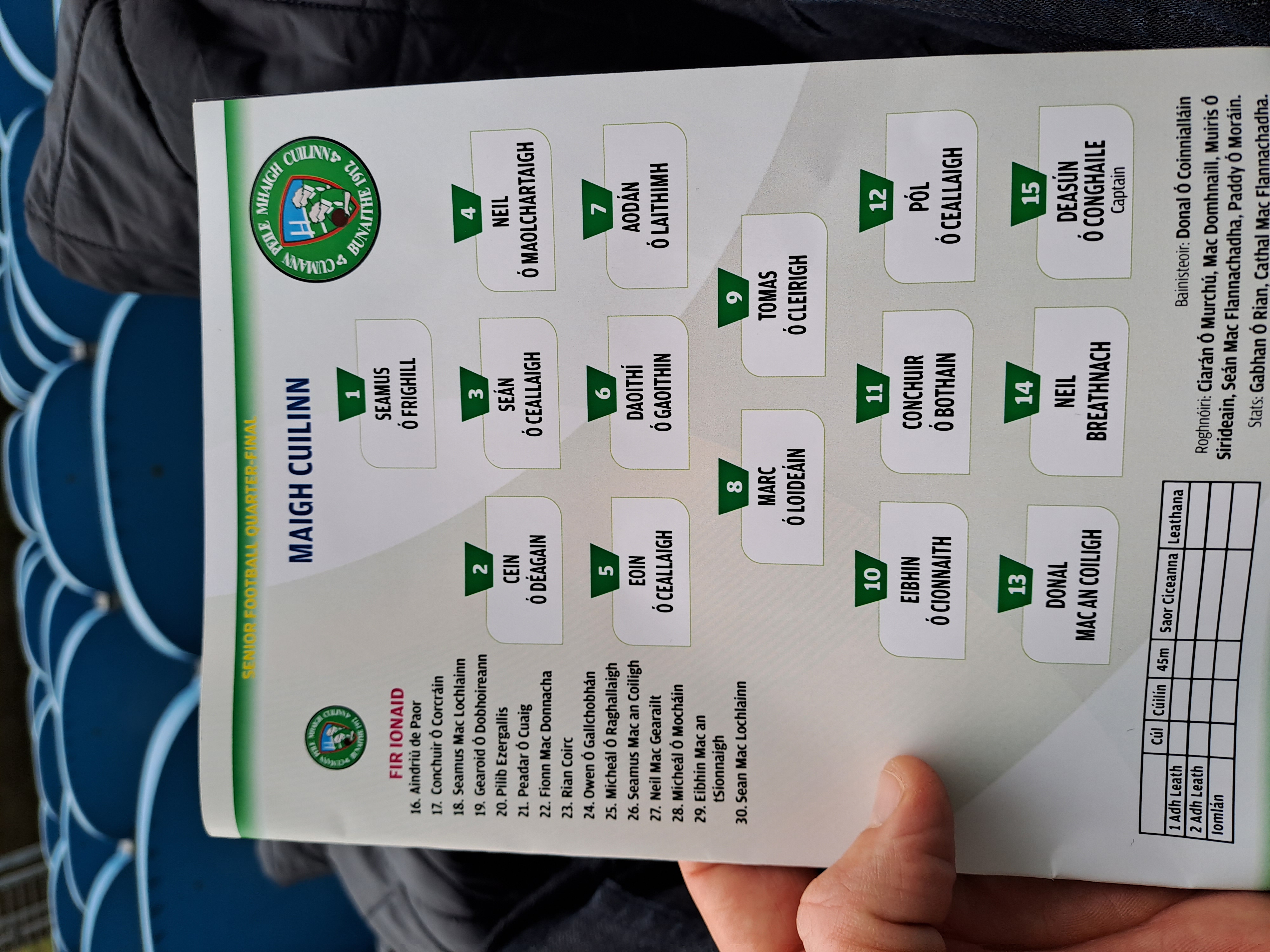 Scoreboard
As I say we missed the first five minutes or so. We got as close as we could to McHale park and then abandoned the car and rushed to the turnstile. As we approached we could hear the ooohs and ahhhhs of the crowd and the atmosphere sounded fantastic.
I scanned my ticket and the kids got in for free, as they always do at club matches. Under 16s are free which is a great touch from the GAA and encourages parents to bring their children to these games.
As we made our way up the steps to the stand, we heard the biggest cheers yet, Westport had just found the net, to make it 1-1 to 0-4, so it was even stephen as we took our seats.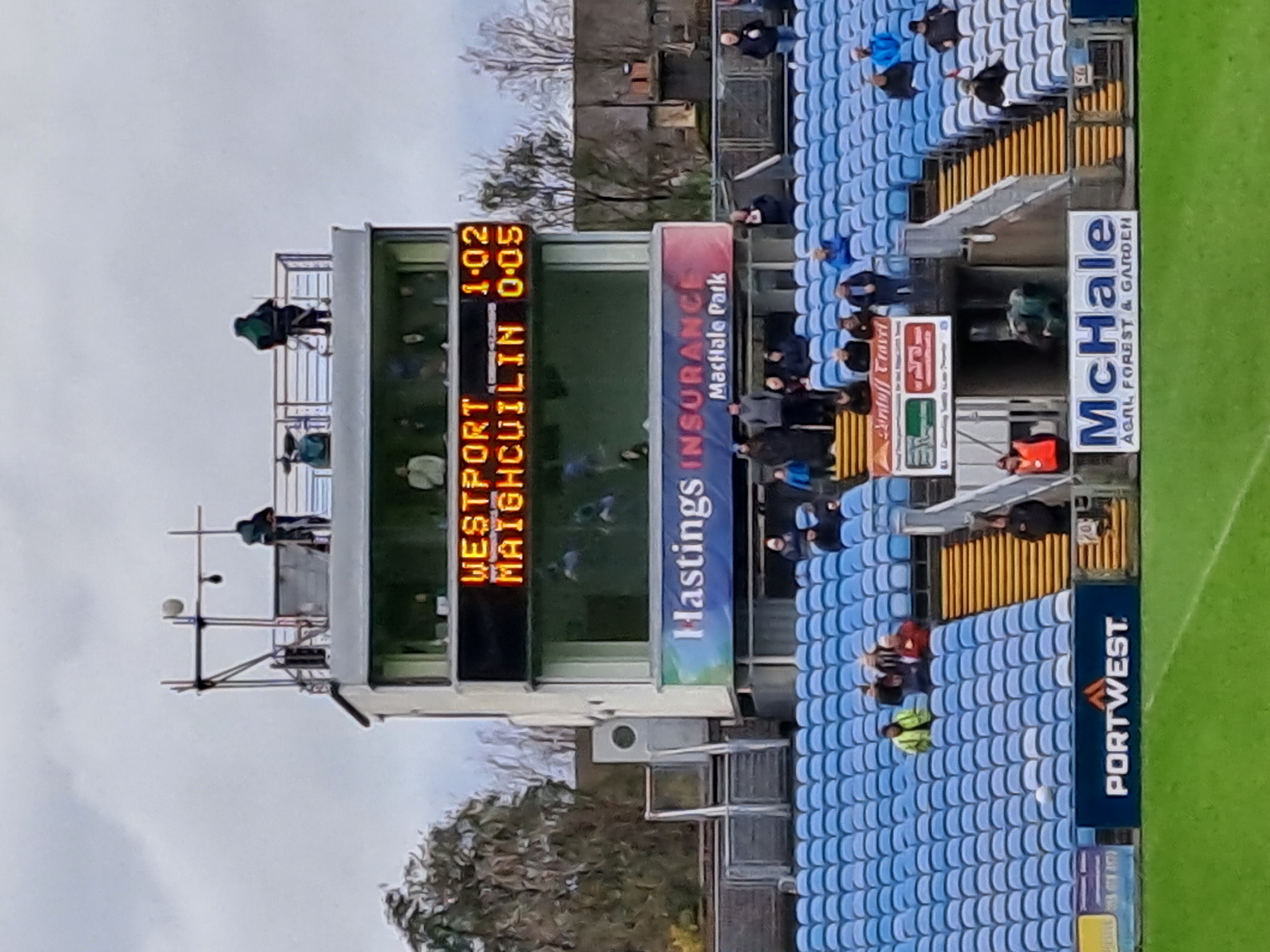 They quickly traded points and as the game wore on Moycullen became dominant and went in at half time with a substantial lead of seven points. Westport would need goals to get back into the match.
Moycullen's Captain Dessie Conneely was again like a man possessed today and racked up a very impressive tally of 10 points, but overall the team gelled well and played with real cohesiveness and manager Don Connellan's will be very happy with what he saw.
Our arrival at the stadium coincided with Moycullen kicking into gear and they dominated the second quarter, outscoring Westport by 1-08 to 0-02.
Dessie Conneely was unmarkable at times today and it was his best performance since his Swashbuckling display against Corofin earlier in the Championship. He notched ten points today, and five were from play meaninf that he was crowned Man of the Match and deservedly so. The final score was
3-18 to 1-11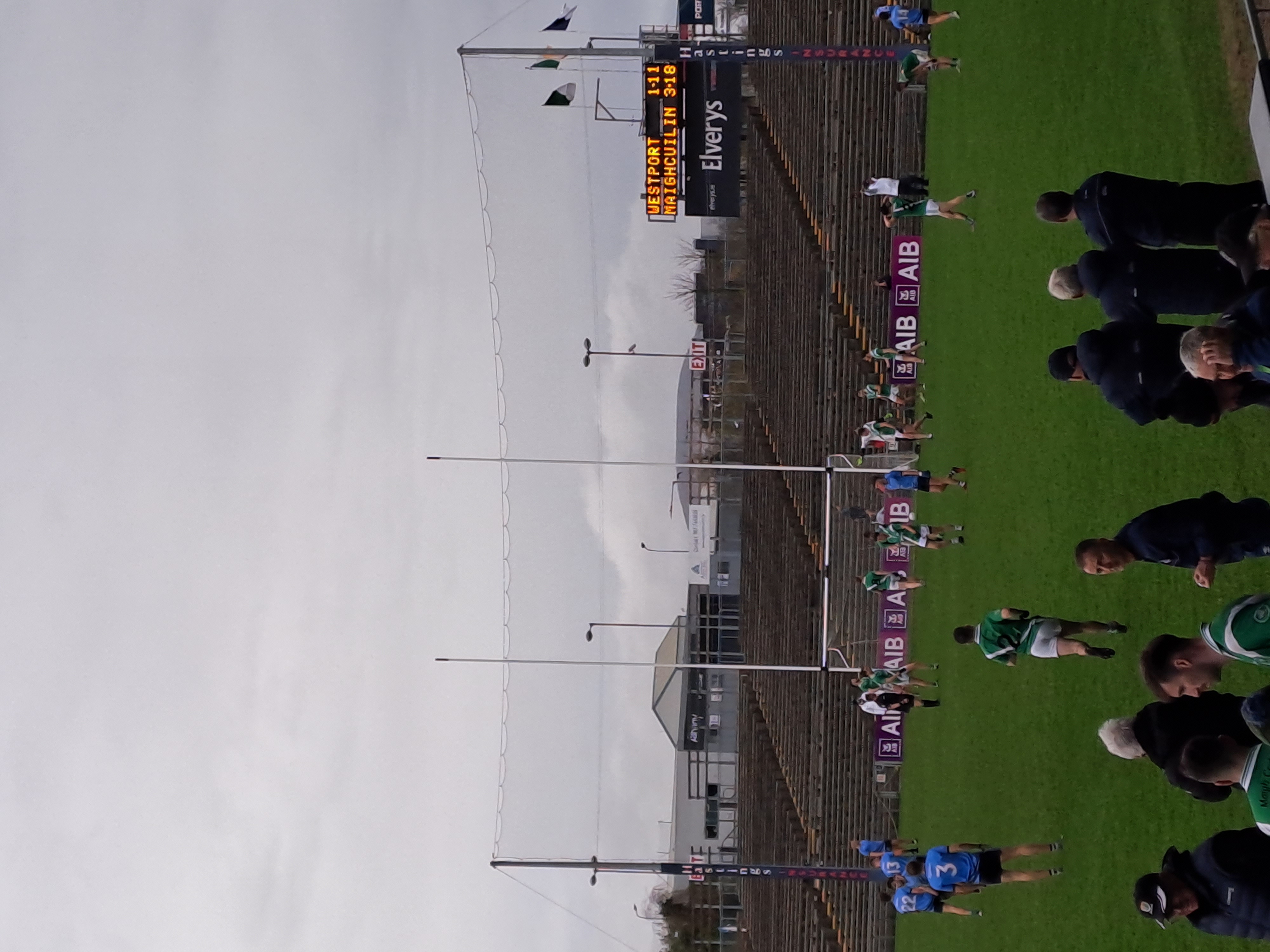 The only negative from Moycullen's win today was a red card for defender David Wynne 10 seconds from the end. It was very foolish and I'm sure he got a good bollicking of Don after the match. The game was done and dusted and there was no need for this.
Onwards and upwards
They progress now to the Connacht semi final, so let's see how far they can get this year. I'm looking forward to going again with the kids. The match is scheduled for next Sunday and Galway's opponents will be Strokestown at Tuam stadium.
Here is today's match program next to the match program from the All Ireland Final that Galway contested in late July. I believe there are players in the Moycullen match day program that might start seeing their names in these senior inter-county programs soon.
We had four last year, brothers Seán and Paul Kelly, Owen Gallagher and Dessie Conneely. Seán was also the Galway captain and Dessie has a great chance to be Galway's captain for 2023 and I also reckon Peter Cooke and one or two others will get called up for Galway.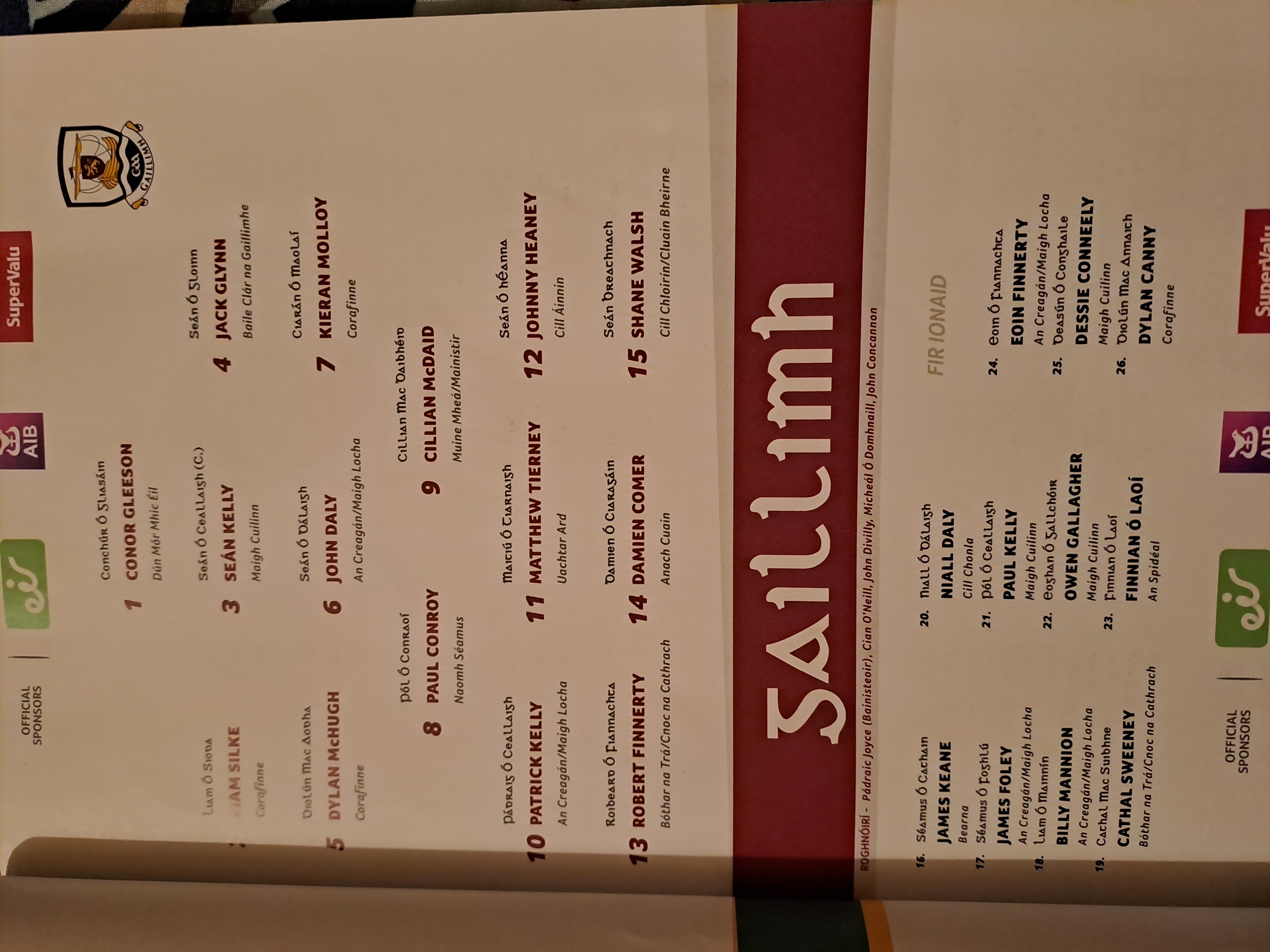 The lads got to walk the pitch and celebrate with the players afterwards too which was great and they are very excited for next Sunday's Connacht Semi Final against Strokestown.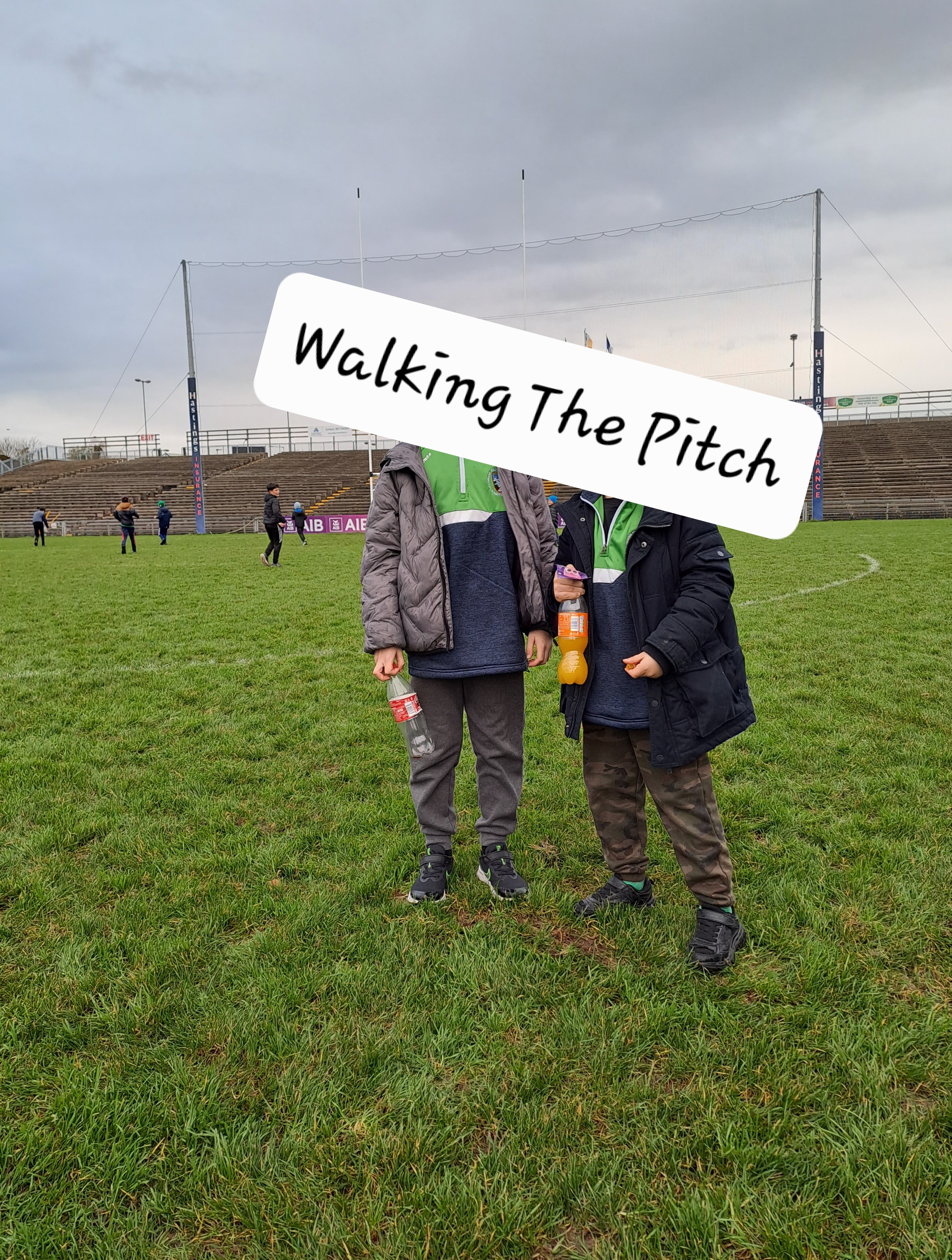 These photos are all my own
Thanks as always for stopping by everyone.
Peace Out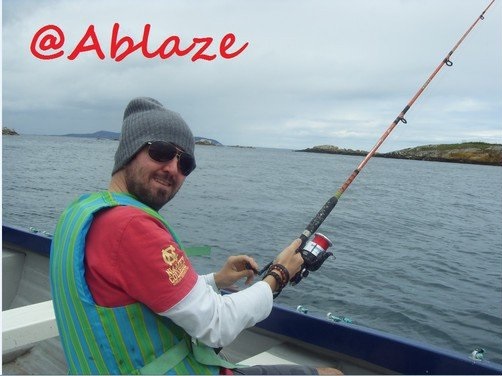 ---
---