Moycullen win the County final for 2nd time ever
A great day for the parish!
So anybody who has read any of my sports talk social posts over the years will know that in Ireland we have two national sports that we are very proud of and that are not really played outside Ireland, apart from the occasional country like USA and England who have big Irish Ex Pat communities. They are Hurling and Gaelic Football. You will also know that I am very passionate about both sports. I played them, I coach them and I watch them.
Every year at inter county level, the 32 counties of Ireland play out the Championship and at the end the All Ireland champions are crowned and lift the Sam Maguire cup in football and the Liam McCarthy cup in Hurling. These are very special and every player wants to win them, but for those who have managed to reach that hallowed ground, if they have also won a club All Ireland, the club all Ireland will almost always be more special in their eyes.
That is what today's post is about. It is about today's Gaelic Football County Final between Moycullen and Salthill-Knocknacara in Galway at Pearse Stadium.

Above are the two teams before a ball was kicked as they stand proudly while Ireland's National Anthem Amhrán na bhFiann was sung and below is the scoreboard before a ball was kicked.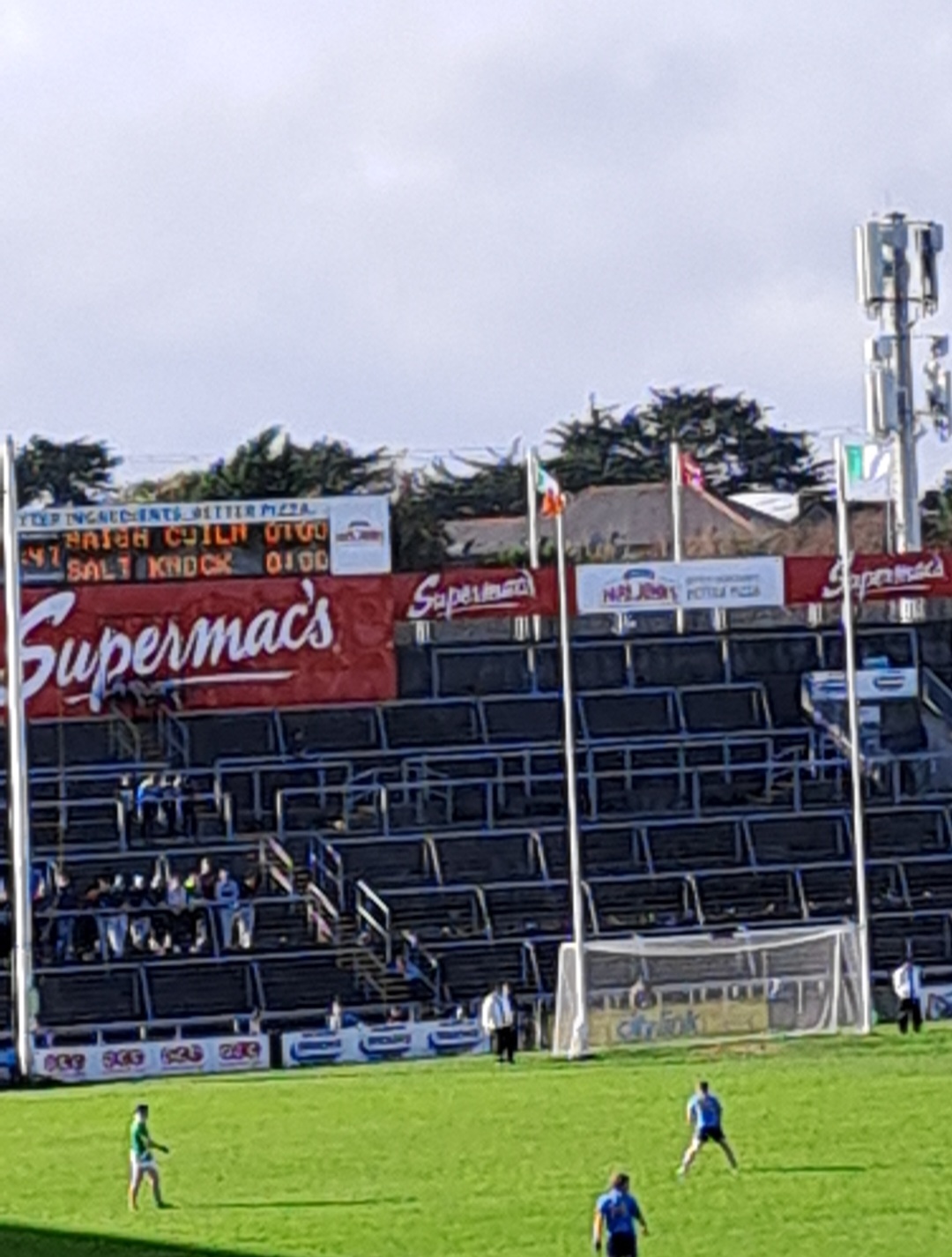 A windy day
Anyone who knows Pearse stadium and knows Salthill on Galway's West facing coast will know that the wind often blows, especially in late October and today was no exception, with a fierce wind blowing from left to right as we looked on from the stand. As usual it would be potentially pivotal in the game and Moycullen had the wind advantage in the first half. Realistically it meant that they would need a two, three or four point lead to take in at half time, but Salthill-Knocknacara had other ideas as the notched the first score against the wind.
Moycullen swiftly answered as they found their range and at 0-1 apiece a Salthill-Knocknacara forward hit a hopeful ball towards goal in an attempt for a point. The Moycullen keeper seemed to lose the flight of the ball and it somehow ended up in the back of the net, not a good start.
Moycullen worked hard throughout the half, but a few misplaced shots and resulting wides meant they went in trailing by 1-06 to 0-7 at half time and they'd have to play the second half into that strong wind, so it was advantage Salthill-Knocknacara.
Moycullen took to the field after the break and for some reason it took Salthill-Knocknacara a good three minutes to arrive out, some last minute advise from the management perhaps?
Well whatever was said did not quite cut it, with Salthill-Knocknacara only managing 0-3 in the second half with the help of the wind. Moycullen managed double that notching 1-3 which proved to be just enough to win the game on a margin of
1-10 to 1-09
I went to the match with one of my friends. He brought his daughter and I brought my three sons and they all had a wonderful day out, which was made all the better with Moycullen winning.
Look what it means
Here are a few photos of the scenes that unfolded after the final whistle, which gives you an idea of what it meant to the Moycullen players and us supporters. It truly was a special day.
Moycullen have been a force in recent years and won the County championship in 2020, but today's victory is only their 2nd County championship win since it was founded in 1889. So it was pretty special to be there with my three boys today to see them win the cup.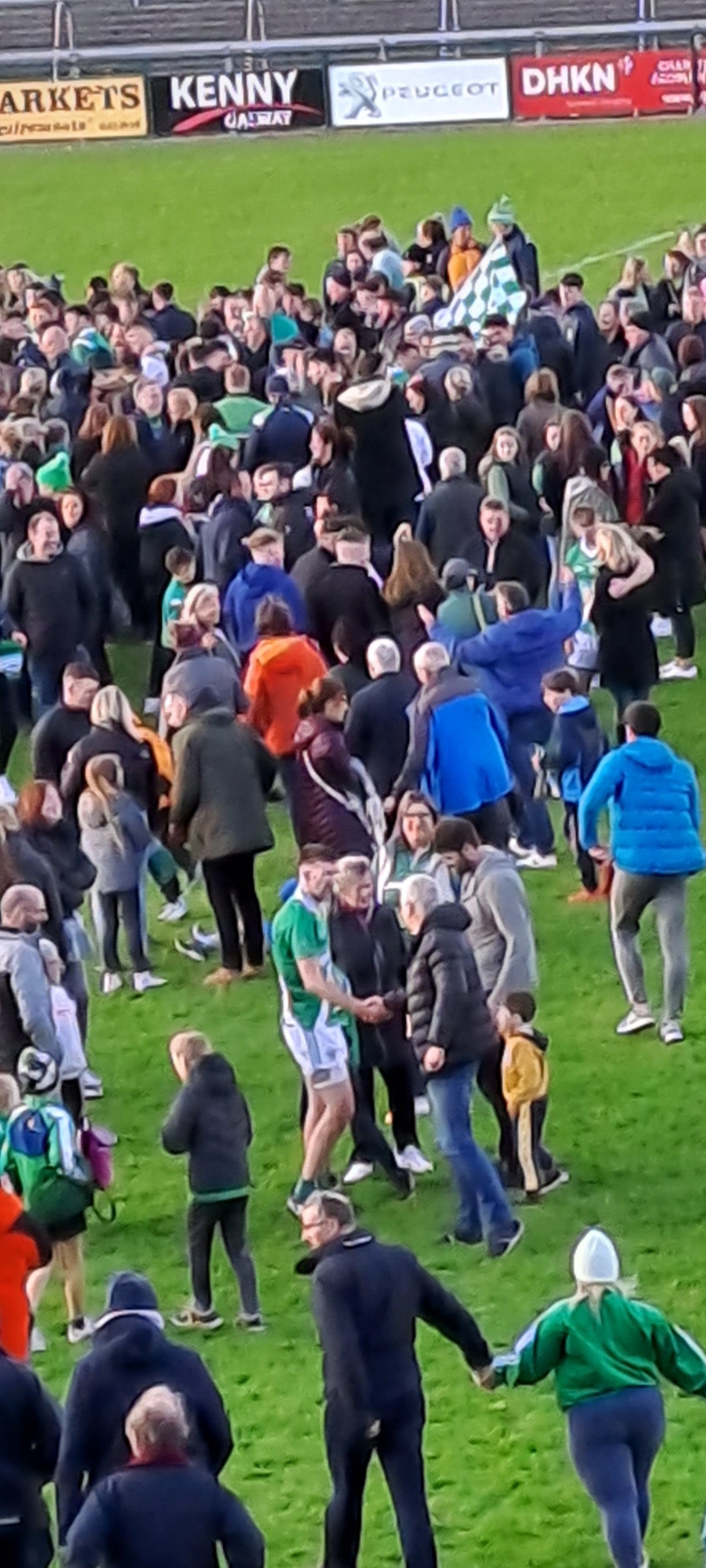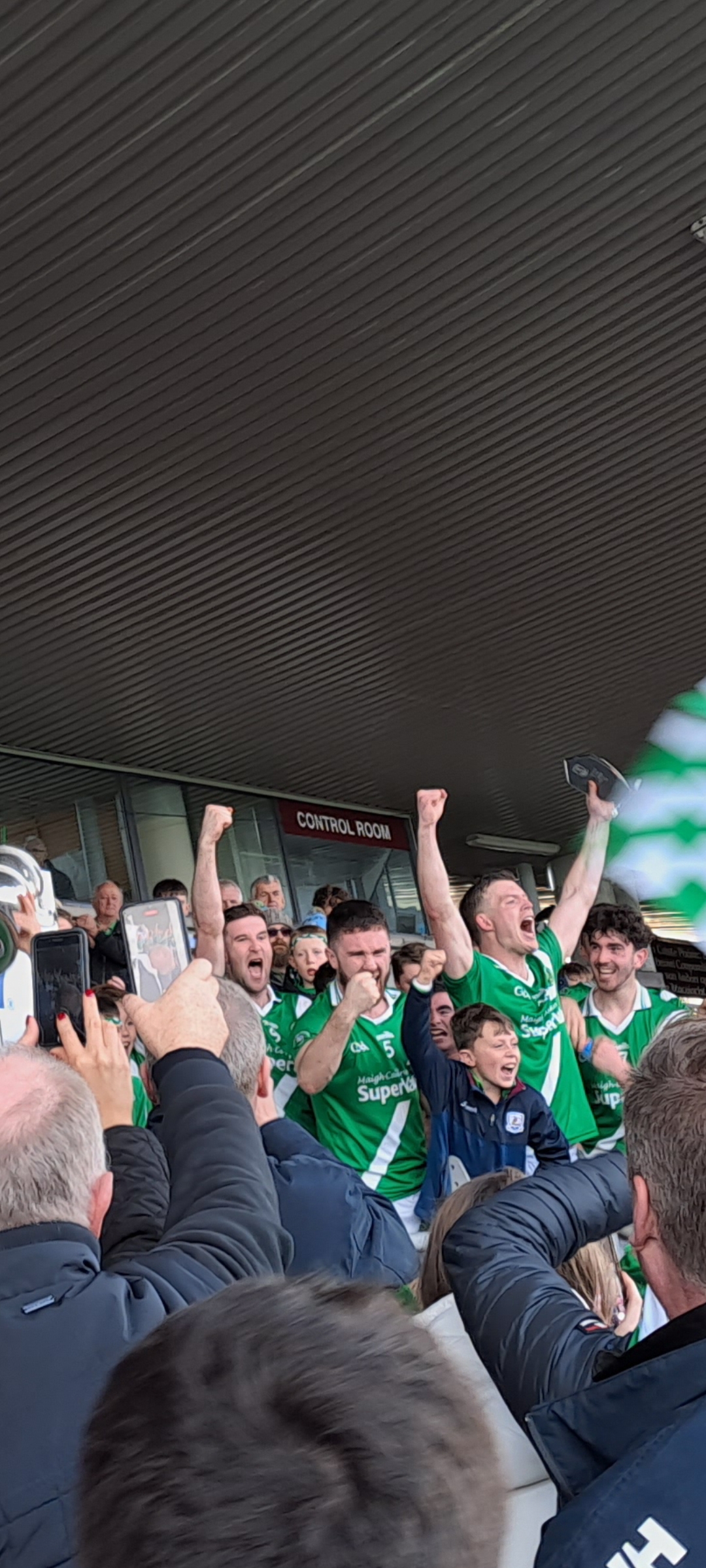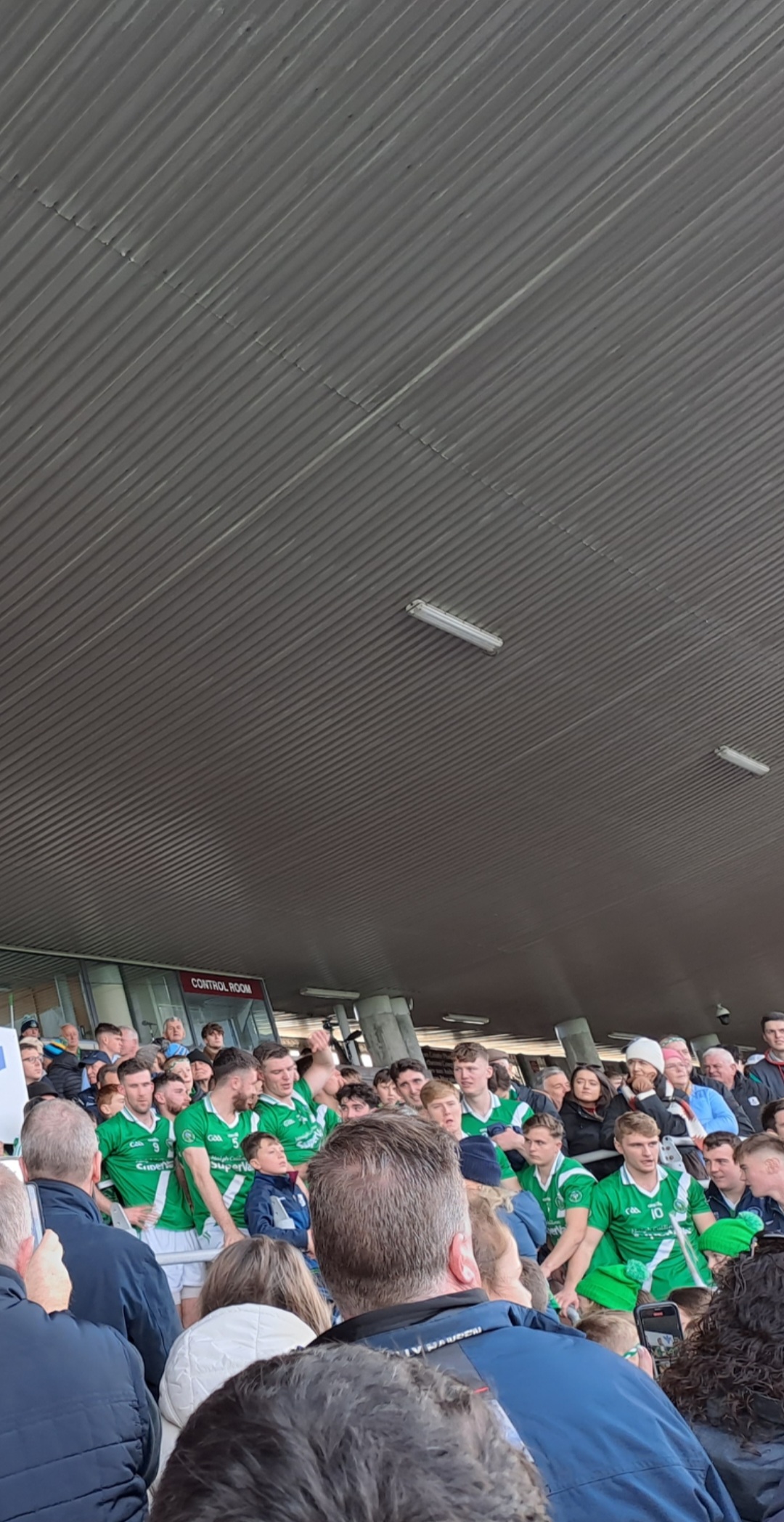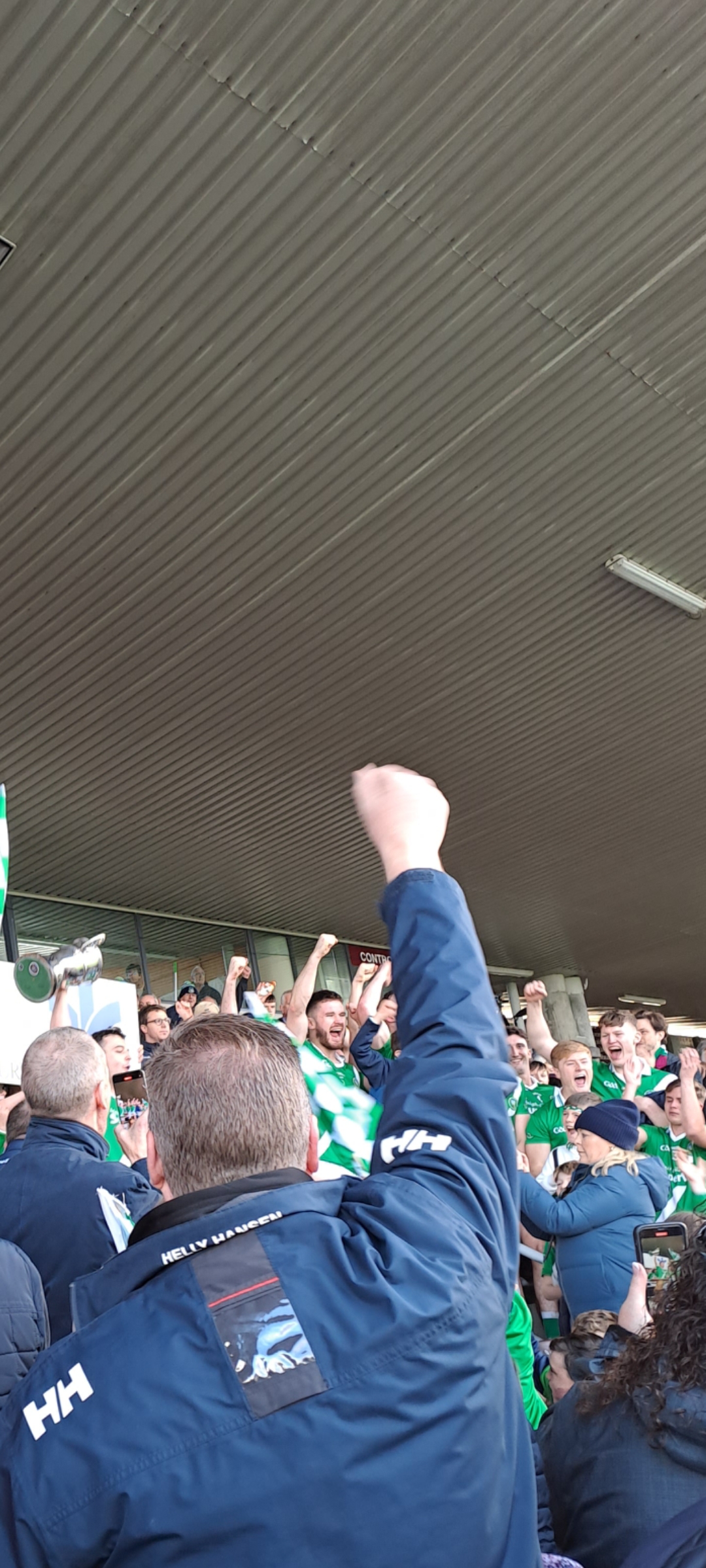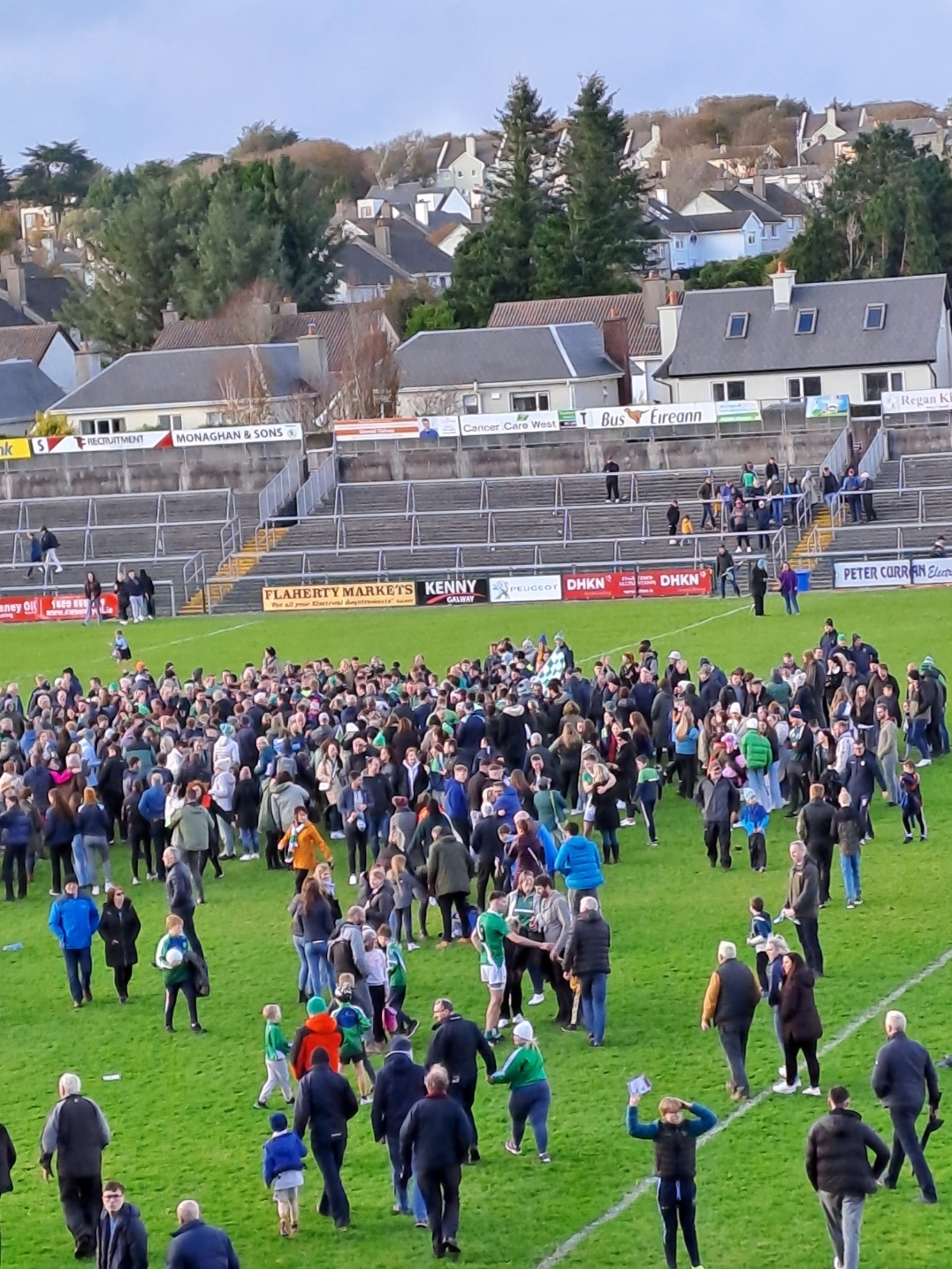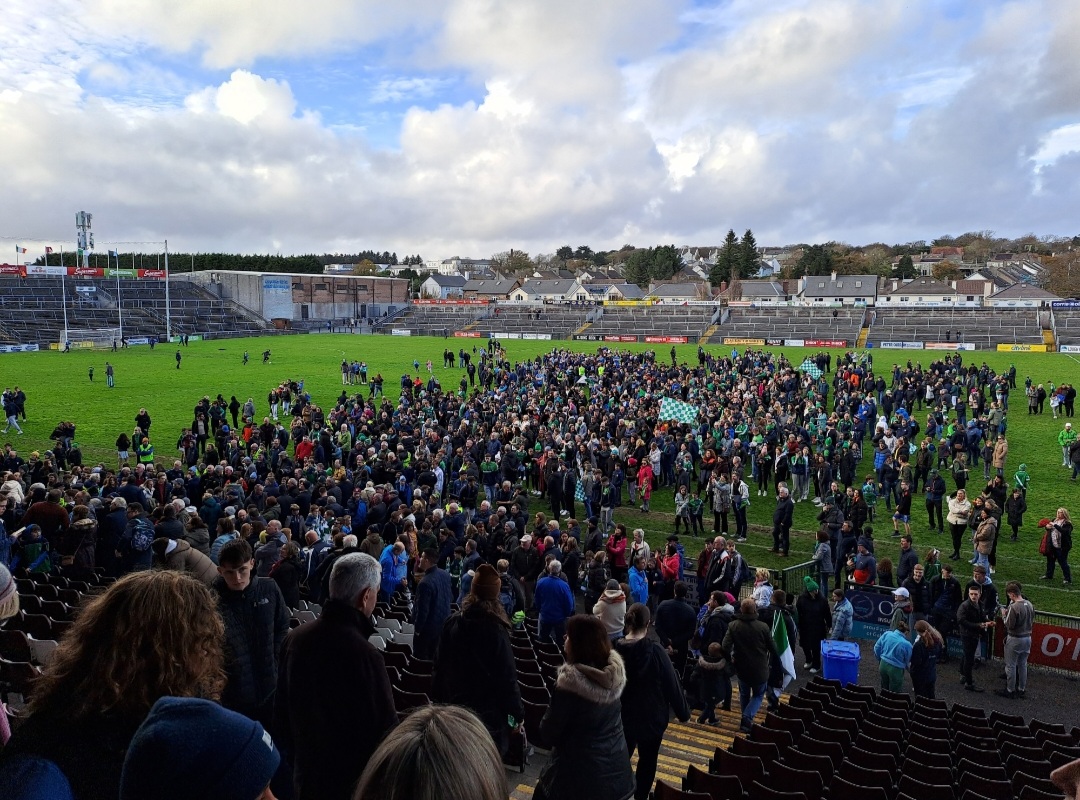 Welcome back
Look at the welcome home they got as they passed the top of our road earlier on! Bon fires, the cup aloft out the window and smiles everywhere, man do I love the GAA and our beloved sports of Hurling and Gaelic Football.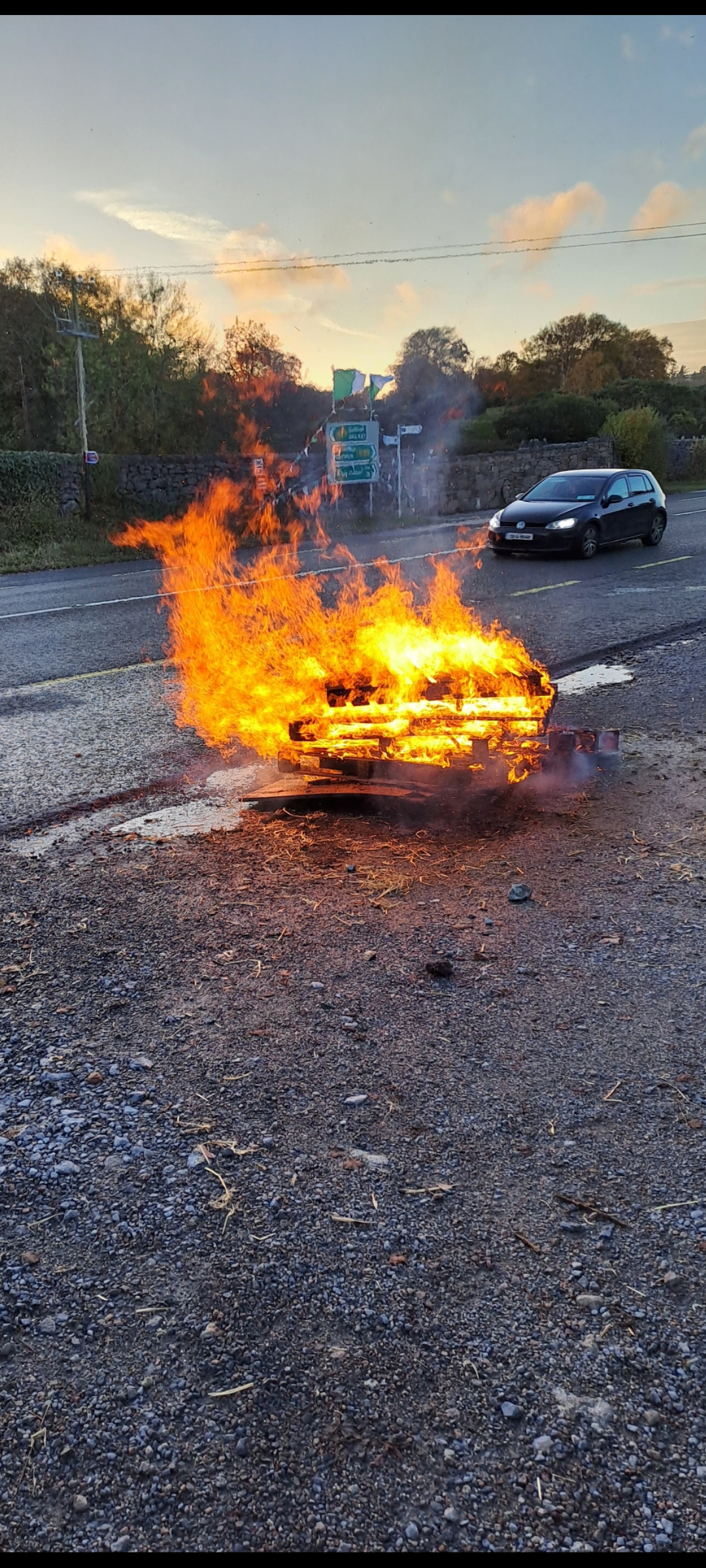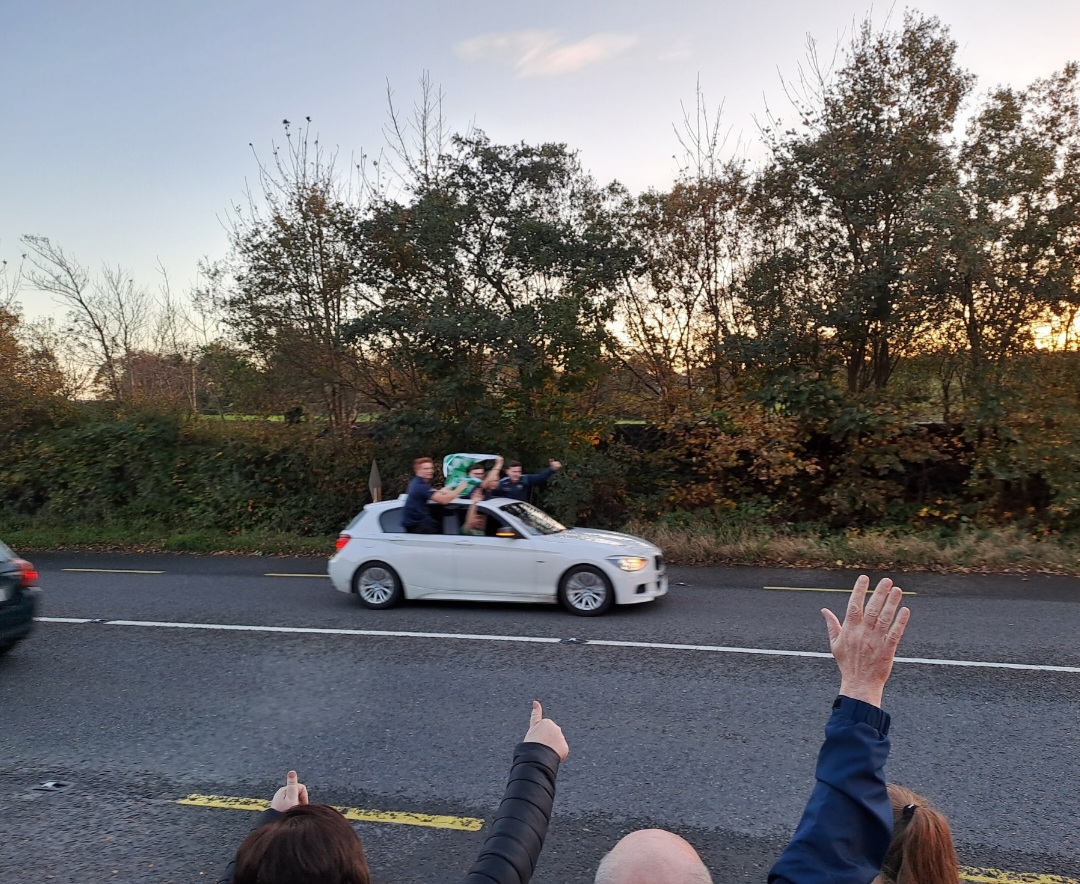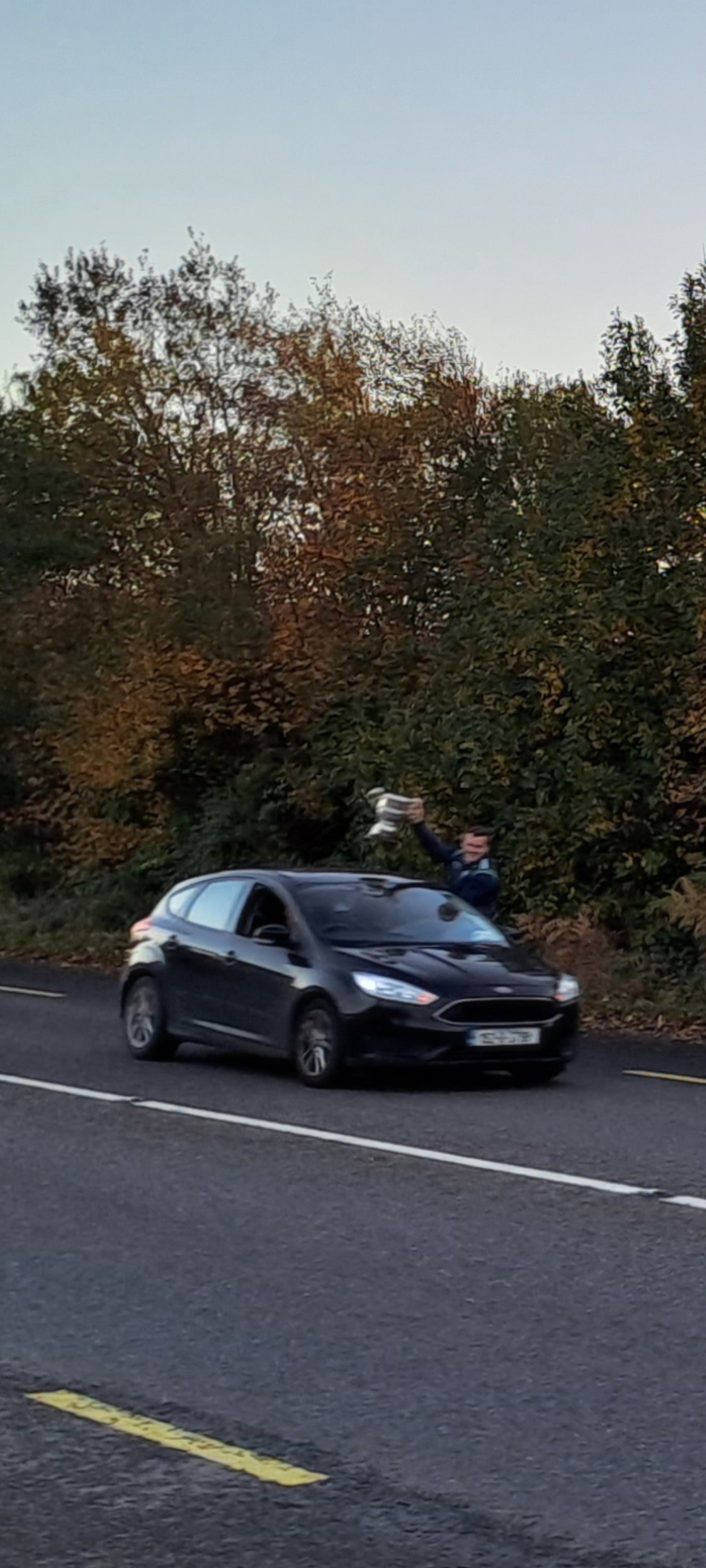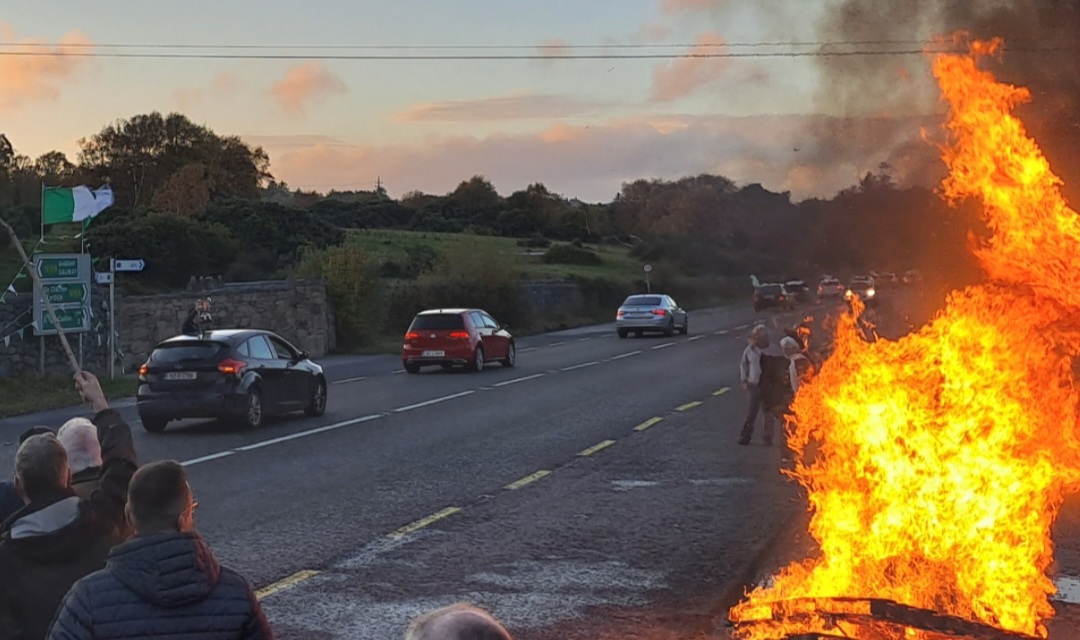 They progress now to the Connacht semi final, so let's see how far they can get this year. I'm looking forward ro going again with the kids, although this time, it will be a bit of a spin in the car, as it won't be played in Galway.
These photos are all my own
Thanks as always for stopping by everyone.
Peace Out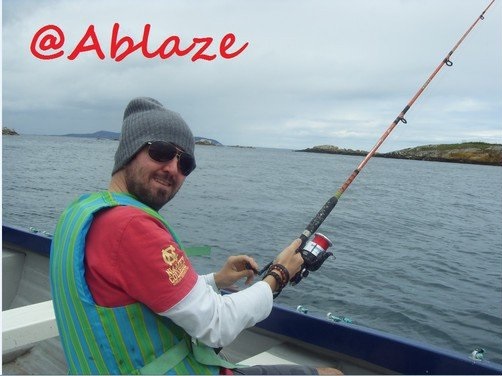 ---
---