Two Irishmen to row across the Atlantic Part 5

The Story so far
I know that some of you will have read my other four posts about the lads and of course some of won't have read them and that's no problem. I'll include the links to them below just in case anybody wants to read them first, but I know how precious people's time is and this post is just one of many that you will be trying to read within a likely short window, so with that in mind, I'll quickly paraphrase what happened in the lead up to week 4 and continue from there afterwards.
This series brings you tales of exploration and woe from two Irishmen who embarked on one of the hardest challenges imaginable. Damien Browne and Fergus Farrell who are fellow Galwaymen set out to row across the Atlantic ocean from New York to Galway on Ireland's West coast unsupported, which means that there is no safety boat alongside them for emergencies, it's just them their oars and the roaring waves.
The lads set out to make history and aim to be the first crew to successfully row from New York to Galway, unsupported. Following some last minute scrambling to locate a Sat phone, and loading up some last provisions, including jelly babies and chocolate bars (seriously) they final set sail, well now, as there are no sails! They set off from New York on June 13th on their 6.2 metre rowing boat called Cushlamachree, next stop Galway and the "Bonfires of Aran" as Damian often says.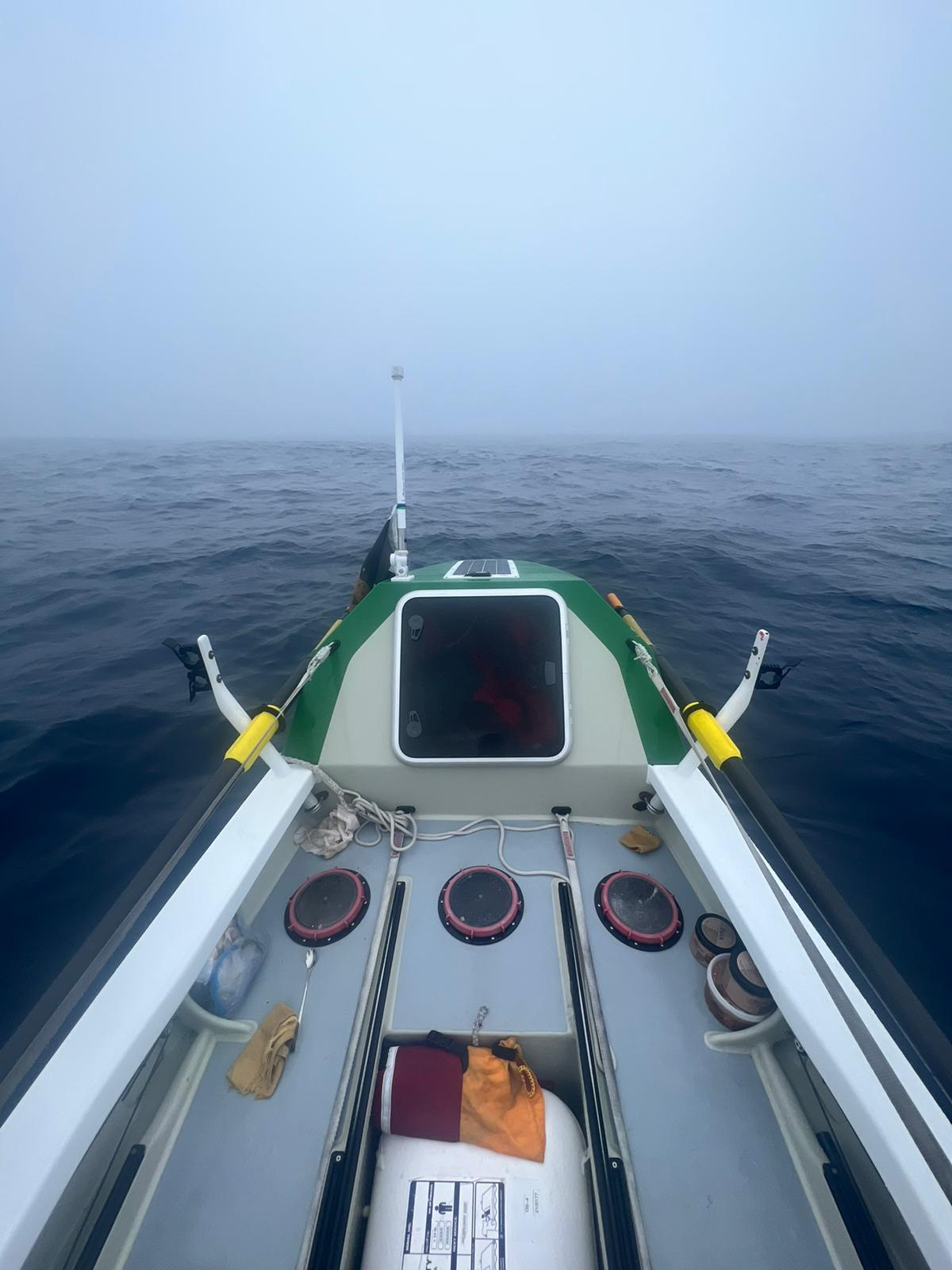 The two guys know each other from playing rugby in Galway and both represented Ireland at Junior level and have remained friends ever since. Damien had a very successful rugby career, having played for Connacht, Northampton Saints and Leinster over the years. When his career ended, Damian had to find new challenges to fill his days and find them he did. Everest basecamp and other mountaineering expeditions, ultra marathons, oh and he rowed an ocean! Yep, this is going to be his second ocean rowed if he gets over the line.
Fergus then had a near death experience a few years ago, which left him over 95% certain to be paralysed and unable to walk again, and after making a miraculous recovery, he too craved challenge and when the lifelong friends met up a few years ago, project Empower and rowing an ocean together while raising money for charities was born. Those charities are Ability West, the Galway Simon Community, Madra animal rescue and the National Rehabilitation Hospital (NRH) foundation, all very worthy recipients.
In the most recent post I talked about Gussy having to get rescued after 13 days on the Ocean, and how he was rescued and why he was rescued. I delved into how Damian had to adjust and reset following Gussy's departure. I talked about the different types of wildlife the lads encountered along the way from whales to dolphins, turtles to porpoises, and not forgetting the little blackbird Lass, who was Damian's unexpected guest and pet for a few days.
I covered the ups and downs of the first thirty days or so in these posts in case you want to catch up, otherwise let's crack on.
https://hive.blog/hive-101690/@ablaze/two-irishmen-to-row-across-the-atlantic-part-1
https://hive.blog/hive-101690/@ablaze/two-irishmen-to-row-across-the-atlantic-part-2
https://hive.blog/hive-101690/@ablaze/two-irishmen-to-row-across-the-atlantic-part-3
https://hive.blog/hive-101690/@ablaze/two-irishmen-to-row-across-the-atlantic-part-4
Chop Wood Carry Water
Layman Pang was a Buddhist who lived from 740–808. There is a famous quote that is attributed to him, and it is this:
"My daily activities are not unusual,
I'm just naturally in harmony with them.
Grasping nothing, discarding nothing.
In every place there's no hindrance, no conflict.
My supernatural power and marvelous activity:
Drawing water and chopping wood."
This must be a quote that Damian read at some stage as he regularly mentions it on his podcasts along his long and treacherous ocean crossing with Cushlamachree. He constantly reminds himself that he must chop wood and carry water or in other words just keep on rowing 12 hours a day, even when it feels like he is rowing in tar and getting nowhere fast, Chop Wood Carry Water. The same applies when the conditions are favourable and the currents and wind are helping, again Chop Wood Carry Water.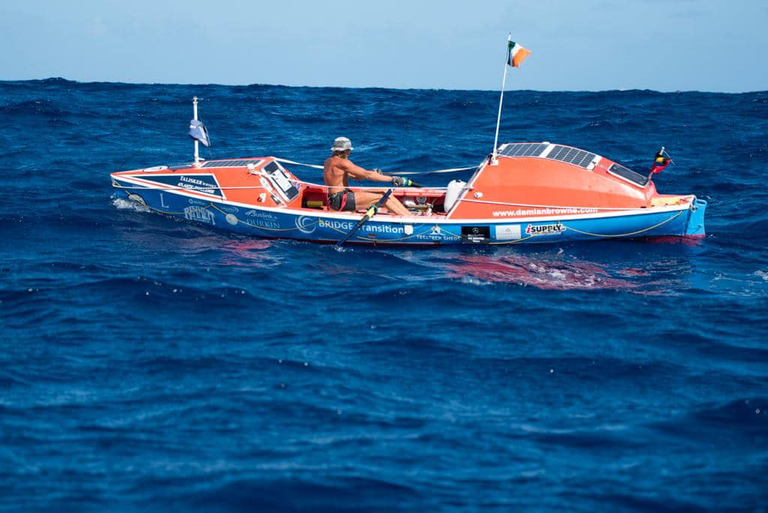 I think in a nutshell, what Damian was trying to portray with this soundbite was to not think too much about finishing and reaching Galway, but rather break every day task down and put his full energy into the smaller part of the overall expedition. Each day and each session on the oars is a block and his idea was to just concentrate on that little chunk, complete it and then move to the next step - Chop Wood Carry Water.
This is not just applicable to Ocean Rowing either and any one of us can take a leaf from Damian's book when it comes to career aspirations, studying, committing to a lifestyle choice, sports and so much more. These can all seem daunting when we look at the whole, but if we break them down into smaller more manageable and achievable pieces, they become much more doable. It's like that old age question: "How do you eat an elephant?" and the answer is one bite at a time.
It's only a flesh wound!
The Monty Python buffs amongst you will recognise that quote! It might not look like too bad of a nick, but I know that I would not want any blood on our near the boat when alone in the middle of the Atlantic, thoughts of sharks sniffing around in the surrounding waters would certainly spring to mind. A shark can detect a one part per million level of blood in water from a distance of 60 miles, did you know that? Well, you shouldn't have, as I just made it up, but it did sound pretty believable didn't it! But seriously I do remember watching a documentary about it before and I think they can detect it from around 3 miles away, so as I say, I'd be pretty cautious with any open cuts if I was planning on going in the water.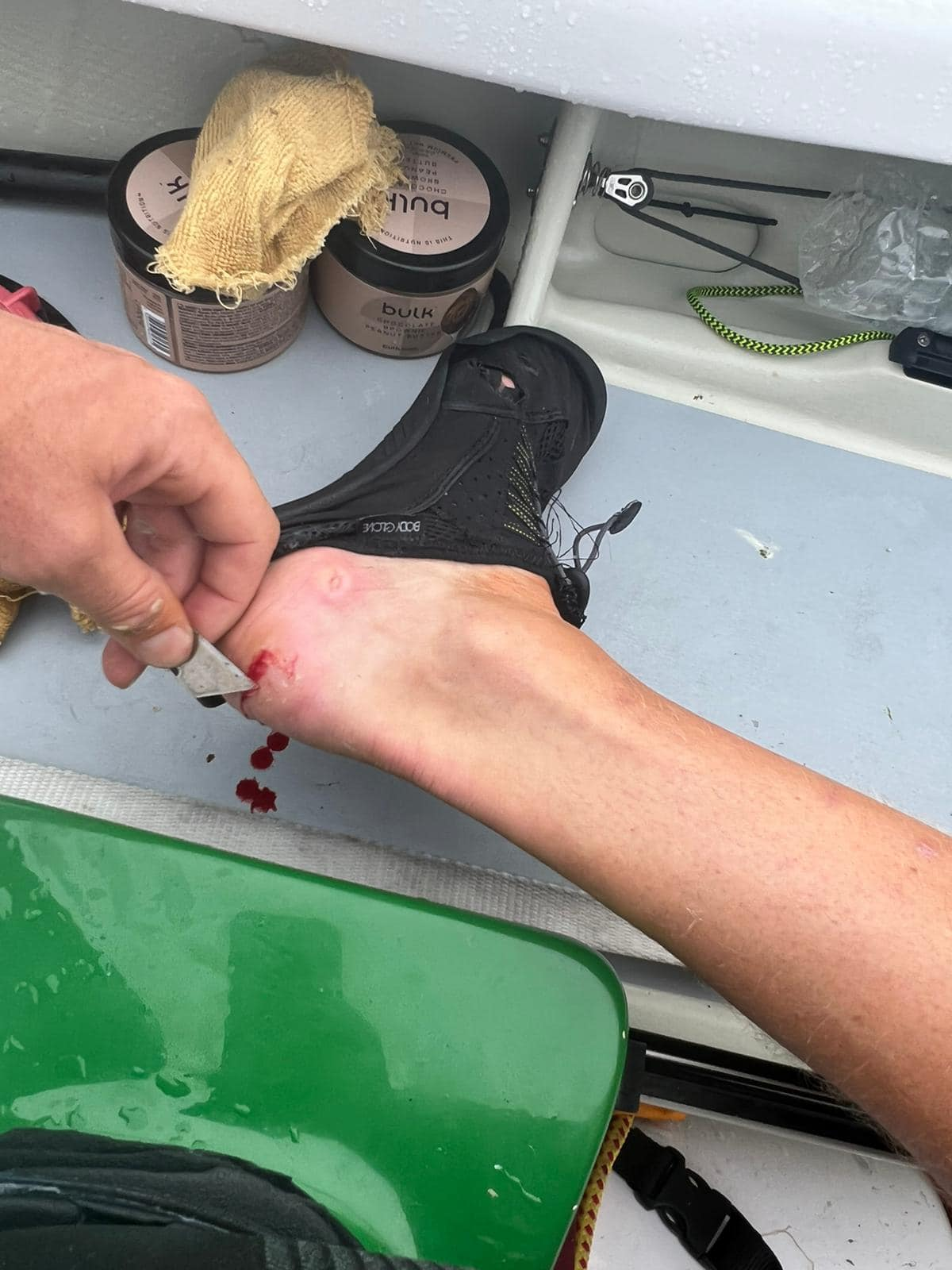 A picture says a thousand words, but here are Damian's words nonetheless on the nasty blisters that he had to go at with a stanley knife blade:
"Blisters: At one point, earlier in the expedition, Fergus and I had blisters with blisters. Thankfully they pass pretty swiftly and one's skin hardens to the demands in that area. Heels are one of the most common areas to experience blisters on a row with the initial load of friction with the heel cup. I've two big patches of dead calloused skin on each of mine to prove it. However, somehow, (I think at least),I've now gotten blisters underneath one of those harden patches and they are super sensitive to touch. Far from ideal when it has to lay on the heel cup for 10 hours a day. I tried to lance it with some safety pins but thought it better to bring out the amateur chiropodist in me and sourced a Stanley knife blade from the tool kit to shear off some of that dead skin. A total butcher job as you can see in the photo but some relief nonetheless."
I spoke about wildlife in the last post and something noticable around day 41 as Damian neared the halfway mark, was more birds in the sky and they were a bit annoying, as Damian outlines here from a Facebook post:
"Birds: Every evening around dusk these little, black sparrow sized birds arrive to circle the boat for 30 or 40 mins. This isn't their first appearance that day as solo visits are common but it is their 1st appearance in such numbers. What makes their nighttime rendezvous even more unique is one of them "laughs at me"."
"Curiously only one individual makes this sound, which, by the way, has elicited some very unfriendly remarks from me on more frustrating evening, and it's only at night that I've ever heard it."
"In the last few nights they've been coming closer & closer to the boat; so close one nearly flew into my ear while I was taking a piss & this morning when I sat down to being my rowing for the day, I found two of them nestled in around the life raft underneath my rowing seat."
Newfoundland
I wonder how they came up with that name? It is up there with Iceland for most creative landmass name ever! All joking aside though, Damian and Cushlamachree came precariously close to it around day 29 and 30 as they came close to the continental shelf just off Newfoundland. The dangers of getting to close to land are that you can get blown ashore and once a rock or two hit the boat, it could be game over or an oar could get broken, which again would be bad news as there are only a few spares and storms can break these or sweep them away, so you need as many spares as possible.
Damian Explains here in his own words how trechorous and difficult the conditions were at this time and how he battled through - Chop Wood Carry Water!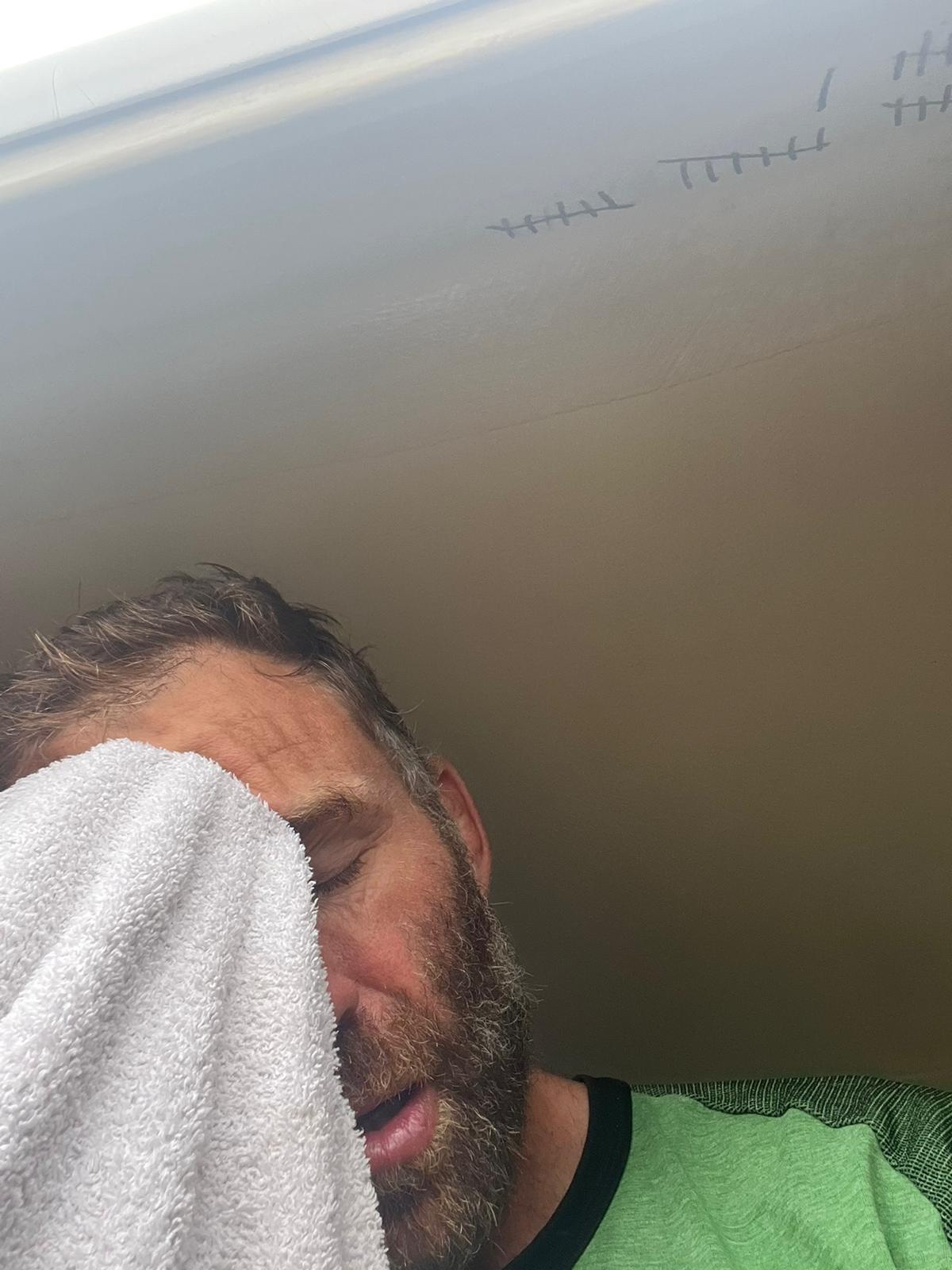 "Today has the combination of conditions to break a man. But it won't break me."
"15-20kt headwinds. Strong Northerly current. Waves into the bow of Cushlamachree. Logically I should only go one way and it sure as hell isn't forward. But I go forward."
"I feel it's the reality that not many would have the capacities to do this. But this is what I have trained my whole life for."
"This is why I put so much focus and energy into preparing my body and mind to function at extraordinary levels of output. This is why I will not fail."
Battling the Mind
You are alone.
You are on an Ocean rowing boat alone.
You are rowing in two to three hour blocks, having a short break to eat and rest, then back on the oars, rowing alone.
So, it is no surprise that the mind could be very active in these circumstances. In fact the mind can be very active even when we are surrounded by lots of people, so when isolated alone, like Damian was, it is no surprise to hear that his mind would be active, but he has the mental fortitude to calm the mind and not associate too much with it, here are some of his thoughts on this:
"In the world of performance your mind can be your strongest ally or your worst enemy."
"In the world of performance your mind will always be challenged; there is no avoiding it for an athlete who knows how to push themselves."
"For these types of athlete, they will always encounter a negative mental "wash" over themselves (elicited by physical stress) as their first 'breaking point'. The mind is strong, yet it is weak in these early entry nanoseconds to what I called 'the decisive moment'."
"Recognition of this mental state of destabilization is the key to changing it. In the world of performance you are going to want to change it; very quickly."
"We do this using mental resets. A reset can come in the form of a 'cue' or 'question' and act as a bridge through the mental chaos to a place of mental control."
"In the world of physical performance reset cues & questions must fall under 4 categories: The 4 Controllables.

Body Position & Technique
Breath
Effort
Self Talk
"These 4 actions are ALWAYS within your control no matter your psychological state. ALWAYS. If you have the self awareness to recognize the reality of your state through the chaos in your mind, then you can employ a reset to redirect your mind back under your control. The quicker you learn to do this (it's a practice) the less loss in performance.
"Control the Moment: Master your Mind."
What an insight that is! I think we can all learn something from this excellent insight from an athlete who can and has push things to the boundaries of human possibility. A key takeaway for me hear is that we are not our minds, we have a deeper consciousness, and if we can observe the mind instead of associating with it, then we can overcome the wave of negativity that can sometimes flood our heads in times of physical or mental overload.
The halfway point
It took 43 days of graft, sweat and tears, but Damian finally reached the halfway point after 43 long and arduous days. Would that mean it would take 86 days to complete this mammoth feat? You'll have to stay tuned to find out what lay in store for the second half of this Ocean crossing.
Want to know more?
Join me again next week for part 6, as Damian and Cushlamachree edge ever closer to Galway and a reunion with his wife, daughter and family.
Also, if you can't wait for that, follow the big man at any of these places. I have been listening to his pod casts the whole way along which have been brilliant and very motivational. I would highly recommend them to you all.
https://www.facebook.com/gulliverstravels17
https://damianbrowne.com/
https://open.spotify.com/show/5F8VlGPSU5mBEJszmMR0rj
These are not original photos - source: https://www.facebook.com/gulliverstravels17
Thanks as always for stopping by everyone.
Peace Out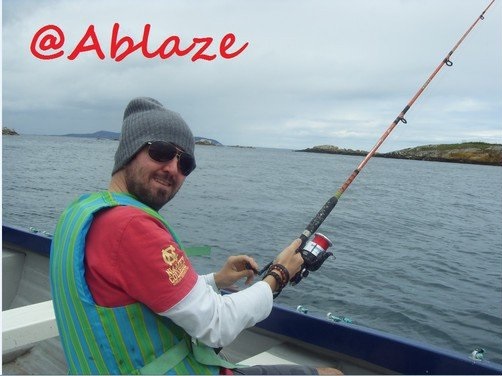 ---
---