¿Qué le pasa al Madrid? (What's wrong with Madrid?)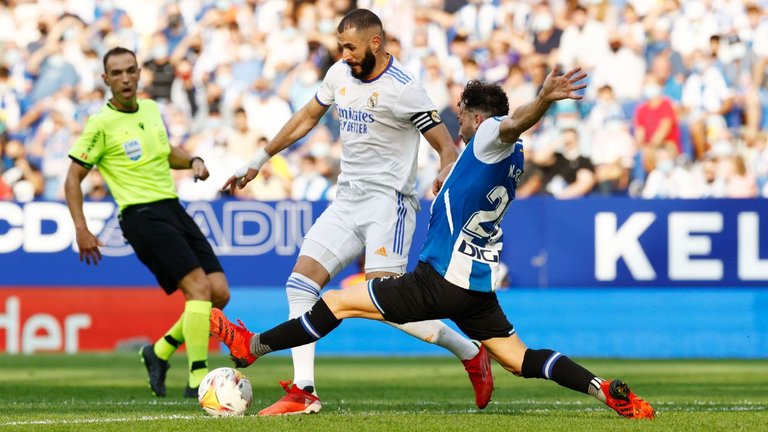 Saludos, amigos de @fulldeportes. Esta es mi primera publicación en esta comunidad, y deseo compartir con ustedes mi apreciación de la situación actual del Real Madrid CF.
Ante todo, quiero evaluar la conducta de los jugadores ante la derrota contra el Sheriff Tiraspol, el pasado martes 28 de septiembre del presente año, en el que se vio a los jugadores del Real Madrid CF luchando por anotar después de haber sufrido el primer gol, en apenas el minuto 25 del partido, debido a una desconcentración en los jugadores de la defensa que permitieron el centro de Cristiano directo a la cabeza de Jasurbek Yakhshiboev, quien cabeceó solo dentro del área, colocando el balón hacia la mano derecha del guardameta blanco.
A pesar de haber recibido el gol, el equipo blanco atacó en retiradas y frecuentes ocasiones, pero la actuación del portero Georgios Athanasiadis causó una especie de frustración entre los atacantes merengues, quienes arremetían desde diferentes ángulos y con jugadas por la banda izquierda en los pies de Vinicius, quien parece haber perdido la puntería que demostró en los primeros partidos de la temporada.
Como el fútbol es un deporte de concentración, el reiterado ataque de Vinicius causó un descuido en la defensa del Sheriff, haciendo caer a Vinicius dentro del área, siendo sancionados con un penal cobrado de manera majestuosa por Karim Benzema, empatando así el encuentro.
El ataque blanco no cesó, pero otro descuido en el minuto 89, permitió el que quizá sea el mejor disparo en la vida profesional de Sébastien Thill, marcando el gol de la ventaja y el que diera la victoria al equipo visitante.
Los analistas deportivos coincidieron en que había sido un accidente y que si repetían el juego 100 veces más, las probabilidades de volver a ganar del Sheriff eran remotas, lo que de alguna manera parecía levantar el ánimo del equipo blanco, hasta que ayer volvieron a perder, esta vez contra el Espanyol de Barcelona.
El equipo "periquito", logró anotar apenas en el minuto 16 en los pies de Raúl De Tomás, quien recibió un centro de Embarba. Este golpe pareció haber bajado más la moral del equipo blanco, recibiendo la segunda anotación en el minuto 59, pero esta vez fue una cortesía de Aleix Vidal quien corrió de manera vertiginosa, dejando en vergüenza a Nacho y al descubierto a la defensa blanca, quienes solo pudieron verle el dorsal al jugador del Espanyol.
El gol del consuelo llegó en el minuto 70, en los pies de quien es el mejor jugador en la actualidad del Real Madrid CF, el francés Karim Benzema.
El equipo blanco acumula dos derrotas en fila, encendiendo las alarmas entre sus fanáticos, analistas deportivos, e incluso del mismo Carlo Ancelotti, quien manifestó que el equipo ya no es el mismo de hace dos semanas y está jugando de manera desordenada.
Ante estas actuaciones del Real Madrid CF, siendo derrotado con similar resultado en ambos encuentros podemos preguntarnos ¿Qué le pasa al Madrid? ¿Estarán agotados los jugadores? ¿Les cuesta entender las instrucciones del técnico? ¿Les falta motivación? ¿La edad les está pegando? En todo caso, viene un receso producto del "parón" FIFA, lo que dará la oportunidad al técnico y a los jugadores que no sean convocados a las selecciones de sus países de revisar lo que está ocurriendo para corregir.
Por lo demás, el Real Madrid CF sigue siendo el líder de la liga española de fútbol con 17 puntos, solo que ya no es el líder absoluto, porque fue alcanzado por el Atlético de Madrid y la Real Sociedad. En cuanto a la Liga de Campeones de Europa, está segundo en el grupo "D" con 3 puntos, detrás del Sheriff Tiraspol que tiene 6 puntos, por haber ganado sus dos encuentros.
Sin más que agregar en este artículo, me despido esperando sea de su agrado y poder participar nuevamente en esta hermosa comunidad.
Greetings, friends of @fulldeportes. This is my first post in this community, and I want to share with you my assessment of the current situation of Real Madrid CF.
First of all, I want to evaluate the players' conduct in the defeat against Sheriff Tiraspol, last Tuesday, September 28th of this year, in which Real Madrid CF players were seen struggling to score after conceding the first goal, in just the 25th minute of the match, due to a lack of concentration in the defense players who allowed Cristiano's cross straight to the head of Jasurbek Yakhshiboev, who headed alone inside the box, placing the ball to the right hand of the white goalkeeper.
Despite having conceded the goal, the white team attacked in retreats and frequent occasions, but the performance of goalkeeper Georgios Athanasiadis caused a kind of frustration among the Merengues attackers, who lashed out from different angles and with plays on the left flank at the feet of Vinicius, who seems to have lost the aim he showed in the first matches of the season.
As soccer is a sport of concentration, Vinicius' repeated attack caused an oversight in Sheriff's defense, causing Vinicius to fall inside the area, which was punished with a penalty taken in a majestic way by Karim Benzema, thus tying the match.
The white attack did not stop, but another oversight in the 89th minute allowed perhaps the best shot of Sébastien Thill's professional life, scoring the winning goal and the one that gave the victory to the visiting team.
Sports analysts agreed that it was an accident and that if they repeated the game 100 times more, the chances of Sheriff winning again were remote, which somehow seemed to lift the spirits of the white team, until yesterday they lost again, this time against Espanyol Barcelona.
The "periquito" team, managed to score just in the 16th minute at the feet of Raúl De Tomás, who received a cross from Embarba. This blow seemed to have lowered the morale of the white team, receiving the second goal in the 59th minute, but this time it was courtesy of Aleix Vidal who ran in a dizzying way, leaving Nacho embarrassed and the white defense exposed, who could only see the Espanyol player's back number.
The consolation goal came in the 70th minute, at the feet of the player who is currently Real Madrid CF's best player, the Frenchman Karim Benzema.
The white team has accumulated two defeats in a row, setting off alarms among fans, sports analysts, and even Carlo Ancelotti himself, who said that the team is no longer the same as it was two weeks ago and is playing in a disorganized manner.
Given these performances of Real Madrid CF, being defeated with similar results in both games, we can ask ourselves: What is wrong with Madrid? Are the players exhausted? Do they have trouble understanding the coach's instructions? Do they lack motivation? Is age getting to them? In any case, there is a break due to the FIFA "pause", which will give the coach and the players who are not called up to the national teams of their countries the opportunity to review what is happening in order to correct it.
As for the rest, Real Madrid CF remains the leader of the Spanish soccer league with 17 points, only that it is no longer the absolute leader, because it was overtaken by Atletico Madrid and Real Sociedad. As for the European Champions League, they are second in group "D" with 3 points, behind Sheriff Tiraspol who have 6 points, having won both their matches.
With nothing more to add in this article, I say goodbye hoping that you will enjoy it and that you will be able to participate again in this beautiful community.
---
---