Análisis del Autódromo Hermanos Rodríguez (México) [ESP-ENG] #F1
Uno de los circuitos más multitudinarios del calendario actual de la Fórmula 1 se encuentra en la Ciudad de México. El Autódromo Hermanos Rodríguez no solo alberga carreras de Fórmula 1, sino competencias de Fórmula E, NASCAR México Series, entre otras categorías, así como también tiene la capacidad de albergar conciertos, e incluso, juegos de béisbol en el Foro Sol.
One of the most crowded circuits in the current Formula 1 calendar is located in Mexico City. The Autódromo Hermanos Rodríguez not only hosts Formula 1 races, but also Formula E and NASCAR Mexico Series competitions, among other categories, as well as the capacity to host concerts and even baseball games at the Foro Sol.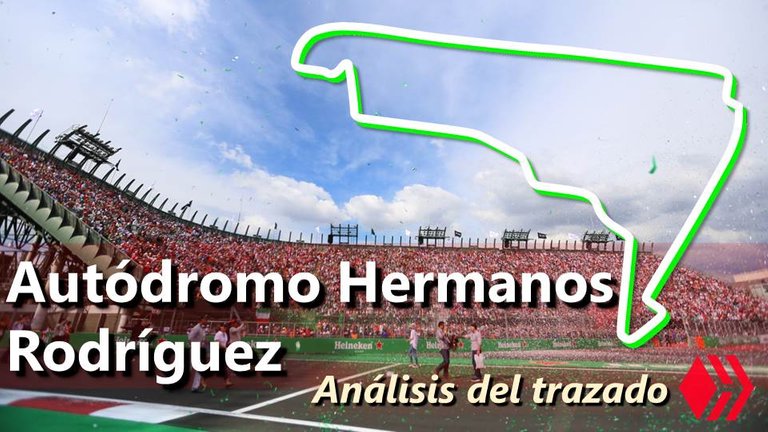 Imagen editada usando PowerPoint - OpenClicArt - Gobierno CDMX, CC0, via Wikimedia Commons.
Este circuito tiene una antigüedad de 80 años, y fue sede de carreras de Fórmula 1 entre 1962 y 1970, y 1986 y 1992, antes de regresar a la máxima categoría en 2015. Para su retorno, se modificó el trazado significativamente, así como también se modernizó por completo su infraestructura.
This circuit is 80 years old, and hosted Formula 1 races between 1962 and 1970, and 1986 and 1992, before returning to the top category in 2015. For its return, the layout was significantly modified, as well as its infrastructure was completely modernized.
Planet Labs, Inc., CC BY-SA 4.0, via Wikimedia Commons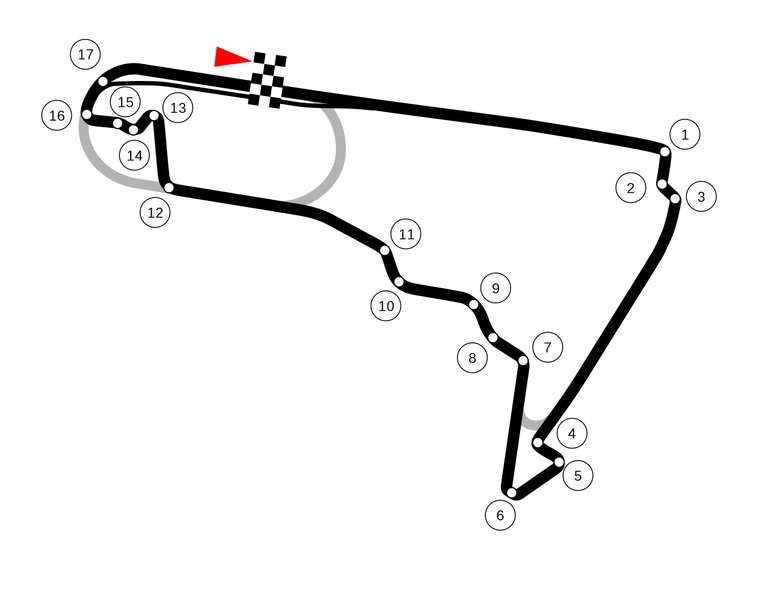 Pitlane02, CC BY-SA 3.0, via Wikimedia Commons
Es un trazado de 4304 metros, uno de los más cortos del campeonato. Esto hace que sus largas rectas contrasten un poco con el resto del circuito, el cual exige mucho del uso del freno, muy similar a los circuitos más trabados como Singapur. Podríamos decir que el Autódromo Hermanos Rodríguez es una curiosa combinación entre Monza y Hungaroring.
It is a 4304-meter track, one of the shortest in the championship. This makes its long straights contrast a bit with the rest of the circuit, which requires a lot of braking, very similar to the most tight circuits such as Singapore. We could say that the Autódromo Hermanos Rodríguez is a curious combination between Monza and Hungaroring.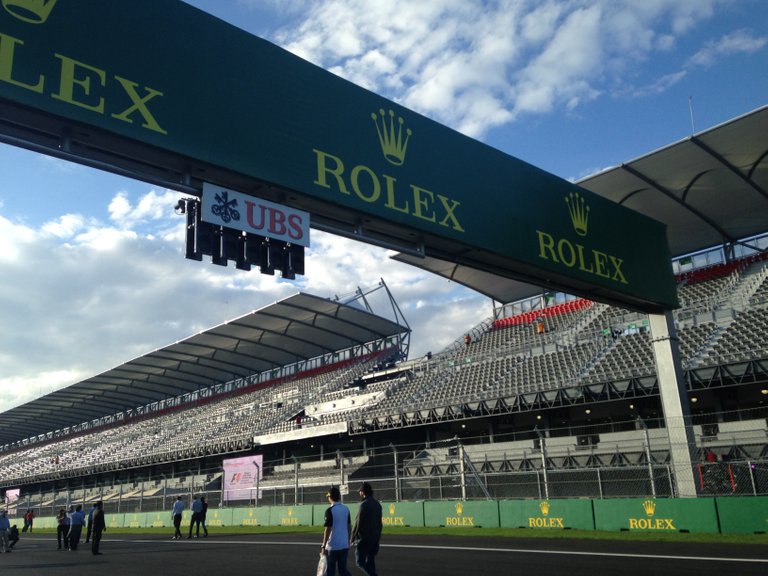 ProtoplasmaKid, CC BY-SA 4.0, via Wikimedia Commons
Este circuito antiguamente era más rápido, o al menos con curvas más fluidas y veloces, así como también poseía un par de curvas con peralte, las cuales por su peligro, no se utilizan al día de hoy. Su modificación reciente, para el año 2015, hizo que este circuito adquiriera un toque más "moderno". Si dejamos de lado las 3 rectas más largas, nos quedan 2 sectores de media-baja velocidad, y 1 sector de media-alta velocidad (precisamente parte del circuito antiguo).
This circuit used to be faster, or at least with faster and more fluid curves, as well as it also had a couple of banked curves, which due to their danger, are not used today. Its recent modification, for the year 2015, made this circuit acquire a more "modern" touch. If we leave aside the 3 longest straights, we are left with 2 medium-low speed sectors, and 1 medium-high speed sector (precisely part of the old circuit).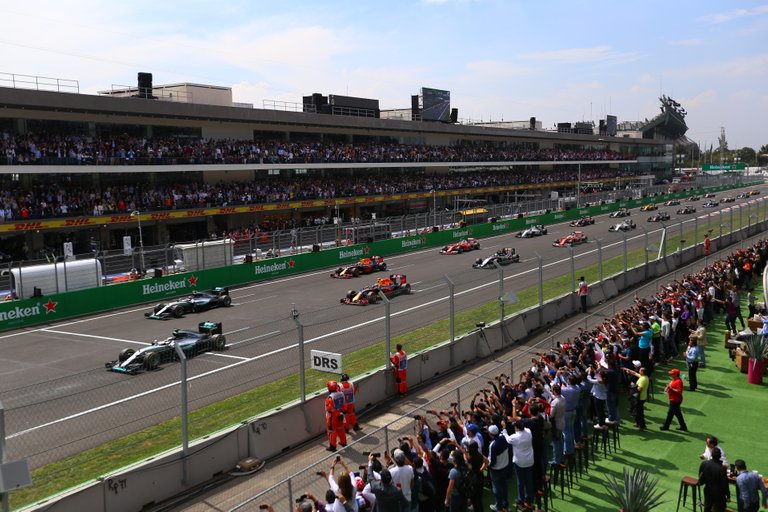 Gobierno CDMX, CC0, via Wikimedia Commons
Estas largas rectas y chicanes recuerdan a Monza. Pero el resto del circuito adquiere características de Hungaroring, o cualquier otro circuito que se caracterice por ser trabado. Esto exige que los autos posean una elevada carga aerodinámica para sortear estos sectores lentos, y unos buenos frenos, los cuales se usan constantemente, hay muchas curvas para un circuito tan corto (Hungaroring tiene 14 curvas y este 17).
These long straights and chicanes are reminiscent of Monza. But the rest of the circuit acquires characteristics of Hungaroring, or any other circuit characterized by being stuck. This requires the cars to have a high downforce to negotiate these slow sectors, and good brakes, which are constantly used, there are many curves for such a short circuit (Hungaroring has 14 curves and this one has 17).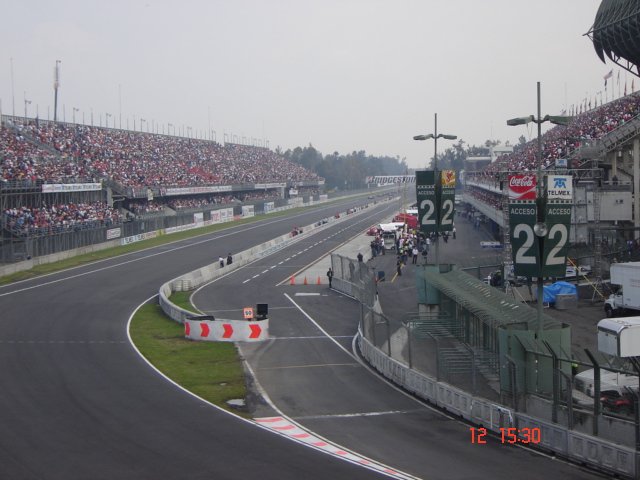 oswaldo bautista, CC BY-SA 3.0, via Wikimedia Commons
Hay otro factor muy importante a tomar en cuenta en este circuito: la elevación. Los autos conducen a una altitud de 2285 metros sobre el nivel del mar, por lo que el aire es un 15 o 20% menos espeso. Esto hace que la aerodinámica deba fortalecerse aún más en los autos, y es por eso que equipos como Red Bull suelen rodar bien acá. Los motores también se ven afectados por la altura.
There is another very important factor to take into account in this circuit: the elevation. The cars drive at an altitude of 2285 meters above sea level, so the air is 15 to 20% thinner. This means that the aerodynamics have to be further strengthened in the cars, which is why teams like Red Bull tend to run well here. Engines are also affected by the altitude.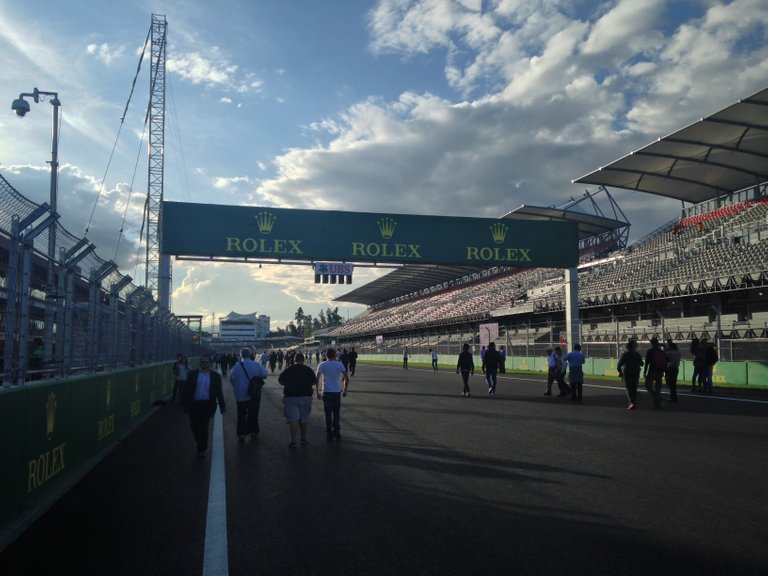 ProtoplasmaKid, CC BY-SA 4.0, via Wikimedia Commons
La zona del Foro Sol es una de las zonas más lentas del calendario de la Fórmula 1, y destaca por la gran vista que tienen los aficionados de los autos. Quizás la lentitud y lo estrecho de esta zona de la pista haga que no veamos adelantamientos aquí, pero quizás en 2022 esto cambie un poco.
The Foro Sol area is one of the slowest areas of the Formula 1 calendar, and stands out for the great view fans have of the cars. Perhaps the slowness and narrowness of this area of the track means that we don't see overtaking here, but perhaps in 2022 this will change a bit.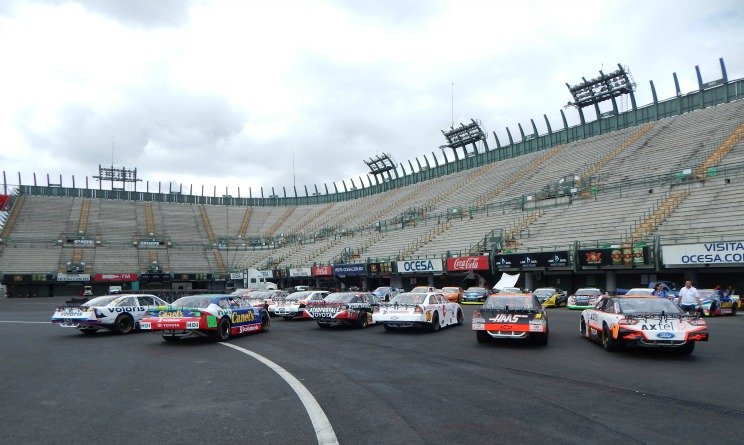 Ricardo Clemente, CC BY-SA 4.0, via Wikimedia Commons
La zona de Moisés Solana es otra especie de Stadium en donde los autos llegan a toda velocidad luego de la recta principal de 1300 metros. Lo mismo podemos decir de la zona entre las curvas 4, 5 y 6, las cuales son cerradas por un conjunto de gradas. Esto convierte al Autódromo Hermanos Rodríguez en un verdadero complejo deportivo.
The Moisés Solana area is another kind of Stadium where the cars arrive at full speed after the main straight of 1300 meters. The same can be said of the area between turns 4, 5 and 6, which are enclosed by a set of grandstands. This turns the Autodromo Hermanos Rodriguez into a true sports complex.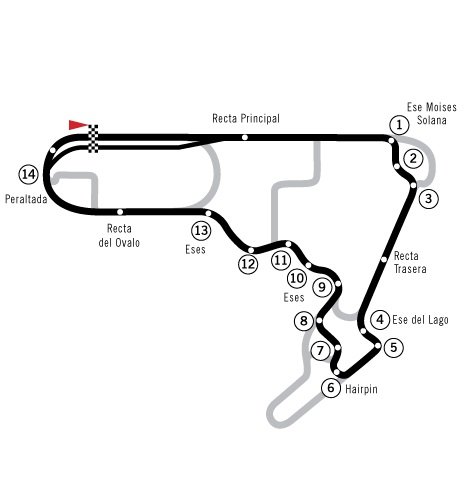 Wikimedia.commons
Antiguamente, podemos observar otras variaciones, como se ve en la imagen de arriba. Una de las peraltadas antiguas se puede observar en la imagen de abajo. La seguridad no era un factor tan tomado en cuenta en otras épocas. Dicha peraltada corresponde a una horquilla del circuito en sus primeros años.
In the past, we can observe other variations, as shown in the image above. One of the old banked roads can be seen in the image below. Safety was not a factor so much taken into account in other times. This camber corresponds to a hairpin of the circuit in its early years.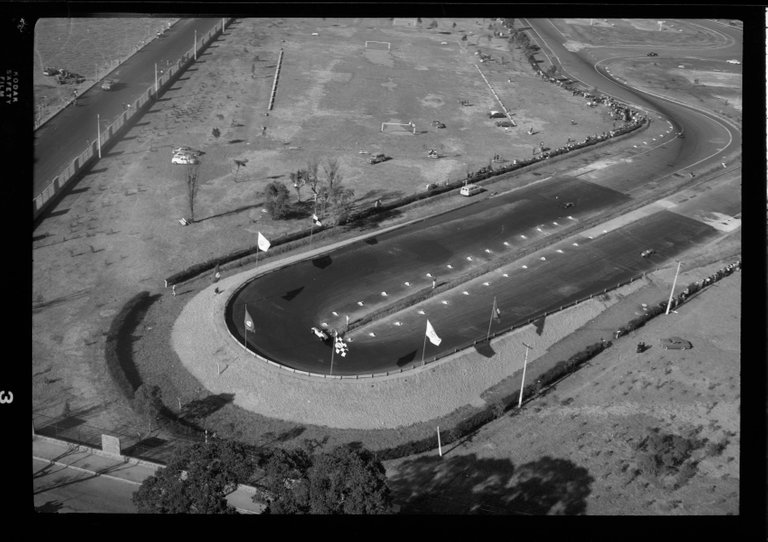 See page for author, CC0, via Wikimedia Commons
La Fórmula E también hace uso de este complejo deportivo, aunque no de la misma manera. Podemos observar como la pista transcurre por el Foro Sol, pero no termina saliendo de la misma manera que en la Fórmula 1. El circuito podría parecer un poco extraño, pero es lo normal para una categoría con sus propias condiciones y exigencias, como lo es la Fórmula Eléctrica.
Formula E also makes use of this sports complex, although not in the same way. We can see how the track runs through the Foro Sol, but it does not end up going out in the same way as in Formula 1. The circuit might seem a bit strange, but it is normal for a category with its own conditions and demands, such as Formula Electric.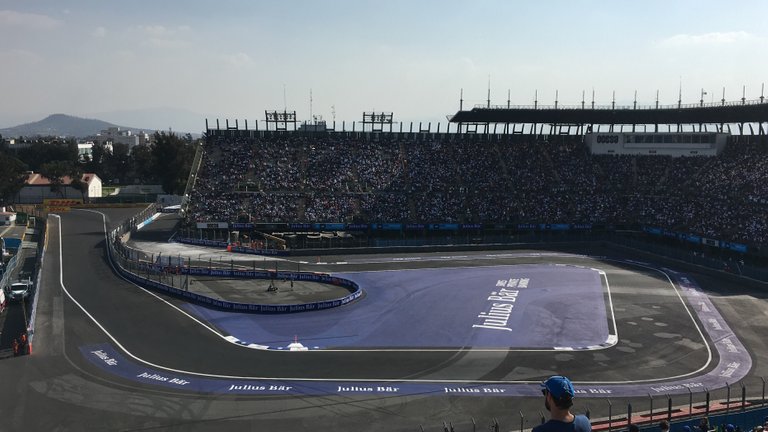 Rivera0997, CC BY-SA 4.0, via Wikimedia Commons
Wikimedia.commons
El Autódromo Hermanos Rodríguez es un circuito bastante peculiar. Es corto, pero integra rectas largas y zonas lentas al mismo tiempo, un contraste que no muchos circuitos poseen. Es un circuito que podríamos clasificar como "semi-moderno", ya que a pesar de las modificaciones, aún conserva las rectas y algunas curvas del trazado original.
The Autódromo Hermanos Rodríguez is a rather peculiar circuit. It is short, but integrates long straights and slow zones at the same time, a contrast that not many circuits have. It is a circuit that could be classified as "semi-modern", since despite the modifications, it still preserves the straights and some curves of the original layout.
En una próxima entrega sobre Análisis de circuitos de Fórmula 1 estaré creando contenido en video para #3Speak.
Eneas, CC BY 2.0, via Wikimedia Commons
---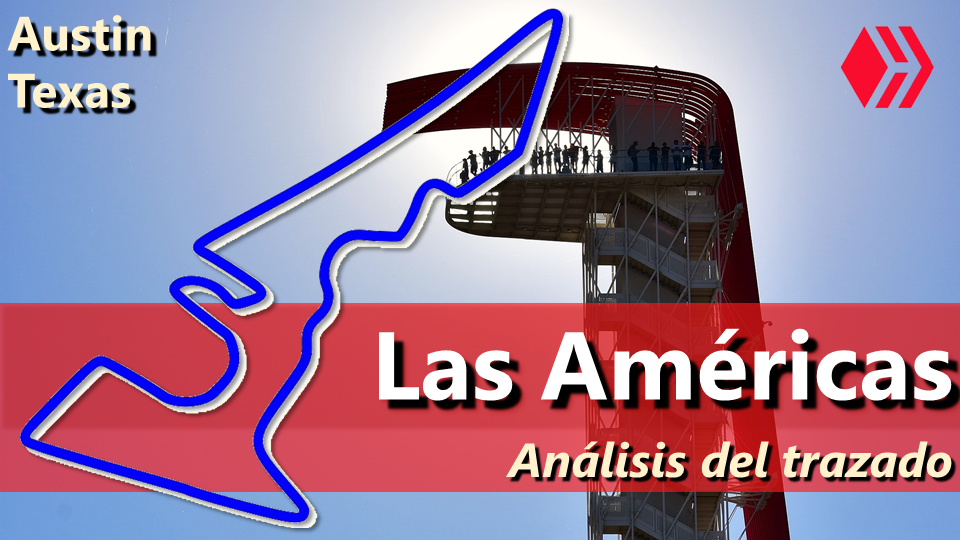 Post
Deja tu comentario o comparte (reblog) esta publicación si te ha parecido interesante.
Leave a comment or share (reblog) this post if you found it interesting.
---
Translated to English language with the help of DeepL.com
¡Gracias por visitar! — Deja tu comentario 🚥🏆

---
---