Bottas se lleva carrera húmeda en Turquía — Bottas takes wet race in Turkey [ESP-ENG] #F1
Turquía nos había dejado un excelente antecedente el año pasado, con una carrera lluviosa que ganó Lewis Hamilton, tras una estupenda estrategia y conservación de los neumáticos intermedios. Este año tampoco nos ha dejado mal. Desde el inicio hasta el final hemos tenido una carrera algo inusual desde el punto de vista climático, pues toda la misma transcurrió bajo piso húmedo, condicionando así las estrategias de los equipos.
Turkey had left us an excellent precedent last year, with a rainy race won by Lewis Hamilton, after a great strategy and conservation of intermediate tires. This year has not left us bad either. From the beginning to the end we have had a somewhat unusual race from the climatic point of view, as the whole race took place under wet conditions, thus conditioning the strategies of the teams.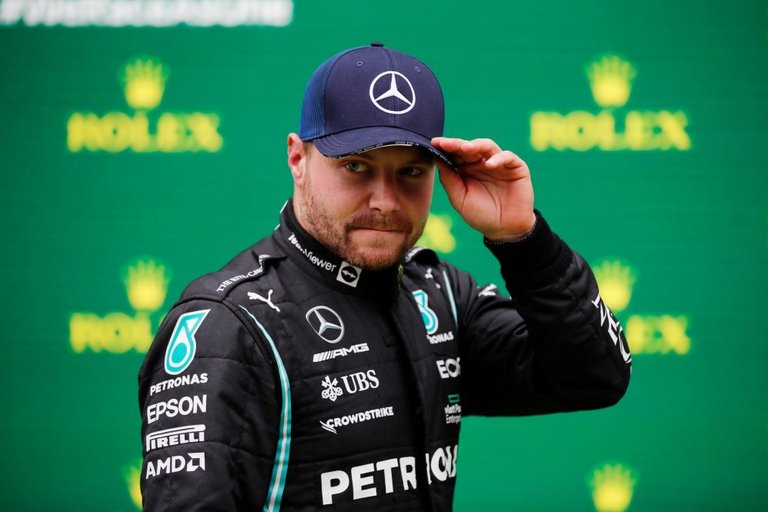 Formula1.com
Valtteri Bottas partió desde la Pole Position y logró dominar toda la carrera en estas condiciones. Una merecida victoria para él luego de más de 1 año sin lograrlo. Se mostró el poderío del equipo Mercedes, a pesar de ser un circuito que en teoría sería más favorable al Red Bull. Las condiciones de pista quizás favorecieron más al equipo alemán, puesto que los Red Bull a pesar del podio obtenido, en términos generales no fueron superiores a los Mercedes.
Valtteri Bottas started from pole position and managed to dominate the entire race in these conditions. A deserved victory for him after more than 1 year without achieving it. The power of the Mercedes team was shown, despite being a circuit that in theory would be more favorable to Red Bull. The track conditions perhaps favored the German team more, since the Red Bulls, despite the podium, were not superior to the Mercedes in general terms.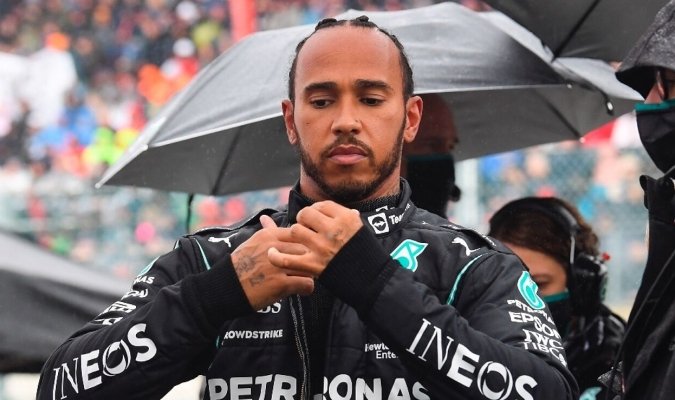 Meridiano.net
Lewis Hamilton protagonizó una espectacular remontada desde el 11° puesto. Lo cual le sirvió para escalar hasta el 3° lugar al final de la carrera. Pero este año la pista sufrió modificaciones que la hacen un poco más desgastante para los neumáticos. Lewis no podría sostener el podio hasta el final, por lo que el equipo decidió que la parada era la mejor opción, a pesar del disgusto de Lewis por esta decisión. Lo mismo sucedió con Leclerc. Si ambos hubieran pasado por boxes unas vueltas antes quizás la historia fuera otra.
Lewis Hamilton made a spectacular comeback from 11th place. This helped him to climb to 3rd place at the end of the race. But this year the track underwent modifications that made it a bit more tiring for the tires. Lewis would not be able to hold the podium until the end, so the team decided that the stop was the best option, despite Lewis' displeasure with this decision. The same was true for Leclerc. If both had pitted a few laps earlier, perhaps the story would have been different.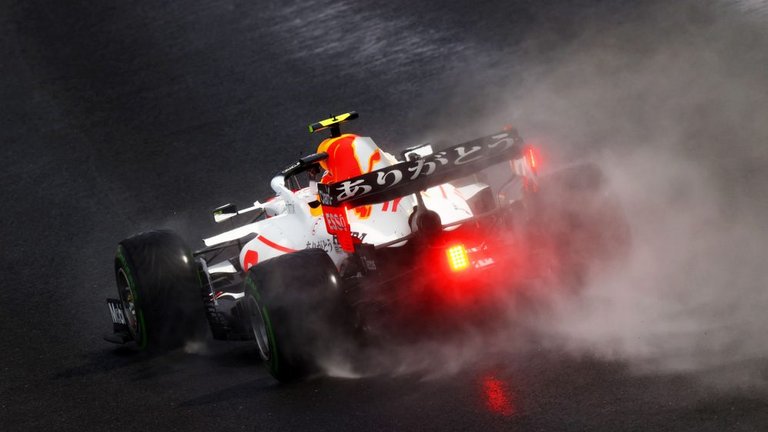 Formula1.com
Hay que recalcar que si la carrera se declara en condiciones húmedas los pilotos no están obligados a cambiar neumáticos. Era posible finalizar la carrera sin cambiar los neumáticos intermedios, pero al mismo tiempo, algo muy riesgoso, puesto que podrían perder mucho rendimiento en las últimas vueltas, algo que Hamilton y Leclerc en un principio apostaron a que no sucedería. Los mayores beneficiados por sus estrategias fueron los Red Bull y Bottas, quienes pararon a 15-20 vueltas del final y aprovecharon mejor su segundo set de neumáticos. Resultando así el podio Bottas, Verstappen y Pérez.
It should be emphasized that if the race is declared in wet conditions the drivers are not obliged to change tires. It was possible to finish the race without changing the intermediate tires, but at the same time, something very risky, since they could lose a lot of performance in the last laps, something that Hamilton and Leclerc initially bet that it would not happen. The biggest beneficiaries of their strategies were Red Bull and Bottas, who stopped 15-20 laps from the end and made the best use of their second set of tires. This resulted in the podium for Bottas, Verstappen and Perez.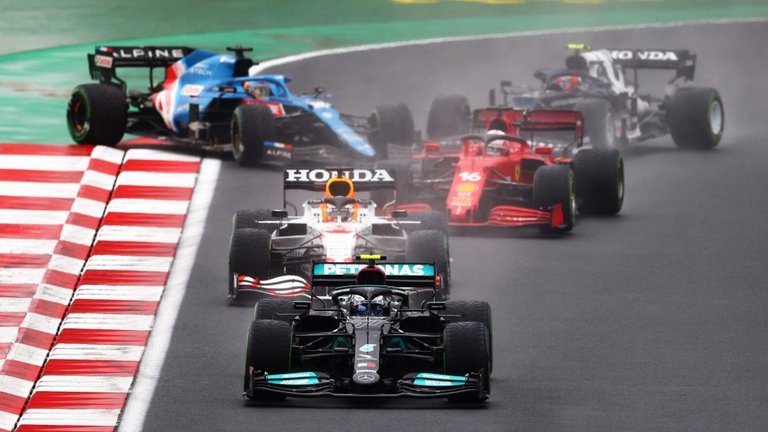 Formula1.com
El piloto mexicano logra un muy buen resultado partiendo desde el 6° lugar. Hay que destacar su espectacular defensa contra Lewis Hamilton, lo cual seguramente le vale para consolidar su puesto en Red Bull, puesto en duda últimamente. Por otro lado, Verstappen logra situarse líder del campeonato con 6 puntos de ventaja sobre Hamilton, quien finalizó 5° en la carrera. Fue una carrera tranquila para Verstappen, quien no estuvo tan cómodo con su auto en estas condiciones húmedas, pero al menos logra un buen resultado.
The Mexican driver achieved a very good result starting from 6th place. It is worth mentioning his spectacular defense against Lewis Hamilton, which will surely help him to consolidate his position at Red Bull, which has been in doubt lately. On the other hand, Verstappen manages to take the lead in the championship with 6 points ahead of Hamilton, who finished 5th in the race. It was a quiet race for Verstappen, who was not so comfortable with his car in these wet conditions, but at least he gets a good result.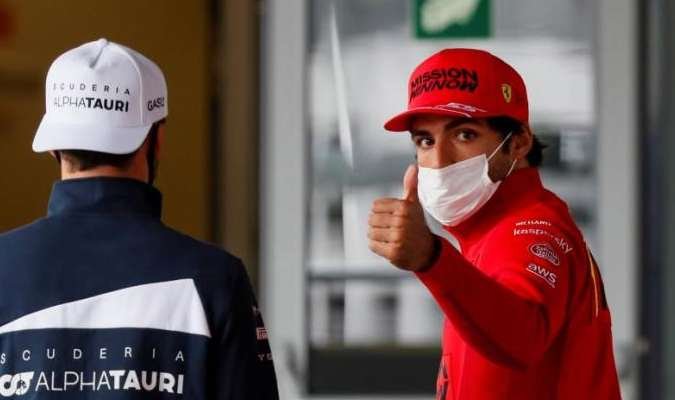 Meridiano.net
En la parte media del pelotón destaca Carlos Sainz quien remontó desde el último hasta el 8° lugar. Ferrari estuvo muy sólido en esta carrera, al menos se vieron mejores en rendimiento que McLaren y Alpha Tauri. Quizás veamos a los Ferrari igual de sólidos en Austin, un circuito donde se han visto fuertes en el pasado. McLaren por otro lado no consiguió tan buenos resultados en Turquía, Norris fue 7° y Ricciardo a penas fue 13°. Uno de los misterios de esta carrera fue el comportamiento de los neumáticos intermedios, remarcado por esa primera parada que realizó el mismo Ricciardo.
In the middle of the pack, Carlos Sainz stood out and came back from last to 8th place. Ferrari was very solid in this race, at least they looked better in performance than McLaren and Alpha Tauri. Perhaps we will see the Ferrari's just as solid in Austin, a circuit where they have been strong in the past. McLaren on the other hand did not perform as well in Turkey, Norris was 7th and Ricciardo was barely 13th. One of the mysteries of this race was the behavior of the intermediate tires, highlighted by that first stop made by Ricciardo himself.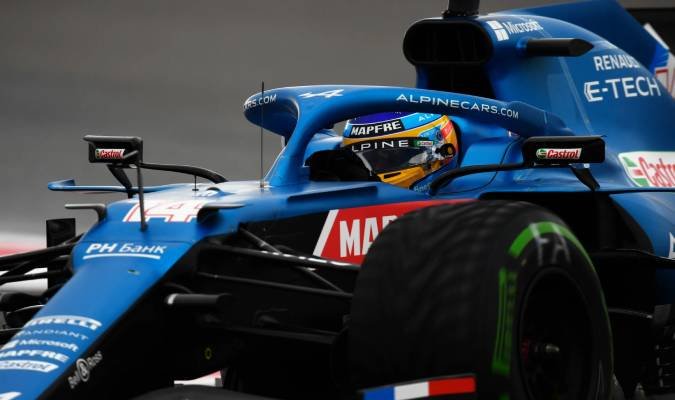 Meridiano.net
Los neumáticos intermedios nuevos fueron, en algunas ocasiones, más lentos que los intermedios de varias vueltas que algunos pilotos tenían montados en medio de la carrera. El mismo Lewis Hamilton fue más rápido que otros pilotos con intermedios muy desgastados, pero no lo fue tanto cuando montó los nuevos al final. Quizás estos neumáticos tarden demasiado en calentar. Una teoría personal es que la pista al secarse un poco dejó algunas trazadas secas, y los neumáticos intermedios al desgastarse se vuelven más planos, similares a los neumáticos de seco. Es por esto que en estas condiciones transitorias de húmedo-seco los neumáticos intermedios desgastados aprovechan mejor las zonas secas que los intermedios nuevos.
The new intermediate tires were, at times, slower than the several-lap intermediates that some drivers had on in the middle of the race. Lewis Hamilton himself was faster than other drivers on very worn intermediates, but less so when he fitted the new ones at the end. Perhaps these tires take too long to warm up. A personal theory is that the track dried out a bit, leaving some dry lines, and the intermediate tires become flatter as they wear, similar to dry tires. This is why in these transitional wet-dry conditions the worn intermediate tires make better use of the dry areas than the new intermediates.
Fue una carrera algo decepcionante para Aston Martin y Alpine. A pesar de que Stroll logró un 9° puesto, en una pista que se le da bien, por otro lado el equipo cometió un error muy grande al montar neumáticos de seco a Vettel, los cuales no funcionaron para nada pero que sin embargo, valía la pena probar. Alonso tuvo una excelente partida, pero Gasly le contactó en la primera curva causándole un trompo y perdiendo muchas posiciones. De todas maneras, Alpine no tuvo mucho ritmo en esta carrera como para optar por el top 5.
It was a somewhat disappointing race for Aston Martin and Alpine. Although Stroll managed a 9th place, on a track he is good at, on the other hand the team made a very big mistake by fitting dry tires to Vettel, which didn't work at all but were nevertheless worth trying. Alonso had an excellent start, but Gasly contacted him in the first corner causing him to spin and lose many positions. In any case, Alpine did not have enough pace in this race to be in contention for the top 5.
---
Deja tu comentario o comparte (reblog) esta publicación si te ha parecido interesante.
Leave a comment or share (reblog) this post if you found it interesting.
---
Translated to English language with the help of DeepL.com
¡Gracias por visitar! — Deja tu comentario 🚥🏆

---
---