Lewis Hamilton conquista Brasil con firmeza — Lewis Hamilton firmly conquers Brazil [ESP-ENG] #F1
El Gran Premio de Sao Paulo (Brasil) ha dejado el campeonato el rojo vivo. Son solo 14 puntos de diferencia entre los principales contendientes al título, Max Verstappen y Lewis Hamilton, a falta de solo 3 carreras para finalizar una de las temporadas más emocionantes que hemos tenido en años.
The Grand Prix of Sao Paulo (Brazil) has left the championship red hot. There are only 14 points difference between the main contenders for the title, Max Verstappen and Lewis Hamilton, with only 3 races left to finish one of the most exciting seasons we have had in years.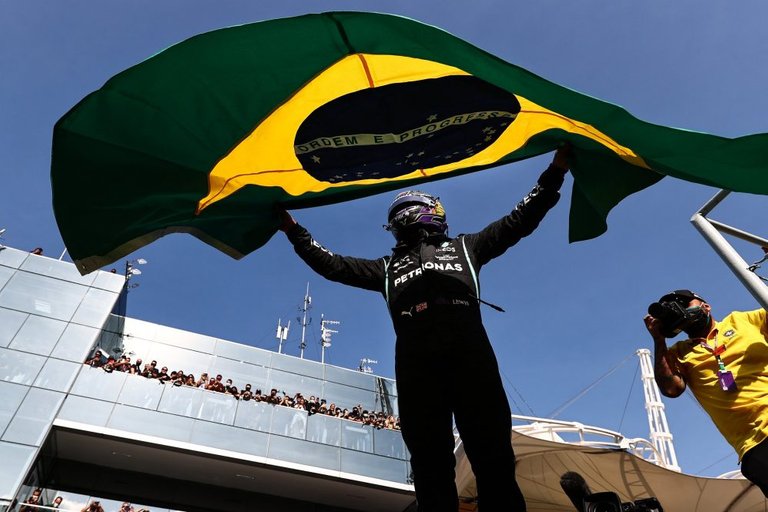 Formula1.com
Dentro de algunas décadas recordaremos la legendaria rivalidad Verstappen-Hamilton. El pasado Gran Premio de Brasil (GP de Sao Paulo) fue parte de otro capítulo entre estos dos pilotos, de esas que recuerdan a décadas pasadas. Tras múltiples vueltas de persecución, Lewis intentó el sobrepaso sobre Max, pero este jamás se lo iba a colocar fácil. Ambos pilotos se salieron de pista en la curva 4, en una aguerrida defensa de Verstappen por mantener su posición. Esta maniobra estuvo al borde de lo legal, pero de igual manera válida y nada raro para un piloto como Verstappen.
In a few decades we will remember the legendary Verstappen-Hamilton rivalry. The last Brazilian Grand Prix (Sao Paulo GP) was part of another chapter between these two drivers, one of those reminiscent of decades past. After multiple laps of pursuit, Lewis tried to overtake Max, but Max was never going to make it easy for him. Both drivers went off the track at turn 4, in a fierce defense of Verstappen to maintain his position. This maneuver was borderline legal, but still valid and not unusual for a driver like Verstappen.
  



Deslizar hacia la derecha / Slide to the right ➜
Fuente de imágenes: Formula1 — Formula1 — Formula1
---
A penas vi esta maniobra de Verstappen para defender su posición comprendí que el piloto holandés no ha venido a ser otro piloto más en la máxima categoría. Más allá de las "malas intenciones" o lo dura que fue su defensa, es algo que solo un piloto, de esos como Senna, es capaz de hacer, y no hay duda de que Hamilton haría lo mismo. La manera en que Verstappen aguantó a Hamilton tantas vueltas es algo de admirar, así como su habilidad para largar carreras.
As soon as I saw this maneuver of Verstappen to defend his position I understood that the Dutch driver has not come to be just another driver in the top category. Beyond the "bad intentions" or how hard his defense was, it is something that only a driver like Senna is capable of doing, and there is no doubt that Hamilton would do the same. The way Verstappen held off Hamilton for so many laps is something to admire, as well as his ability to start races.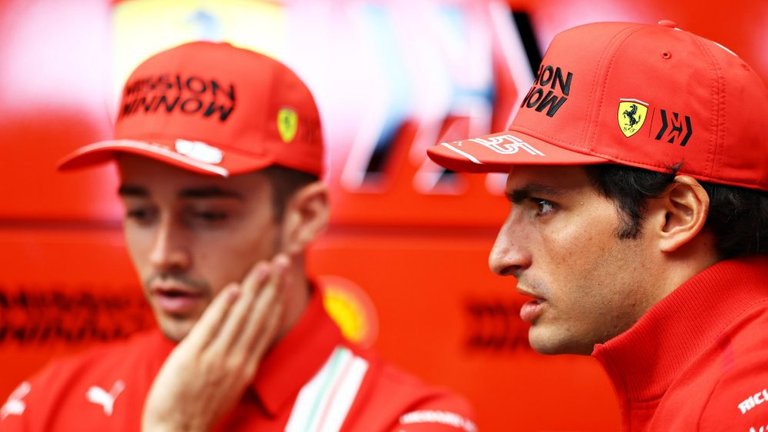 Formula1.com
El dueño de casi todo el espectáculo fue Lewis Hamilton. De una manera sorprendente, Mercedes se ha adueñado del fin de semana con un ritmo endemoniado de su nuevo motor. No habíamos visto este nivel de Hamilton desde hacía un buen tiempo, y su ritmo de las últimas vueltas de Austin ni siquiera se le compara. En un circuito que pintaba mucho más favorable a Red Bull, Mercedes saca su carta maestra, un motor nuevo que pulverizó los tiempos en las rectas y subidas del Interlagos, lo cual fue más efectivo que la aerodinámica de Red Bull en las zonas lentas.
The owner of almost the entire show was Lewis Hamilton. In a surprising way, Mercedes has taken over the weekend with a devilish pace from its new engine. We hadn't seen this level of Hamilton for quite some time, and his pace in the final laps of Austin doesn't even compare. On a circuit that looked much more favorable to Red Bull, Mercedes pulls out its master card, a new engine that pulverized the times on the straights and climbs of Interlagos, which was more effective than Red Bull's aerodynamics in the slow areas.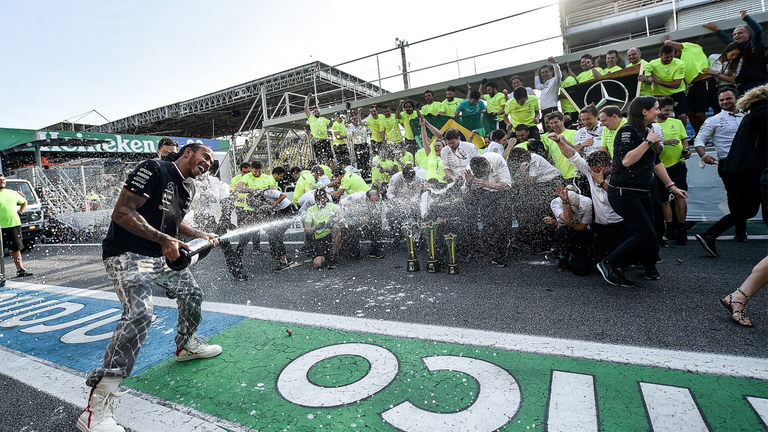 Formula1.com
Quizás Red Bull no se esperaba este rendimiento de Mercedes, pero lo cierto es que no pueden descuidar ni un milímetro en lo que resta de temporada. El circuito de Losail en Qatar es desconocido para todos, pero tiene tanto curvas como un a recta larga, por lo que ambos equipos en teoría estarían parejos. La referencia más aproximada es la de Bahreín, pero aún no podemos decir con claridad quienes tendrán mayor ventaja en Qatar.
Perhaps Red Bull did not expect this performance from Mercedes, but the truth is that they can not neglect a millimeter in the remainder of the season. The Losail circuit in Qatar is unknown to everyone, but it has both curves and a long straight, so both teams would theoretically be even. The closest reference is that of Bahrain, but we cannot yet say with clarity who will have the biggest advantage in Qatar.
No machine-readable author provided. Miljoshi assumed (based on copyright claims)., CC BY-SA 3.0, via Wikimedia Commons
Lo cierto es que Hamilton se ganó el corazón de muchos brasileros, quienes ven en él una especie de "encarnación" de Senna, ídolo del piloto británico. Por otra parte, Pérez tuvo una carrera regular, en la que quizás la mala suerte le quitó el podio. Bottas se vió beneficiado por un Virtual Safety Car, obteniendo un tercer lugar que quizás Pérez pudo haber conservado. La gira por América dejó buenos resultados para el único piloto de la región.
The truth is that Hamilton won the hearts of many Brazilians, who see in him a sort of "incarnation" of Senna, the idol of the British driver. On the other hand, Perez had a regular race, in which perhaps bad luck robbed him of the podium. Bottas benefited from a Virtual Safety Car, obtaining a third place that perhaps Perez could have kept. The American tour left good results for the only driver of the region.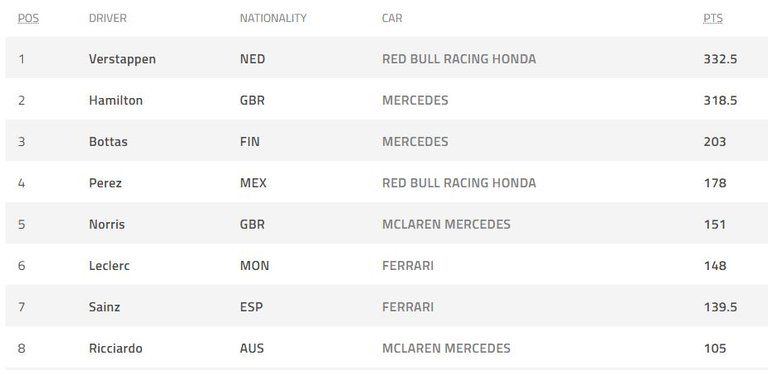 Formula1.com
Las cosas no cambian mucho a mitad de tabla. Ferrari sigue fuerte, y McLaren sigue en picada. Pero a falta de tres carreras algunas cosas podrían cambiar. Pienso que no es imposible que Norris mantenga su posición como mejor del resto. El campeonato está a lrojo vivo, y no hay descanso, serán 3 fines de semana seguidos en el medio oriente, en donde podríamos ver el 8vo título del inglés o el primer título mundial de una estrella como Max Verstappen.
Things don't change much at mid-table. Ferrari is still strong, and McLaren is still in a tailspin. But with three races to go some things could change. I think it is not impossible for Norris to keep his position as best of the rest. The championship is red hot, and there is no rest, there will be 3 weekends in a row in the Middle East, where we could see the 8th title of the Englishman or the first world title of a star like Max Verstappen.
---
Deja tu comentario o comparte (reblog) esta publicación si te ha parecido interesante.
Leave a comment or share (reblog) this post if you found it interesting.
---
Translated to English language with the help of DeepL.com
¡Gracias por visitar! — Deja tu comentario 🚥🏆

---
---