Max vence en Austin con Lewis muy de cerca — Verstappen wins in Austin with Hamilton close behind [ESP-ENG] #F1
El Gran Premio de Estados Unidos dejó un buen sabor de boca de cara a la lucha por el campeonato del mundo de la Fórmula 1. A falta de 5 carreras para el final de la temporada, Max Verstappen logra aumentar su ventaja en el liderato, con 12 puntos sobre Lewis Hamilton. Max Verstappen logra una sólida victoria, en combinación con una buena estrategia del equipo Red Bull, pero la ferocidad con la que Hamilton remontó en las últimas vueltas avisora una lucha muy cerrada por el campeonato. Ninguno de los dos la tendrá fácil.
The United States Grand Prix left a good taste in the fight for the Formula 1 world championship. With 5 races to go until the end of the season, Max Verstappen manages to increase his lead in the championship, with 12 points over Lewis Hamilton. Max Verstappen achieves a solid victory, in combination with a good strategy of the Red Bull team, but the ferocity with which Hamilton came back in the last laps warns of a very close fight for the championship. Neither will have it easy.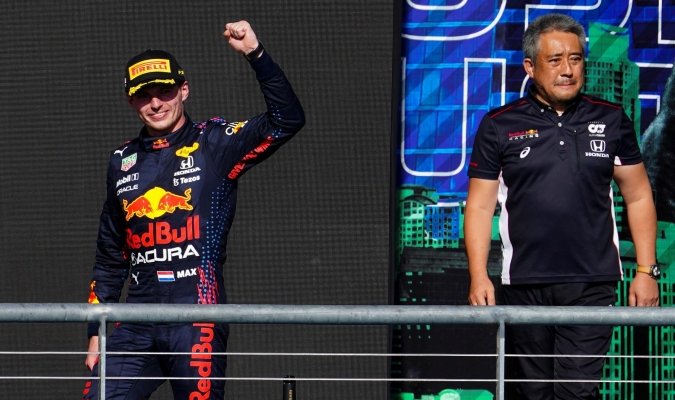 Meridiano.net
El rendimiento de Verstappen fue, en pocas palabras, impecable. Tal como lo mencionaba su compañero Sergio Pérez recientemente, Max y su auto son uno. La estrategia que planteó su equipo para adelantar a Lewis era necesaria debido a lo parejo del rendimiento de ambos y lo difícil que es adelantar con los autos actuales. En situaciones como esta, todo se decide por estrategias o por pequeños errores, que ninguno de los dos cometieron. Aunque Red Bull parecía tener algo más que Mercedes en esta carrera, el ritmo de Lewis Hamilton en las últimas vueltas, así como su sorprendente Pole Position, nos indican que Red Bull no puede descuidarse ni un solo centímetro.
Verstappen's performance was, simply put, flawless. As his teammate Sergio Perez mentioned recently, Max and his car are one. His team's strategy to overtake Lewis was necessary due to the even performance of both and how difficult it is to overtake with today's cars. In situations like this, everything is decided by strategy or by small mistakes, which neither of them made. Although Red Bull seemed to have something more than Mercedes in this race, Lewis Hamilton's pace in the last laps, as well as his surprising Pole Position, indicate that Red Bull cannot be careless even an inch.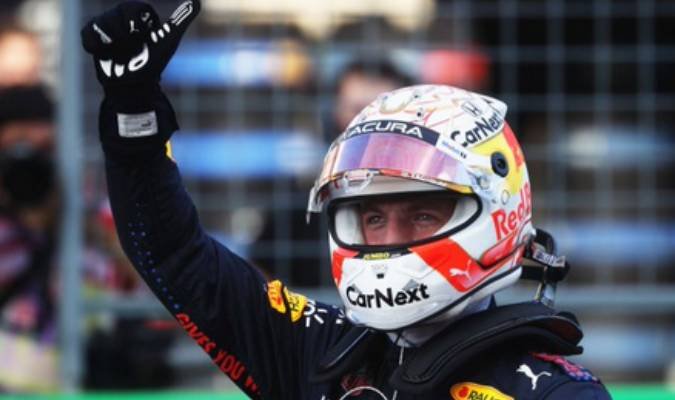 Meridiano.net
En la salida de la carrera, vimos a Hamilton tomar el liderato y Verstappen tratando de recuperarlo por fuera en la curva 1. La primera curva en subida del circuito de Austin es muy espectacular, y nos brindó una largada muy pintoresca. Esto lo veremos con mayor detalle en el análisis del circuito. Todo apuntaba a que veríamos una lucha aguerrida entre Max y Lewis por la punta, pero el espectáculo tendría que esperar a otras carreras, ya que el rendimiento era muy similar entre ambos, y adelantar es difícil dadas las circunstancias de los autos actuales.
At the start of the race, we saw Hamilton taking the lead and Verstappen trying to regain it on the outside at Turn 1. The first uphill corner of the Austin circuit is very spectacular, and gave us a very picturesque start. We will see this in more detail in the circuit analysis. Everything pointed to a fierce fight between Max and Lewis for the lead, but the show would have to wait for other races, as the performance was very similar between the two, and overtaking is difficult given the circumstances of the current cars.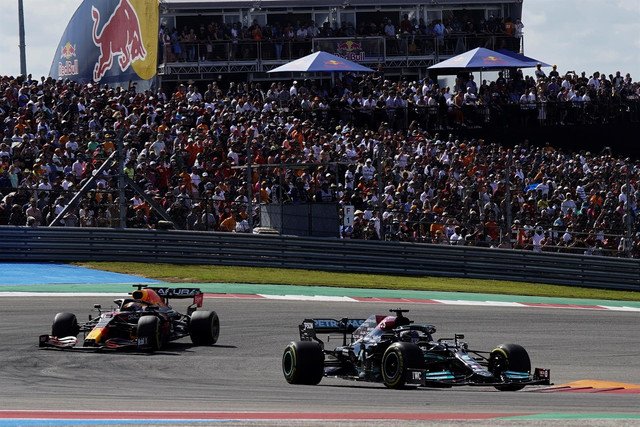 Meridiano.net
Por otra parte, puede que ambos hayan sido conservadores para evitar un incidente tal como ya sucedió en Monza. La estrategia parecía ser el camino más "sano" para ganar la carrera. Y así fue, la diferencia la marcó Red Bull con su estrategia acertada de parar antes que Hamilton, y Mercedes no acertó con su estrategia de mantenerse fuera de pista por muchas más vueltas antes de la primera parada. Aunque no hayamos visto lucha directa entre ambos, fue una carrera con muchas espectativas de principio a fin. Pérez tuvo problemas con su sistema de hidratación, lo cual le impidió rendir a un buen nivel físico. Hubiera sido interesante ver qué sucedía con el piloto mexicano si esto no hubiera sucedido, ya que tuvo un excelente rendimiento en todo le fin de semana.
On the other hand, both may have been conservative to avoid an incident as happened in Monza. The strategy seemed to be the "healthiest" way to win the race. And so it was, the difference was made by Red Bull with its successful strategy of stopping before Hamilton, and Mercedes did not succeed with its strategy of staying off track for many more laps before the first stop. Although we have not seen a direct fight between the two, it was a race with high expectations from start to finish. Perez had problems with his hydration system, which prevented him from performing at a good physical level. It would have been interesting to see what would have happened with the Mexican driver if this had not happened, as he had an excellent performance throughout the weekend.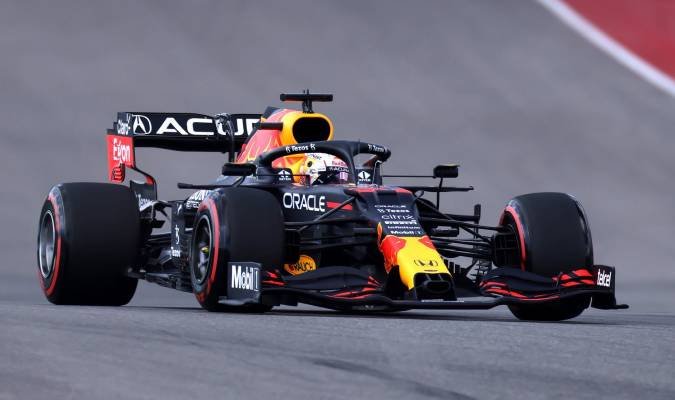 Meridiano.net
Ferrari consiguió buenos resultados, que los colocan muy cerca de McLaren en el campeonato de constructores. Leclerc y Sainz (4° y 5°) finalizaron por delante de Ricciardo y Norris (7° y 8°) respectivamente. Ferrari se ha visto con un rendimiento bastante sólido, lo cual los coloca como candidatos al 3° lugar del campeonato de constructores, el cual pelean muy de cerca con McLaren. Es bueno ver de nuevo a estos dos equipos luchando, tal como sucedía más de uan década atrás, aunque sea por posiciones cercanas al podio.
Ferrari achieved good results, which put them very close to McLaren in the constructors' championship. Leclerc and Sainz (4th and 7th) finished ahead of Ricciardo and Norris (5h and 8th) respectively. Ferrari has looked quite a solid performer, which puts them as contenders for 3rd place in the constructors' championship, which they are fighting very closely with McLaren. It is good to see these two teams fighting again, as was the case more than a decade ago, even if only for positions close to the podium.
Formula1.com
Ricciardo se ha incorporado en la discusión por el 5° lugar del campeonato del mundo, ya que su rendimiento en las últimas carreras nos ha vuelto a recordar al Ricciardo de siempre. Norris se perfila para ser el mejor del resto, pero deberá mantener a raya a los Ferrari y a su propio compañero. McLaren está en su mejor momento en mucho tiempo, pero Ferrari también.
Ricciardo has entered the discussion for the 5th place in the world championship, as his performance in the last races has reminded us again of the usual Ricciardo. Norris is shaping up to be the best of the rest, but he will have to keep Ferrari and his own teammate at bay. McLaren is at its best in a long time, but so is Ferrari.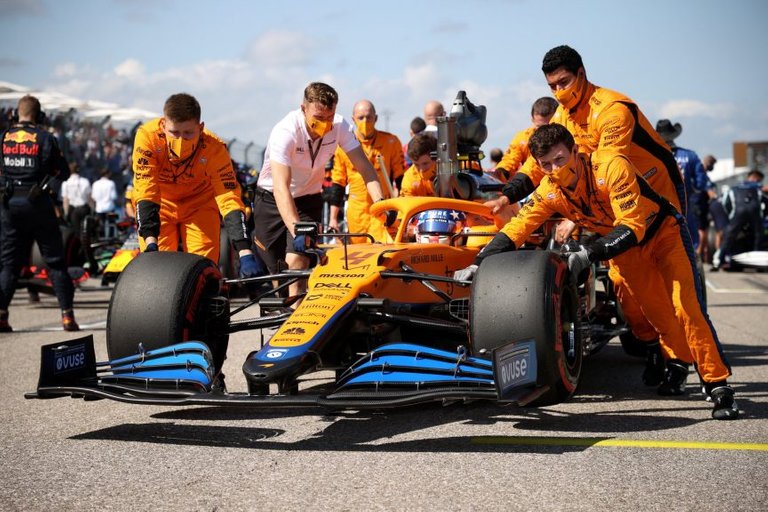 Formula1.com
Respecto al resto de los equipos, vemos que Aston Martin y Alpine no logran consolidar su rendimiento, han ido quedando relegados respecto a Ferrari y McLaren cuando se esperaba desde antes de iniciar la temporada que la lucha por mitad de tabla sería muy cerrada entre más de 2 equipos. ue una carrera para el olvido para Alpine, pero no tanto para Aston Martin quienes consiguieron 1 punto gracias al 10° puesto de Sebastian Vettel.
Regarding the rest of the teams, we see that Aston Martin and Alpine have not been able to consolidate their performance, and have been falling behind Ferrari and McLaren when it was expected before the start of the season that the fight for mid-table would be very close between more than 2 teams. It was a race to forget for Alpine, but not so much for Aston Martin, who got 1 point thanks to Sebastian Vettel's 10th place.
Si hay algo a destacar en esta carrera fue la lucha aguerrida entre diversos pilotos a lo largo de la misma. Al principio, los Ferrari y los McLaren nos deleitaron con una lucha de 4 autos por el 4° lugar. Luego, 3 campeones del mundo peleaban entre sí, primero Vettel con Alonso y luego Alonso y Räikkönen, con toque incluido, protagonizaban un maniobra en la curva 1. Es bonito ver estas luchas en la Fórmula 1, entre campeones mundiales de otros tiempos, aunque sean en mitad de tabla.
If there is something to highlight in this race, it was the fierce fight between different drivers throughout the race. At the beginning, the Ferraris and McLarens delighted us with a 4-car fight for 4th place. Then, 3 world champions fought each other, first Vettel with Alonso and then Alonso and Räikkönen, with a touch included, starred in a maneuver in turn 1. It is nice to see these fights in Formula 1, between world champions of other times, even if they are in the middle of the table.
---
Deja tu comentario o comparte (reblog) esta publicación si te ha parecido interesante.
Leave a comment or share (reblog) this post if you found it interesting.
---
Translated to English language with the help of DeepL.com
¡Gracias por visitar! — Deja tu comentario 🚥🏆

---
---