Estado del campeonato ¿Qué nos dejó la primera mitad de la temporada? [ESP-ENG] #F1 #Formula1
---
Sin darnos cuenta hemos llegado ya a la mitad de la temporada 2022 de la Fórmula 1. La ausencia del Gran Premio de Rusia, y la eliminación de dicha fecha ha dejado el campeonato a 22 fechas, de las cuales la N°11 ha sido la del pasado Gran Premio de Austria.
A partir del siguiente Gran Premio, el de Francia, empezará la segunda mitad de la presente temporada. Pero antes hablaremos en este video de #3Speak acerca de lo acontecido en la pasada carrera en el Red Bull Ring de Austria. Austria nos ofreció una carrera más emocionante de lo que personalmente esperaba, compararemos los resultado con lo que esperábamos en la previa del evento.
Uno de los factores más importantes esta temporada ha sido la fiabilidad. @mikepeters nos compartió una publicación en la que se analiza este punto, la cual te recomiendo visitar si quieres saber más al respecto. Por lo pronto, pareciera que la competencia este año no solo es por ver qué piloto o equipo es el más rápido, sino cuál equipo o piloto es capaz de llegar a la última vuelta con el auto en mejores condiciones, tanto para la carrera del momento como para la siguiente.
Se nos viene un Gran Premio de Francia el cual será muy importante para Ferrari y RedBull desde el punto de vista estratégico para la temporada. Quédate en el video si quieres saber más de la Fórmula 1.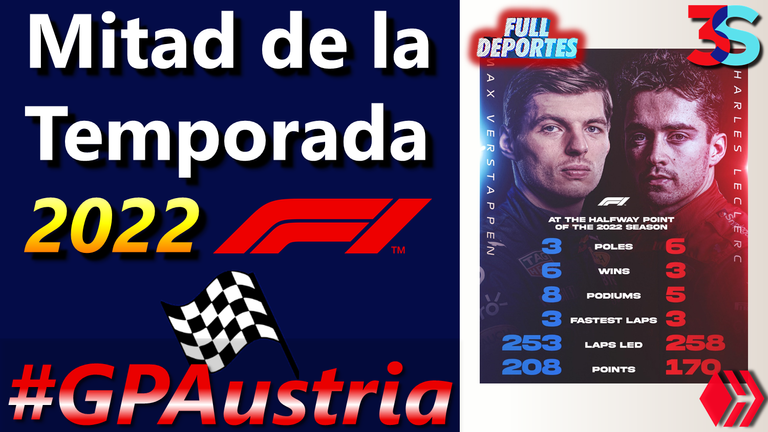 Imagen editada usando PowerPoint - Twitter - Yerlipisagor, CC BY-SA 4.0, via Wikimedia Commons
---

Without realizing it, we have already reached the halfway point of the 2022 Formula 1 season. The absence of the Russian Grand Prix and the elimination of that date has left the championship with 22 dates, of which the 11th date was the last Austrian Grand Prix.
From the next Grand Prix, the French Grand Prix, the second half of the current season will begin. But first, we will talk in this #3Speak video about what happened in the last race at the Red Bull Ring in Austria. Austria offered us a more exciting race than I personally expected, we will compare the results with what we expected in the preview of the event.
One of the most important factors this season has been reliability. @mikepeters shared a post discussing this point, which I recommend you visit if you want to know more about it. For now, it seems that the competition this year is not only to see which driver or team is the fastest, but which team or driver is able to get to the last lap with the car in the best condition, both for the current race and the next one.
We have a French Grand Prix coming up which will be very important for Ferrari and RedBull from a strategic point of view for the season. Stay tuned to the video if you want to know more about Formula 1.
---
Translated to English language with the help of DeepL.com
FuentesSources
Música: Time for Machine (Gvidon) - Pixabay
Race Highlights | 2022 Austrian Grand Prix - YouTube
EJ Mina, CC BY 4.0, via Wikimedia Commons
Calendario 2022 F1 - alphatauri.com
https://twitter.com/F1/status/1546938191667658752
https://twitter.com/GPFansGlobal/status/1546422255101644800
https://twitter.com/F1/status/1546884840003452929?s=20&t=O3LXqT9VeZREH1MV0zEuWQ
https://twitter.com/F1/status/1546383285122506752?s=20&t=O3LXqT9VeZREH1MV0zEuWQ
---
Otras redes sociales:
¡Gracias por visitar! — Deja tu comentario 🚥🏆

---
▶️ 3Speak
---
---