Ferrari deberá superar fantasmas en Hungría | Análisis del Autódromo Paul Ricard [ESP-ENG]
---
El 1-2 es prácticamente una obligación moral para la Scuderia Ferrari de cara a la próxima carrera, a celebrarse en el Hungaroring. Un doblete de Ferrari en el Gran Premio de Hungría acomodaría aunque sea un poco lo que ha sido una temporada de altibajos para el equipo de Maranello. Y tienen buenas posibilidades de hacerlo, debido a las características del autódromo húngaro.
Pero antes de hablar de Hungría, analizaremos y comentaremos lo acontecido en el Gran Premio de Francia. En este video de #3Speak empezaremos analizando el trazado del autódromo francés de Paul Ricard, el cual se caracteriza por ser muy técnico, de rectas largas, donde adelantar es difícil. Por ello, ha sido protagonista de carreras muy estáticas en donde la estrategia y la Pole Position juegan un rol muy importante.
Además de analizar el trazado francés y tratar de entrever porqué adelantar es tan difícil (lo cual es curioso ya que posee rectas muy largas y un número de curvas por Kilómetro muy similar al de Monza), comentaremos por supuesto lo sucedido en carrera. Algunos sucesos importantes merecen la atención y análisis en esta pasada carrera.
El accidente de Leclerc vuelve a suponer un golpe moral para la escudería Ferrari en la pelea por el campeonato del mundo de pilotos y de constructores. Quizás la presión de pelear un mundial por primera vez ante un ya madura Verstappen ha sido el principal desencadenante. La evolución de Mercedes, que los coloca muy cerca de los equipos de punta y les permite obtener un doble podio importante. La opaca carrera de "Checo" Pérez y la gran remontada de Carlos Sainz son también sucesos a destacar.
Ferrari deberá vencer ciertos fantasmas, que vienen incluso de hace más de 10 años atrás. Era el Gran Premio de Hungaroring del 2008 cuando Felipe Massa lideraba cómodamente tras una espectacular salida desde el tercer lugar en la que adelanta a los dos McLaren en la primera curva para situarse primero. Por cosas del destino, su motor falla en mitad de la carrera y se queda sin puntos importantes que le hubieran servido para ganar el campeonato aquel año.
La fiabilidad ha sido un tema recurrente en los equipos de punta, y aunque Hungaroring no es una pista que exija en demasía a las unidades de potencia, este año pareciera que tanto Red Bull como Ferrari se la están jugando al máximo, hasta la última pieza, para ganarse entre sí. De igual forma, recordamos los fantasmas de los errores. El error de Leclerc en Francia nos trae recuerdos del error de Vettel en Hockemheim en 2018, y también al mismo Felipe Massa despistándose en el Gran Premio de Malasia del 2008. Por alguna razón, el equipo Ferrari no vuelto a ser tan efectivo desde desde que Michael Schumacher era piloto de sus filas.
Te invito a ver este video en #3Speak si quieres saber más de la Fórmula 1.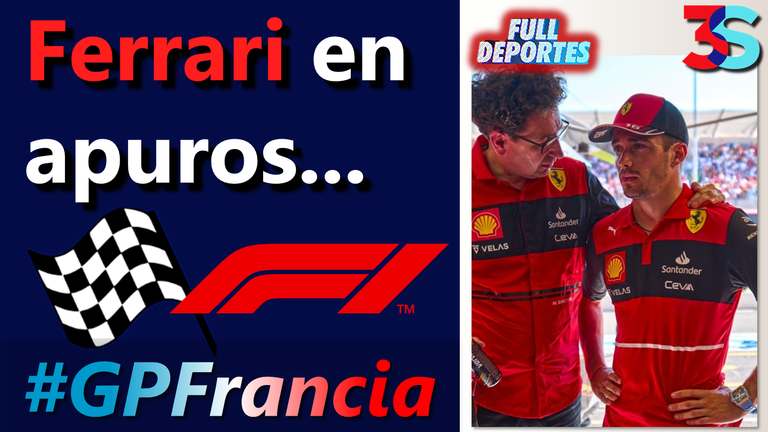 Imagen editada usando PowerPoint - Formula1.com

Michalgarbowski, CC BY-SA 3.0, via Wikimedia Commons
---

The 1-2 is practically a moral obligation for Scuderia Ferrari ahead of the next race, to be held at the Hungaroring. A Ferrari one-two at the Hungarian Grand Prix would at least compensate a bit for what has been a season of ups and downs for the Maranello team. And they have a good chance of doing so, due to the characteristics of the Hungarian racetrack.
But before we talk about Hungary, we will analyze and comment on the events of the French Grand Prix. In this #3Speak video we will start by analyzing the layout of the French racetrack of Paul Ricard, which is characterized by being very technical, with long straights, where overtaking is difficult. Therefore, it has been the protagonist of very static races where strategy and Pole Position play a very important role.
Besides analyzing the French track and trying to understand why overtaking is so difficult (which is curious since it has very long straights and a number of turns per kilometer very similar to Monza), we will of course comment on what happened in the race. Some important events deserve attention and analysis in this past race.
The Leclerc accident is once again a moral blow for the Ferrari team in the fight for the drivers' and constructors' world championship. Perhaps the pressure of fighting a world championship for the first time against an already mature Verstappen has been the main trigger. The Mercedes evolution, which puts them very close to the top teams and allows them to obtain an important double podium. The opaque race of "Checo" Perez and the great comeback of Carlos Sainz are also events to be highlighted.
Ferrari will have to overcome some ghosts, even from more than 10 years ago. It was the 2008 Hungaroring Grand Prix when Felipe Massa was leading comfortably after a spectacular start from third place in which he overtook the two McLarens at the first corner to take the lead. As fate would have it, his engine failed in the middle of the race and he lost important points that would have helped him to win the championship that year.
Reliability has been a recurring theme in the top teams, and although the Hungaroring is not a track that demands too much from the power units, this year it seems that both Red Bull and Ferrari are playing to the maximum, down to the last piece, to beat each other. Likewise, we remember the ghosts of mistakes. Leclerc's mistake in France brings back memories of Vettel's mistake at Hockemheim in 2018, and also the same Felipe Massa losing his car in the 2008 Malaysian Grand Prix. For some reason, Ferrari has not been as effective since Michael Schumacher was a driver in their ranks.
I invite you to watch this video on #3Speak if you want to know more about Formula 1.
---
Translated to English language with the help of DeepL.com
FuentesSources
Música: Time for Machine (Gvidon) - Pixabay
Bbb2007, CC BY-SA 4.0, via Wikimedia Commons
AlexJ, CC0, via Wikimedia Commons
Race Highlights | 2022 French Grand Prix - YouTube
---
Otras redes sociales:
¡Gracias por visitar! — Deja tu comentario 🚥🏆

---
▶️ 3Speak
---
---