My sweet Cat // Meine süße Katze - 02.09.22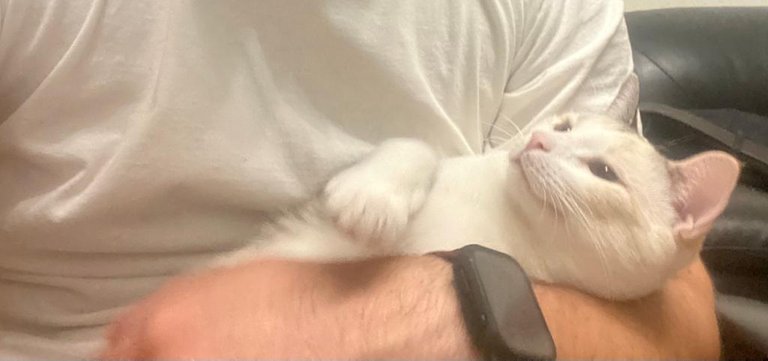 Meine Katze Ahri in meinem Arm - My Cat Ahri in my arms

Heute war ein recht komischer Tag - irgendwie hat nichts sich so wirklich richtig angefühlt. Bin heute auch leider 2 Stunden verspätet nach Hause gekommen, was mir den Besuch des Fitnessstudios heute leider verhindert. Insgesamt bin ich trotzdem auf 18K Schritte gekommen. Meine Prognose von gestern ist also eingetroffen. Leider habe ich mein bezüglich meines Proteinzieles nicht erreicht. Auf dem obigen Foto sieht man meinen Arm in der eine meiner beiden Katzen liegt - wir nennen sie Ahri. Ahri stammt ursprünglich aus Spanien und ist auf der Straße aufgewachsen - sie ist recht klein, da sie wenig zu Essen gefunden hat als Kitten. Wir haben sie damals über den Tierschutz adoptiert und sie versteht sich super mit unserem Kater Kingston. Der ist übrigens auch aus Spanien und ebenfalls vom Tierschutz adoptiert. Damals wurde Kingston als Einzelkatze vermittelt, da er sich mit anderen Katzen nicht verstanden hat - aber mit Ahri versteht er sich super!
Today was a pretty weird day - somehow nothing really felt right. Am today also unfortunately 2 hours late home, which prevents me from visiting the gym today. Still, I got a total of 18K steps. So my prediction from yesterday came true. Unfortunately, I did not reach my regarding my protein goal. On the photo above you can see my arm in which one of my two cats is lying - we call her Ahri. Ahri is originally from Spain and grew up on the streets - she is quite small as she found little to eat as a kitten. We adopted her through the animal welfare and she gets along great with our cat Kingston. By the way, he is also from Spain and also adopted from the Tierschutz. At that time Kingston was placed as a single cat, because he did not get along with other cats - but with Ahri he gets along great!

Schritte: 18318
Strecke: 12,9 KM
Kalorien: 919
Trainingsminuten: 27
Stehstunden: 15
Grundumsatz: 1916
Körperfettanteil: 24,5 (-0,1)
Steps: 18318
Distance: 12,9 KM
Calories: 919
Exercise minutes: 7
Standing hours: 15
Basal Metabolic Rate: 1916
Body fat percentage: 24,6 (-0,1)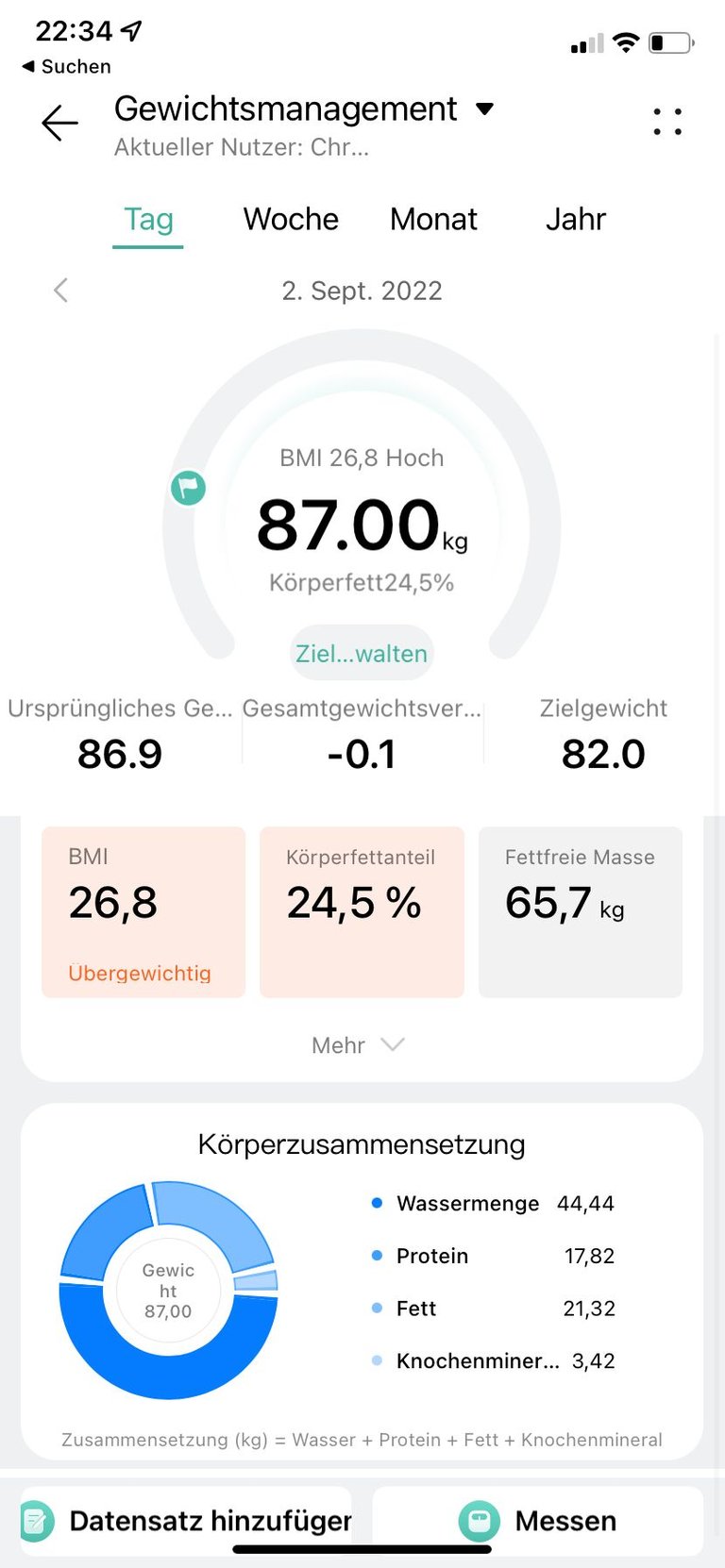 Kommentar - Commentary
Insgesamt bin ich heute um 2 Kilo leichter, das liegt entweder daran, dass ich gestern abend noch recht viel gegessen habe, oder dass meine Waage ungenau ist. Hoffen wir auf ersteres, sonst kann ich mir die Messungen sparen - da das Gewicht aber teilweise Tagesabhängig ist, bin ich recht zuversichtlich, dass es meine Waage doch noch tut.
Trainingsminuten 7 - insgesamt hat meine Uhr also keine extreme Anstrengung feststellen können, dennoch habe ich heute nur durch "normales" gehen etwas 919 Kalorien verbrannt.
Aus den 15 Stehstunden werden vermutlich 17, da wir erst 22 Uhr haben, sollte da noch die ein odere andere Stunde hinzukommen.
Overall, I am 2 kilos lighter today, which is either because I ate quite a lot last night, or that my scale is inaccurate. Let's hope for the former, otherwise I can save myself the measurements - but since the weight is partly day-dependent, I am quite confident that my scale does it after all.
Training minutes 7 - so overall my watch didn't detect any extreme effort, yet I burned some 919 calories today just by "normal" walking.
From the 15 standing hours will probably 17, since we have only 22 clock, there should still come one or the other hour.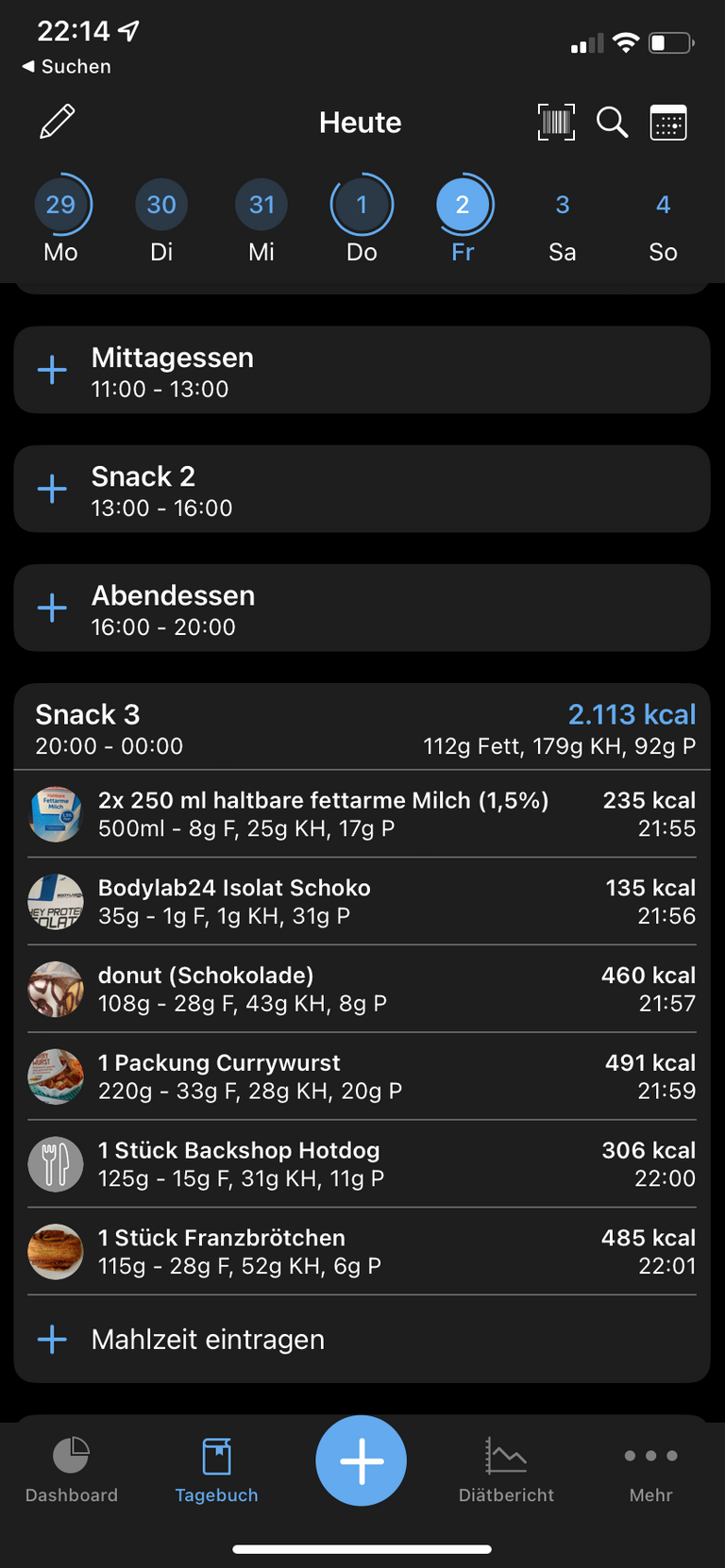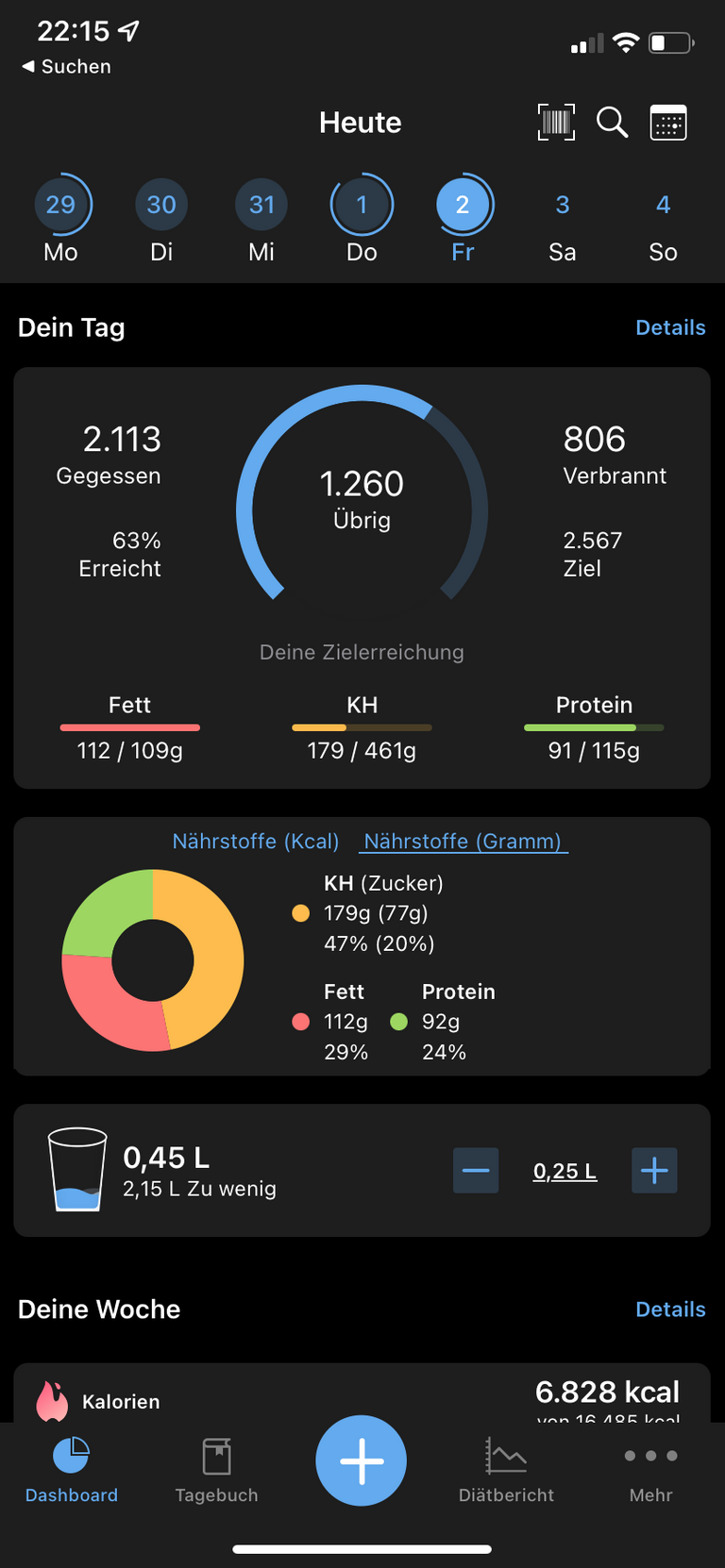 Kommentar - Commentary
Wie bereits in meinem gestrigen Post erwähnt, möchte ich eigentlich die 2g pro Kilogram Körpergewicht. Heute war meine Proteinzufuhr nahezu identisch mit der gestrigen - aber meine Kohlenhydratzufuhr ist um mehr als 50% reduziert. Insgesamt hätte ich auch noch 1260 Kcal essen können. Vermutlich hätte ich das auch noch heute gemacht - aber dafür ist mein Magen aktuell eindeutig zu voll. Wie gesagt, ich kann mich aktuell noch nicht ganz entscheiden, ob ich aufbauen oder das Gewicht halten will. Auf jeden Fall soll der Körperfettanteil stark reduziert werden. Bis Weihnachten wäre ich gerne auf 18% - mal schauen ob mir das gelingt.
As mentioned in my post yesterday, I actually want the 2g per kilogram of body weight. Today my protein intake was almost identical to yesterday's - but my carbohydrate intake is reduced by more than 50%. I could have still eaten a total of 1260 Kcal. I probably would have done that today as well - but my stomach is definitely too full for that currently. As I said, I can't quite decide yet whether I want to build up or maintain the weight. In any case, the body fat percentage should be greatly reduced. By Christmas I would like to be at 18% - let's see if I can do that.

This report was published via Actifit app (Android | iOS). Check out the original version here on actifit.io




02/09/2022

18323

| | | | | | |
| --- | --- | --- | --- | --- | --- |
| | | | | | |
| cm | | cm | | cm | |
---
---