Actifit 4th Year Anniversary🥳🎉 HiveFest 2 Tickets Giveaway 🎁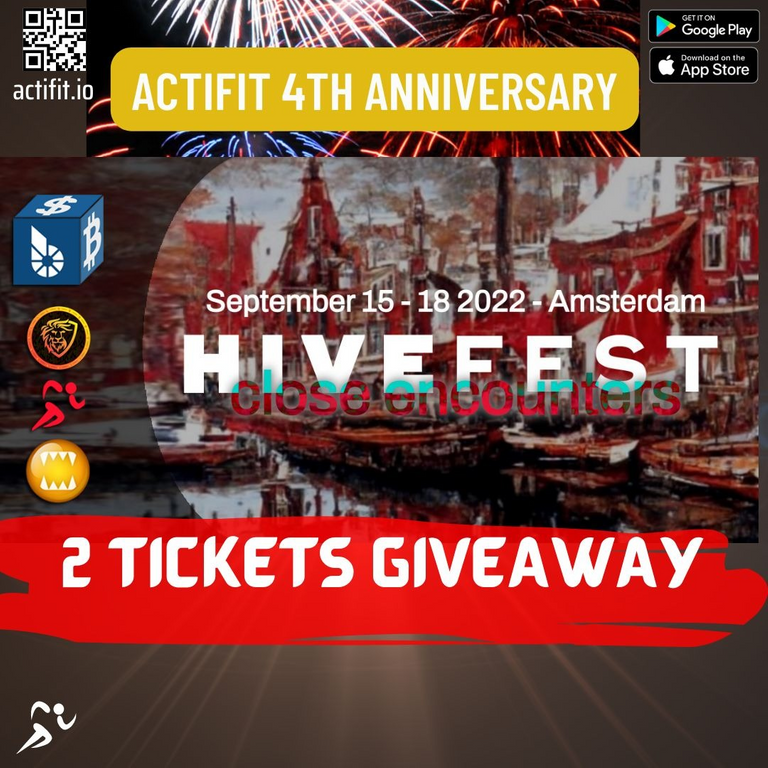 Actifit 4th Year Anniversary🥳🎉 HiveFest 2 Tickets Giveaway 🎁
Wow. Time has passed pretty quickly. Actifit has turned 4 years as of last week!
It's been so far an amazing ride! A big shout out to all our fantastic actifit community across all chains, and particularly on hive, our core actifit chain.
In celebration of this anniversary, and as HiveFest is coming up soon, we have teamed up with @blocktrades, thanks to a cool initiative by @anomadsoul, to support our hive community in joining the fantabulous HiveFest, happening this coming September 15-18 in Amsterdam - Netherlands.
Two free tickets & accommodation will be given away as part of this contest. To be eligible, you need to do the following before August 5th:
Winners will be selected and announced after August 5.
Let's gooo 💪🏃
---
Did you stock up on your gadgets yet? Head over to Actifit Market NOW to WIN!
Actifit supports cross-chain decentralization. Support our efforts below:
@actifit team
---
---