Actifit HiveFest 2 Tickets (+ Accommodation) Giveaway - Winners Announcement! 🤩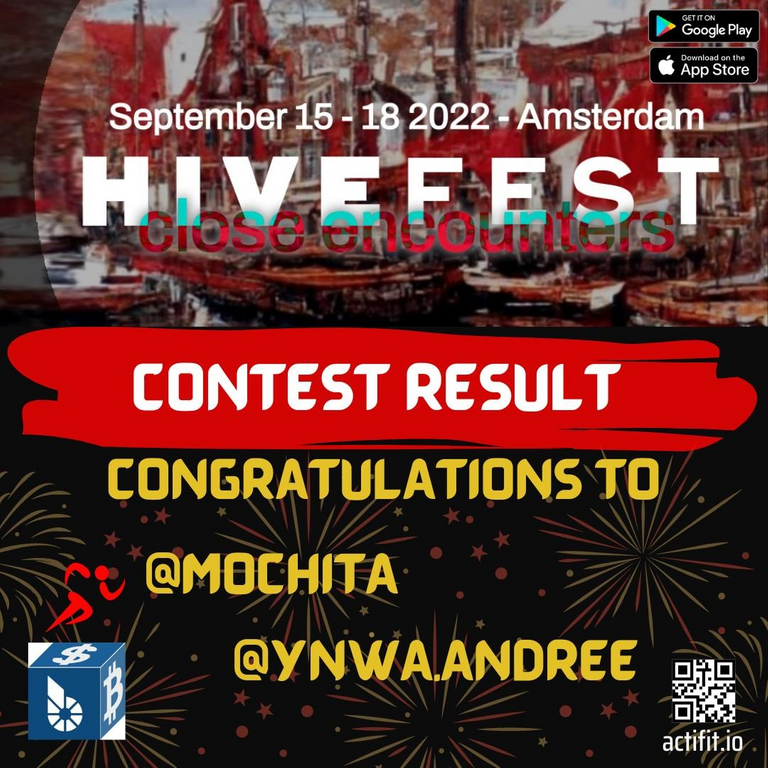 Actifitters, hivers, and hivefest enthusiasts!
We are excited to finally unfold the winners of the 2 tickets + accommodation giveaway sponsored by @actifit and @blocktrades, as part of the upcoming HiveFest this September 15-18, 2022 in Amsterdam, Netherlands 🤩
We kicked off the contest at the start of July, celebrating Actifit 4th anniversary. In a month, we had more than 110 participating entries. (see here for original participation rules)
Although many were not able to fulfill the requirements of the contest - we did get some feedback from users who found the requirements a bit too dense (thank you, we will take those into consideration for the next event), yet several were able to reach the end line. Well done!
We are pleased to announce below the winners of the 2 tickets + accommodation:
Big congrats to both of you, we are sure you will have a great time in HiveFest!
If you are unable to attend for any reason, please let us know ahead of time to pick another winner.
To claim your rewards, please connect with us on discord.
Again, thanks to all the awesome participants, better luck to the ones who did not win, you have taken a path to a better health!
---
Did you stock up on your gadgets yet? Head over to Actifit Market NOW to WIN!_
Actifit supports cross-chain decentralization. Support our efforts below:
@actifit team
---
---