Actifit Mega Growth! Listing on CMC, CG🚀. Upcoming Plans 🤫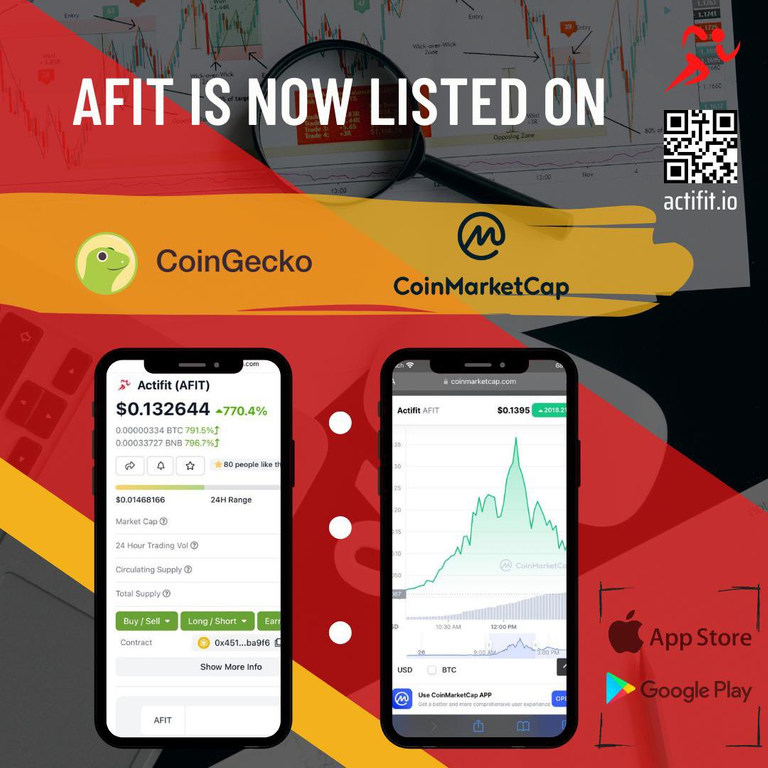 The Listing Event🚀
Hey hey amazing actifitters,
As many of you know, we have been overwhelmed over the last few days with the amount of hype that surrounded the listing of Actifit over at several token tracking sites, accompanied by growing liquidity, huge volume, and increasing wallet addresses!
As a move 2 earn project that's been running for 4 years, this lead to receiving great attention by the community.
Some quick stats for you:
Our volume spiked on the first day to over $500,000, and on the second day reached a whopping $1.2M as calculated by CMC.
Our HODLers count also jumped from slightly above 200 to 520+, a growth of more than 260%.
AFIT price jumped from $0.0041 to $0.118 (2878% up) at the time of this report (it peaked at around 0.5)
Our Marketcap is sitting now at $7,773,052 up from $200,000 (3886% up)
We are an officially tracked token now across:
CMC: https://coinmarketcap.com/currencies/actifit/
CG: https://www.coingecko.com/en/coins/actifit
DXTOOLS: https://www.dextools.io/app/bsc/pair-explorer/0xffff75bb7bf133a9e98bc62665f20a84e152b689
NOMICS: https://nomics.com/assets/afit-actifit
CRYPTO.COM: https://crypto.com/price/actifit
BINANCE: https://www.binance.com/en/price/actifit
We have been putting out fires and communicating with different trackers to get things properly listed and updated, this includes assigning the move-to-earn category on CMC & CG, circulating supply and marketcap to name a few.
If you haven't favorited/liked/followed/... AFIT above, what are you waiting for??? ❤️ Let everyone know about your favorite move to earn project!!
Bridge Me UP 🌉
We know many of our existing actifitters are looking at moving their AFIT tokens back and forth between BSC/Hive-engine.
We want to ease up the concerns of our community, and assure them we are as committed to our old actifitters as we have ever been, heck even more than ever!
For this, we are planning a bridge between BSC-HIVE to enable moving tokens back and forth. The dynamics of the bridge will be revealed soon as we pan out the details. We have the interest of our investors and the long-term vision of the project in mind, so keep your mind at ease!
What's Next?🤫
Oh we have tons of plans under way for you guys (don't tell anyone, or maybe do the opposite lol), let us name a few:
Exchanges: We know the community cant wait to get AFIT rolling on CEX-es, and we are under talks with several exchanges. Expect news sooooon.
Collaborations: We are in communication with amazing projects in the crypto space (some of which you looove - can you guess?) to launch some collab work. No peeking yet...🙈
Marketing: We are preparing tons of additional marketing work to spread the news about Actifit. We started some promotions with youtube and other SM influencers. Keep your eyes on SM.
Actifit DeFi: Actifit DeFi full rollout on BSC is underway, we added more resources to assist with bringing it to life ASAP. This will bring you guys major APY for locking in your AFIT/AFITX.
AFITX: We did not forget about the big guy, our governance token! We are preparing for a proper launch and ignition of AFITX.
That's our quick update for now. Let's goooo
---
Did you stock up on your gadgets yet? Head over to Actifit Market NOW to WIN!
Actifit supports cross-chain decentralization. Support our efforts below:
@actifit team
---
---