Actifit Updates: AFIT Listing T-2 hours on Dex-trade! 🚀 Digifinex Final Listing Phase 💪 Bridge Almost Done🌉 Scaling Up. Bigger Things Coming 🎉
Hey actifitters!
We've been veryyy busy, but hey here's a quick update for our amazing community!
And while there has been pain in the market, but for us, bull or bear market, we are always BUIDLing. We started actifit during 2018 bear market, and we're always focused on the longer term vision 🌕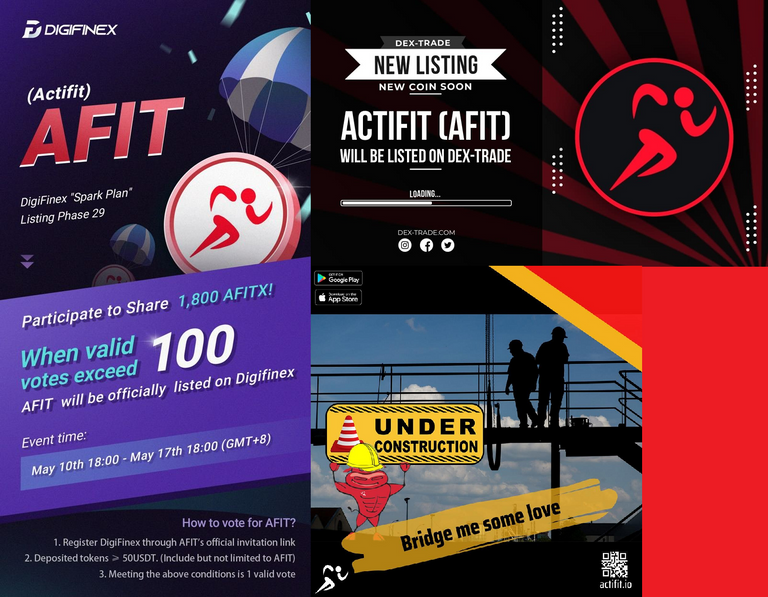 AFIT Listing T-2 hours on Dex-trade! 🚀
We announced few days back that we will be listing on dex-trade.com . Today is the day!
In around 2 hours from now, we will have our first official CEX listing for both pairs AFIT/USDT and AFIT/BTC.
If you don't have an account on dex-trade and wish to start trading AFIT on the first CEX, you can signup here
Digifinex Final Listing Phase 💪
Thanks to you, we reached the final listing stage with digifinex!
To get the listing completed, we need one more step from you. You simply need to deposit 50$ worth of any crypto you have (USDT,...) into your new account on digifinex. We recommend sending a little bit more to make sure your balance says 50$. You can also send 350 AFIT BSC alternatively.
Make sure you are signing up via actifit link
Once the event concludes, you will share an airdrop of 1,800 AFITX to all valid users who deposited the min amount.
You can also withdraw your deposit as of May 18 to make sure you are eligible for the airdrop.
Our voting round concludes on May 17th, let's gooo!
Bridge Almost Done🌉 Scaling Up. Bigger Things Coming 🎉
Yes we've "crossed" a bulk of the work needed to get the bridge up and running.
We are finalizing development, and doing some extensive testing. If all goes well, we believe we should have the bridge functional early next week.
As part of this, more AFIT tokens will be put in circulation on BSC, to cover our existing AFIT balances/circulating supply on hive-engine, steem-engine, and actifit.io, to accommodate for the inflow from other chains onto BSC, but also for our CEX listing events and potential demand surge.
We do anticipate to have at least 3 listings in the coming few weeks.
We have also several big things happening in the background, but we will not announce till we get them confirmed.
Let's goooo 🚀💪🏃
---
---