AFIT Bridge is LIVE 🌉! Quick Tutorial. AFIT Turning to Ultimate Scarcity! 🤑Digifinex Results In Progress⏳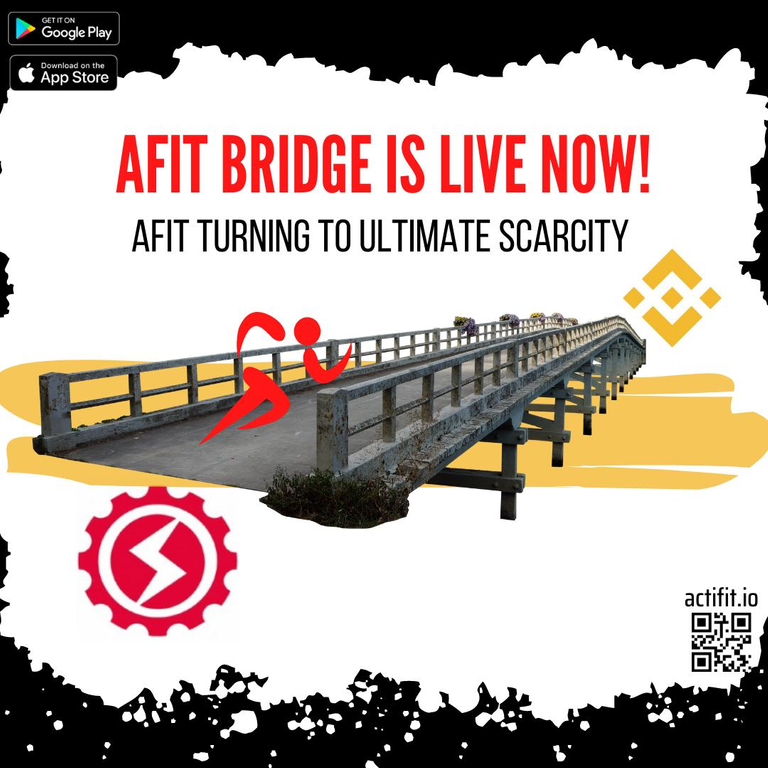 AFIT Bridge is LIVE! Quick Tutorial 🌉
Hey actifitters!
We are excited to be announcing that our development and testing efforts have concluded, and our AFIT H-E-BSC bridge is now officially live! 🎉
As of now, you can transfer, if you so wish, AFIT tokens over from hive-engine to your BSC wallet.
The other end of the bridge, which is moving tokens back from BSC to hive-engine is still not implemented yet, and will be available in the coming few weeks.
The bridge is accessible under your wallet at https://actifit.io/wallet.
So, as highlighted in our prior announcement, the dynamics have been implemented to preserve value and investor interest across chains, and go as follows:
In order to move AFIT tokens, you need to transfer/lock AFIT+HBD pair on hive-engine side. The rate at which AFIT+HBD gets locked is 10-1 of your AFIT. For instance, to send over 50 AFIT, you need to send along 5 HBD. The rate will be revisited/reassessed on a monthly basis as the AFIT pricing across chains adjusts.
You can later redeem your HBD by transferring back the AFIT amount from BSC to Hive-engine, following a minimum lockup period of 1 week (2nd route of the bridge yet to be implemented as mentioned above).
You can perform one transfer per day.
The min amount that can be transferred is 50 AFIT, and the max is 10,000 AFIT.
For every transfer, 1 HBD is deducted as fees, or 1% of HBD value, whichever is greater.
---
Transfer Steps:
Make sure to set your BSC wallet address and click save.

Head down to the H-E tokens section, and click on the bridge icon. This will open up the transfer section below

Enter the amount of AFIT you wish to transfer. The HBD amount will auto calculate as you enter your private active key.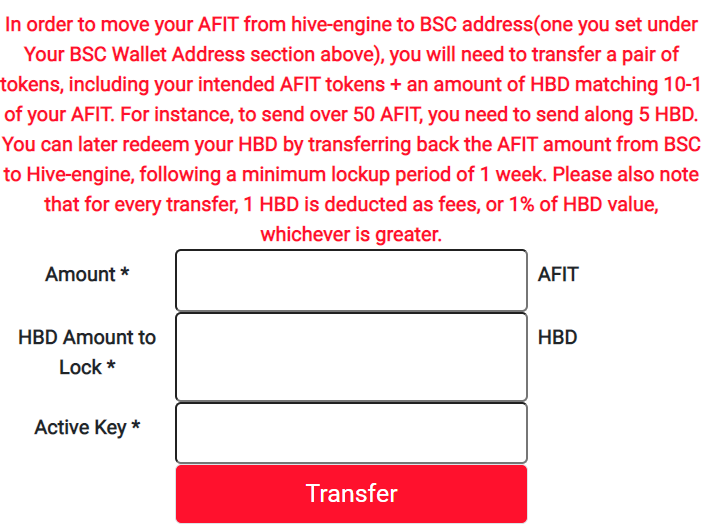 If you meet above requirements, your transfer will process, within few minutes your AFIT tokens will appear on your BSC wallet.
AFIT Turning to Ultimate Scarcity! 🤑
As we mentioned a couple of weeks back, we are implementing measures to make AFIT a scarcer asset. The first move was starting to decrease the daily delegator rewards. As of yesterday, we are now distributing slightly below 90K AFIT, down from 100k AFIT 2 weeks ago. This process will continue decreasing over the coming days till it halves, following which we will reassess the delegation pool.
Now the new scarcity component we are introducing is in the rewards process. As you're aware, Actifit rewards users in multiple tokens, including AFIT, HIVE, STEEM, BLURT and SPORTS.
The new scarcity aspect we are introducing to AFIT, is that while you can always earn other token rewards, yet to earn AFIT tokens, you need to maintain a balance of at least 5,000 AFIT on your actifit.io wallet.
So users who already have the balance will continue to normally earn AFIT rewards in addition to the other reward tokens.
For users who do not own or maintain 5,000 AFIT on your actifit.io wallet (not on hive-engine or BSC, tokens need to show under your AFIT balance on actifit.io), your rewards will not include AFIT tokens, until you can recuperate a minimum balance of 5,000 AFIT.
We believe this approach will be valuable for Actifit ecosystem, and will help prioritize price growth and long term reward sustainability.

Digifinex Results In Progress⏳
We know many of you participated in the digifinex giveaway and are awaiting the results, thank you for that! We are working with the digifinex team on getting the final results across, so we should be able to update you hopefully by tomorrow on the outcome, and if we reach the voting threshold, the AFITX airdrop will be distributed across all participants, as well as the extra gleam contest reward.
Stay tuned!
---
Did you stock up on your gadgets yet? Head over to Actifit Market NOW to WIN!
Actifit supports cross-chain decentralization. Support our efforts below:
@actifit team
---
---