Qatar World Cup 2022 Day Four Concludes - More Surprises!! 🏟⚽️🥅 Day Five - 4 Games Tomorrow. Ready to Guess ?? 🤑🏃
Day 4 Games 🏟⚽️🥅
Day 4 of the world cup kicked off slowly with a negative tie between Morocco and Croatia (0-0).
The following matches were actually pretty intense, with Germany starting off its World Cup journey with a loss to Japan (1-2), despite being the stronger party throughout the game!! Congrats Japan. Tough luck Germany.
Spain vs Costa Rica game was the game with most goals so far, ending with a big win to Spain (7-0). Congrats Spain. Tough luck Costa Rica.
And finally, the last game between Belgium and Canada ended positively for Belgium with a goal just before end of first half. Congrats Belgium. Hard Luck Canada!
Out of all the correct participants, we selected random winners out of all correct guesses, one for each match!
Congrats to:
Morocco - Croatia Draw: only one correct guess by @nikoleondas. Well done!
Japan Win: No correct guesses at all. Again not surprised :D
Spain Win: Ahmad on twitter (@chiuzzu81) Congrats.
Belgium Win: @allonyx.ngs. Congrats
Day 4 Games 🤑🏃
Tomorrow features 4 big games for all the fans out there!
Switzerland x Cameroon
Uruguay x South Korea
Portugal x Ghana
Brazil x Serbia
The rules are the same, guess the winner of the games prior to the game start, to be eligible to win 100 AFIT! You can guess 1 or all games of the day. The more you guess correctly, the more eligible you are to win!
You can leave a comment under this post, or go and engage with the community, chat about the game and the anticipation on twitter or telegram. Just make sure to bring your guess to our attention prior to the game!!
Who are you rooting for tomorrow? Looking forward to your guesses!
Play ball! ⚽️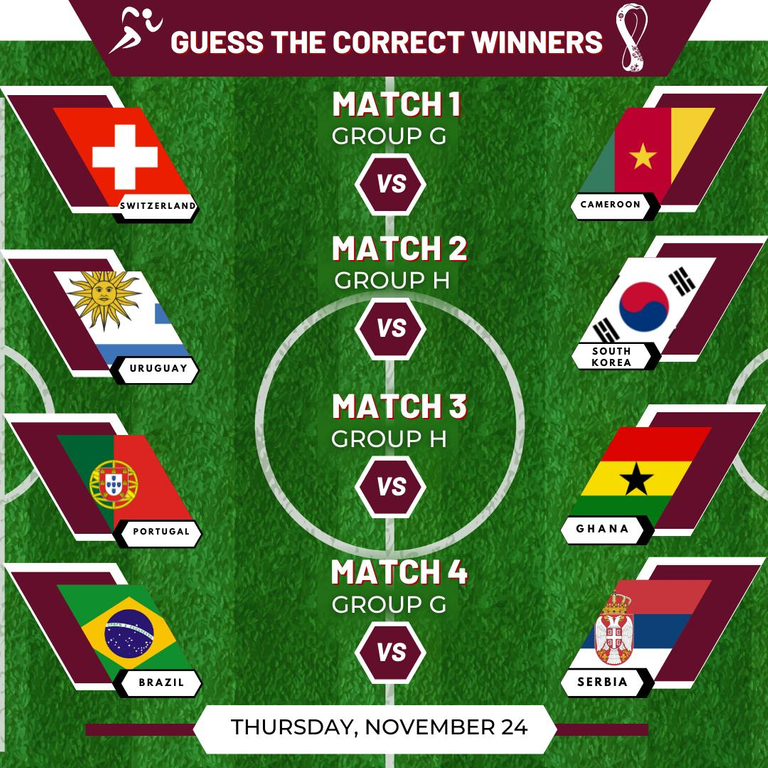 ---
---