Qatar World Cup 2022 Day Seven Concludes !! 🏟⚽️🥅 Day Eight - Next 4 Games Tomorrow. Ready to Guess ?? 🤑🏃
Day 7 Games 🏟⚽️🥅
Wow, such an action packed day today, with all games ending in wins! (well, or losses for the other party lol)
First game kicked off between Australia and Tunisia, leading to a 1-0 win for Australia, despite Tunisia having a somewhat better game. But hey, scores win, not gameplay.
Second game was much anticipated for KSA, following its win over Argentina, and it was against Poland. Unlike the first game, KSA were unsuccessful or bringing a win, and Poland took the win home 2-0 with 2 goals, again despite KSA being the better gameplay throughout the game.
As for the third game, with a lot of anticipation for France's fans, the game ended up with a win for France against Denmark (2-1)
And finally, the fourth game between Argentina and Mexico ended in a win for Argentina (2-0), a much-needed win to help them avoid critical situation in their group rankings.
Out of all the correct participants, we selected random winners, one for each match!
Congrats to:
Day 8 Games 🤑🏃
Tomorrow features another set of 4 big games for all the fans out there!
Japan x Costarica
Belgium x Morocco
Croatia x Canada
Spain x Germany
The rules are the same, guess the winner of the games prior to the game start, to be eligible to win 100 AFIT! You can guess 1 or all games of the day. The more you guess correctly, the more eligible you are to win!
You can leave a comment under this post, or go and engage with the community, chat about the game and the anticipation on twitter or telegram. Just make sure to bring your guess to our attention prior to the game!!
Who are you rooting for tomorrow? Looking forward to your guesses!
Play ball! ⚽️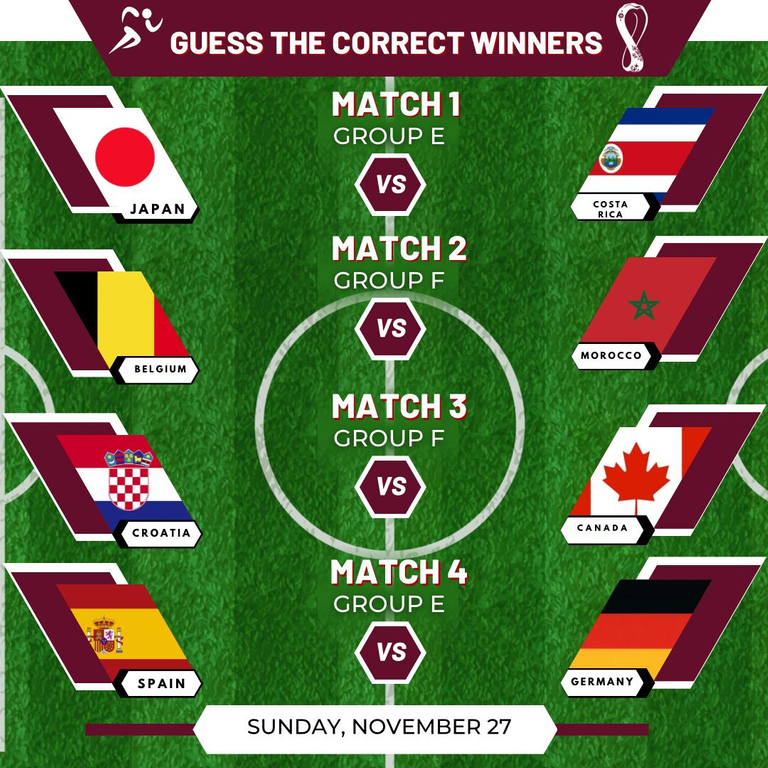 ---
---