Qatar World Cup 2022 Day Six Concludes - !! 🏟⚽️🥅 Day Seven - 4 Games Tomorrow. Ready to Guess ?? 🤑🏃
Day 6 Games 🏟⚽️🥅
Day 6 of the world cup kicked off to a last minute win for Iran over Wales (2-0).
The following game between Qatar and Senegal ended in a Win for the latter draw (1-3).
The last 2 games ended up both in draws, with Netherlands x Ecuador ending in a positive draw (1-1), despite kicking off to an early score for the Nethelands, yet Ecuador were able to snatch back a draw playing a much better game.
Finally England x USA ended in a negative draw (0-0)
Out of all the correct participants, we selected random winners, one for each match!
Congrats to:
Day 7 Games 🤑🏃
Tomorrow features 4 big games for all the fans out there!
Tunisia x Australia
Poland x KSA
France x Denmark
Argentina x Mexico
The rules are the same, guess the winner of the games prior to the game start, to be eligible to win 100 AFIT! You can guess 1 or all games of the day. The more you guess correctly, the more eligible you are to win!
You can leave a comment under this post, or go and engage with the community, chat about the game and the anticipation on twitter or telegram. Just make sure to bring your guess to our attention prior to the game!!
Who are you rooting for tomorrow? Looking forward to your guesses!
Play ball! ⚽️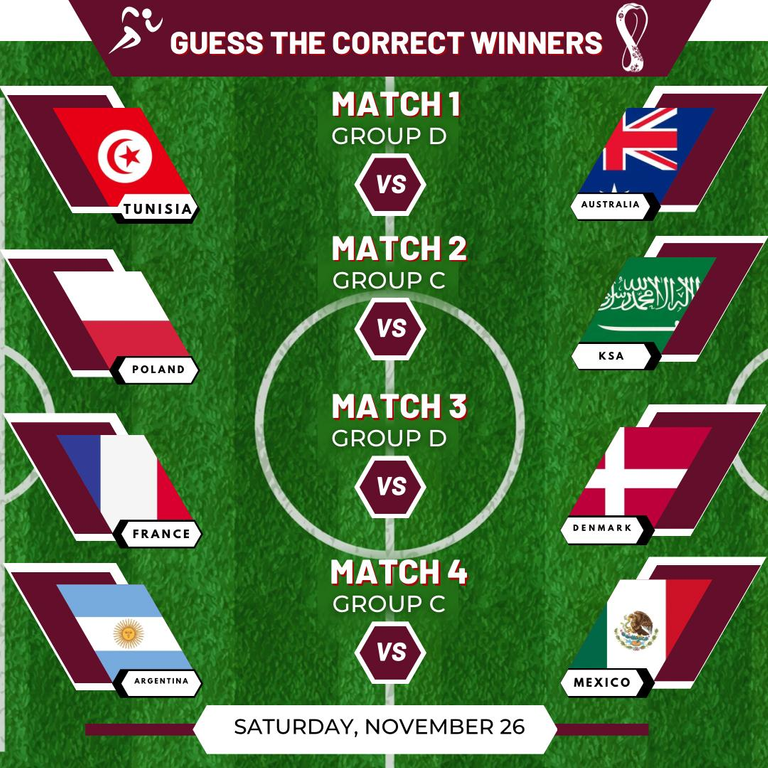 ---
---