Donald Driver 2008 Topps '53 Years of Collecting' NFL Card
My grandpa is a Packers fan, so growing up I was pretty familiar with Donald Driver. I knew he was very good, but I had no idea his stats were that good! Just looking at this card surprised me. I thought he was younger too!
Donald Driver had the privilege of not only playing with the great Brett Favre, but he also played with Aaron Rodgers as well, and he won Super Bowl XLV with Rodgers.
Donald Driver is adored amongst Packers fans, so much so that he's in the Green bay Packers Hall of Fame. That's a pretty awesome accomplishment considering how respected and storied the Packers are as a franchise. There's a friggin' statue of Driver in Green Bay!
Driver spent his entire fourteen year career as a Packer. You love to see it. I wish some Titans stayed Titans forever too.
I love the green and yellow theme of this Packers themed card!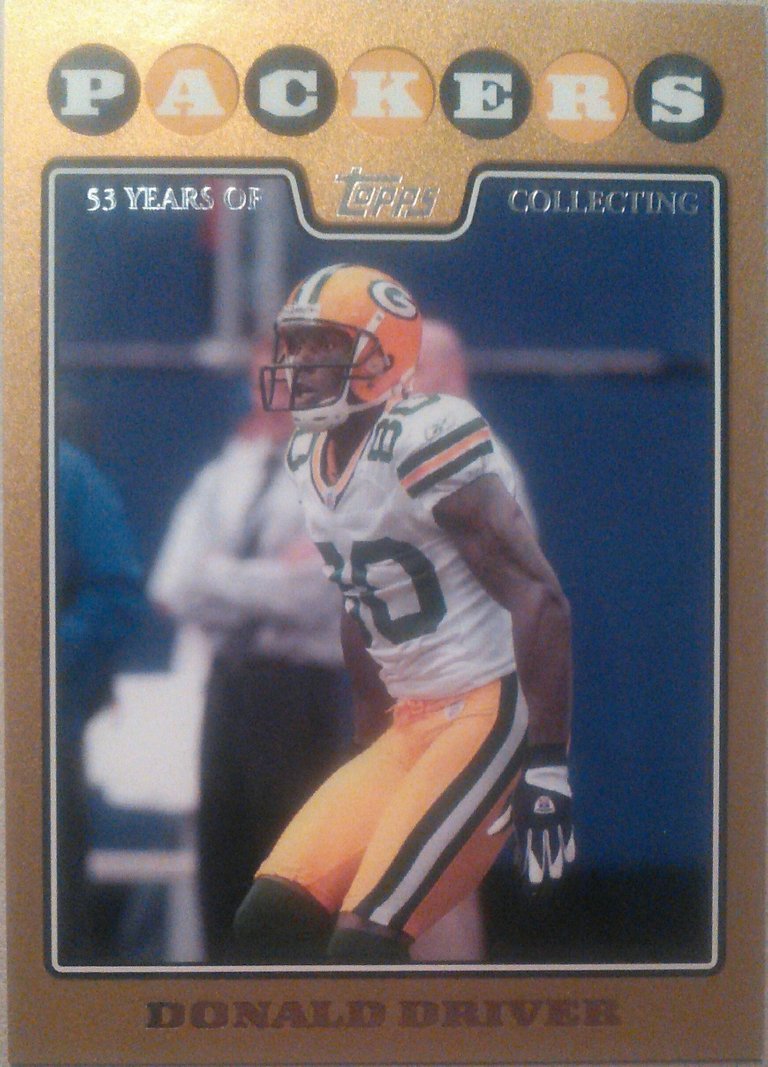 Apparently there's only 2008 of these exact cards ever printed, pretty sweet! This surprised me when I flipped it over to take a picture. As you can probably tell, mine is #1755.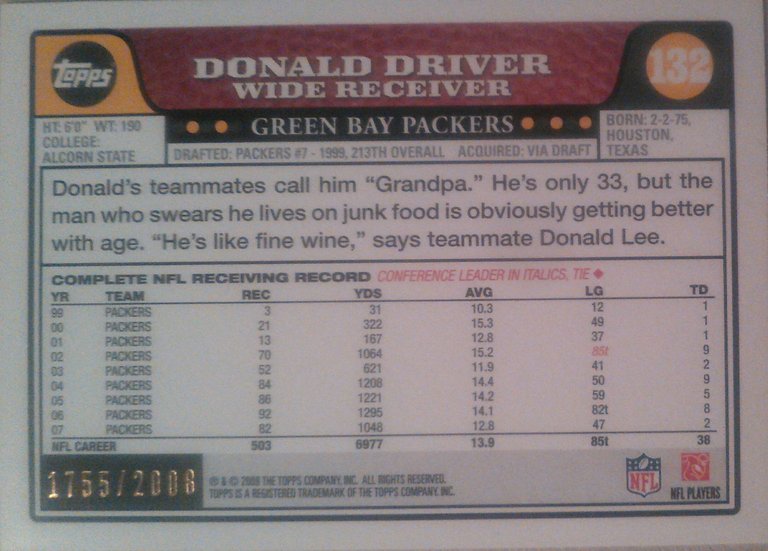 Out of Driver's fourteen professional seasons, seven of them he had over 1,000 receiving yards, including a very impressive streak of six straight from 2004-2009. Driver is the Packers all-time leader in receptions and receiving yards.
Donald Driver's NFL Career Stats
10,137 Receiving Yards
743 Receptions
61 Touchdown Receptions
1x Super Bowl Champion
5x Pro Bowls
Donald really beat the odds to become the legend he is today. Humbling.

---
---