Dustin Poirier knocks out Conor McGregor in a tremendous fight! The Diamond is Amazing!
Dang, what a fight! Superstar Conor McGregor faced off against growing superstar Dustin Poirier and man it was a great fight!
It was a moderately short fight, but it was super action packed. It felt like a much longer fight than a round and a half.
The first round was super competitive, there was some seriously great exchanges and moments. One of the best rounds I've seen in awhile. Conor landed several hard and familiar looking punches that he's put many fighters away with in the past. Dustin ate them with not too much of an issue, although some of the shots definitely stung him, it appeared. Dustin landed his own shots, and honestly overall mixed in a lot of well rounded mixed martial arts tactics. He was using leg kicks, he was using punches, he was using takedowns. There was some really entertaining clinchwork in this fight. Conor was using his new shoulder strikes that he unveiled against Donald Cowboy Cerrone which was fun to see. Funnily enough Dustin was actually returning some of his own shoulder strikes.
Conor may have edged out round one, but I honestly thought it was a very close and competitive round when you consider all the events that transpired in the round. It was a huge and positive sign for Dustin that he got out of the first round.
The second round was the round that Dustin really took over. Dustin's leg kicks were starting to really affect Conor's general mobility and athleticism. Dustin started getting a lot more comfortable with his boxing.
I knew it was over when Conor appeared rattled significantly by a little combo from Dustin. I am a big fan of Dustin, I can tell when he's close to a finish. Dustin always puts his opponents in similar positions it seems. His opponents get rocked and man, Dustin just has a way of putting it on opponents when he has one hurt. His boxing seems so fluid and aggressive and fundamentally sound. Dustin seems to like confuse his opponents and then he just knocks them out. He is a dog. I knew it in my gut it was over when Dustin had Conor confused against the fence.
Conor has never been finished like that. Dustin knocked him out badly for sure. The last three or four punches Dustin landed were absolutely vicious. Conor was out COLD.
I am a fan of both Conor and Dustin, man this was an epic battle. Sucks to see Conor get wrecked like that, but it is the fight game and you can't help but be happy for Dustin. He's worked so hard to get what he's earned in his career.
Dustin has seriously had one of the greatest MMA careers of all time. The names he has wins over are truly awesome. On top of that he only has six losses, all against very good opponents.
Dustin has wins over:
Max Holloway 2x
Conor McGregor
Yancy Medeiros
Bobby Green
Jim Miller
Eddie Alvarez
Anthony Pettis
Justin Gaethje
Dan Hooker
He's got an interim belt and a win over one of the greatest fighters and superstars ever. He appears to be a really good and charitable person. No matter what happens Dustin The Diamond Poirier will forever be remembered as one of the GOATS.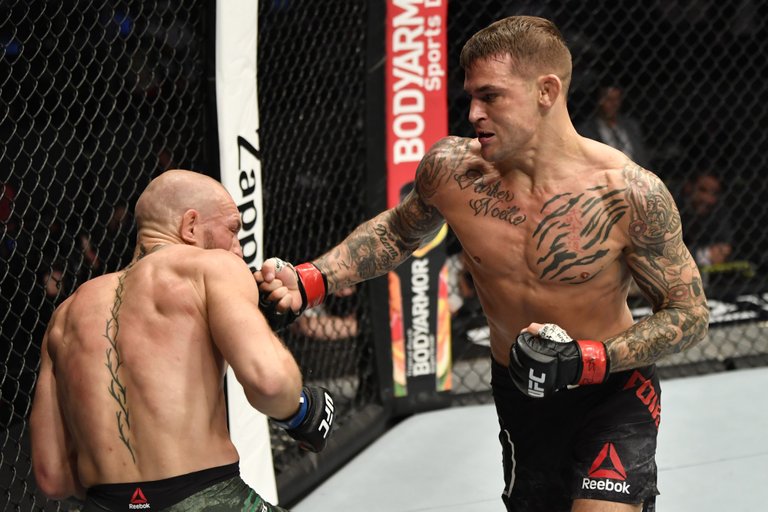 Src
---
---