James Harden joining the 76ers is pretty epic!
I actually do enjoy the NBA, and I'm a fan of the Philadelphia 76ers. But I've actually fallen off when it comes to closely following the NBA in the past three years or so.
Several contributing factors come to mind as to why this is the case. I followed the NBA for years and I was a huge fan of the Cavaliers-Warriors rivalry. Then the Warriors got injured, the NBA's political-ness and woke-ness reached all time highs. THEN the Covid era happened and I just really lost a bit of interest as a whole. Not fully, but substantially enough. I also got more and more into UFC and just had other dad and life duties.
Thanks to social media though, I never really lost track of the league, or the Sixers for that matter.
The Sixers main pieces for a good handful of years, was indeed Ben Simmons and superstar talent Joel Embiid. For awhile it seemed that these two could lead the Sixers to a championship. Simmons looked so raw and athletic, like a young Lebron James. But Simmons never seemed to evolve from this level of play. Like at all.
The whole Ben Simmons saga was really annoying and even slightly entertaining. All the Sixers wanted was for him to like, try to shoot, sometimes. Please? Then he basically threw a hissy fit and forced his way off the team. Philly fans can be intense, but I really don't think the situation was that bad. Dude acted weird in my opinion.
Despite this turmoil on the team, the Sixers leaned on Joel Embiid and have stayed MORE than relevant in the NBA's eastern conference.
Then, a miracle happened. The Sixers managed to send off weirdly disgruntled Ben Simmons and got a straight up arguably top five NBA talent in JAMES FREAKING HARDEN.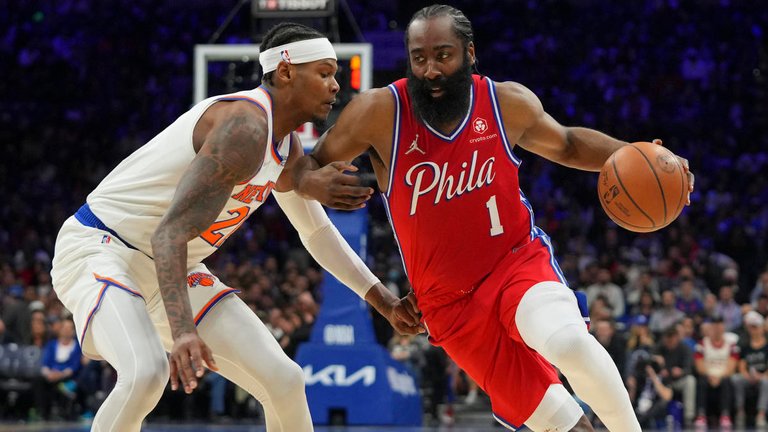 Src
James Harden is a dang superstar. One-hundred percent a baller. He has been through it all in his career, and proven a lot of people wrong.
Once upon a time wayyyyy early in his career Harden was viewed as the third best player on the Oklahoma City Thunder. A Oklahoma City Thunder team that included Kevin Durant and Russell Westbrook. What a stacked, fun team that was. I remember always being a huge fan of Harden and that Thunder team. Pretty legendary honestly. That team seemed almost unstoppable once upon a time. I remember loving watching Harden's style back then. He was an aggressive scorer and just seemed to be able to blow by anybody.
He was actually the 2012 NBA Sixth Man of the Year when he was a member of the Thunder.
After that last season on the Thunder, young James Harden got a chance to be the FACE of a franchise when he joined the Houston Rockets. Many people wondered if James Harden could be 'the guy' on a team after being a sixth man on the Thunder.
Well, James took almost no time to prove people wrong. Pretty quickly Harden established himself as on of the best players in the league. He won NBA MVP in 2018.
He went from Sixth Man of the Year, to NBA MVP.
Offensively, there is nothing this guy can't do on the court. He is a walking bucket and is one of the best three point shooters the game has ever seen.
---
In just a few games in Philly, the Sixers are UNDEFEATED with Harden in the lineup. It has been a small sample size, but considering the hype of signing a legit superstar in his prime, and how good it HAS looked, the hype is currently VICIOUS in PA.
Harden and Embiid look like they are about to terrorize the NBA.
Embiid is obviously a big man. He does not always play like Shaq, but he does have some physicality to him. He is not like a pure soft modern NBA center that like only shoots threes and is a twig out there.
Harden's play style just BLEEDS PHILLY. It's hard to explain. Philly loves a gritty type of player. Philly likes aggression and just being tougher than the other team. Harden is a thick dude and puts his chest into the defense. He is big, but shifty. He has FULLBACK vibes on the court. He's explosive and strong. Harden has PLENTY of NBA size, but being ever so slightly shorter than some other players just adds to the appeal of Harden and his underdog, DOG vibes. Add Harden's beard to the mix and I mean, damn, the production AND aesthetics just match up PERFECT for Philly.
Combine Embiid's size and respectable physicality and his own superstar talent, with Harden's skillset and everything he brings to the table, Sixers basketball is insanely fun to watch right now!!!
Embiid and Harden could be LEGENDS if they can bring a chip to Philly.
This signing is BIG!!!!!
Harden looks GREAT in those Philly uniforms!!!

I'm excited to see how this season plays out. I hope Harden and Embiid can be Sixers for a long time!
Let's win a championship Philly!!!!!
Sixers play tonight, but since it's back to back Harden is unfortunately resting. Still will be watching while watching some UFC fights!!
Exciting times! I need a Harden basketball card of him as a Sixer!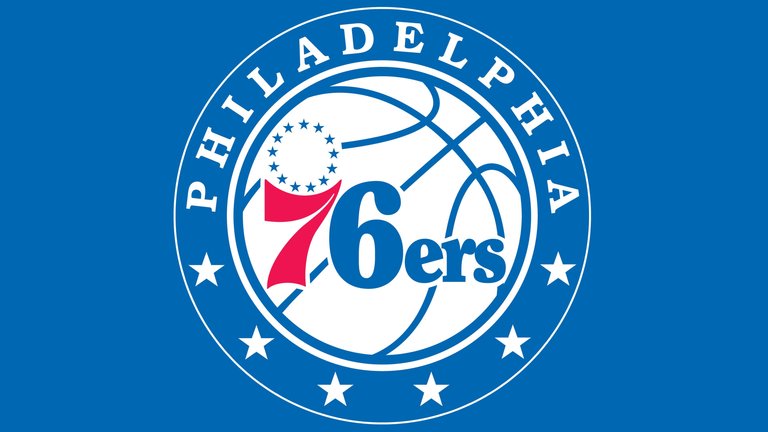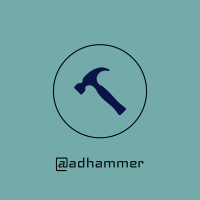 ---
---