NFL Divisional Playoff Round Preview- NFC - San Francisco 49ers AT Green Bay Packers
Well, I am wayyyy too excited for this Titans game, so I figure I would write a bit about these other Playoff games coming up this weekend! After last weekend's games were mostly duds, I expect this week will have much more exciting battles.
Every team remaining knows that if they win three games in a row, they will be Super Bowl Champions. The pressure is ON!
On Saturday evening, the Green Bay Packers will host the San Francisco 49ers in a game that will determine who gets to play in the NFC Championship Game.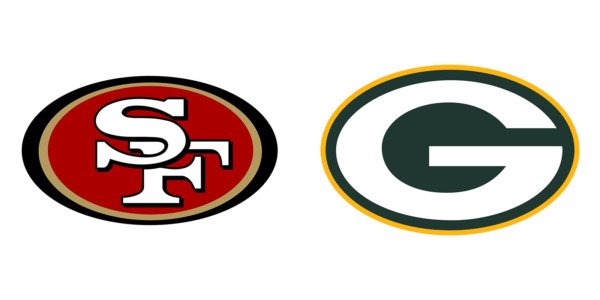 The first thing I think about when this game comes to mind honestly is, Aaron Rodgers and the Packers really seem to struggle against the 49ers in the Playoffs. The 49ers have eliminated the Packers from the post-season three times in the past nine seasons. On a similar note, the Packers have not even reached another Super Bowl in the Aaron Rodgers era since they won one back in 2010-11. It may sound harsh to point that out, but Aaron is supposed to be like an elite QB. Physically, he clearly is elite, but I start to wonder if he has elite leadership traits? I mean, a talent like Aaron Rodgers should have like three rings by now, right? Hmmmmmmmmm.
The 49ers on the other hand, they are a weird team. I honestly can't put my finger on them. They play hard. Play physical. But at the same time I believe they often overcomplicate their offensive playcalls. It's like their coaches want to prove how clever they are too much rather than like, get yards or win games. Despite my criticism and suspicion, the 49ers have won a fair amount of games in recent seasons, and made it to the Super Bowl two years ago. But I can't help but wonder if it's all just weird and fluky. I don't know if their team is that good or they just catch teams by surprise with their weirdness.
This will for sure be an interesting, tough test for both teams. They played wayyyyy back in September where the Packers did win, but only by two points.
Let's check out a bit of numbers.
Quarterback Comparison
| Jimmy Garoppolo - 49ERS Quarterback | Regular Season Stat Category | Aaron Rodgers - PACKERS Quarterback |
| --- | --- | --- |
| 3,810 | Passing Yards | 4,115 |
| 20 | Passing Touchdowns | 37 |
| 12 | Interceptions | 4 |
| 98.7 | QB Rating | 111.9 |
| 68.3 | Completion % | 68.9 |
| 51 | Rushing Yards | 101 |
| 3 | Rushing Touchdowns | 3 |
Aaron Rodgers missed about two games or so in 2021-22 but still, he's clearly a beast of a QB. Pretty much dwarfing Jimmy G in every significant category.
Jimmy G gets a lot of heat in the media for not being as good as his team around him. He is often referred to as the weak link on this Niners team. But I do feel like Jimmy G at least tries, where on the other hand, Aaron almost seems to be too nonchalant at times.
Running Back Comparison
| Elijah Mitchell - 49ERS Running Back | Regular Season Stat Category | A.J. Dillon - PACKERS Running Back |
| --- | --- | --- |
| 963 | Rushing Yards | 803 |
| 5 | Rushing Touchdowns | 5 |
| 4.7 | Yards Per Carry | 4.3 |
| 1,100 | Yards From Scrimmage | 1,116 |
| 6 | Total Touchdowns | 7 |
| 11 | Games Played | 17 |
The 49ers run the ball quite often, as do the Packers. Both teams run the ball by committee so these numbers could be slightly misleading as to how effective these teams are at rushing the ball. These teams definitely want to establish that run game.
Top Receiving Target Comparison
| Deebo Samuel - 49ERS Top Receiver | Regular Season Stat Category | Davante Adams - PACKERS Top Receiver |
| --- | --- | --- |
| 77 | Receptions | 123 |
| 1,405 | Receiving Yards | 1,553 |
| 6 | Touchdown Receptions | 11 |
| 18.2 | Yards Per Reception | 12.6 |
| 1,770 | Yards From Scrimmage | 1,553 |
| 14 | Total Touchdowns | 11 |
These two receivers are straight up superstars!! Any team in the league would take these players on their roster in a heartbeat.
Deebo in white, Davante in green.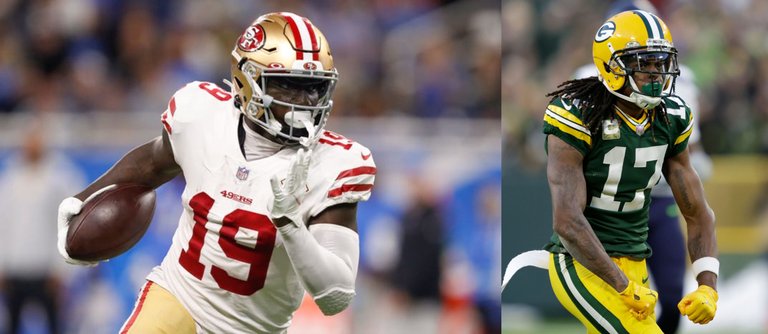 Src Src
Deebo Samuel is pretty much a freak. He is a receiver first, but the 49ers often give him rushing attempts, to the point where he actually has more rushing touchdowns than receiving! He is a very unique talent and most teams can't stop him. He will produce no matter what.
Davante Adams is another freak man. He is a straight up pure receiver though, but that really doesn't mean he is less dangerous than Deebo. He is Aaron's favorite target by FAR. A nice big strong target that has practically mastered his craft as a wide receiver. I was shocked to see he is only listed at six foot one, but I really have some trouble believing that. This dude plays like he is six foot five.
---
I think I will take the Packers in this one but man, they need to be ready to play! The Niners are a handful and they play hard all sixty minutes.
I think the fact that this game is in Green Bay, will be a huge advantage for the Packers and help them edge out the Niners.
How do you see this game playing out on Saturday? Leave a comment!!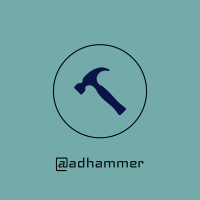 ---
---