On this day in Tennessee Titans History, 12/14/03 - Titans defeat the Bills, 28-26
On this day 18 years ago, Titans backup QB Billy Volek stepped in to start against the Buffalo Bills for an injured Steve McNair. Billy Volek is sorta a mini Titans legend I would say. He was never that good really, but he gave it his all ya know? Plus his name is kinda funny. Volek did actually end up throwing for 3505 yards and scoring 28 total touchdowns as a Titan.
QB Drew Bledsoe and the 6-7 Bills visited Nashville on this mid-December day with their playoff hopes starting to fade. The 9-4 Titans on the other hand, had a strong chance at achieving a Wild Card berth. Their divisional chances were unlikely.
The Titans were down 17-6, but the team rallied starting late in the third quarter. QB Billy Volek threw touchdown passes to TE Erron Kinney and WR Justin McCareins, and then rushed for a touchdown on a QB sneak to help lead the Titans to a great late season victory.
Billy Volek was the starting QB for the Tennessee Titans 18 years ago. Here he is pictured.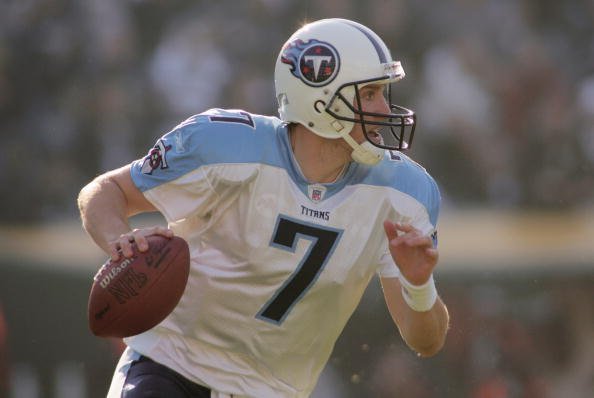 Src
Drew Bledsoe and the Bills kept it close and were a two point conversion away from tying it up late in the fourth quarter. But it wasn't meant to be for the Bills that day.
Here's how some notable Titans performed eighteen years ago:
QB Billy Volek
- 26/41 for 295 yards, 3 total Touchdowns (2 passing, 1 rushing)
RB Eddie George
- 67 rushing yards
- 1 reception for 19 yards
WR Derrick Mason
- 9 receptions, 137 yards
Memorable Titans WR Drew Bennett and TE Frank Wycheck didn't have crazy stats in this game, but combined for 4 receptions and 36 yards. I just wanted to mention them for like, historical respect, ya know.
The Titans defense also really showed up against the Bills on this day.
LB Keith Bulluck
- 9 total tackles, 1 sack, 1 forced fumble, 1 fumble recovery
DT Albert Haynesworth
- 1 sack
DE Robaire Smith
- 1 sack
Keith Bulluck is a Titans LEGEND.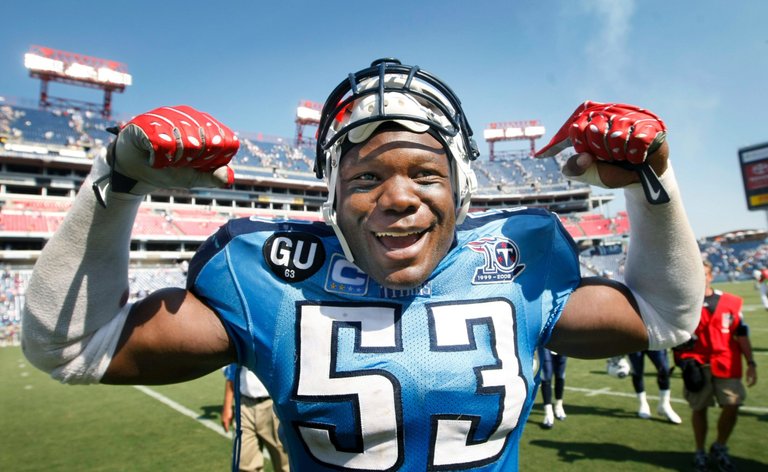 Src
It was a great needed win for the Titans at the time. Fans were definitely happy. This was overall a really good, competitive and suspenseful game.
---
Some notable Buffalo Bills that competed on this day include:
QB Drew Bledsoe
RB Travis Henry
WR Eric Moulds
LB Takeo Spikes
LB London Fletcher
---
Number One U.S. Movie, December 14, 2003 - 'Something's Gotta Give' starring Jack Nicholson, Diane Keaton, Keanu Reeves and Jon Favreau
Number One U.S. Song, December 14, 2003 - 'Hey Ya!' by OutKast
---
---