Randy Moss 2011 Score/Panini NFL Card - Tennessee Titans Wide Receiver
When it comes to the greatest wide receivers to play the game, it's got to be either Randy Moss or Jerry Rice. I might be forgetting someone, but off the top of my head it's got to be those two.
Randy Moss is most remembered for being a dominant receiver for the Vikings and the Patriots. Moss is the reason the verb 'mossed' exists. Or 'moss'd'. Whatever. Whenever a receiver makes a tremendous jump ball reception, or like highpoints a ball over a defender you always hear, 'that boy got MOSS'D!'
When you are so good that a word is created from your own dang name, you've become a legend, no doubt.
I remember Moss on the Vikings pretty well. Him and QB Daunte Culpepper made some legendary plays together for awhile.
Later in Moss's career he hooked up with Tom Brady and they made some serious magic happen as well. Almost had a perfect season....
You really don't have to be an NFL fan to know about Randy Moss. This dude is a straight up American household name.
When it comes to this Randy Moss card in particular, this one is pretty unique to say the least. I really wonder how many of these exist? Toward the tail end of Moss's career he bounced around a bit. I think he was ring chasing and/or stat padding, who knows.
This card is real. No photoshop. Very briefly, for eight games, and starting four, Randy Moss donned the Titans two-tone blue. His time was so incredibly brief, that I really can't imagine how many of these cards are out there. I'm kind of pumped about it! He's RANDY FREAKIN' MOSS in a Titans uniform, so cool. Pretty fair picture in general too. The Titans crowd and Titans stadium around him, just nice.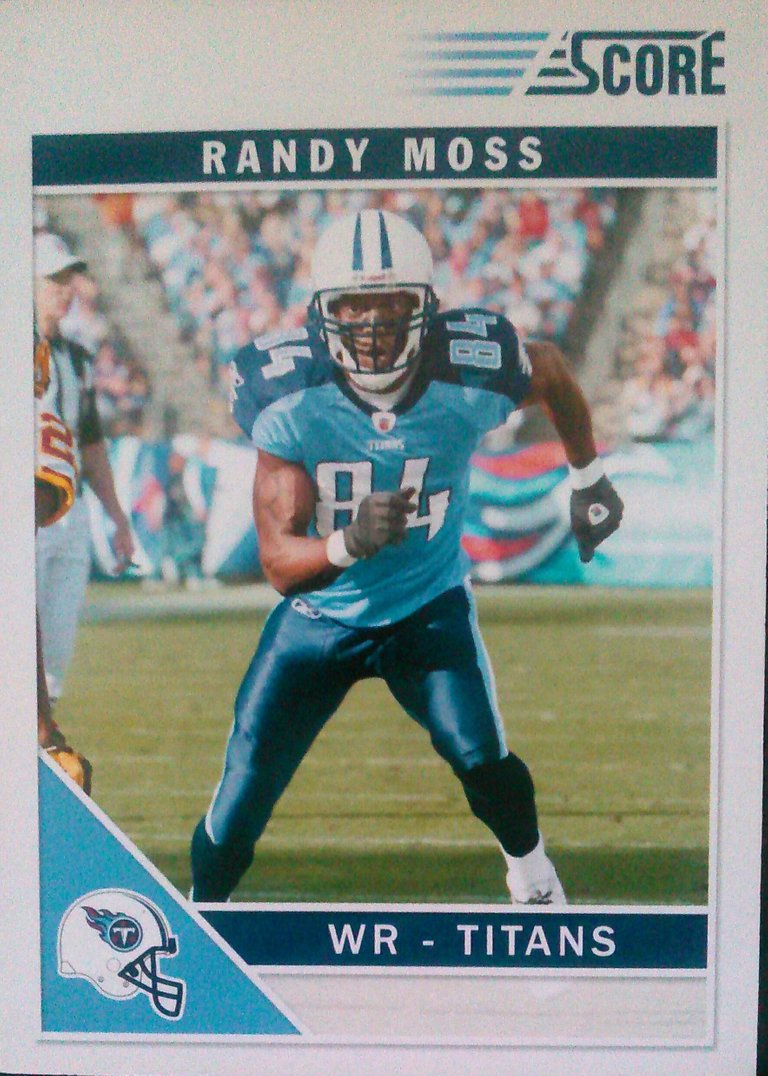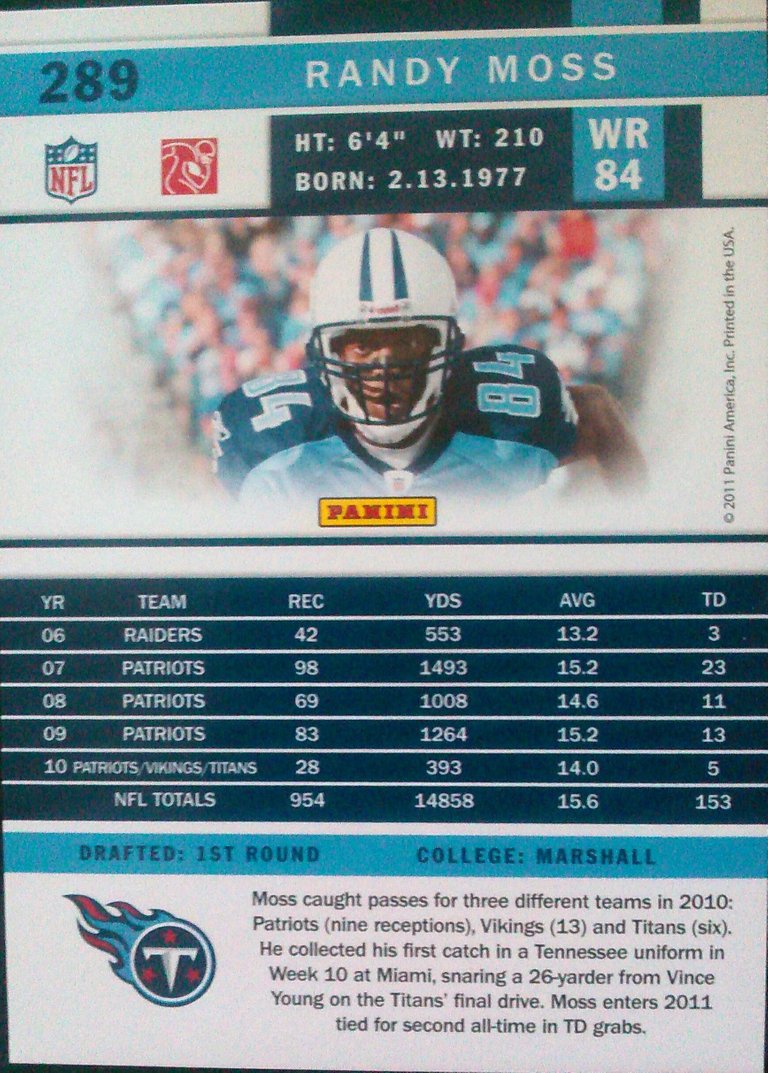 Randy Moss's Legendary Stats Over His 14 Year NFL Career
15,292 Receiving Yards - 4th All-Time
156 Touchdown Receptions - 2nd All-Time
982 Receptions
4x NFL First-Team All-Pro
6x Pro Bowls
NFL 100th Anniversary All-Time Team
2000's All-Decade Team
For Randy moss, his accomplishments are endless. His impact on the game is seriously one of a kind!
---
---