Titans bounce back from ugly loss with a big OT victory at Seattle in an All-Time Great game!!!!!
Wow, what a game. Holy crap!
I am still amazed at what I just watched. WHAT A GAME.
The Titans clearly were motivated after last weeks utter mess.
This game was not perfect by any means but the Titans showed improvement and just a lot of good things overall.
Both the o-line and the defense improved tremendously.
The Titans were down much of the first half and pretty much 90 percent of this game. But they were hanging around and playing decent football, being competitive.
The defense showed signs of being better, they were actually getting sacks which is EPIC. The offense had some positive signs....
The crowd was wild the WHOLE game, those Seattle fans go hard man!
It was 24-9 at halftime.
In the second half the Titans were ready to play, scoring a FG or touchdown nearly every time they had the ball.
Although there was ANOTHER missed field goal.......... BRUH
Then the Titans completely blew a coverage in the secondary when the Seahawks had a 3rd and 13. That made it a 30-16 game.
But luckily that would be the last time Seattle scored whatsover.
The Titans rallied and won in friggin OT 33-30.
---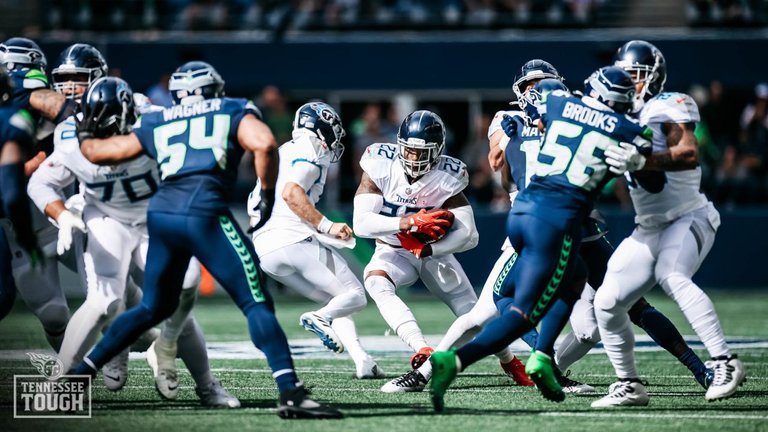 Src
The Titans offense just went off. I'm hoping this is just a taste of what's to come in the future for this offense.
Ryan Tannehill passed for 340 yards, Julio Jones received over 120 yards, and Derrick Henry had over 230 yards from scrimmage.
DERRICK HENRY
182 rush yards (5.2 ypc)
3 rushing touchdowns
55 receiving yards
6 catches
Ryan Tannehill
27/40, 347 yards passing
27 rushing yards
Julio Jones
---
The way this team dug deep is truly impressive. The Titans have come back from a lot of bad losses in the past, but this two weel period is definitely on of the better instances.
This team just needs to be more consistent unlike previous years.
There is still a lot to work on. Tannehill got hit a lot. Offensive line can still be a lot better. Tannehill was hit a bunch.
The team can always be sharper. This game went to OT lets beat some teams with a little less stress, ya know. But hey a W is a W. And W's are delicious.
Just one week, hopefully the Titans can keep this up in week three!!
I'm happy and excited to see more of what this team can do going forward, there's a long season ahead still.
I'll be there supporting every step of the way, #Titanup!!!!
---
---