UFC Fight Night 199: Lewis vs Daukaus tonight! 🔥
The UFC is a fast growing, just absolutely humming business right now. MMA and martial arts in general has just been slowly exploding over the past two decades. I even feel as though boxing is experiencing a small comeback thanks to the rise of MMA.
The UFC does a great job with putting together consistently entertaining events with stellar matchups. Still, every now and then there are some snooze-worthy events. They've got to develop and showcase the unknown fighters, so I get it. I sort of assumed that perhaps tonight's event would be a little underwhelming especially considering last week was a tremendous event with UFC 269!
But boy was I wrong. I should have known better too. Dana White and the UFC always tries to put together solid events around Christmas.
---
Tonight's UFC Fight Night is the UFC's 589th official event according to Wikipedia, and man are there a lot of good fights lined up.
What I like about tonight's event is that is is super deep and well balanced. Throughout the prelims, and the main event there's just a bunch of intriguing matchups.
I'm happy I've done a lot of UFC card posts over in the Sports Trading Cards Community because some fighters I've written about are fighting tonight! Those fighters include:
Thanks to those posts I now know a few extra things about these fighters I otherwise would not have known. Maybe someone else out there can say the same. Check the posts out again for a quick refresher!
---
Here's some matchups tonight that have really caught my eye!
Charles Jourdain vs Andre Ewell (FW)
Charles Jourdain and Andre Ewell fight in pretty much the exact same way. They are strikers.
Charles Jourdain looks the part of an up and coming possible UFC star but so far he has had some mixed results. He has been very game though, even in some losses. At only 26 years old, Jourdain has a lot of fighting and growing to do still. The future could still very well be bright for him.
Andre Ewell has had a similar up and down career like Jourdain. Ewell actually normally fights at bantamweight is coming up to featherweight for the first time in the UFC. Ewell has even fought as low as flyweight four years ago with a different organization. That's twenty pounds less than his bout will be at tonight. Interesting. Ewell is a pretty big guy so perhaps this rise in weight will benefit him. We shall see!
Gerald Meerschaert vs Dustin Stoltzfus (MW)
This fight is not ridiculously interesting or anything but I am just sorta a fan of Gerald Meerschaert. I just get the sense he could easily become a dark horse contender at middleweight despite some tough losses. I just get a little bit of Michael Bisping vibes off of Gerald.
I honestly have no clue who Dustin Stoltzfus, but the dude looks mean. In his UFC picture he looks like if Robbie Lawler and Dan Henderson had a baby. If he can fight as tough as he looks, this should be a fun fight.
'Killer' Cub Swanson vs Darren 'The Damage' Elkins (FW)
Wow. Of all the fights being fought tonight, this fight might have the highest chance at being a historically great one.
Both Swanson and Elkins have been in epic wars. They are both legends in their own right. They both got the cool nicknames and sick tattoos to boot.
Elkins pictured on the left, Swanson on the right.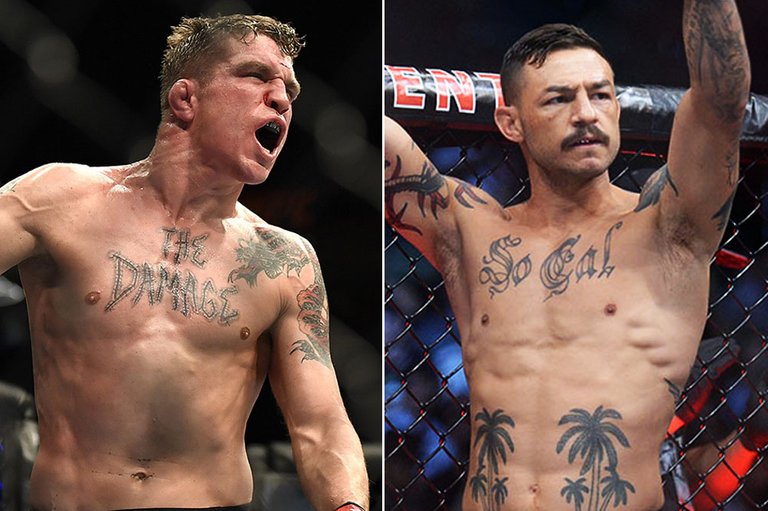 Src
These guys are tough and fight hard each time out. Swanson might be better on paper, but Elkins is known to be grimy and tough as NAILS. No joke, that dude can take DAMAGE, just like his chest tattoo suggests.
Swanson is a more fluid skilled striker, Elkins might be a shade grimier and stronger. Holy crap, I hope this fight lives up to it's potential. Potential to be MAD AND CHAOTIC!
#5 Stephen 'Wonderboy' Thompson vs #10 Belal Muhammad (WW)
If you squint and turn your head to the side a little bit, this fight is sorta similar to Swanson vs Elkins. Thompson being more of the striker and Muhammad being tough and well-rounded. Those two bouts aren't the best comparisons necessarily, but they're a little similar.
Thompson is just a savage karate guy. Thompson really could probably beat 90 percent or more of the Welterweight division. If he went on a strong three fight win streak or a super strong two fight win streak he could probably fight for a title. Simply put, Wonderboy has become a staple in the UFC's Welterweight division.
Belal Muhammad is quietly having himself a really really good UFC career. He's 10-3-1 in the UFC! Many people may have had a title shot by now, but he just has had a few inconvenient losses or unfortunate hiccups along the way. Like I said Belal is a well rounded, game, tough dude without any glaring weaknesses in his skills. He is a well prepared pro.
This will be an interesting battle!
Main Event in the Heavyweight Division: #3 Derrick Lewis vs #7 Chris Daukaus
Now this main event is going to be special I think! There's no way something epic does not happen!
Lewis on the left, Daukaus on the right.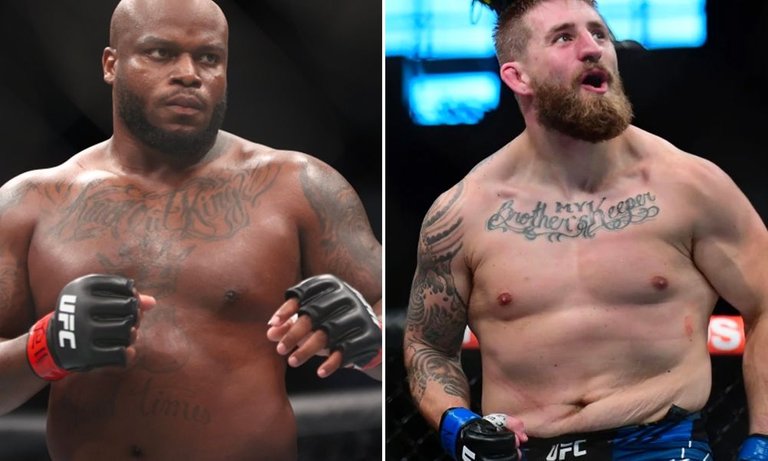 Src
Derrick Lewis is simply one of my favorite UFC fighters. Chris Daukaus is an up and coming UFC Heavyweight that I actually haven't even seen fight yet! He's risen to the top of the division in just a little over a year's time! I'm excited to see him fight for the first time.
I am not sure if I've seen a heavyweight fight like Daukaus! A lot of smaller heavyweights attempt to speed and pressure bigger fighters to death, but I've never seen someone do it like him!

This will be a battle of a straight up freight train in Derrick Lewis versus a shifty, quick and elusive Chris Daukaus.
That's a dangerous combo! Someone's getting caught unless someone implements a unique gameplan.
Lewis is seriously dangerous and has beaten a lot of elite competition!

There's really not much else to say. Heavyweights are typically straightforward bangers. This is a HUGE test for Daukaus. This is the biggest fight of his life and a win could get him into title contention in a hurry, less than two years into his career!
Maaaaaan I cannot wait for tonight! AND there's some NFL action this evening as well! What a glorious day!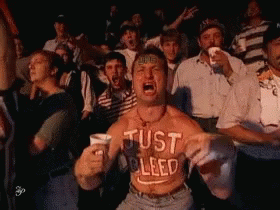 Who you got tonight? What fight are ya most excited for? Leave some thoughts and/or predictions below!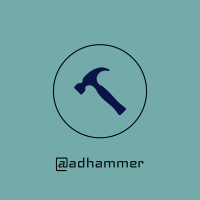 ---
---