Stickball: A Street Tradition, in My Collage for LMAC #171

Stickball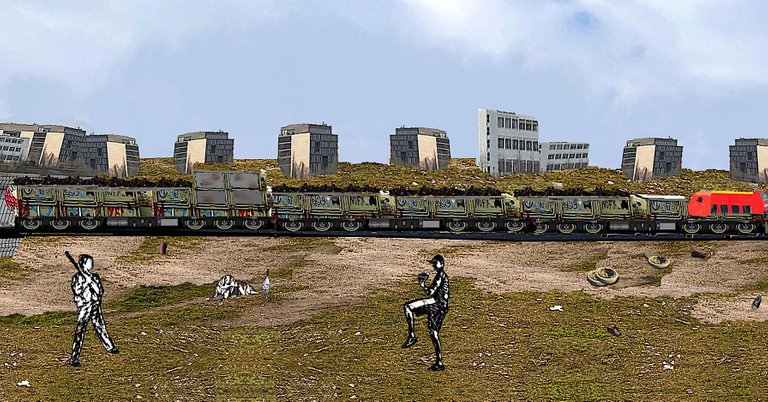 This week @shaka offered a very interesting, and (for me) challenging template photo in Round #171 of the LMAC Collage Contest. (I don't compete).
The Photo by @shaka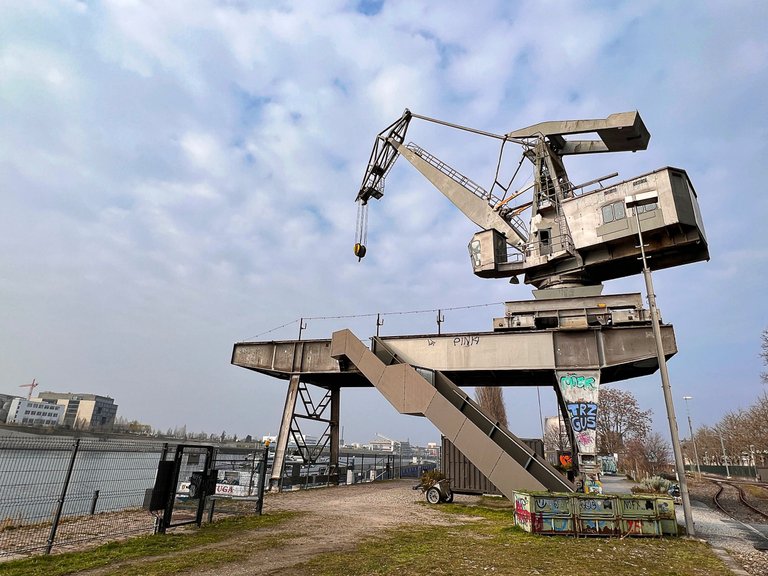 I'm not attracted to machinery, or industrial sites. However, I like graffiti, and that's what drew my attention in @shaka's picture immediately. I knew the graffiti would be incorporated into my collage, whatever that turned out to be. I had no set idea in the beginning.
At first I made a sort of fruit stand and included animation. This was disastrous (though the amazing plants, contributed by @borjan--this, this and this--to LIL are remarkable).
I tried again, with the same theme. Another disaster. But then, I settled into a kind of peace with my collage and the train took shape. The idea of the derelict field came next. The stickball players followed naturally.

Stickball: Informal, Inexpensive and Accessible
When I see an empty field like the one in my collage, a pickup game of one sort or another will likely come to mind. I would play stickball with my siblings in the field next to my house. There exists a photo of us playing, but I will respect my siblings' privacy and not show that photo here. However, I will show a photo of my dog and cat in the same field.
The Field Where I Played Stickball, With My Dog and Cat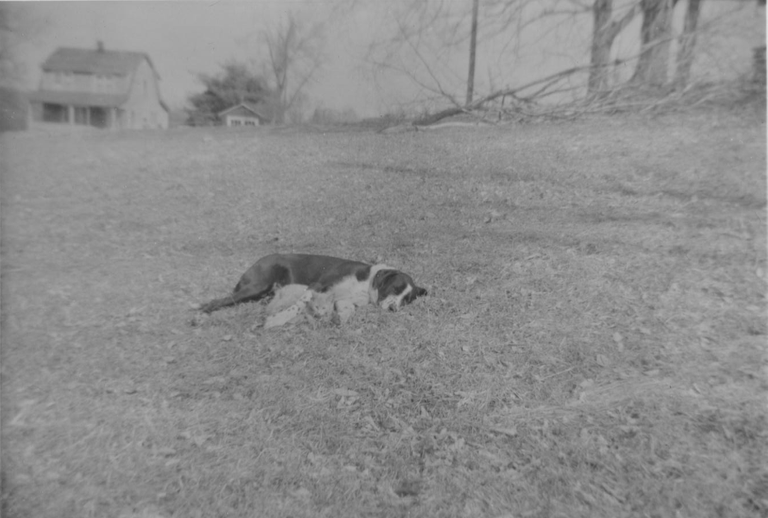 Oftentimes, children will use a broom handle as a bat in a stickball game. I'm pretty sure we actually used a stick. Sticks were plentiful, sticks of every kind. We didn't have a baseball, so a catcher's mitt wasn't necessary. The spirit of stickball is spontaneity, comradeship, and play.
Youngsters Playing Stickball, Battery Park, Tip of Manhattan. 1973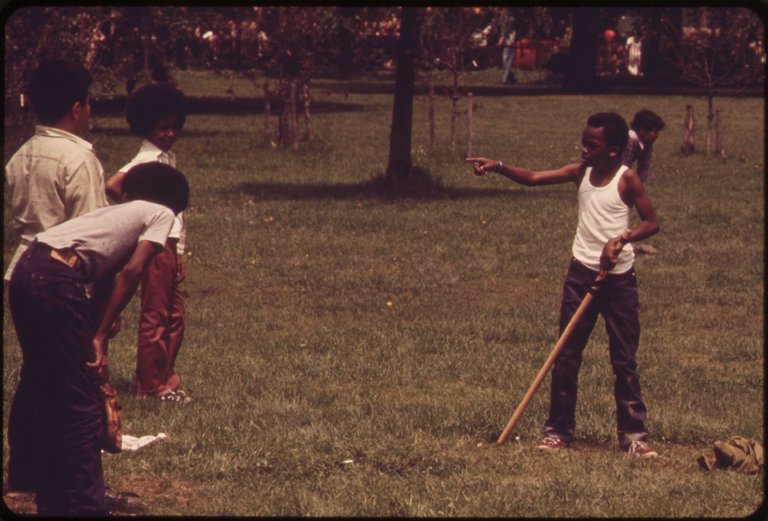 Credit: Will Blanche, Photographer. U. S National Archives and Records Administration. Public domain.
Generations of kids grew up playing stickball in New York. I don't know if the game was a widespread (across the U.S) phenomenon, but the game was as much a part of New York as bagels and pizza.
An article in a hometown NY paper, The Gothamist, waxes nostalgic as it explains, "At its most basic, all you need for stickball is a broomstick, a tennis ball or rubber ball and an empty street." Willie Mays, son of Harlem, credited his baseball skills to games of stickball he played in his neighborhood. As a star player he would famously return to the neighborhood and play with the kids. Here's clip of him doing just that (from Twitter):
https://twitter.com/SFGiants/status/1258251848634392576
I have read about organized stickball games, and stickball leagues. In my view, and the view of many veteran stickball players, organization defies the spirit of the game. As an article in Sports History Weekly explains, traditional stickball has one common feature: "... a freewheeling playing spirit and the absence of supervision".
Stickball still exists in some places, especially in the Bronx, where an organized (!) effort to keep the game alive has been active for years.
Link to a YouTube Video of an organized Stickball Game in the Bronx

But, in the opinion of many, increased traffic and gentrification have driven the game from most streets. Computers and social media are also suggested as contributing factors to the game's decline.
When I moved to New York City, in 1958, stickball wasn't a thing in my neighborhood. We had another street game--equally unsophisticated and spontaneous: stoopball. But that's a story for another blog.
My Collage
Rather than going into a long description of the process of making my collage, I will show a variety of images that by themselves explain the evolution. The collage came in stages. After the first disastrous collages were discarded, I came up with the idea of a train, and from that the rest evolved almost organically. It was quite relaxing.




I owe my friends from LMAC for their contributions to LIL. The train car of course came from @shaka's original photo. For trash in the yard I thank @muelli (sneaker and wood chips). For the lovely dog, I thank @quantumg. For the saucy kitten, I thank @yaziris. For the train tracks, I thank @seckorama.
I also borrowed from Pixabay:
One picture from my personal album:
Making collages is a creative exercise and a rich experience. This week I went down memory lane and explored a part of my culture.
Please check out our winners from last week's contest, just published today. Tomorrow a new template will be published. Make a collage and join in the fun.
You can see that LIL, the LMAC Image Library, was an essential part of my collage creating process this week. Everyone on Hive can contribute to the library and everyone can borrow from the library. Learn about the procedure here.
I wish all my readers peace and health.
Thank you for reading my blog
Hive on
---
---