[ESP-ENG] Hivechess Tournament S15R4 | Mi reporte - My report

Este es mi primer reporte de un torneo de ajedrez. No suelo volver a mirar las partidas que juego en los torneos, porque suelo terminar bastante agotado, pero esta vez decidí que tenía que volver sobre ellas al otro día y aprender de mis errores.
Jugué 10 partidas y terminé con 10 puntos, en el puesto 20. No estoy nada conforme con el torneo que jugué. Las partidas sin incremento me complican. No estoy acostumbrado y me cuesta darme cuenta cuando me queda poco tiempo. 5 segundos en el reloj con incremento puede llegar a ser un montón de tiempo, pero sin incremento es realmente muy poco.
This is my first chess tournament report. I don't usually go back and look at the games I play in tournaments, because I usually end up pretty exhausted, but this time I decided that I had to go back over them the next day and learn from my mistakes.
I played 10 games and ended up with 10 points, in 20th place. I'm not at all happy with the tournament I played. The games without incremental increases make it difficult for me. I'm not used to it and it's hard for me to realise when I'm running out of time. 5 seconds on the clock with increment can be a lot of time, but without increment it's really very little.
1 | @nikoszzz - agreste
En la primera partida, cometí un error muy rápidamente, en la movida 8, en una apertura que no conocía (lo sé, tengo que estudiar más). Jugué Nbd7, pero el módulo da b5 como la mejor movida.
In the first game, I made a mistake very quickly, on move 8, in an opening I didn't know (I know, I have to study more). I played Nbd7, but the module gives b5 as the best move.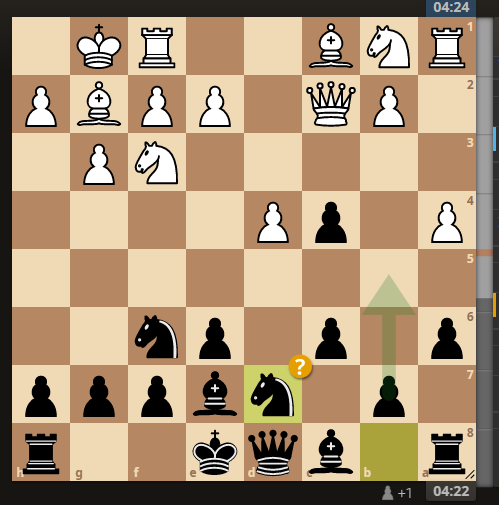 En la partida pensé en hacer esa movida, pero me pareció que el peón de c6 quedaba muy débil y la torre desprotegida. Evidentemente, fue una mala elección. Después de ese error no pude remontar más la partida. Aunque no volví a cometer errores (lo que ya es mucho decir), en total registré ¡7 imprecisiones! que me fueron llevando lentamente al abismo. A esta altura ya estaba del todo perdido:
In the game I thought about making that move, but it seemed to me that the c6 pawn was very weak and the rook unprotected. Evidently, it was a bad choice. After that mistake I couldn't get the game back on track. Although I didn't make any more mistakes (which is saying a lot), I made a total of 7 inaccuracies! which slowly led me into the abyss. By this time I was completely lost: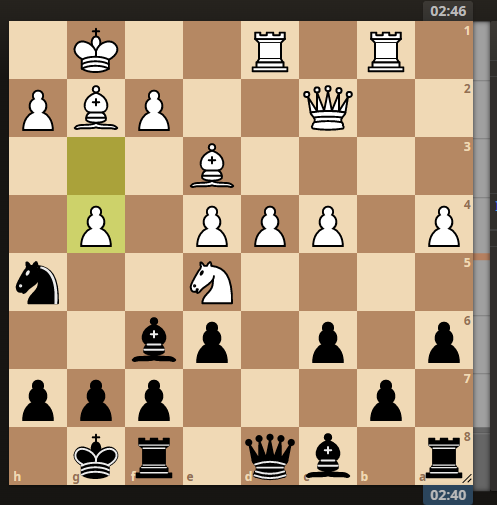 2 | agreste - @stranger27
En la segunda partida tuve un poco más de suerte. Y digo suerte porque según el módulo cometí 3 errores y 1 error grave, aunque esta vez no tuve imprecisiones. Al menos fui preciso, tanto en las buenas como en las malas... La partida venía pareja hasta que en la siguiente posición:
In the second game I was a bit luckier. I say luck because according to the module I made 3 mistakes and 1 blunder, although this time I didn't have any inaccuracies. At least I was accurate, both in good times and bad... The game was going evenly until the next position: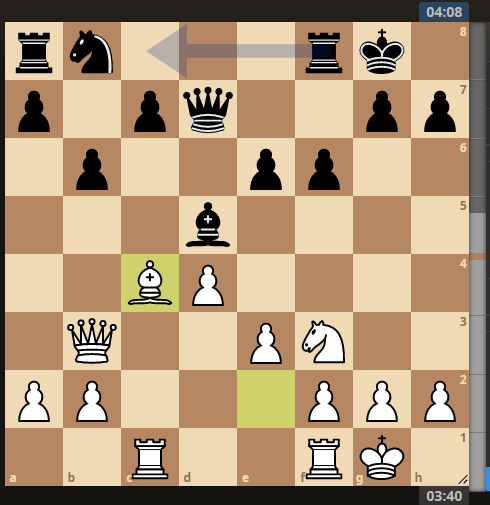 stranger27 jugó Bxf3 y perdió la dama después de Bxe6+. La partida siguió unas ¡30 movidas más! Pero, claro, con una dama de diferencia no es fácil la remontada.
stranger27 played Bxf3 and lost the queen after Bxe6+. The game went on for another 30 moves! But, of course, with a queen difference it's not easy to come back.
3 | agreste - @stayoutoftherz
La tercera partida la perdí por tiempo... ¡con una ventaja de +6.4 según el módulo! Seguramente con incremento podría haberla ganado, pero claro, las reglas son las reglas. En esta posición:
The third game I lost on time... with a +6.4 advantage according to the module! Surely with an increase I could have won it, but of course, rules are rules. In this position: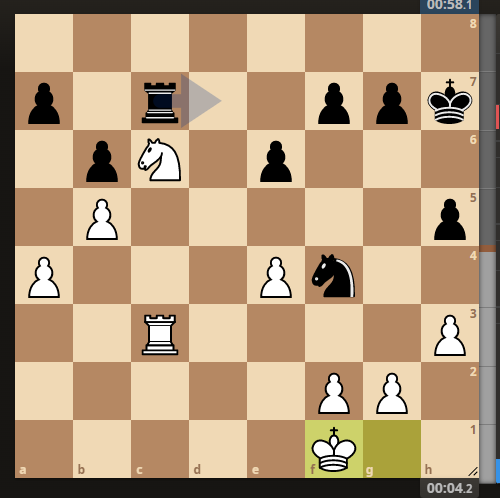 stayoutoftherz jugó Kg6??. Con esa movida pierde la torre luego de Ne5+, que fue lo que pasó en la partida. Para ese entonces, tenía 0:02.6 segundos en el reloj. Así y todo logré hacer 6 movidas más antes de quedarme sin tiempo.
stayoutoftherz played Kg6?? With that move he loses the rook after Ne5+, which is what happened in the game. By then I had 0:02.6 seconds on the clock. I still managed to make 6 more moves before I ran out of time.
4 | @mypathtofire - agreste
En esta partida el tiempo me jugó a favor, aunque un poco en contra también. En esta posición:
In this game time worked in my favour, although a little bit against me too. In this position: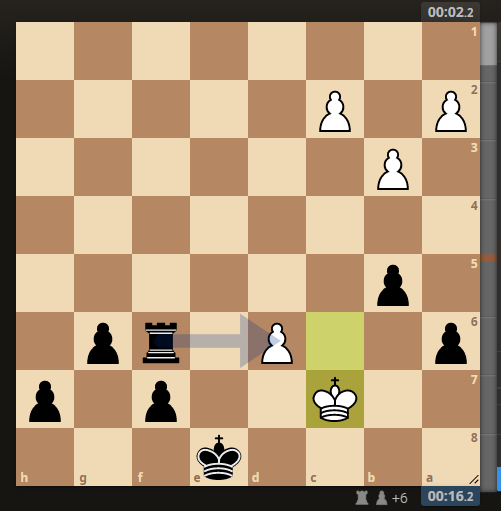 tenía una ventaja de -6.2, pero hice una movida absurda, h5??, que me dejó al borde de la derrota. El tiempo me salvó.
I had an advantage of -6.2, but I made an absurd move, h5??, which left me on the verge of defeat. Time saved me.
5 | @emic - agreste
La quinta me tocó contra mi hermano. Estuve toda la partida debajo, pero mi gran error fue sin duda b5?? en esta posición:
The fifth was against my brother. I was underneath the whole game, but my big mistake was undoubtedly b5?? in this position: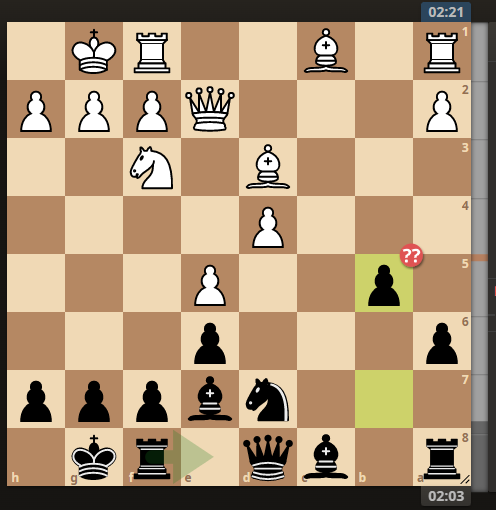 Ya que Qe4 de las blancas amenazan mate y al mismo tiempo a la torre. Un momento curioso de la partida: en la movida 25, la ventaja de las blancas era de +37.
Since White's Qe4 threatens checkmate and at the same time the rook. A curious moment in the game: on move 25, White's advantage was +37.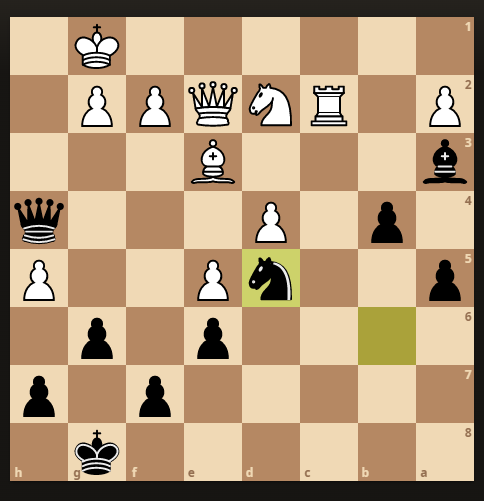 Las blancas jugaron Bh6 y perdieron la oportunidad de quedarse con la dama. La secuencia ganadora era: Rc8+ Kg7, h6 Qxh6, Bxh6.
White played Bh6 and lost the chance to keep the queen. The winning sequence was: Rc8+ Kg7, h6 Qxh6, Bxh6.
6 | @vasigo - agreste
Las blancas venían con ventaja luego de un error mío, pero en lugar de aprovecharlo, en esta posición:
White had an advantage after a mistake of mine, but instead of taking advantage of it, in this position: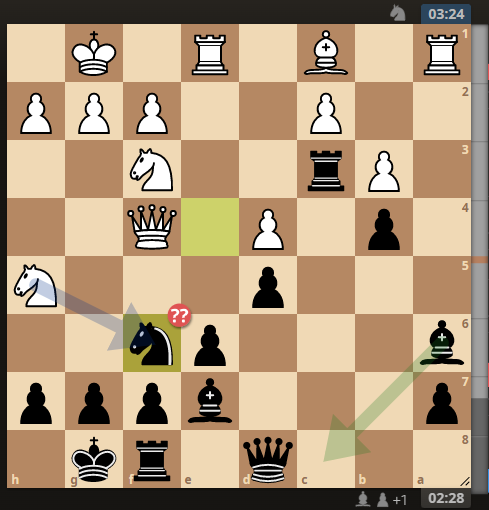 Jugaron Ne5?? y perdieron el caballo de h5.
They played Ne5?? and lost the knight on h5.
7 | agreste - @vjap55
Venía tan contento... Esta partida podría haber cambiado el curso del torneo para mí. Tenía una posición completamente ganada, a una movida del abandono de vjap, quizás. Cualquiera en esta posición habría comido la dama negra, ¿no?
I was so happy... This game could have changed the course of the tournament for me. I had a completely won position, one move away from vjap's resignation, perhaps. Anyone in this position would have taken the black queen, wouldn't they?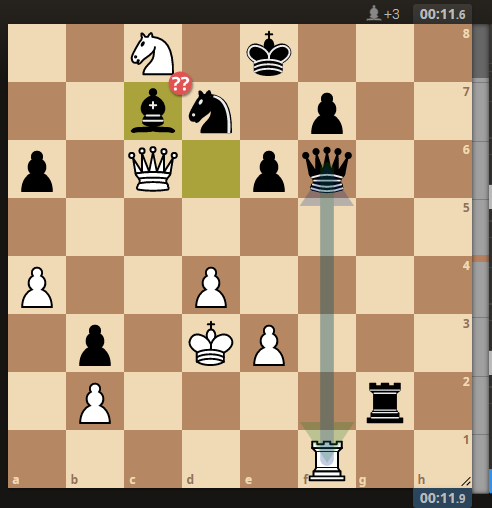 Bueno, yo hice Qxc7??, quizás apurado por el tiempo o quién sabe por qué. En tres movidas pasé de una partida ganada a un jaque mate a mi rey.
Well, I played Qxc7??, maybe in a time crunch or who knows why. In three moves I went from a won game to a checkmate to my king.
8 | agreste - @mundocuriosidad (M_schumacherf1)
Y las cosas no fueron mejor en esta partida. Otra vez perdí una posición ganada:
And things didn't go any better in this game. Again I lost a won position: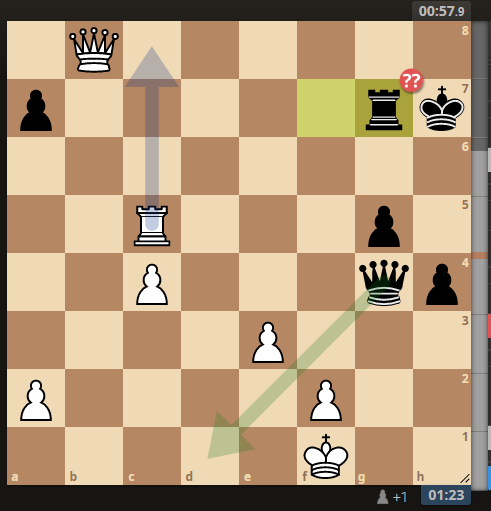 El módulo daba +2,6, pero cometí dos errores seguidos, empezando por Qe5?? y me dieron mate en solo dos movidas.
The module gave +2,6, but I made two mistakes in a row, starting with Qe5?? and I got checkmate in just two moves.
9 | @pokerarema (ragnarokgame) - agreste
Con esta partida me recuperé un poco en la tabla de posiciones. En esta posición:
With this game I recovered a bit in the standings. In this position: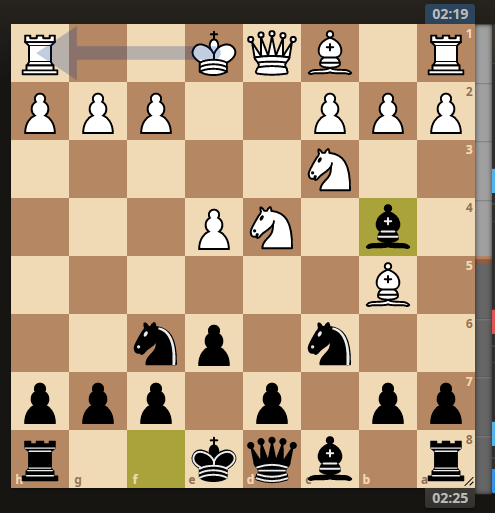 las blancas movieron la dama a f3 dejando desprotegido el caballo. Ya con una pieza de más, las cosas fueron sencillas y pude dar mate en la movida 15.
White moved the queen to f3 leaving the knight unprotected. With an extra piece, things were easy and I was able to checkmate on move 15.
10 | agreste - @gabotask (GVillalobos)
Ya quedaba muy poco tiempo, así que era poco probable que esta partida llegase al final. Tenía una ventaja clara contra un rival 300 puntos superior:
There was very little time left, so it was unlikely that this game would go to the end. I had a clear advantage against a 300-point superior opponent: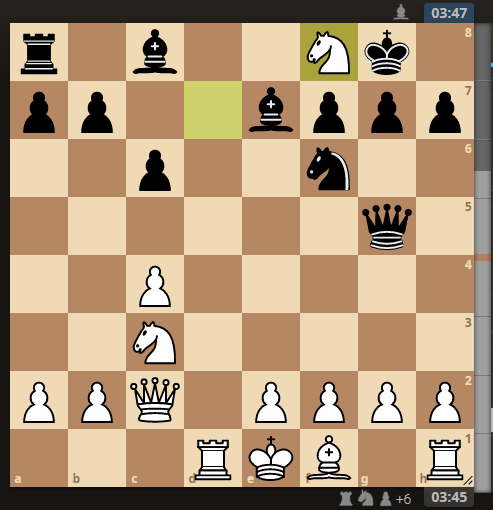 Pero ya sin tiempo para que la partida finalice le ofrecí tablas.
But with no time left for the game to end I offered him a draw.
Y así concluyó mi torneo. Pudo haber sido mejor (también peor, claro). Por suerte, después ¡gané el sorteo de los 100 glx!
And that was the end of my tournament. It could have been better (also worse, of course). Luckily, I won the 100 glx draw afterwards!
---
Original en español. Traducido con Deepl.
Original in Spanish. Translated with Deepl.
---
---