[Eng/Esp] Encouraging our son to practice sports from an early age.
English Version
Welcome to my Blog
Sport and physical activity are a fundamental part of the evolutionary development of human beings, people committed to the practice of any sport develop skills and abilities for it such as discipline, perseverance and physical health, in addition to gaining conditions such as greater dexterity, body agility, physical strength, and develop motor skills. Sport keeps our children away from sedentary lifestyles, reduces childhood obesity, besides allowing them to interact with other people and be more social, not for nothing says a saying "sport is life" and is essential for our children to stay away from bad habits.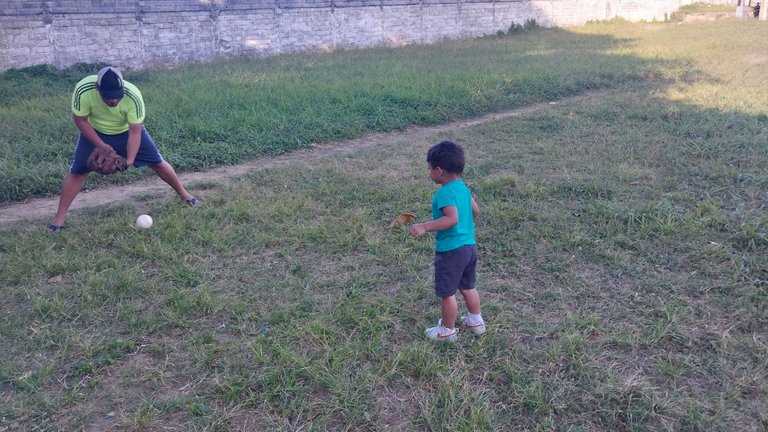 One of the things that as parents, my husband and I have planned for our son Santiago is that as he grows up he starts to practice some sport activities so he understands the value of sport and later on he is encouraged to do any sport or physical activity of his preference. For the moment, we have added in our daily schedule of activities for our son the outings to the sports fields and the soccer, indoor soccer, basketball and volleyball courts among others.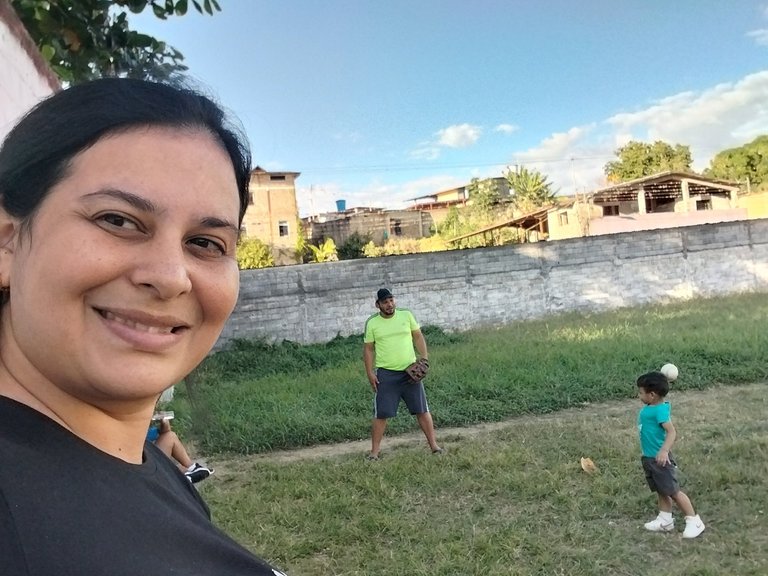 My husband and I have always been good sports fans, and for us it is a pleasure to encourage our son to practice sports, that is why today my little son Santiago, my husband and I, have made a visit to a baseball stadium so that our son could appreciate the practices and sports disciplines that were being developed at that moment since in this stadium they also practice soccer and softball. One of the most important things to be able to practice any sport, is to have a routine that involves a good nutrition and a good physical rest, that is why any person who wants to practice any sport discipline must have a healthy routine of life and without any kind of addictions or vices to prohibited substances.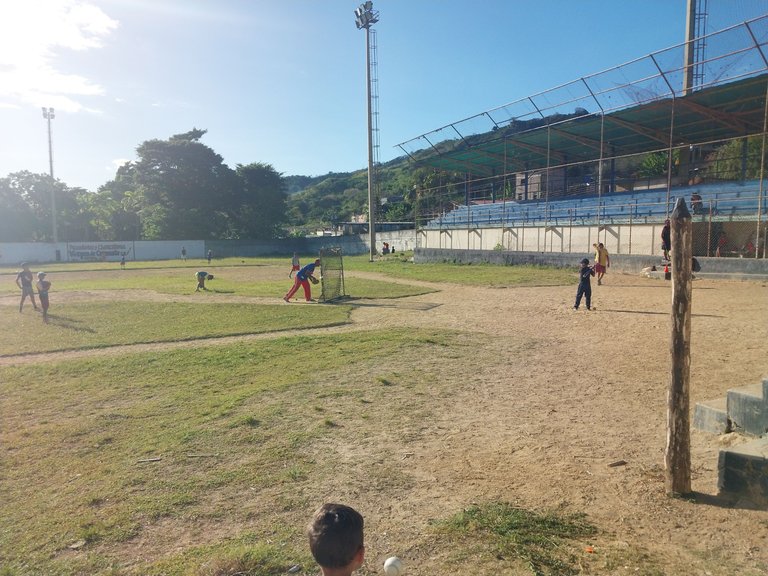 In any sports discipline there are categories according to the age of the athletes, today my family and I were able to observe several groups of children and young people who were practicing batting and pitching, children and young people aged between 5 and 16 years old were sharing the field in different groups separated by the entire width of the large field. On the other side, the boys were practicing soccer and doing all kinds of warm-ups, stretching, and agility and speed tests.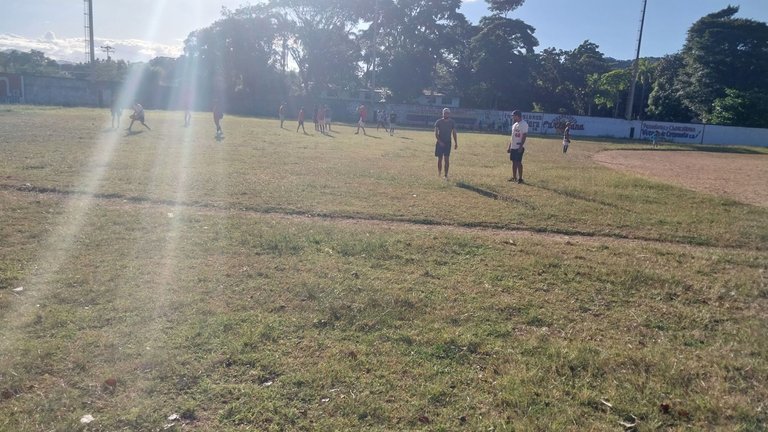 My husband, who had brought a softball and a glove, started practicing with Santiago as our son showed great interest in participating in the sports he was watching. Our hearts as parents jumped with happiness when Santiago took the ball in his hands and started to imitate the pitches of the older boys who were practicing throwing the ball from the picher position, it is amazing how fast children can catch a technique to throw, hit or run, besides having fun practicing some sport discipline and making good camaraderie with their practice partners or with their game team.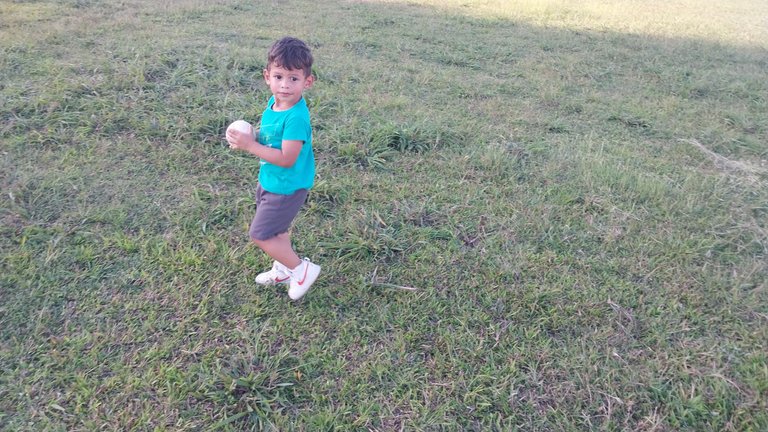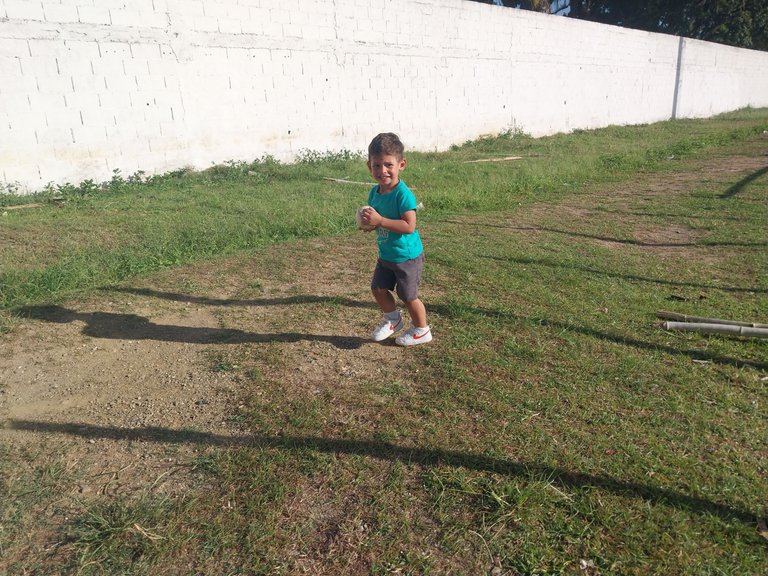 For a next visit to these sport instances I must take a better logistic preparation, take more water for Santiago to hydrate himself, also take a cap so that the sun does not impact directly on his head and some lighter shores so that my little one can run with more freedom. To practice sports from an early age is extremely important in the physical and emotional development of our children, encouraging our children to practice more sports will allow them to be more social human beings, without bad habits, more active children who understand and respect the rules, besides strengthening them to make their own decisions and to start learning to work as a team.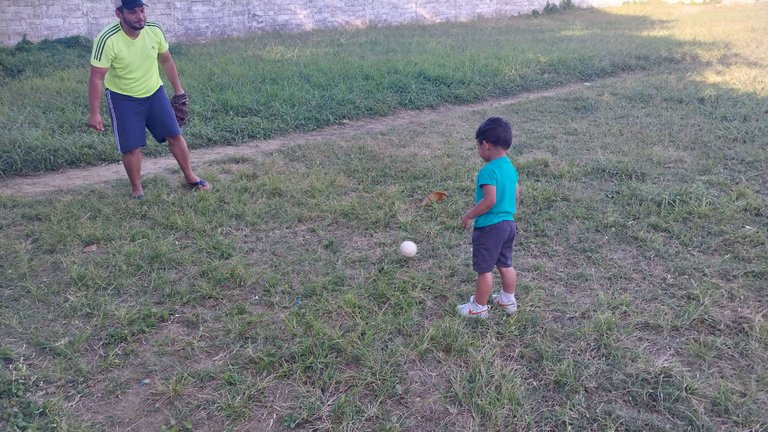 Versión Español
Bienvenidos a mi Blog
Incentivando a nuestro hijo a practicar deportes desde temprana edad.
El deporte y las actividad física son parte fundamental del desarrollo evolutivo del ser humano, las personas comprometidas con la práctica de cualquier deporte desarrollan destrezas y habilidades propias para la misma como lo son la disciplina, la constancia y la salud física, además de ganar condiciones como mayor destreza, agilidad corporal, restencia física, y desarrollar las capacidades motoras. El deporte aleja a nuestros hijos del sedentarismos, disminuye el padecer de obesidad infantil, además de permitirles relacionarse con otras personas y ser más sociales, no por nada dice un refrán "el deporte es vida" y es esencial para que nuestros hijos se mantengan alejados de malos hábitos.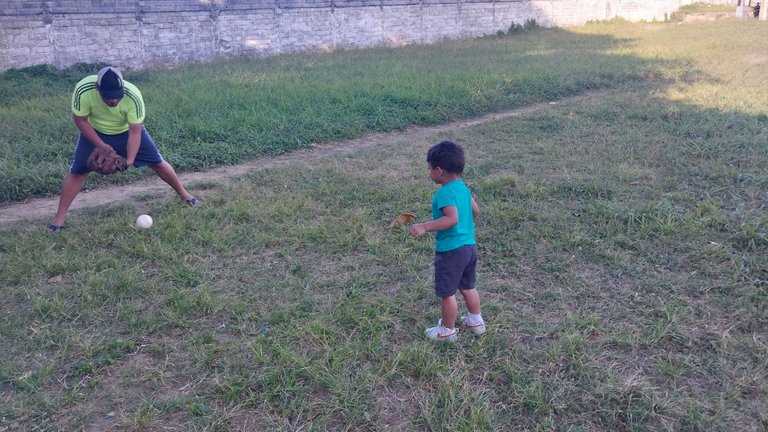 Una de las cosas que como padres, mi esposo y yo hemos planeado para nuestro hijo Santiago es que a medida que el vaya creciendo el comience a practicar algunas activades deportivas para que comprenda el valor del deporte y que más adelante el se incentive a realizar cualquier deporte o actividad física de su preferencia. Por el momento, hemos agregado en nuestro cronograma de actividades diarias para nuestro hijo las salidas a los campos deportivos y las canchas de fútbol, fútbol de salón, baloncesto y vóleibol entre otras.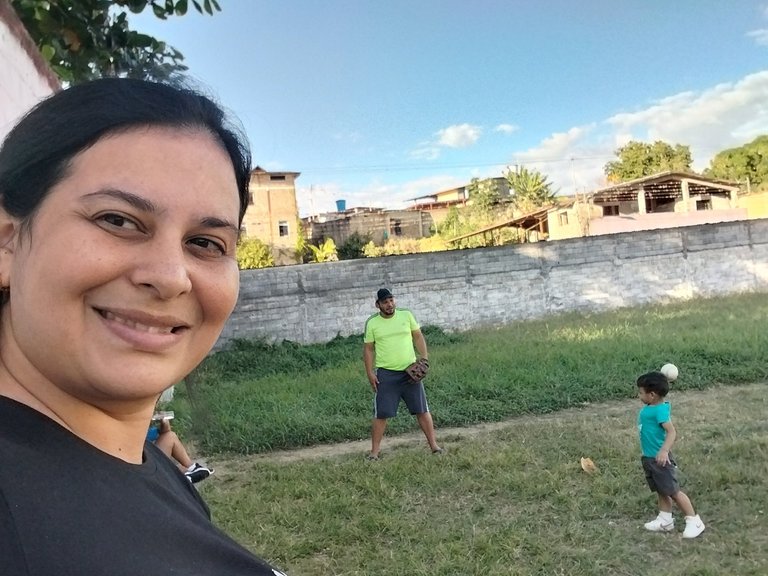 Mi esposo y yo siempre hemos sido buenos aficionados al deporte, y para nosotros es un placer poder incentivar a nuestro hijo a practicar deportes, es por ello que el día de hoy mi pequeño hijo Santiago, mi esposo y yo, hemos realizado una visita a un estadio de béisbol para que nuestro hijo pudiera apreciar las prácticas y las disciplinas deportivas que se estaban desarrollando en ese momento ya que en este estadio también se practica fútbol y softball. Una de las cosas más importante de poder practicar algún deporte, es poder tener una rutina que involucre una buena alimentación y un buen descanso físico, es por ello que cualquier persona que desee practica alguna disciplina deportiva debe tener una rutina saludable de vida y sin ningún tipo de adicciones o vicios a sustancias prohibidas.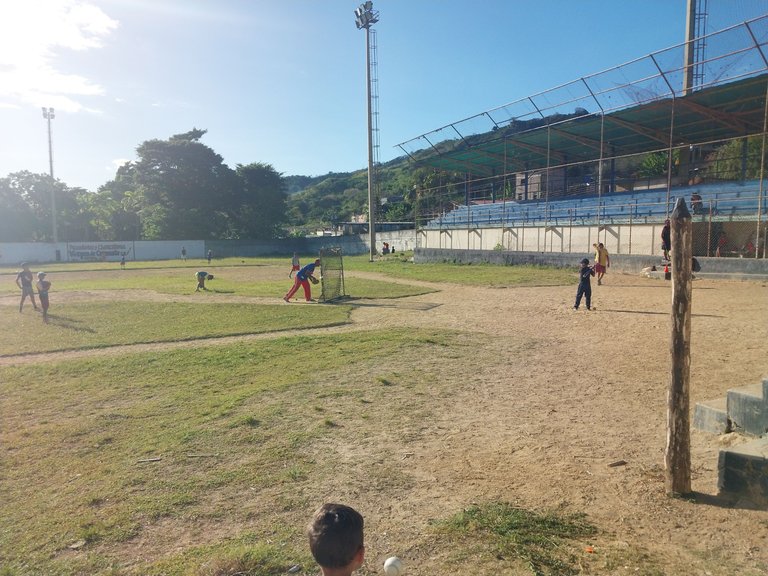 En cualquier disciplina deportiva existen categorías según sea las edades de los deportistas, hoy mi familia y yo pudimos observar a varios grupos de niños y jóvenes que se encontraban realizando prácticas de bateo y de lanzamiento, niños y jóvenes en edades comprendidas entre los 5 y los 16 años de edad compartían el campo de terreno en diversos grupos separados por todo lo ancho del extenso terreno de juego. Del otro lado, los chicos practican fútbol y realizaban todo tipo d3 calentamiento, estiramiento y pruebas de agilidad y velocidad.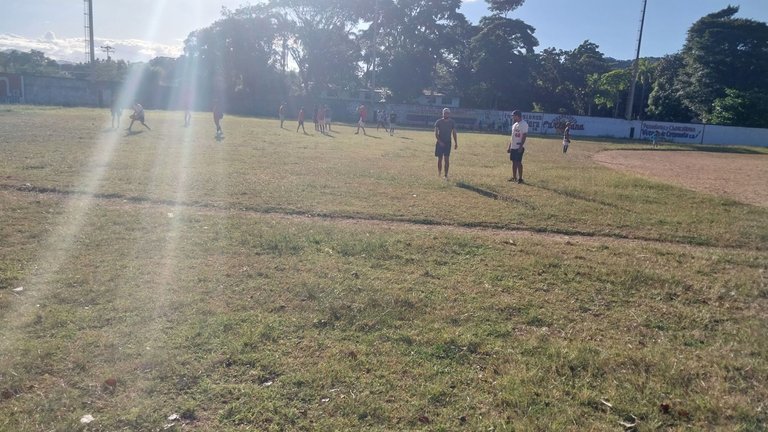 Mi esposo, que había llevado una pelota de softball y un guante, comenzó a practica con Santiago ya que nuestro hijo mostraba un gran interés en participar en las disciplinas deportivas que estaba observando. Nuestro corazón de padres saltó de felicidad cuando Santiago tomó la pela en sus manos y comenzó a imitar los lanzamientos de los chicos más grandes que estaban practicando el lanzamiento de pelota desde la posición del picher, es increíble lo rápido que los niños pueden captar una técnica para lanzar, batear o correr, además divertirse practicando alguna disciplina deportiva y haciendo buena camaradería con sus compañeros de prácticas o con su equipo de juego.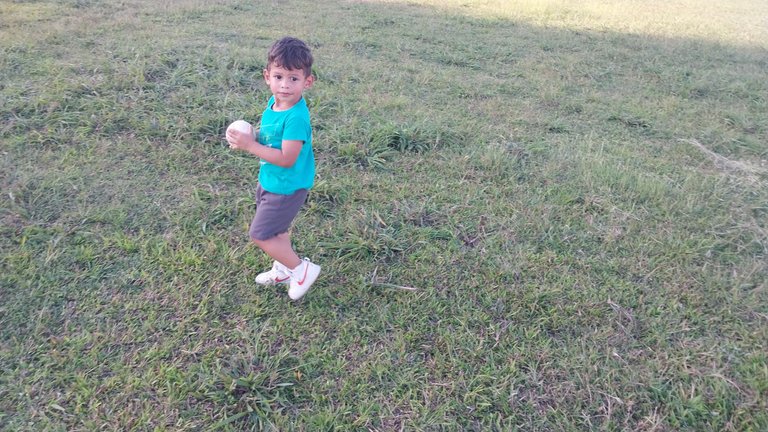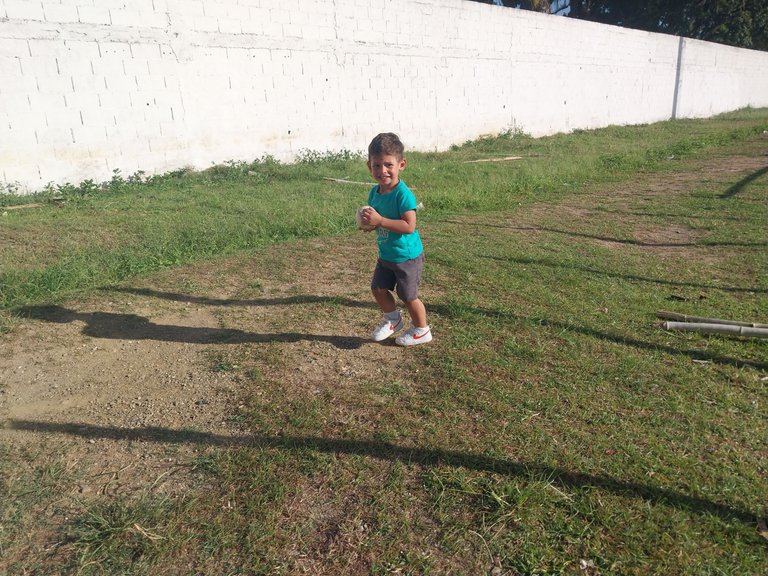 Para una próxima visita a estas instancias deportivas debo peeparme mejor en cuanto logística, llevar más agua para que Santiago se hidrate, también llevar una gorra para que el sol no impacte directamente en su cabeza y unos shores más livianos para que mi pequeño pueda correr con mayor libertad. Practicar deportes desde temprana edad es sumamente importante en el desarrollo físico y emocional de nuestros hijos, incentivar a nuestros hijos a practicar más deportes les permitirá ser seres humanos más sociales, sin malos hábitos, niños más activos que comprender y respetan las reglas, además de fortalecerles la toma de sus propias decisiones y de comenzar a aprender a trabajar en equipo.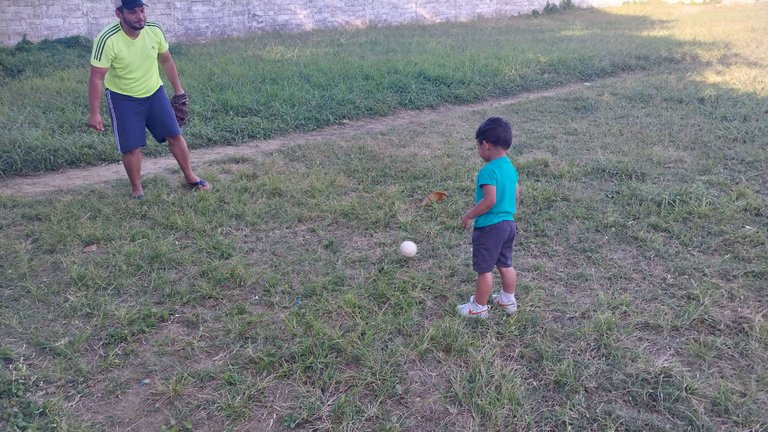 The Original text of @aksurevm89 // El texto Original de @aksurevm89
Xiaomi Redmi 9 Camera // Cámara Xiaomi Redmi 9
All photos are my property // Todas las fotos son de mi propiedad.
Text translated in Deepl free version. // Texto traducido en Deepl versión gratuita.
Banner and text separator Made in background eraser // Banner y Separador de texto Realizado en background eraser.

---
---