🔥🙌 TABATA DE PODER PARA EL CUERPO COMPLETO🙌🔥 Esp/ Eng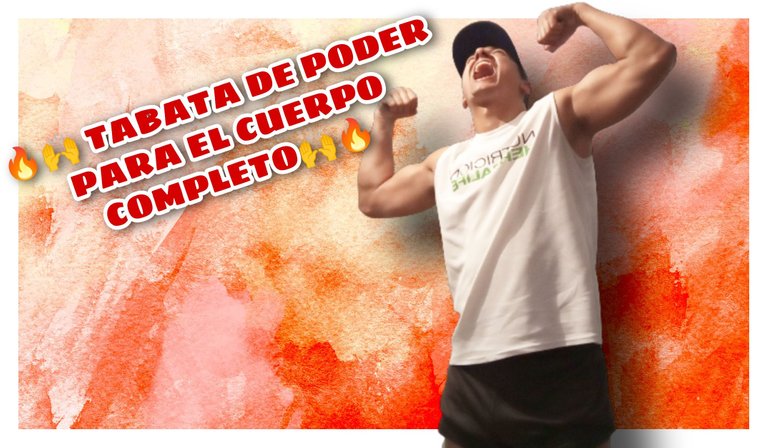 Buen día a todos mis amigos que buscan mejorar sus entrenamientos y composición corporal, les traigo un Tabata super funcional, para el cuerpo completo con un formato de 20 segundos de ejercicios y 10 segundos de descanso, aquí usaremos una mancuerna para el trabajo, recuerda siempre a tu ritmo, cuida la técnica sin inventos locos💪🔥
Good morning to all my friends who are looking to improve their workouts and body composition, I bring you a super functional Tabata, for the full body with a format of 20 seconds of exercises and 10 seconds of rest, here we will use a dumbbell for the work, remember always at your pace, take care of the technique without crazy inventions💪🔥.
---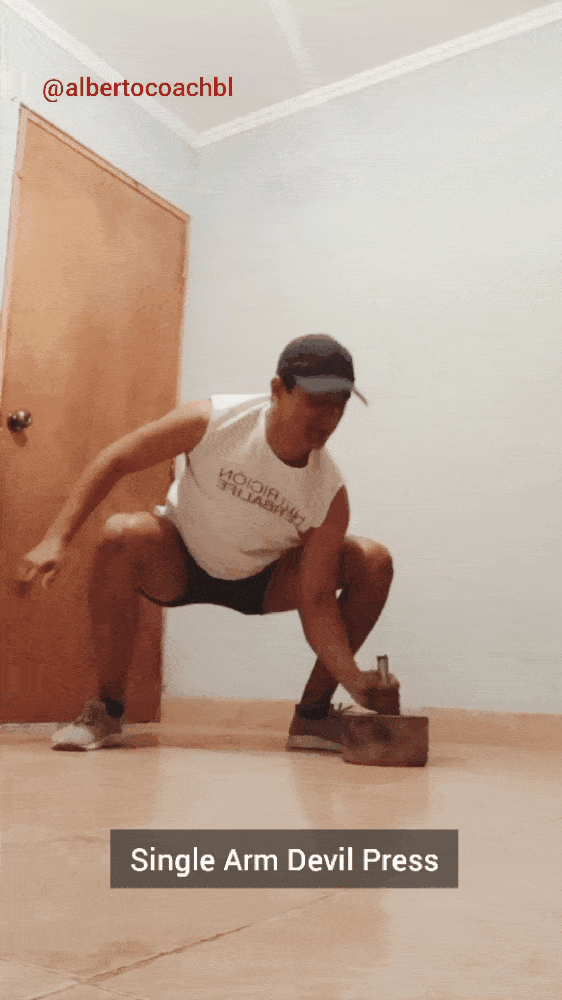 🙌 SINGLE ARM DEVIL PRESS🔥💪 Para empezar con este movimiento compuesto, realizando un burpees básico y luego vamos con un empuje encima de nuestro hombro y alternando ambos brazos después del Burpee🔥💪
🙌 SINGLE ARM DEVIL PRESS🔥💪 To start with this compound movement, performing a burpeesbasic and then we go with a push over our shoulder and alternating both arms after the Burpee🔥💪.
---
💪🔥 SINGLE ARM THRUSTHER 🔥 continuamos con el siguiente movimiento para trabajar con una sentadilla y un empuje de nuestra mancuerna por encima de nuestro hombro, el trabajo es un ciclo de 20 segundos por cada brazo, con la sentadilla completa
💪🔥 SINGLE ARM THRUSTHER 🔥 we continue with the following movement to work with a squat and a push of our dumbbell above of our shoulder, the work is a cycle of 20 seconds for each arm, with the full squat.
---
🙌🔥 ALTERNATING DUMBBELL SNATCH 🔥🙌 recuerda que en Tabata debes estar ya listo para el siguiente movimiento durante los 10 segundos de descanso, no hagas trampa para que sea efectivo tu entrenamiento, igual siempre es a tu ritmo, por eso lleva controladamente el brazo al piso para soltar la mancuerna y tomarla con el otro brazo💪
ALTERNATING DUMBBELL SNATCH 🙌🔥🔥🙌 remember that in Tabata you must be ready for the next movement during the 10 seconds rest, do not cheat to make your workout effective, it is always at your pace, so bring your arm to the floor to release the dumbbell and take it with the other arm💪.
---
🔥🙌 DUMBBELL HANG CLEAN & JERCK🔥🙌 este movimiento es parecido al anterior, solo que esta vez no llevamos la mancuerna al piso, sino que alternamos el brazo en una media sentadilla, para llevar la mancuerna encima del hombro con cada brazo
🔥🙌 DUMBBELL HANG CLEAN & JERCK🔥🙌 this movement is similar to the previous one, only this time we don't bring the dumbbell to the floor, but we alternate the arm in a half squat, to bring the dumbbell over the shoulder with each arm.
---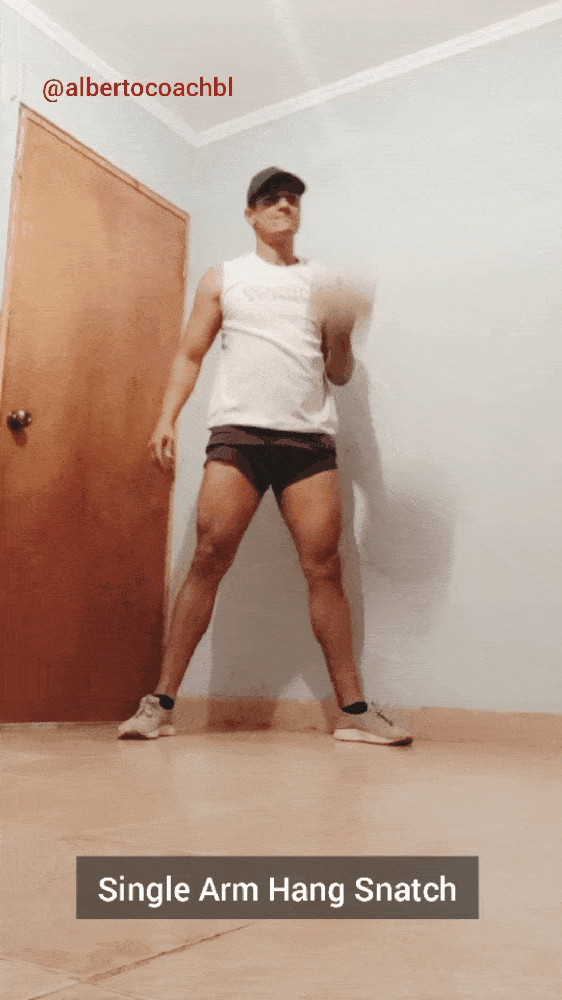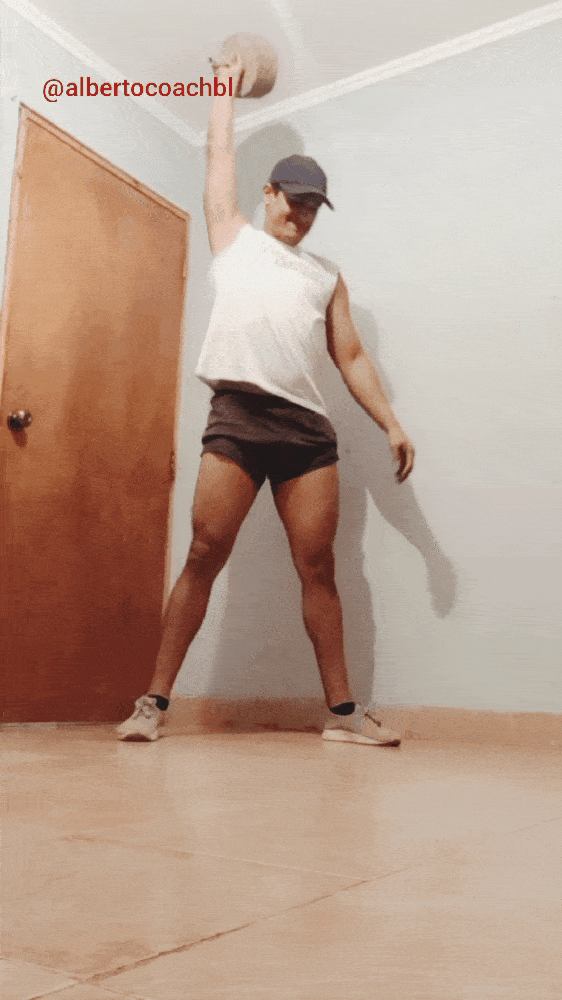 🔥🙌 SINGLE ARM HANG CLEAN HANG SNATCH🔥🙌 En este movimiento trabajamos con un solo brazo siempre llevando la carga por encima del hombro y luego de los 20 segundos y descanso, pasamos al siguiente brazo para trabajarlos individualmente 💪🔥
🔥🙌 SINGLE ARM HANG CLEAN HANG SNATCH🔥🙌 In this movement we work with one arm always carrying the load above the shoulder and after the 20 seconds and rest, we move to the next arm to work them individually 💪🔥.
---
🔥🙌 SINGLE ARM OVERHEAD REVERSE LUNGE🔥🙌 Cerramos el Tabata con otro movimiento compuesto, llevando la carga por encima del hombro y realizamos la estocada en reversa continuamente, con un solo brazo encima, al hacer el siguiente TABATA usamos el otro brazo y vamos alternando hasta hacer 4 Tabatas, recuerda descansar al menos 1 minuto entre tabatas para hacerlos por completo👊 espero te guste este entrenamiento, es exigente pero genial para trabajar el cuerpo completo💪🔥
🔥🙌 SINGLE ARM OVERHEAD REVERSE LUNGE🔥🙌 We close the Tabata with another compound movement, carrying the load over the shoulder and perform the lunge in reverse continuously, with only one arm on top, when doing the next TABATA we use the other arm and we alternate until we do 4 Tabatas, remember to rest at least 1 minute between tabatas to do them completely👊 I hope you like this workout, it's demanding but great to work the wholebody💪 🔥
---
Todos los Gifs son de mi propiedad, grabados por mi y usé la app Gifshops y la portada use Pics art, todas las imágenes las tomo yo mismo con mi telefono
All Gifs are my own, recorded by me and I used the Gifshops app and the cover used Pics art, all images are taken by myself with my phone.
---
---