Early Reading And Predictions Of The UEFA Champions League Draw
This was a rather disappointing draw for me to be honest as it definitely means that one side at the final will be a heavy favourite while the other will just look out for its participation badge. So, without further ado, let's get into it.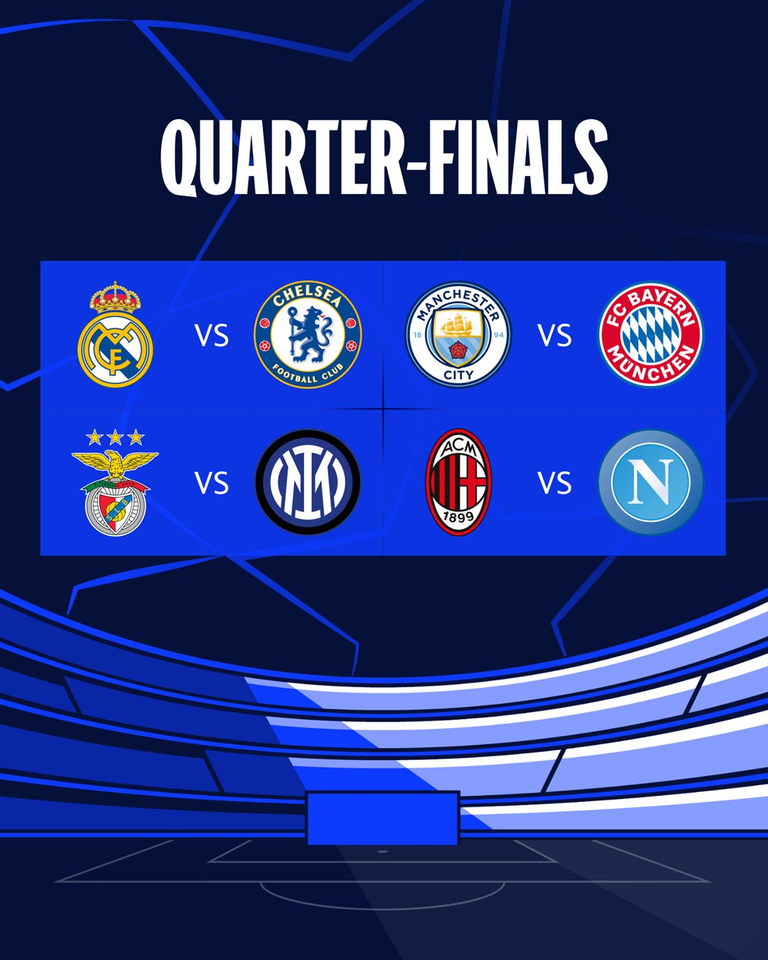 Image source
AC Milan vs Napoli
This match will be played under the guise of "Better the enemy you know than the enemy you don't".
Napoli will be going into this match with a huge mental advantage considering that they have already defeated AC Milan at home this season and, of course, are on top of the league domestically. Napoli will also be going into this match with many young, impressive individuals which means they will have many sources of danger.
On the other hand, we have stubborn Milan. Even as I watched Milan lose to Sassuolo 5-2 at home, I couldn't help but feel AC Milan is a tiring team to face as luck really served the away team during that game as the only difference between the two teams was Sassuolo's clinical finishing which was a rare sight to behold from a team on the lower side of the mid-table.
However, during this point of the season, it's hard not to take physical and mental fatigue into consideration. With 12 games left in Serie A this season, Napoli have an 18 points advantage over the second place, Inter Milan, while a draw could cost AC Milan their fourth place to Roma after having already lost third place to Lazio. Atalanta are also a handful of points behind.
Napoli are a vicious team but aren't an unstoppable force and while AC Milan aren't an immovable object either, however, AC Milan can show up prepared for this new Napoli team as it comes with a coach and a team that AC Milan are well aware of this season.
My Prediction: Napoli to qualify for the UEFA Champions League semi-final
Benfica vs Inter Milan
Out of every team in the draw, Inter Milan got the one team they're most likely to win against. This is not to belittle Benfica, however, the team did lose a key player in its midfield, Enzo Fernandez, just a few months ago. However, Benfica happens to have a great season. The Portuguese club has shown great character and strength domestically and continental. It is a club that has at least one player in each position pursued by top clubs, so the quality is there in a team that topped a group which included Juventus and Paris Saint-Germain.
Inter Milan is having a little bit of that Real Madrid syndrome where domestically, Inter Milan is far from the best but shows great character in Europe. The Italian managed its UEFA Champions League matches with great wisdom, just like it wasn't an easy team to beat last season. So, it definitely has that UEFA Champions League wit of knowing how to manage games in Europe, those factors made me lean more toward Inter Milan initially.
Inter Milan's players have more experience than Benfica's players, there's also the element of self-belief as playing for a club like Inter is more prestigious than playing for Benfica as playing for the latter is more about self-marketing for a big sale. It's tough to say Benfica would qualify over Inter Milan but it's not that highly unlikely as Benfica actually had a better performance in Europe so far, to be honest.
My Prediction: Benfica to narrowly qualify for the UEFA Champions League semi-final
Real Madrid vs Chelsea
If we look at many of the factors when it comes to these two teams this season, it's difficult not to make the case in Real Madrid's favour. Yes, Real Madrid is suffering domestically but not remotely as bad as Chelsea. Real Madrid also has a huge psychological edge over really everyone in the UEFA Champions League and the match against Liverpool showed all aspects of that edge as the first-leg match showed us that Real Madrid comeback and the second-leg showed us how calmly they could control a match and keep the lead.
However, if there's one club that knows that domestic form doesn't necessarily translate equally to continental form, it would be Real Madrid. That's why Chelsea is still in this fight as the team's form in 2012 was also bad and still, we saw Chelsea not only win the UEFA Champions League title but do it over the two best teams during that season, evident by the fact that Barcelona had the title right before and Bayern Munich won it right after. Chelsea managed to get through twice to the title despite the circumstances suggesting otherwise.
Another thing, Potter's Chelsea would have no problem defending for the entirety of both legs just to get through as the English coach knows a good result here would calm some of the voices against him. These things mean that Chelsea could really hurt Real Madrid just like we saw Chelsea hurt Real Madrid last season, and even defeat it the season before that.
This match might depend on whether Chelsea could go through the Santiago Bernabéu stadium without losing as it would give the team enough psychological boost to believe in the possibility of winning and Chelsea's transfer activities did after all bring in a lot of weapons that could prove decisive here.
However, Real Madrid simply has the better players and is in a place where those better players perform at the most top-level. Real Madrid's midfield is easily better than Chelsea's and has the ability to control the midfield for hours, not even only the 180 minutes Real Madrid would need them to do so. Real Madrid's offence is also better if Benzema is having a good day and even their defence as even if the defenders aren't on top form, they have Thibaut Courtois behind them who alone can be considered a defensive line.
Real Madrid has more experience, better quality, an untouchable midfield, an ability to control a match, stability, and even the ability to win while being the worse team. Still, Chelsea has deadly weapons that could potentially make a difference, however unlikely.
My Prediction: Real Madrid qualify for the UEFA Champions League semi-final
Manchester City vs Bayern Munich
As of writing this, I actually don't have a prediction for this match and I imagine only a crazy person would confidently pick any of the teams to win. This match-up is the definition of both the unstoppable force and immovable object meeting an equally unstoppable force and immovable object.
Julian Nagelsmann doesn't like defending, and Pep Guardiola would never allow another team to force an upper hand against his team, especially when it is 0-0 as the Spainard's biggest compromise was sometimes defending when his team is winning.
There is also a lot of history in this match as Pep Guardiola would be returning to face Bayern Munich for the first time in the UEFA Champions League since he left the German club. There are a few Bayern players with a history tying them to Pep. Also, Haaland would be seeking to prove that all he needs to defeat Bayern is an equally strong team. The same can be said about İlkay Gündoğan and Kevin De Bruyne who previously suffered at the hands of Bayern.
As far as match control and match managing, this is more like an epic than a football match as you can't really tell who among these two giants could actually enforce their style on the other. The key winner is obviously the team that could handle the other's high defensive line and pressure. Both teams have a style that prevents you from defeating them via pressure, not just possession as most people seem to believe.
Both teams also have a specific occurrence where every big match, their keeper faces an opponent's attacker one-on-one. This could determine the winner as well as who'd better keeps the net safe might during such a chance. If Haaland had the two one-on-one chances Mbappe had, one in each leg, and finished them better, it could mean a Manchester City win. Likewise, if any of the Bayern attackers had such a chance against Ederson.
I am expecting a lot of goals at this fair. It's just very unlikely for either match to end in one team having a clean sheet, let alone both. However, I do believe that if Manchester City is the team to score first, it would be the team going through, but not vice versa. Why? Because Manchester City has a better ability to kill or slow down the game's rhythm when it needs to, Bayern? Not so much.
But, even Manchester City's advantage and ability to slow down a game's rhythm doesn't really mean much. I can't really make but if I had a gun to my head, this is what I would say.
My Prediction: Manchester City qualify for the UEFA Champions League semi-final, but is only the favourite by 50.1% against Bayern's 49.9%.
---
---