Football Misconceptions: "And He's Not Even A Striker"
Football Misconceptions is a new series that I am starting where I talk about things said in the world of football every day that seem to be given truth yet are faulty at their roots. The series will be sprinkled throughout and won't be committed to a time frame to finish if it even did finish. Let's start with the first one.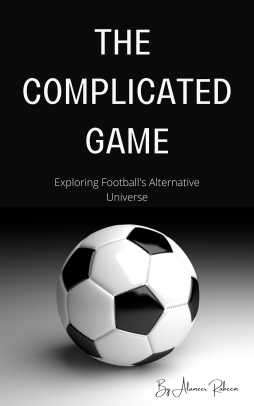 How often have you come up across the sentence "And he's not even a striker" when a goal scorer is mentioned? It is especially notable in Messi vs Cristiano Ronaldo debates. One side claims that their player is a left-midfielder/left-winger and the other claims that their player is more of a right-winger/playmaker. The point of these claims is obvious, each side wants their player to look even better than what the numbers suggest.
Both sides in this debate happen to be mostly right, which is a rare case in the Messi/Cristiano fanboys debate. But, as always, they're not fully right and misrepresent the other player's situation as each side considers their player to be a non-striker while the other player is. The truth is, yes, neither Messi nor Cristiano are strikers, or at least until the last few years in Crisitano's case.
Messi is a free-roaming winger who often positions himself in the playmaker area or the half-spaces to initiate an attack that often starts with him and the rest of the time he starts playing part of it in the middle of the attack. At the same time, Cristiano plays mostly on the left side before cutting inside to put in the final, and most important, touch of an attack, scoring a goal.
Now, the above descriptions don't represent what each player does fully. It might actually require a whole series just to break down everything each player does. But, the description - while too shallow admittedly - is specific just enough to describe a big part of each player's game. However, and funny enough, it doesn't matter in this debate. I am saying this because...
There's No Such A Thing As Striker
Obviously, strikers do exist. The point here isn't that job description doesn't exist, but rather the job description itself differs from one striker to another so much that you're not really describing a job with specific tasks when you say the word "Striker". It's like having an accountant and a designer in the same ads department of a company and calling them "Employees".
Yes, both are employees but when you are describing each of them, you wouldn't call either "Employee", even though both have the ultimate goal of selling as many ads as possible, but would then refer to the exact functions of their jobs.
A clear example of that would be the fact that you could call Giroud a striker and you could call Robert Lewandowski a striker. Giroud has a total of 240 goals in his career so far, for both club and country, that's 2 more goals than Lewandowski's goals at Bayern Munich alone. When we treat striker to mean goalscorer, Lewandowski is definitely a better striker than Giroud. But, obviously, we know that Giroud plays a different role than Lewandowski.
The fact is strikers are an umbrella term that covers way too many aspects that it may as well not cover anything. This is why we have many terms to describe a striker. Shadow striker, poacher, target man, mobile striker, and pressing forward are all terms used to describe a striker, yet it is rare that you even see someone with 2 or 3 of those terms attributed to them. You can't be a shadow striker, a mobile striker, and a target man as each description comes with tasks that directly contradict the other. And by the way, even those five descriptions don't cover everything.
A striker is also subjected to the formation as a striker in a 4-3-3 is different than one in a 4-2-3-1. Even strikers in a specific formation don't do the same things as both Benzema and Lewandowski play in a 4-3-3 yet we never see Benzema playing deep into the opponent's area as Lewandowski, nor do we see Lewandowski down in the midfield or the wing like we see Benzema. This leads me to my final point.
Football is About Roles
This is a theme that I suspect will come a lot more often throughout this series as it doesn't only work with strikers.
The fact of the matter is, football hasn't really been about positions for a long while now. Besides being big in stature, what can you about Haaland and Wout Weghorst? That's right, you can say that they're both blonde. Seriously though, when it comes to Manchester City, it's obvious that striker Haaland has become the club's biggest source of goals, while striker Weghorst sees Rashford taking on that job at Manchester United.
So, when you say something like "Cristiano is a left-winger/midfielder therefore his goals are more impressive" or "Messi is a right-winger/playmaker therefore his goals are more impressive", you need to learn that it really is not. As far as goals are concerned, there's nothing "more impressive" about either player because both lived most of their entire career being the players where the teams' tactics operated for them to score goals.
Saying that someone isn't even a striker is a meaningless statement because being a striker by itself doesn't automatically mean being a designated goalscorer. Each team has a designated goalscorer, sometimes more than one. The designated goalscorer can be the striker, the winger or midfielder on the left or right, or even the attacking midfielder.
So when it comes to Messi and Cristiano and the number of goals, one question really matters: Were Messi and Cristiano the designated goalscorers of their teams? The answer is yes, and that's the only fact that matters.
---
---