Friday Football Story: The Truth Behind Ronaldinho's Decline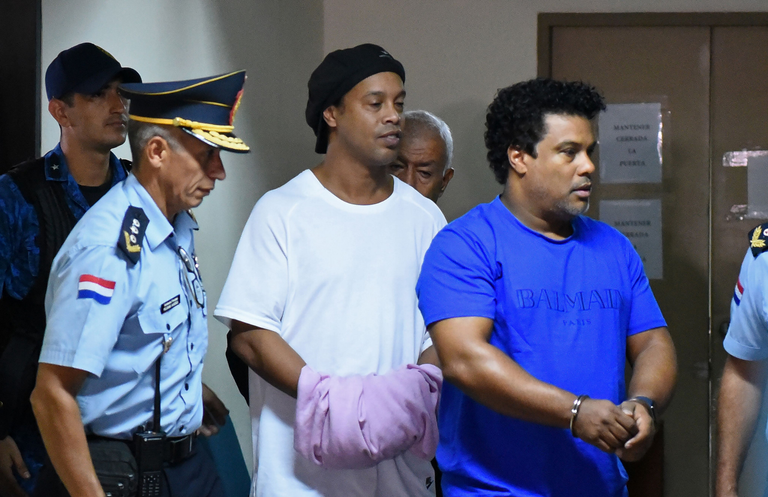 Image source
While I didn't exactly grow up during Ronaldinho's stardom years I still remember how often our house would be filled by people who want Barcelona to score the winning goal as fast as possible just so they could watch Ronaldinho's showmanship with the ball with all his trickery, immortalizing whoever tries to get the ball from him into a compilation on Youtube.
When examining Ronaldinho's career you find two opposite halves, half before the 2005-2006 season and a half after. Where the first half contained what many called ultimate beauty and the latter half was less so with a player, often overweight, barely keeping up with the games at hand.
Ronaldinho's peak is seen by many as the greatest peak in any player. However, when you look at it from a career perspective, Ronaldinho leaves a lot to be desired. So what happened?
The Beginning
To understand Ronaldinho's case you must go back to his beginnings. Ronaldinho started his career as a world champion in the U-17 FIFA World Cup in 1997. There were also a lot of voices demanding him to play for Brazil in the 1998 World Cup.
In 1999 he featured in Copa America, scoring against Venezuela in a tournament that Brazil won eventually. A month later he represented Brazil in the 1999 FIFA Confederations Cup. Scoring in every game except the final. He won the top scorer and the tournament's best player despite losing the final against Mexico.
In 2001, Ronaldinho moved to Paris Saint-Germain while remaining in the media conversation. Ronaldinho was an integral part of the Brazil team that won the 2002 World Cup, forming a deadly triangle in attack with Ronaldo and Rivaldo. After that, Joan Laporta became the president of Barcelona with one of three target signings in mind, Henry, Beckham, or Ronaldinho. Henry chose to stay, Beckham had his famous transfer to Real Madrid, leaving Ronaldinho to lead Barcelona.
The first half of the season didn't go so well, injuries and a drop for Barcelona into the 12th place put the criticism on Ronaldinho. However, it was only a matter of time after that before Ronaldinho tapped into his beast mode, sending Barcelona from 12th place to 2nd. Ronaldinho also assisted the winning goal for Barcelona against Real Madrid in the Santiago Bernabéu Stadium, marking Barcelona's first win there in seven years, sending a message that a great equalizer is on the rise.
Two La Liga titles with Barcelona, two Supercopa de España, and a Champions League titles, by 2006 Ronaldinho had no player to compare him with, Maradona himself admitted that Ronaldinho might be the player to dethrone him, an admission that not even Pele got. Adding 2005's FIFA Confederations Cup, and you get the full picture of how good Ronaldinho was.
Things Took a Turn
Until the summer of 2006, Ronaldinho was untouchable. In my opinion, what happened in the summer of 2006 along with the player's mentality is pretty much the reason Ronaldinho declined. 26 years old, Ronaldinho went into the world cup surrounded by a star-studded team, the only issue is that the team wasn't performing. Ronaldinho took the lion's share of the criticism. After that World Cup Ronaldinho lost his passion.
Many reports from that period suggest that he was staying up until 5 AM ahead of Champions League matches, some suggest that he showed to training a couple of times while intoxicated. Ronaldinho lost focus after the 2006 World Cup.
The Classic Brazilian Mentality
It is not fair pinning this on Brazilian mentality but rather a mentality of most players at the time. If you really think about it, until Messi and Cristiano won their Ballon D'Ors and strived for consistently, not many players had that mentality of getting to the top and staying there.
Ronaldinho saw Football differently from how someone like Messi or Cristiano would, he is there to have fun. He has won the World Cup, Champions League, and league titles. Simply put; he has done it all. In Ronaldinho's eyes, he has done it all, there's nothing else to do anymore, time to have fun.
By the way, Messi and Cristiano are really the exceptions to the consistency rules. Most players at the time during Ronaldinho's period and even before would get into the night lifestyle once they secure their big bag of cash.
In Conclusion
When talking in conferences and interviews about the cause of his decline, Ronaldinho refused to blame Barcelona, his managers, or anyone but himself for his decline. After 2006 and the criticism he received, it retrospectively seems obvious that Ronaldinho had seen no reason to continue aiming to be at the top level, losing his young life fun while being prone to heavy criticism such as the ones he received in 2006.
Ronaldinho's short sight prevented him from building his legendary status further, one that might have gone to compete with the likes of Pele and Maradona from the past, and Messi and Cristiano in the presence and future. Ronaldinho loved the spotlight, you can even see that in his showmanship and once that was taken away, he saw no motivation to continue.
---
---