Operation Arteta: Dynamic
When a team reaches a certain high level of controlling the game, playing with the ball, and playing without the ball, it reaches the next step. The next step actually branches out of control, and it is called improvisation.
Do you know how the first time you got a phone and you kept looking at it every time you wanted to write something, then gradually you started knowing where every letter is and eventually you didn't even need to look at the keyboard when writing anymore? The placement of the letters is well-implanted in your muscle memory and you no longer need to remember the placement anymore. That's exactly what happened to Arsenal when a certain player joined this season.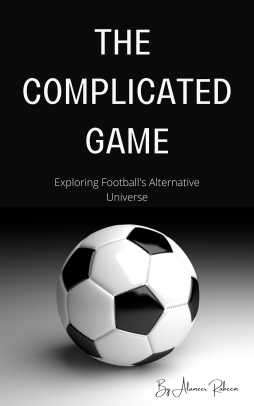 Oleksandr Zinchenko
Arsenal's dynamic muscle memory started with the signing of Oleksandr Zinchenko. One of the most important scenes that gave us an idea of what is Zinchenko supposed to add to Arsenal came during Arsenal's second game in the league this season against Leicester City. In his analysis, Art de Roché pointed out a certain sequence that occurred as early as the sixth minute of that match.
Zinchenko broke into the middle of Arsenal's midfield at the end of Arsenal's first third and the beginning of its second third. Zinchenko took Thomas Partey's area prompting the party to move into the number 8's position and Gabriel Magalhães to move near the left-back position. From there, Zinchenko passed to Partey. Suddenly, the next second saw Partey passing the ball long to Xhaka who was attempting to break into Leicester City's box.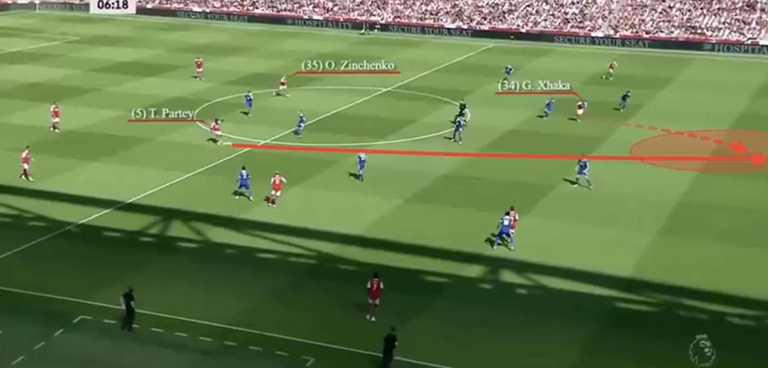 Leicester City's lineup was 3-5-1-1. Saka and Gabriel Jesus positioned themselves in the lower end, dragging Amarety and Evans to mark them. Fofana, on the other hand, was marking Gabriel Martinelli. This means that the man catching up to Xhaka is actually Youri Tielemans. What a simple and smooth play, two passes and you get a scoring opportunity.
But, in reality, it wasn't just two passes. For the team to get along like this and the players to position themselves like this, tens of training sessions are required.
Reverse Engineering
Let's go through what happened in reverse in order to break it down.
Believe it or not, the most dangerous area in that game during that certain instance, had a numerical advantage for Leicester City. It had 3 against 2, but that advantage was meaningless, why? Because the movement before that pass left Arsenal's two with a huge positional advantage.
Timothy Castagne, Leicester City's right midfielder/wing-back was supposed to run ahead to mark Zinchenko. When Zinchenko broke into the middle, Castagne had to either run back to mark Martinelli or stand in the middle to close the passing space, but it doesn't matter because it was too late for both options, that's why Fofana went up to mark the Brazilian winger because the positioning at the time made Martinelli the best option for passing.
That left Xhaka free, which forced Tielemans to run to mark him. What made that moment worse for Leicester is the fact that neither Tielemans nor Fofana knew which of Arsenal's players two, Martinelli or Xhaka, is going to be the target of Partey's pass because until the ball started moving, the target wasn't clear. However, Leicester's Fofana and Tielemans had to run to cover the space, because their reference is the space, not the players.
Now, let's look down at what was happening in Jesus and Saka's position. Leicester originally left Saka unmarked since the ball was with Zinchenko on the left at first. Logically, that meant Zinchenko would then pass it to Martinelli, that's why Castagne's second option after abandoning the idea of going after Zinchenko was to cover the passing the space between Zinchenko and Martinelli.
This is the moment when you realize that if you consider Xhaka to be Arsenal's striker and that Jesus was merely a diversion, then Arsenal's new front three, Xhaka, Saka, and Martinelli all were valid options for Partey to pass the ball.
When you're in control, when you're confident, and when you're accustomed to the situation, then the entire team will be moving in order to serve a singular purpose in any particular instance. As time goes by, it starts to feel like writing on your phone, you just do it with the least amount of input possible.
Alternatively, we also do it with one point of reference. A point of reference on the pitch can be a head tilt, a hand movement, or just Zinchenko going into the middle, or just the way he positions his body, it could also be the Partey receives the ball, it could be the way the opponent decides to pressure, it doesn't matter what it is, all that's needed is the first point of reference. After that, everything will fall into order.
Just like your point of reference on your phone keyboard and seeing where a certain letter is. Once you position your thumb on a certain letter, you'll automatically know where the remaining letters are. Then you will start typing. In Arsenal's case, the team will know how to carry the ball forward the way the players want.
Organized Chaos
Obviously, it's not as simple as I am making it out to be and there are way more details to everything. In fact, if you read Art de Roché's analysis, you will find out just how complicated it actually is. However, it's this particular movement that matters to me in this part.
What happens is, once Zinchenko takes Partey's place, or they exchange positions, there are different spots on the pitch where the ball could go. Each one of those spots is the responsibility of certain players. For example, if Zinchenko goes to the middle and build-up has to go through the left side, it depends on how the opponent is positioned, it could be the job of Gabriel Magalhães, Xhaka, or Martinelli to cover the space. Each area has more than one person to carry the ball through depending on the opponent.
If Martinelli cuts inside, Xhaka goes wide, and Zinchenko goes to the middle. If Zinchenko goes the middle, Martinelli goes wide, and Xhaka breaks through the centre. If Zinchenko goes wide, Martinelli cuts inside, and then Xhaka stays near the edge of the box. Between Arsenal's second and final third, there are about 9 different variants between Xhaka, Zinchenko, and Martinelli alone. It could even be more complicated should Gabriel Jesus, Nketiah, or Trossard decide to join that chaotic party.
There's a whole other dynamic happening on the other side with White, Ødegaard, and Saka, which the striker is also prone to join. That's without even mentioning Gabriel Magalhães William Saliba's roles. Tact, classy, elegant. Even if you know all the options Arsenal could attack you with, you still don't know which one, or even which combination, Arsenal players are going to go with. An amount of movement and position exchange could confuse anyone and will create passing options and shooting opportunities against any team.
Next, I will go through the traits which made Arsenal as good as it has been this season, dribbling as a technical trait, extreme commitment as a human trait, and solidity as a mental trait. The last two in specific are two traits I never thought I would use to describe Arsenal since 2006.
Sources
How Arsenal gained control of matches after Mikel Arteta asked his players for '300,000 passes' - The Athletic
Top Gun: How Arteta Has Turned Arsenal Into the Real Deal - The Analyst
White Here, White Now: What Have Arsenal Got For £50m? - The Analyst
The improvement of Arsenal: Just how good are they? - The Athletic
How Oleksandr Zinchenko makes Arsenal and Granit Xhaka better - The Athletic
Previous Parts Of The Series
Operation Arteta: Arteta, The Leader
Operation Arteta: Arteta, The Fireman
Operation Arteta: Pressure
Operation Arteta: Absorbing The Style
Operation Arteta: 300,000 Passes
Operation Arteta: Control
---
---