Ricardo Quaresma's Hectic Career: Great Skills with a Big Mouth
If you've read the first part of this series then you would have seen how Ricardo Quaresma's career goes between very good to exceptionally bad. This means that you will not be surprised when you learn that his career at Inter after an impressive spell at Porto didn't go well, in fact, it went horribly.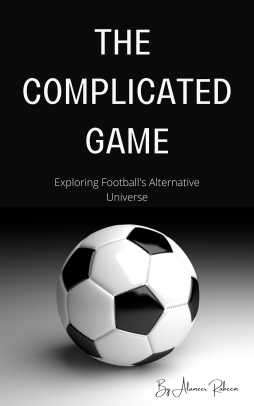 Inter-ing A Bad Form
Mourinho was just starting his career at Inter Milan and Ricardo Quaresma was Mourinho's first and most expensive deal in his first season. 15 million was paid to Porto so Inter Milan would have the Portuguese player. After his first match in the UEFA Champions League group stage in 2008, Mourinho went on to say
Quaresma? He likes kicking the ball with the outside of his foot, but if you ask me about him in a few months' time we'll be talking about a different Quaresma.
The truth is in a few months no improvement was made. In fact, The same thing that happened with Rijkaard at Barcelona, happened with Mourinho at Inter Milan, only much worse. Mourinho asked Quaresma to play the Mourinho way which meant spending a lot of time defending and off the ball, something that Quaresma simply didn't like.
That's why by the time Cristiano Ronaldo was winning his first Ballon d'Or with Manchester United, Ricardo Quaresma was winning his first Bidone d'oro, an award, which translates to a golden trash can, that was given by listeners to a local sports radio show called Catersport. Such an irony is almost considered over the-top. Like, if you saw it in a movie, you'd call it too much.
To be clear, the award wasn't really given to the "worst player in Italy". The award winners, if you could call them winners, the list includes Rivaldo in 2001 during his season with AC Milan, and Diego Milito in the season right after Inter's treble. The award was more of a "most disappointing" kind of reward. That is something very consistent in Quaresma's very inconsistent career.
After that, Mourinho decided to loan Quaresma to Chelsea in January.
He Blue it Again
The loan move to Chelsea can be considered the straw which broke Quaresma's back as Quaresma burned all his ships on his way to Chelsea. The reason he did that is that the move to Chelsea should have been a very comfortable one as he is already familiar with Chelsea's coach at the time, Luiz Felipe Scolari, who previously played under him when the Brazilian was managing the Portugal national team.
So, Quaresma to a coach he knows, a coach known for his ability to handle stars, and a coach who isn't tactically strict the way Mourinho is. Simply put, everything that Quaresma didn't find with Rijkaard and Mourinho, he was going to find at Chelsea under Scolari. However, in a turn of events that left @wolfgangsport bummed among other people, Quaresma disappointed the fans. More on that in a bit.
The moment Quaresma joined Chelsea he said:
When I was at Inter, I wasn't feeling very confident. I wasn't playing well and wasn't happy, I already feel more confident here at Chelsea. It has brought the joy back for me, which I didn't have at Inter.
The reason I say this move is what broke Quaresma's back is that literally a week after Quaresma made that statement, Abramovic gave Scolari the sack and appointed Guus Hiddink. Guus Hiddink played Quaresma 4 matches only in which the Portuguese didn't score or assist. After that loan spell, Quaresma returned to Inter Milan and remained a bench warmer during Inter Milan's greatest season which saw them win the treble and after that season, both he and Mourinho left Inter Milan.
Mourinho went to Real Madrid and Quaresma received a lot of offers but preferred to go to Turkey
Beşiktaş And I Wish I Had Another Pun Here
Upon joining Beşiktaş, Quaresma once again spoke of his time at Inter Milan saying that he would cry before having to go to training and that his biggest regret was joining Inter Milan. He also said that watching back his matches at Inter Milan, he didn't recognize himself. He concluded saying that it was true that he wasn't physically and mentally prepared but Mourinho also didn't help despite asking for him by name.
Obviously, you recognize the pattern now. So, you obviously know that Quaresma's time at Beşiktaş was nothing short of great. Quaresma had an amazing time at Beşiktaş and was the team's first star. He scored 11 amazing goals, led the team to win the local cup where he scored the opening goal.
In general, you'd rarely find a goal scored by Quaresma that you could call normal. Quaresmal played around 670 games, he contributed 273 goals, with another 78 games with the national team where contributed 34 goals. Great numbers, and it's respected more when you remember the types of goals and assists he was providing as well as when you take into consideration how his career was seen as a major failure.
The reason Quaresma's career is considered such a failure despite his numbers is that it was contaminated by his constant problems with his coaches and his failure to adjust to the tactical demands of coaches in big clubs.
As always, it didn't take long for Quaresma to get into hot waters as his second season saw him angering his teammates with his tendencies to overkill and keep the ball too long. Things got so bad that it led to him entering a spat with Nihat Kahveci, a previous Real Sociedad and Villareal player if you remember him, on the pitch.
The same season saw Beşiktaş go toe-to-toe against Atletico Madrid in the UEFA Europa League round of 16 in the 2011-2012 season. That was the season Diego Simeone was craving his way into his first title with the Rojoblacos. During the match, Quaresma lost his temper upon getting substituted and entered a verbal spat with his coach at the time, Carlos Carvalhal. The spat ended with Quaresma throwing a water bottle at the Portuguese coach.
That wasn't the end of the Portuguese problems, but more on that in the final part of this series.
Sources
What the hell happened to Ricardo Quaresma? | Oh My Goal
Ricardo Quaresma: The Enigmatic Talent That Could Have Eclipsed CR7
RICARDO QUARESMA AND THE STORIED JOURNEY OF AN ENIGMATIC PRODIGY
The Story Of Ricardo Quaresma
From calling Paul Pogba a 'virus' to making Ricardo Quaresma cry, Jose Mourinho has a long history of falling out with players... and now Roma's stars are getting a taste after he blasted their 'psychological complex'
Bidone d'oro
A tribute to Ricardo Quaresma, the Trivela King
Ricardo Quaresma proves it's never too late for talent following the latest rebirth of Portugal's 'Lelito'
---
---