The Barcelona Scandal: Can We Trust Football? (Conclusion)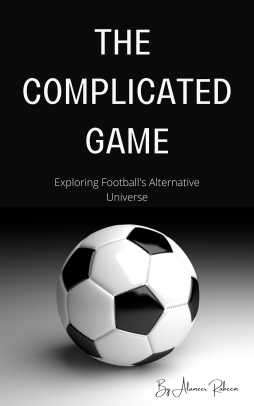 Refereeing is not like any job in the world, but the same percentage applies to flag referees, for example; They make about 50 decisions per match, of which 45 are related to offside cases, and on average, the flag is raised only in 4 cases, and again, the error rate does not exceed 2%.
This means one decision out of 50, and since we are talking about offside cases, this wrong decision either eliminates a correct goal or counts another incorrect one in a good number of cases, and once again we only have to hit our heads against the wall because there is no human being who can exceed 98%.
Not convinced? Let me give you one more reason; The head of the committee that produced these statistics, that is, the English "PGMOL", is "Mike Riley", the man whose name has been associated with the "Battle of The Buffet" scandal, which is known in some media as "Pizzagate", in a reference to the fact that Fabregas threw a slice of pizza on Ferguson's head during the open battle that took place in the tunnel after the whistle.
https://twitter.com/SkySportsPL/status/915658647920955393?ref_src=twsrc%5Etfw%7Ctwcamp%5Etweetembed%7Ctwterm%5E915658647920955393%7Ctwgr%5Ebcc0c6bb1e361c7e1a90ba843dcf410e7b4fe1b4%7Ctwcon%5Es1_&ref_url=https%3A%2F%2F1-a1072.azureedge.net%2Fmidan%2Fmiscellaneous%2Fsports%2F2023%2F2%2F23%2Fd981d8b6d98ad8add8a9-d8a8d8b1d8b4d984d988d986d8a9-d988d984d8acd986d8a9-d8a7d984d8add983d8a7d985-d987d984-d98ad985d983d986d986d8a7
I don't think Riley subjected his performance in that match to evaluation because the error rate would definitely have exceeded 2%. In fact, it would be easier to count his correct decisions that night because there weren't many. This is the problem; The reference is absent, and whenever it turns to a party, it finds it mired in its own problems, suffering from accusations and doubts of the same kind, and these doubts often lead to counterproductive results.
In 2005, for example, the famous Swiss referee Anders Frisk was forced to announce his immediate retirement after receiving death threats from some Chelsea fans. the reason? Mourinho, then Chelsea coach, cleverly hinted at the possibility of being bribed or pressured by Barcelona coach Frank Rijkaard between half-time of the Champions League match.
Why? Because the Portuguese coach believed that Drogba did not deserve to be sent off after two warnings, even if one of them was the result of an intervention from behind during which he did not touch the ball, and the other after stepping on Victor Valdez's shoulder and knee at the bottom of the foot in a joint contact. There is a referee who lost his job because Mourinho was playing his usual psychological games.
Is there an answer?
Is there a mechanism for reviewing, correcting and monitoring the work of the rulers without death threats or forcing them to retire? Probably not. In England, for example, you have the same feeling every week; All that the video referee added to the process was an additional step before committing the same mistake as if the goal was to further provoke the fans.
Of course, this is not true because the video assistant referee managed to avoid more naive mistakes that were usual in the past, but some of the current mistakes are really provocative, and it cannot be imagined that they might go past the arena referee and the video referee together, and the last of which was the incident of Lee Mason forgetting to draw the offside line in a goal Brentford drew Arsenal a few days ago. To make matters worse, the same day saw Brighton & Hove Albion denied a clear goal against Crystal Palace which means that both extremes can still happen.
This part has nothing to do with the Barcelona scandal, of course; There is no amount of errors or facts that could explain or justify a club's resort to a company owned by an active referee in the Referees Committee.
The case will proceed in its natural course and of course, Barcelona will be subject to some penalty, and of course, we will not be surprised if it is reduced, or the case takes too long, or everyone forgets about it within a week or two because a new leak has appeared, or another scandal of this Real Madrid came to light this time since many believe that the clubs supporting the Super League are "targeted" one after the other, especially after Tebas demanded Laporta to step down from Barcelona's presidency, which necessitated a long struggle between the two over the idea of ​​holding the tournament.
Does that mean you can trust football and its results? Of course not. I thought this is self-evident. If you did not notice, the question in the title was disapproval, not an interrogative one, but we will behave like we trust football despite that because we simply have no other choice, led by the fans of the clubs affected by this scandal. This is what will happen often, and this is the reality; Negrera, Andujar, Iturralde, PGMOL, Frisk and Riley. As for the truth, it is only an illusion we all agreed on, as they say.
Sources
The Athletic: Barcelona paid £1.2m to referee chief's company between 2016 and 2018
The Athletic: Ancelotti concerned by 'doubts over La Liga' in wake of Barcelona payments investigation
The Athletic: Inside Barcelona's day of chaos as new scandal breaks – this one looks really bad
The Athletic: Javier Tebas says La Liga cannot open investigation into Barcelona referee payment
AS: Barcelona and the referees: a scandal and five mysteries
Former La Liga referee Andujar Oliver: "It is dangerous and the referees must formally complain to Barcelona" – Football Espana
Schadenfreude – Encyclopedia Britannica
Former referee: "90% of LaLiga referees support Real Madrid" – ESPN
A former referee: "90% of LaLiga referees support Real Madrid" – Football Espana
Iker Casillas accuses Barcelona of committing "one of the biggest thefts in football" in the wake of the scandal over payments to the vice-president of the refereeing committee – Goal
Refuting arbitral myths: How many decisions does the referee get right? Sky Sports
Manchester United 2-0 Arsenal; Revisiting the Pizzagate after 10 years - BBC
Manchester United against Arsenal in 2004.. Was the video assistant referee saving the unbeaten team? Sky Sports
Fabregas reveals the truth about the famous pizza incident – ​​All Football
The 10 worst refereeing scandals in football history - Football Daily
La Liga President Javier Tebas calls on Laporta to step down from the Barcelona presidency in the wake of the financial payments scandal to the vice-chairman of the Referees Committee – Goal
---
---