Top 5 - Cristiano Ronaldo's Hardest Days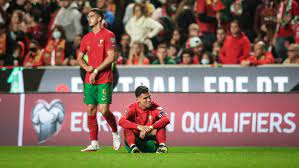 Image Source
Cristiano Ronaldo, a deadly attacker for any team to face throughout the last 15 years at least. The first name to look at in a team sheet. The Portuguese player had some hard, rough years throughout his illustrious career. Here, in what will become a weekly Top 5 moments/players from the world of football, I will be going through the top five hardest moments the legend went through.
Note: While this post was heavily inspired by the latest Manchester United defeats to Manchester City and Liverpool, two defeats that showed what could be at best described as an invisible team, as well as their Portugal latest defeat Serbia, all three matches won't feature in this post.
Number 5: Eaten by Lyons in Europe - 2010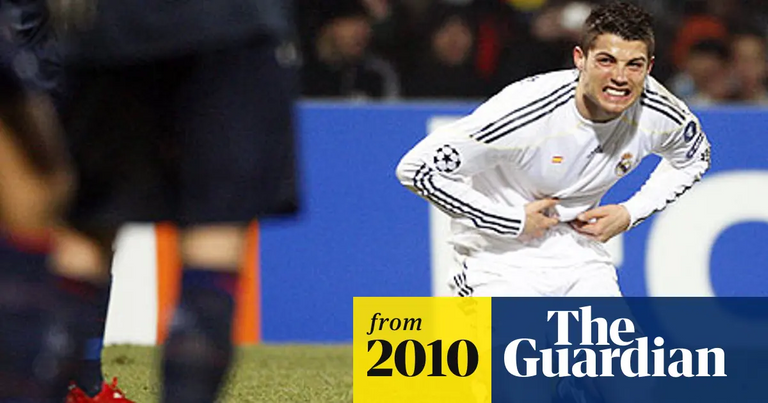 Image source
Cristiano came to Real Madrid in 2009, a few months before that he was playing the Champions League final, a year before he won a final in a year that ended with him winning the Ballon d'Or. Ronaldo wasn't alone, accompanied by a new wave of galacticos, Benzema, Kaka, and Xabi Alonso, a team that was demanded to bring the "La Decima" or Real Madrid's tenth Champions League title as stated by Florentino Perez.
It started out perfectly, Real Madrid was on top of their group, ahead of AC Milan and Olympique Marseille. Fate smiles for Real Madrid, an evil smile retrospectively. Drawing Real Madrid against Olympique Lyon, not the easiest team, but still beatable especially since Real Madrid had purchased their top star the year before, Benzema.
With vengeance on their mind over their 3-0 defeat, the Real Madrid squad went into the match with only a win on sight only to get disappointed and return home with a 1-0 defeat. Calm, Real Madrid knew things were still in their hands.
Six minutes into the match, Real Madrid had a perfect start; Cristiano Ronaldo scores a goal to equal the aggregate scoreline. However, missed opportunities in front of an open goal from Higuain hitting the post. Cristiano's header goes over the goal, Kaka cutting through Lyon's defense like a hot knife through butter in the first half. The second goal never came in the first half.
Lyon returned into the second half knowing what they were facing with a plan to stop all their key players. Keeping Real Madrid at bay until Miralem Pjanic equalized the game won the round for Lyon. A disappointing end for a man who was brought in specifically to win the title that illuded Real Madrid for many years on the heels of two glorious years in the competition. Ronaldo learned then that his "Le Decima" wasn't an easy task.
Number 4: The Most Despised Birthday Party in Spain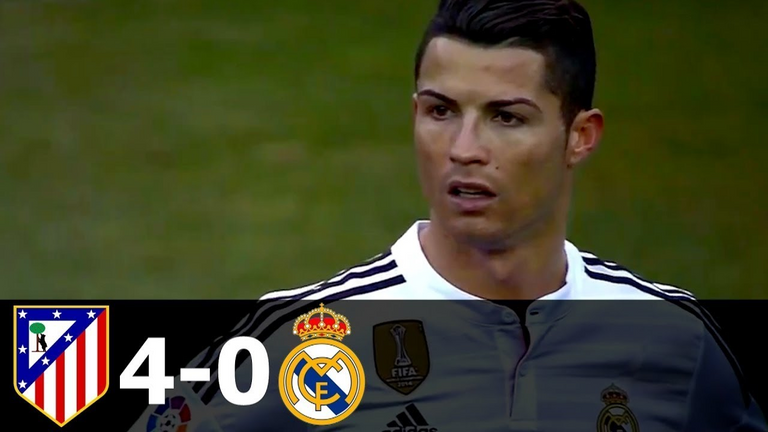 Image source](
Ever had millions of people hating you online for having a birthday party? Cristiano has. After being sidelined for two games as a result of a red card against Cordoba. Cristiano decided to postpone his birthday party by two days in order to focus on his game back against Atletico Madrid, Real Madrid's city rivals.
After a disappointing show from Real Madrid, Atletico ends the game with a clean 4-0 win. Cristiano Ronaldo went on to celebrate his birthday that in a party that couldn't be canceled due to its guests coming from all over the world. Leaked footage from the party showing him celebrating his birthday along with some of his teammates was seen by millions.
On the heels of that decisive game, Real Madrid lost their 4 points advantage that they held over Barcelona, losing the league title. In a season that ended with the sacking of Carlo Ancelotti. The result of such backlash almost led to Cristiano leaving for PSG.
Number 3: Germany! Again!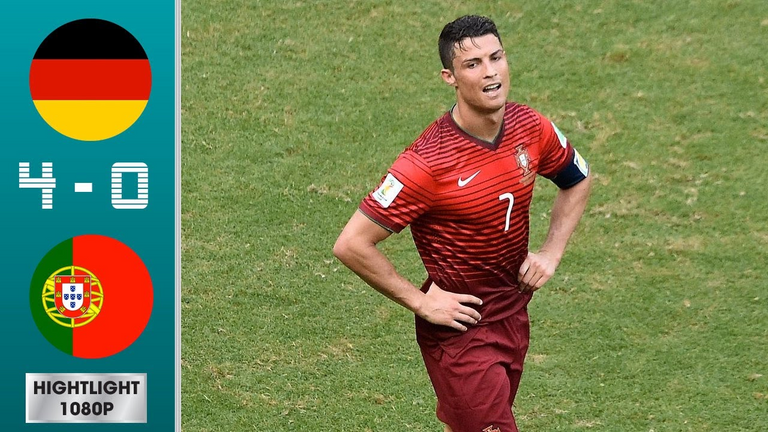 Image source
If you were to ask Cristiano about the national team that caused him to ache the most, his answer would probably be Germany. The Portuguese has faced Germany on five different occasions, three in the Euros and twice in the world cup, the latter of the world cup games is the subject of number 3.
A red card for Pep and a hattrick for Thomas Muller before the first half even ends. A disastrous show from Portugal as they were waiting for the game to be over more than they were chasing a goal. A Hummels header made it before. And on the heels of his rival Lionel Messi scoring the winner for Argentina, Cristiano left the game with the only thing to show that he was there being him hitting a one-man wall in a free-kick
Number 2: A Bitter Last Derpy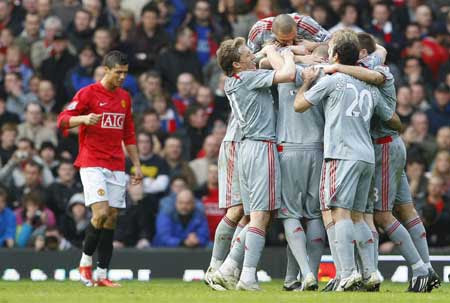 Image Source
Coming into the end of the 2008-09 season everyone knew Cristiano was on his way out of Manchester United and going into round 29 Manchester United were the unannounced winners of the season. All that is left for Cristiano is to play his last England derpy and end it with a good result.
The beginning was perfect as Cristiano scored a penalty in the 22nd minute to give United the lead. Their rival's response was destructive however, a goal after another, Liverpool ended the game with a 4-1 win leaving Cristiano with a bitter taste in his last, or what he had thought was his last derpy.
A truly baffling night that ended with Sir Alex getting mocked or labeled as a "bad loser" as he made the statement that Man United had played better but Liverpool won 4-1 in a night where Fernando Torress outshined Cristiano Ronaldo
Number 1: Of Course it is this One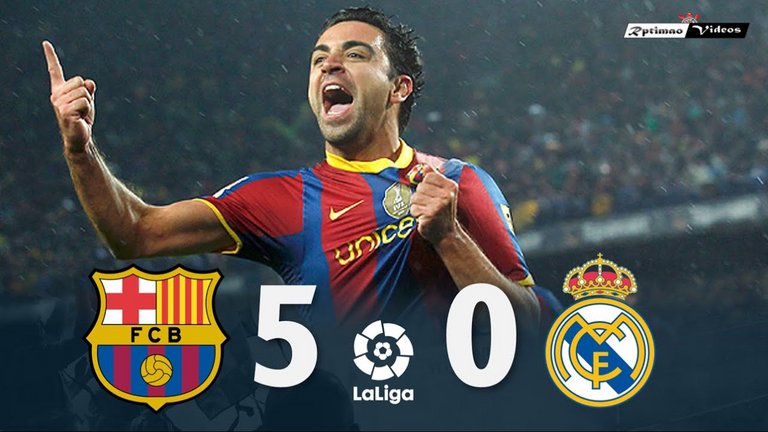 The hardest day in Ronaldo's life is the same as the hardest one in Mourinho's history as well as any Real Madrid supporter. A 6-2 defeat earlier was a tough pill to swallow, sure. But it hasn't left the bitter feeling of the 5-0 loss Real Madrid suffered in the hands of Barcelona at the Camp Nou.
Real Madrid went into that game on top of the league. Ronaldo's comments before the match challenging Barcelona to match the number of goals they scored against Almeria in their 8-0 win the game before. Comments that kept haunting him for a long while after.
Barcelona always seemed three steps ahead of Real Madrid, they looked like they were playing chess while Real Madrid players were trying to fit a star into a square in kindergarten. It wasn't only the result, it was the fact that Barcelona looked like they were deciding to score whenever they were bored.
A night of absolute humiliation for Cristiano as he runs from one player to another with frustration all over his face. Iker Casillas seemed to consist only of picking up the ball from the net and giving it to the attackers to center the ball in a scene that is very alike to Sisyphus' Purgatory where he would roll a boulder up a hill just to watch it roll back down endlessly.
In Conclusion
Cristiano Ronaldo's career has witnessed a lot of downs, a lot of nightmare-ish nights much like nights many players had. However, when looking back at it with a 20-20 vision you can see how Cristiano Ronaldo picked himself up after every moment. The 5-0 loss to Barca was avenged with him winning the final of the Copa Del Rey over them, literally as well. His humiliation to Germany was followed by him winning two titles with the national team.
His losses to Liverpool and Atletico can't be seen now without remembering that Cristiano lifted the UEFA Champions League title after defeating both teams. His loss to Lyon in the Champions League seems not worth mentioning now as he went on to win four Champions League titles afterward, solidifying him as a true warrior.
---
---