World Cup Takeaways: Day 18 Part 2 - The Tactics Behind Messi's No Look Through Ball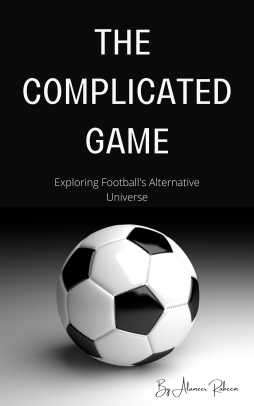 This is my new series covering the World Cup. I will pick talking points from each gameday to write about. I will most likely write one or two daily posts until the final. Today, I will be talking about the match between the Netherlands and Argentina.
When you have Messi
This game was an emotional ride for every Messi an Argentina fan. I was hearing people in Iraq singing Vamos Argentina, then silence, and by the time penalties ended, some people were too exhausted to celebrate.
Lionel Scaloni did a job very similar to Ernesto Valverde with this Argentina squad, and this strategy is way more suited for national teams than clubs. Scaloni knew he had Messi up front, therefore, all he needed to think about was the Netherlands' offence, which he did by matching the Dutch's offensive shape.
That's a sensible tactic when you're facing a team with an unusual shape. By having a matching shape, players automatically know who they should mark. What Scaloni gets right is the fact that international tournaments aren't really where coaches should become Pep. You just need to simplify the tasks as much as possible, especially with top nations. You just need to put on the best and most balanced starting XI possible and let them play. Scaloni also knows he has Messi up front to worry about the team's offence. More on that later.
The Netherlands' tactics depended on keeping Messi as far away from the ball as possible. Argentina needed to keep Gakpo away, and never let Frenkie De Jong be comfortable. Argentina was successful, and this goes partly to the players' quality as De Jong isn't at the Modric tier yet, and Gakpo is far from being Messi yet, or simply because the pair didn't have permission to be more creative, either way, the result is the same.
Both teams played with the intention of not conceding. That made both teams' transition from defence to attack very slow, something I touched on in my post about Argentina. Still, Argentina won the midfield battle because Van Gaal made a very similar mistake to Tete earlier in the day.
Once Messi did his magical pass to Molina, that's when I realized what my mistake was when judging Argentina in the post mentioned above. You have Messi up front, why not let him handle the offensive part of the tactics as he is very capable of doing that on his own? More on that in the final part of this post. Scaloni had Messi, the Netherlands' didn't. So even if both have similar tactics, Scaloni has the upper hand, over Messi.
Argentina was in control even as the Netherlands were resorting to long balls and crosses. Argentina was still in control of the rhythm and pace of the game. There were some good five minutes of the Dutch moving the ball around hoping to find a cross, and even then the cross wasn't done comfortably. That's when the Netherlands' lack of quality showed, the second goal was scored by Messi, but after that, the Netherlands received a lifeline from Scaloni himself.
Scaloni did this previously against Australia and barely survived, he didn't here. Out of nowhere Scaloni decided to just back down to defence and gave the ball to the Dutch and let them have full control even though he was winning when they didn't have it. That resulted in the Netherlands' high ball tactics working as their players were more comfortable crossing, the first goal came as a result of that and the second came after a brilliant tactic from a foul that was the aftermath of another cross.
In the extra time, Scaloni brought in Di Maria and breathed life into Argentina's offence and we saw them dominate once again with the Netherlands having two tall but ultimately slow attackers, their counter-attack was almost none existent. With a stroke of luck, or whatever you may call it, the Netherlands survived to penalties and that's when we learned, once again, one of Argentina's biggest gains in the current generation, their goalkeeper, Emiliano Martínez/
Emiliano Martínez was the missing piece for this Argentina side, goalkeepers with such confidence are crucial to have in your squad as they make the defenders more confident. We all saw how Argentina performed in the 2018 World Cup when they didn't have that quality and Argentina should be thankful to Neal Maupay for injuring Brend Leno years ago.
How did Messi pass to Molina without looking?
Despite what Van Gaal said, when you're facing a team with Messi, he's the one you should be worried about the most and Van Gaal did lay a plan to keep Messi in check. That's where Messi's brilliance is as he alone could come up with tactics to break down the opponent without needing the coach's instructions. Let me explain.
Some years ago, there was a video with Pep Guardiola talking about Messi and how his brain operates in a game. The way he looks constantly and scans the pitch.
At the time it seemed like people exaggerating Messi's abilities. But that's what Messi has been doing for most of his career.
The Netherlands' tactics were 5-2-1-2 and the way Messi was marked depended on five different players, Van Dijk, Ake, Blind, De Jong, and De Roon depending on the situation. As Messi drops to the midfield, De Jong marks him after a certain point when Ake drops back, that's the key moment here as Messi saw that happening. Allow me to show you in pictures.
In the first image, Messi saw the point where De Jong and Ake's marking differs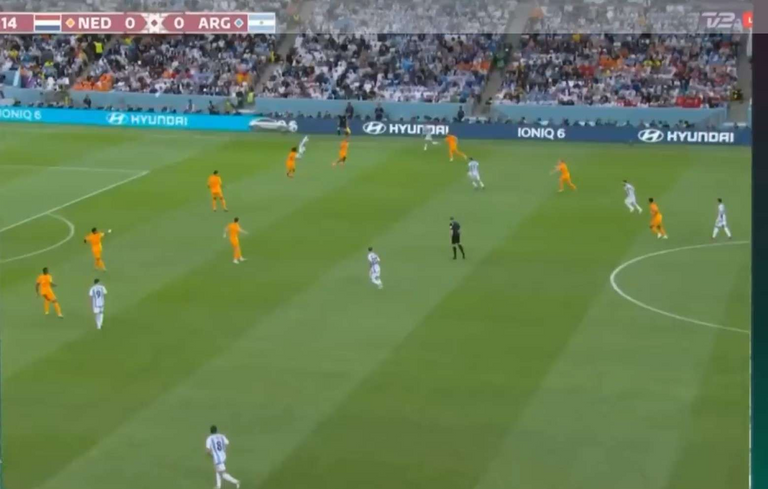 Since Messi dropped to midfield, he became Do Jong's responsibility, however, De Paul is also De Jong's responsibility according to Ake, and vice versa according to De Jong, that's why De Jong was objecting to Ake leaving De Paul unmarked. This attack however ended because when Messi attacked the space and passed to Mac Allister, the latter lost the ball.
After that, however, we see Messi looking in the direction of De Paul and Molina with his right hand gesturing to go into a certain space in the depth. De Paul didn't look like he cared, which means this was meant toward Molina. Ake then looked at Molina, which confirms the theory.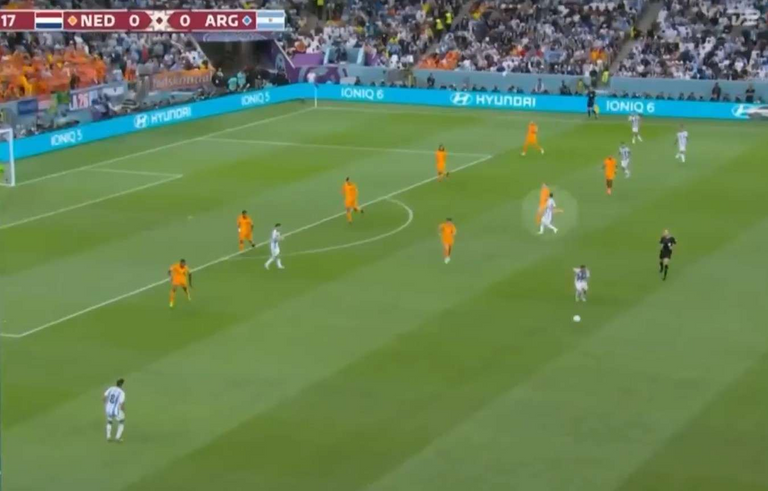 Two minutes later, we notice something different from Molina who usually occupies the side to spread the pitch. Molina starts running vertically.
Four minutes later, we saw that in action, De Paul occupying De Jong, Molina occupying Blind, however, he is much faster, and Messi occupying Ake. Now, we know once Messi drops more into the midfield Ake with go with him until he becomes De Jong's responsibility, that would open the space for Molina to run into that space, and as we established, he is marked by Blind who is much slower. Messi gets the ball and we know the rest.
The fact is, yes, Messi didn't look when made the through ball, but that's because he already saw where Molina will be and that's because it was Messi himself who was the architect behind Molina's movement.
Messi is thirty-five years old now, he can't run the same, and he can't shoot the same, however, he can still pass the same if not better. Messi's eyes, constant scanning, and vision are what made him his team's most crucial player. That's what sets Messi apart from the rest, because as skilful and fast as Mbappe and Neymar are, as crucial in front of the goal as Cristiano can be, Messi has some of that plus a vision that makes him an attacking tactic on his own with all he needs from others is simple tasks.
The sky is blue and Messi is the greatest player of all time, and unless some cloudy days come around, both facts will remain true.
---
---