Xavi and Jack's Complete Lack of Surprise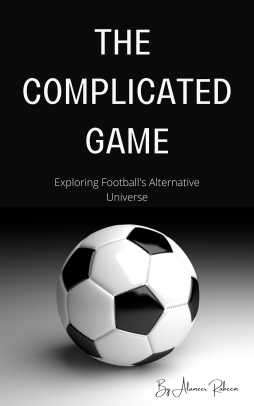 After a difficult win against Valencia following a difficult month for Xavi's Barcelona I saw befitting to talk about them here. Now, some of you may know that I wrote extensively about Barcelona before and there is another series coming but I just wanted to write this post for one sole idea:
Why Would Anyone Be Surprised By Barcelona's Performance?
When I wrote my My Predictions for the Top Five Leagues post I predicted that Barcelona would end La Liga on top of La Liga, and I still stand behind that despite watching how them and Real Madrid play.
The reason I believe Barcelona is simple as Real Madrid haven't moved during the season and while their formula works for the most, they lacked the depth. Robert Lewandowski's decisive goals in the league serve as an extra reason. One name I didn't even mention in that prediction post and didn't even consider him a big factor is Xavi. Simply because I wasn't expecting much from him and I still don't.
Don't get me wrong, I am not saying Xavi is a bad coach. But, I am not saying he is good either. I rate Xavi the same way I would any coach who recently got his license and trained a team in Qatar for a few years before coming to Europe. Why was everyone else expecting something different.
Xavi is Inexperienced
It is amazing that this should be cited, it is amazing that it wasn't stated before. What were people expecting from Xavi? What was this positivity over Xavi based on? And most importantly, what is it that pushed a club that has to rent out its assets to put that money behind Xavi? I am not being sarcastic, I am genuinely asking. There will be a separate post over the specifics of what I find Xavi to be doing wrong but let's talk about Xavi and his team.
Back in June, I wrote a post titled The A-Z Barcelona Story - Who's the Boss?. In that post, I explored Xavi's coaching team which included his own brother as an assistant. I didn't think much of that decision at the time, because after all, how much do assistants really do? Fate had it that later I would actually learn about how much assistants really do.
Xavi's brother, Òscar, had no job since retiring as a footballer in 2007, he only got a managerial role in Qatar's Aspire Academy in 2015 thanks to Xavi, who later became his assistant at Al-Sadd. During a time when Pep Guardiola requested Juanma Lillo, who is credited for inventing the 4-2-3-1 and was the man who beat Cruyff in the 90s so badly that Pep himself stuck around to take notes from him, Xavi hired his own, that's how crucial Xavi thinks the job is. How was the result supposed to be anything different?
The Curse of Pep's Successor.
In 2008 Laporta had the main option of hiring Jose Mourinho as a Barcelona manager, that would have happened if it hadn't been for Cruyff. Ever since that moment, tens of clubs have approached ex-famous players to coach their teams. Besides Zidane, no one has succeeded, and even Zidane got sacked when his team needed actual building, but that's a debate for another time.
People treated Pep Guardiola like a rule when he was the exception. And I know that people love not giving Pep credit, but the fact is, based on all the other managers who got their jobs because they were famous players, Pep was an exception. Pirlo's assistant at Juventus was an actual coach, that's why after Pirlo got sacked, he ended up in Turkey while his assistant is currently coaching Olympique de Marseille.
The game has evolved so much that even coaches who were big names in the coaching world 10 years ago aren't considered for title-contending teams anymore. Mourinho is doing well at Roma but we all know that teams like Real Madrid, Bayern Munich, Chelsea, Arsenal, Manchester City, Liverpool, Paris Saint-Germain, and even clubs like both sides of Milan and Juventus have moved beyond him.
So, when the game has moved beyond the managers, how are the ones who have been players even supposed to do well?
Experience brings solutions when Lampard was hit with new deals, a striker who doesn't score, and players that contradict each other in the attack, he couldn't do anything and got sacked, Tuchel won the Champions League with the same squad. Why? Because Tuchel dealt with difficult characters in the locker room in Paris Saint-Germain and had to handle a side filled with new signings at Borussia Dortmund, a job he got because they saw how he handled the youth at Mainz 05.
This brings back the main question:
Why is anyone surprised?
It's not only Xavi, Barcelona hasn't solved their problems at right-back since Dani Alves left. Their transfer decision was to loan out Sergiño Dest and replace him with Héctor Bellerín. What even is the difference between those two and is that difference doing that?
In conclusion
I don't have any problem with Xavi but with Barcelona's executives who hired him without even assigning him a decent assistant coach. Xavi has a lot of mistakes, as would anyone whose previous coaching job is coaching Al-Sadd. He will learn a lot on the job should he remain, but there's a big gap between him and the coaches at the top level.
This begs the question, are Barcelona intending on giving him the time required to learn and adapt, which is years, or were they actually convinced that he would hit the ground running like Pep? If it is the first, then fine. If it is the latter, then we have a serious problem.
All I could say is, I am not surprised as I see Xavi struggle like that and I am not surprised by his lack of solutions.
---
---