29 sports are competed today
There are 29 sports PON XX Papua 2021 which will be competed today. The 29 sports include Aeromodeling, Athletics, Fencing, Motor Cross, Weightlifting, Billiards, 5x5 Basketball, Indoor Volleyball, Chess, Handball, Sand Volleyball, Badminton, Wrestling, Indoor Hockey, and Field Hockey.
In addition there are also sailing, Shorinji Kempo, Shooting, Archery, Sepak Takraw, Pencak Silat, Swimming, Soccer, Paragliding, Boxing, Tarung Degrees, Parachuting, Women's Softball, and TBR. Some of these sports have already entered the semifinal round to the title race in the final.
The following are the provisional results of the XX Papua Pon medals:

| No | Province | Gold | Silver | Bronze | Amount |
| --- | --- | --- | --- | --- | --- |
| 1 | Jawa Barat | 75 | 65 | 71 | 211 |
| 2 | DKI Jakarta | 67 | 54 | 68 | 189 |
| 3 | Jawa Timur | 66 | 57 | 52 | 175 |
| 4 | Papua | 58 | 31 | 59 | 148 |
| 5 | Jawa Tengah | 18 | 30 | 34 | 82 |
| 6 | Bali | 15 | 13 | 20 | 48 |
| 7 | Riau | 13 | 14 | 13 | 40 |
| 8 | Kalimantan Timur | 8 | 21 | 30 | 59 |
| 9 | Lampung | 8 | 5 | 5 | 18 |
---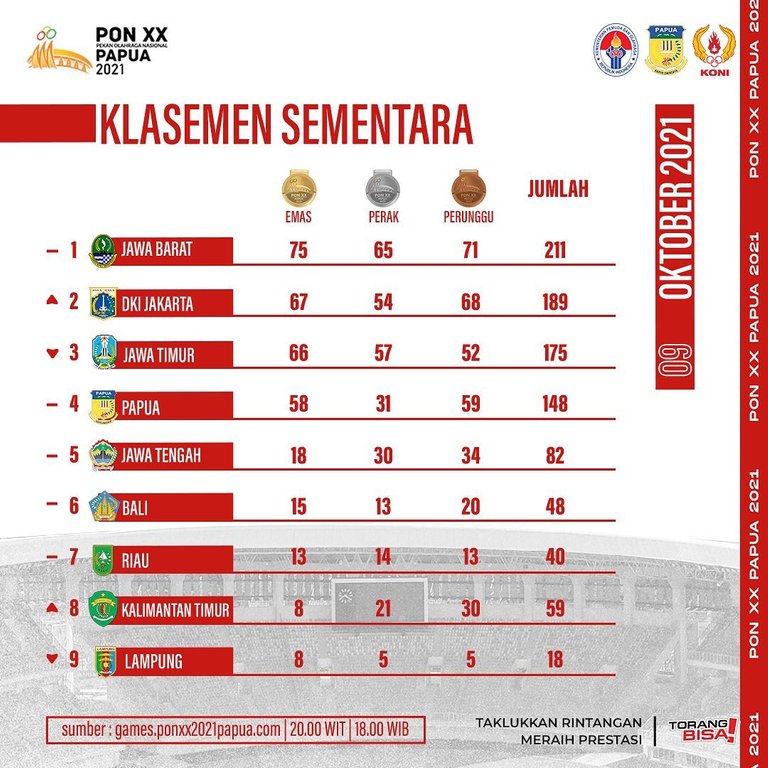 ---
Source Picture
---

---
---