[ESP-ENG] De un 2-0 a un 2-2 - ¡Opinión y análisis del Monagas SC vs Estudiantes de Mérida FC! // From 2-0 to 2-2 - Opinion and analysis of Monagas SC vs Estudiantes de Mérida FC!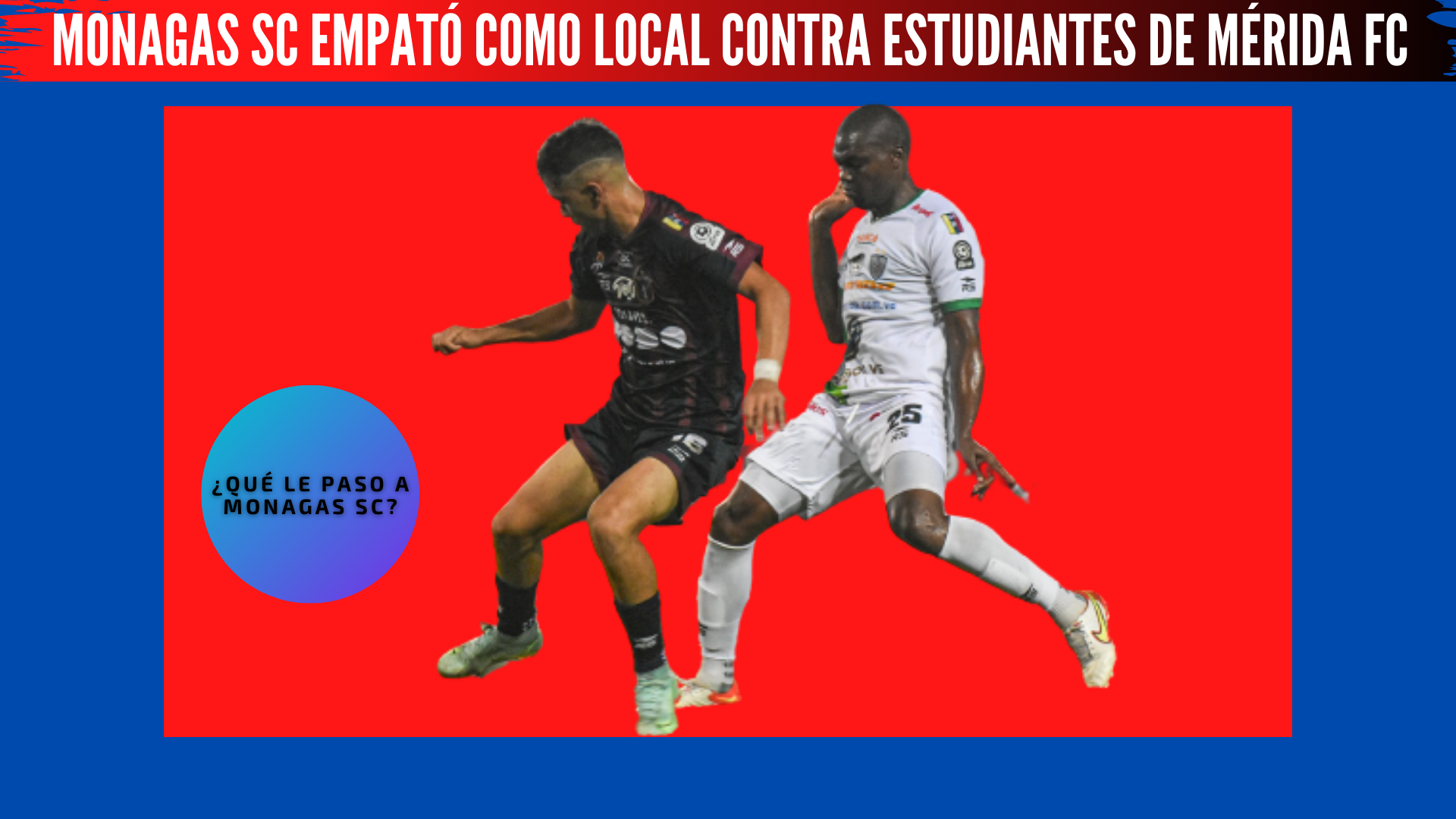 Fuente: Twitter. Edición desde canva


De un partido prácticamente dominado por 2-0 a un 2-2 amargo en la fortaleza azulgrana, en donde Monagas Sport Club no pudo triunfar frente a Estudiantes de Mérida Fútbol Club este Viernes 20 de Mayo del año 2022.
El choque, fue valido por la jornada 13 de la primera división del Fútbol Profesional Venezolano, en el Estadio Monumental de Maturín.
Asimismo, es importante mencionar que todo pintaba para una goleada, luego del doblete de Aquiles Ocanto al minuto 2' y 47'. Lamentablemente, los cambios en el rojiblanco hicieron que el cuadro oriental bajara su nivel en la defensa y en la recuperación en cuanto a la zona medular.
Aunque, sí, es cierto que después de la salida por lesión de Giovanni Dolgetta y el ingresó de Grenddy Perozo la zaga defensiva se noto lenta, y más que todo, sin reacción para recuperar los balones en esa zona del campo. En realidad, se vio a un conjunto Monaguense desaparecido en el segundo tiempo; le costo reaccionar en la recta final.
¿Y qué puedo opinar de esto?
Desde mi opinión, pienso que los dirigidos por Jhonny Ferreira se confiaron de que el compromiso estaba ganado, y en la segunda etapa, Estudiantes de Mérida Fútbol Club se vino arriba, atacando los costados con un Angelo Peña participativo en las jugadas colectivas de su equipo y asistiendo a sus compañeros en el área chica.
Siento que el elenco de Maturín esta sufriendo en los últimos minutos de cada juego y es un detalle a mejorar en su siguiente presentación en el Torneo Local, en la fecha 14, cuando les toque visitar a Deportivo Táchira Fútbol Club.
From a match practically dominated by 2-0 to a bitter 2-2 in the azulgrana fortress, where Monagas Sport Club could not triumph against Estudiantes de Mérida Fútbol Club this Friday, May 20, 2022.
The clash was valid for the 13th day of the first division of Venezuelan Professional Football, at the Monumental Stadium in Maturin.
Likewise, it is important to mention that everything looked like it was going to be a rout, after Aquiles Ocanto's brace at minute 2' and 47'. Unfortunately, the changes in the rojiblanco caused the eastern team to lower its level in defense and recovery in the midfield.
Although it is true that after Giovanni Dolgetta's departure due to injury and Grenddy Perozo's entry, the defensive backline was slow, and more than anything, without reaction to recover the balls in that area of the field. In reality, the Monaguense team disappeared in the second half; it was difficult for them to react in the final stretch.
And what can I say about this?
In my opinion, I think that the team coached by Jhonny Ferreira was confident that the game was winnable, and in the second half, Estudiantes de Mérida Fútbol Club came out on top, attacking the flanks with Angelo Peña participating in the team's collective plays and assisting his teammates in the small area.
I feel that the team from Maturín is suffering in the last minutes of each game and it is a detail to improve in their next presentation in the Local Tournament, on date 14, when they visit Deportivo Táchira Fútbol Club.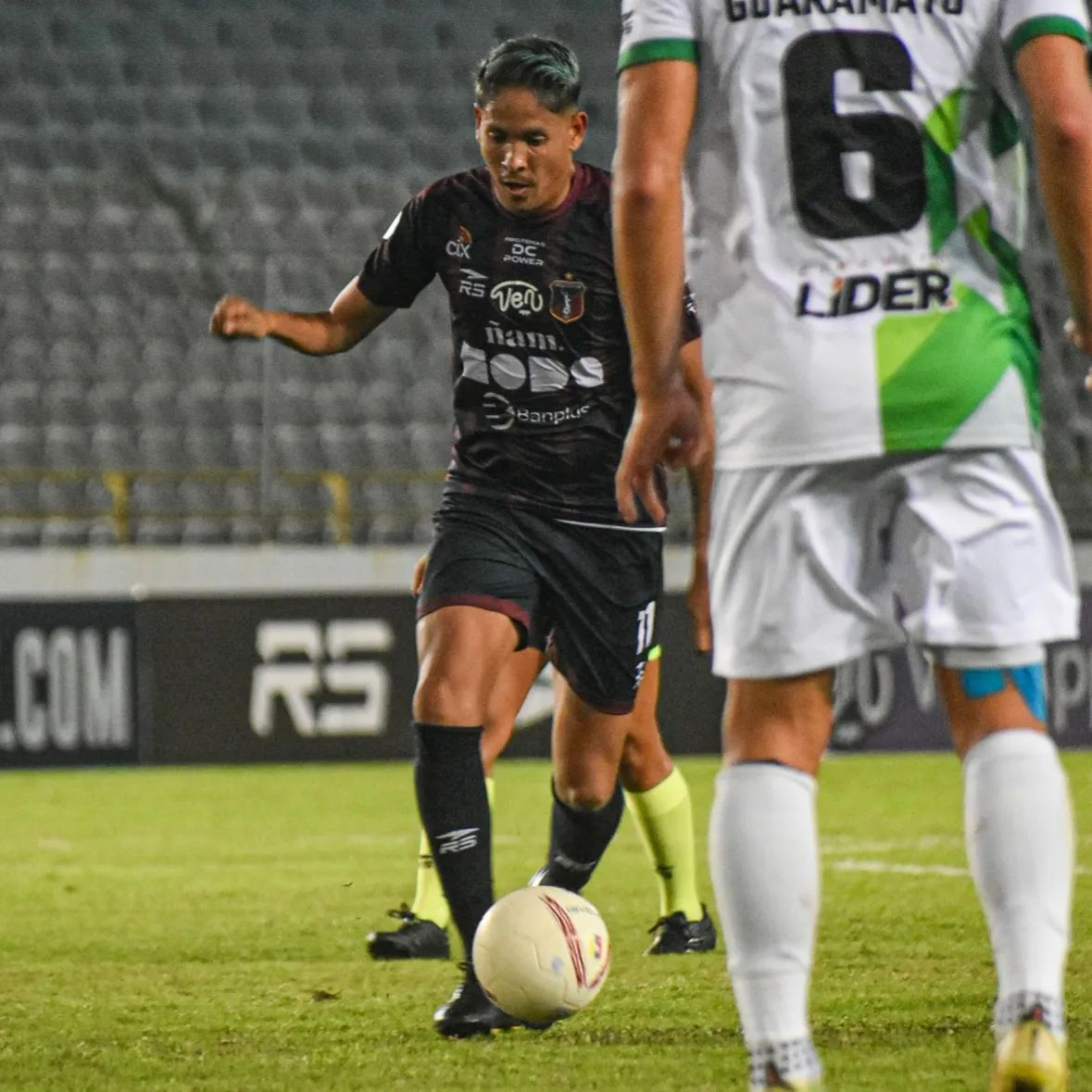 Fuente: Facebook


Evidentemente no todo puede ser negativo. Aquiles Ocanto, delantero del Monagas Sport Club esta viviendo uno de sus mejores momentos como futbolista profesional, ¿o no?
El ex jugador del Deportivo La Guaira, sabe cómo pivotar y ayudar a sus compañeros en labores defensivas a la hora de bajar, porque no todo puede ser goles; él ha entendido la unión en equipo y el respaldo que deben de sentir sus -compañeros- al momento de echarle una mano.
Ocanto, de 33 años de edad, lleva 9 dianas hasta ahora, convirtiéndose en uno de los máximos goleadores del balompié Venezolano y arrogando un dato vital que dan los amigos de Dato Azulgrana en el siguiente tweet.
Análisis del buen momento de Ocanto
En relación a mi análisis deportivo, puedo analizar que este maravilloso jugador esta aprovechando su oportunidad luego de la lesión de Anthony Blondell y Franklin González, este último ya esta recuperando, pero ingresa en la segunda etapa, esperando que se adapte pronto al ritmo de juego con el que viene jugando este combinado de Ferreira.
Cuando Anthony Blondell vuelva a las canchas, me gustaría verlo en el ataque junto a Aquiles Ocanto, ¿qué dicen ustedes?.
Por otro lado, el próximo encuentro de los Guerreros del Guarapiche será el Jueves 26 de Mayo del año en curso contra el Deportivo Táchira Fútbol Club, en la jornada 14 de nuestro Fútbol Venezolano, en el recinto deportivo de Pueblo Nuevo, con hora por definirse.
Y cuéntame tu, ¿qué necesita corregir Monagas Sport Club en sus siguientes presentaciones?
Evidently not everything can be negative. Aquiles Ocanto, striker of Monagas Sport Club is living one of his best moments as a professional soccer player, or not?
The former Deportivo La Guaira player knows how to pivot and help his teammates in defensive tasks when it is time to go down, because not everything can be goals; he has understood the teamwork and the support that his teammates should feel when it is time to lend a hand.
Ocanto, 33 years old, has 9 goals so far, becoming one of the top scorers of the Venezuelan football and arrogating a vital piece of information given by the friends of Dato Azulgrana in the following tweet.
Analysis of Ocanto's good moment.
In relation to my sports analysis, I can analyze that this wonderful player is taking advantage of his opportunity after the injury of Anthony Blondell and Franklin González, the latter is already recovering, but enters in the second stage, hoping that he will soon adapt to the pace of play with which this combined team of Ferreira has been playing.
When Anthony Blondell returns to the fields, I would like to see him in the attack together with Aquiles Ocanto, what do you say?
On the other hand, the next match of the Guerreros del Guarapiche will be on Thursday, May 26th of this year against Deportivo Táchira Fútbol Club, in the 14th round of our Venezuelan Football, at the Pueblo Nuevo sports center, with time to be defined.
And tell me, what does Monagas Sport Club need to correct in its next presentations?


---
---