[ESP-ENG] Duelo de titanes entre España y Francia // Duel of the titans between Spain and France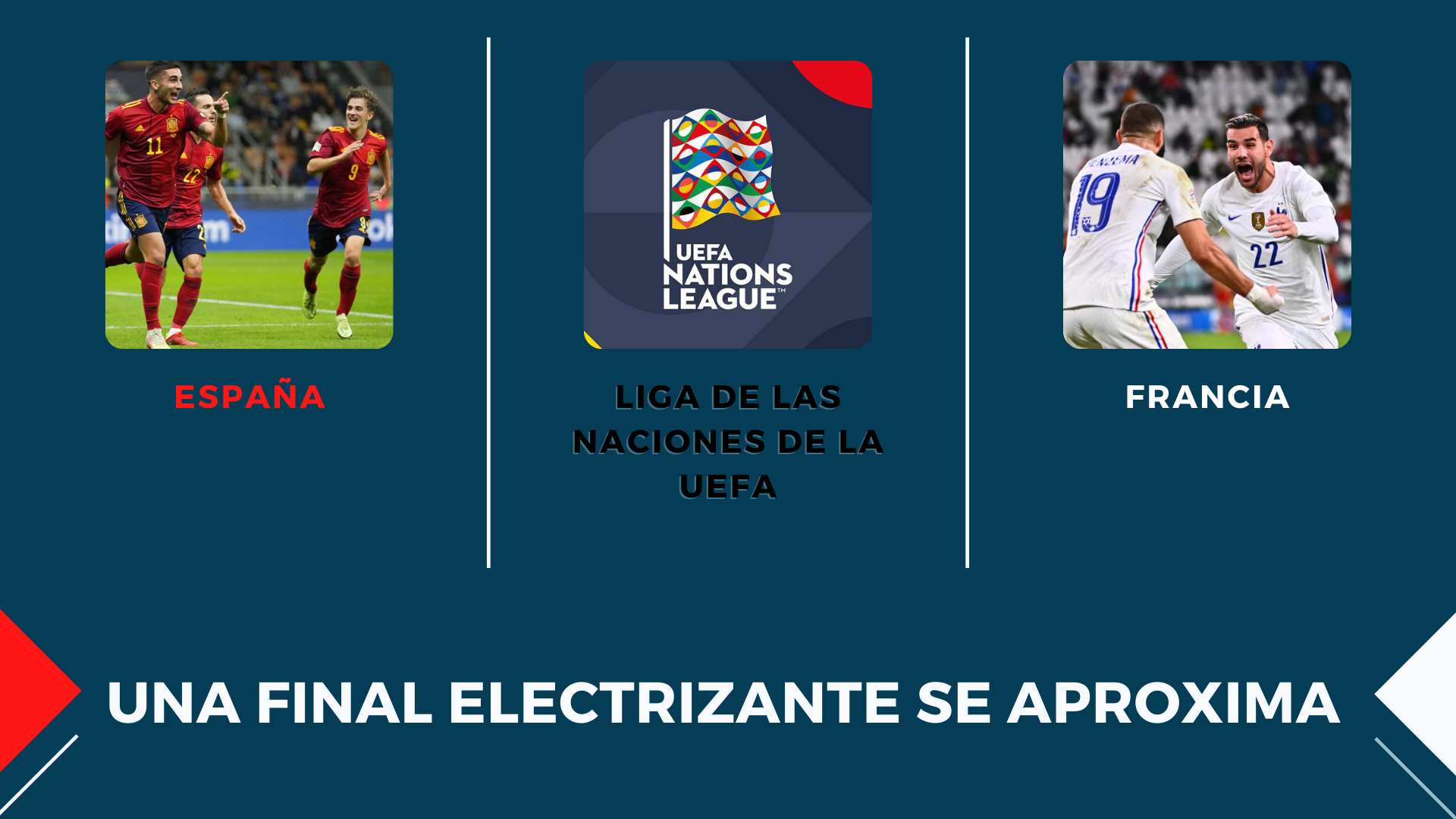 Fuente: España, Liga de las Naciones de la UEFA y Francia. Edición desde canva


Luego de la clasificación de España y Francia a la final de la Liga de las Naciones de la UEFA, todo parece indicar que será un duelo vibrante y de muchas emociones en las dos áreas, debido a la calidad de jugadores que poseen estas dos selecciones, quienes llegan a este compromiso tras dejar en el camino a Italia y Bélgica respectivamente.
Asimismo, la importancia de ser eficaz en jugadas claves será esencial en esta final de mucho contacto en el mediocampo y por los costados.
Mañana, a las 2:45 de la tarde, se llevará este emocionante enfrentamiento, en el Estadio Giuseppe Meazza, de Italia.
¿Y cómo me imagino este partido?
Por la enorme capacidad de cada uno de los elementos de estas dos selecciones, veo firmemente que el cotejo estará disputado por los costados, ya que ambas escuadras tienen futbolistas rápidos y con un ritmo de juego impecable.
España, con su acostumbrada posesión del balón tratará de calmar a una selección de Francia que va a ir en busca de hacerle daño con su jugador más veloz, Kylian Mbappé, quien viene de anotar frente a los Belgas.
Por otro lado, Francia, tendrá el desequilibrio y la buena pegada del carrilero izquierdo Theo Hernández, este último llega con confianza luego de marcar el gol del triunfo ante Bélgica al minuto 90'.
¿Cuál es mi análisis?
Desde mi análisis, puedo opinar que España debe neutralizar al delantero Francés Karim Benzema, ya que en un mínimo descuido el jugador del Real Madrid Club de Fútbol puede ser letal en el corazón del área.
Pau Torres y Aymeric Laporte, deberán ser precisos y no cometer errores cuando les toque salir jugando a ras de césped. Además, tendrán que tener excelente comunicación en los centros de los Franceses por los bandas.
After the qualification of Spain and France to the final of the UEFA Nations League, everything seems to indicate that it will be a vibrant duel with a lot of emotions in both areas, due to the quality of players that these two teams possess, who come to this commitment after leaving Italy and Belgium, respectively, on the road.
Likewise, the importance of being effective in key plays will be essential in this final with a lot of contact in the midfield and on the flanks.
Tomorrow, at 2:45 p.m., this exciting clash will take place at the Giuseppe Meazza Stadium in Italy.
And how do I imagine this match?
Given the enormous ability of each of the elements of these two teams, I firmly believe that the match will be played on the flanks, as both teams have fast players with an impeccable rhythm of play.
Spain, with its usual ball possession will try to calm down a France team that will try to hurt them with its fastest player, Kylian Mbappé, who has just scored against the Belgians.
On the other hand, France, will have the imbalance and the good punch of left winger Theo Hernandez, the latter arrives with confidence after scoring the winning goal against Belgium at 90'.
What is my analysis?
From my analysis, I can opine that Spain must neutralize the French striker Karim Benzema, as in the slightest carelessness the Real Madrid Club de Fútbol player can be lethal in the heart of the box.
Pau Torres and Aymeric Laporte will have to be precise and not make mistakes when it is their turn to play on the grass. In addition, they will have to have excellent communication in the French crosses from the flanks.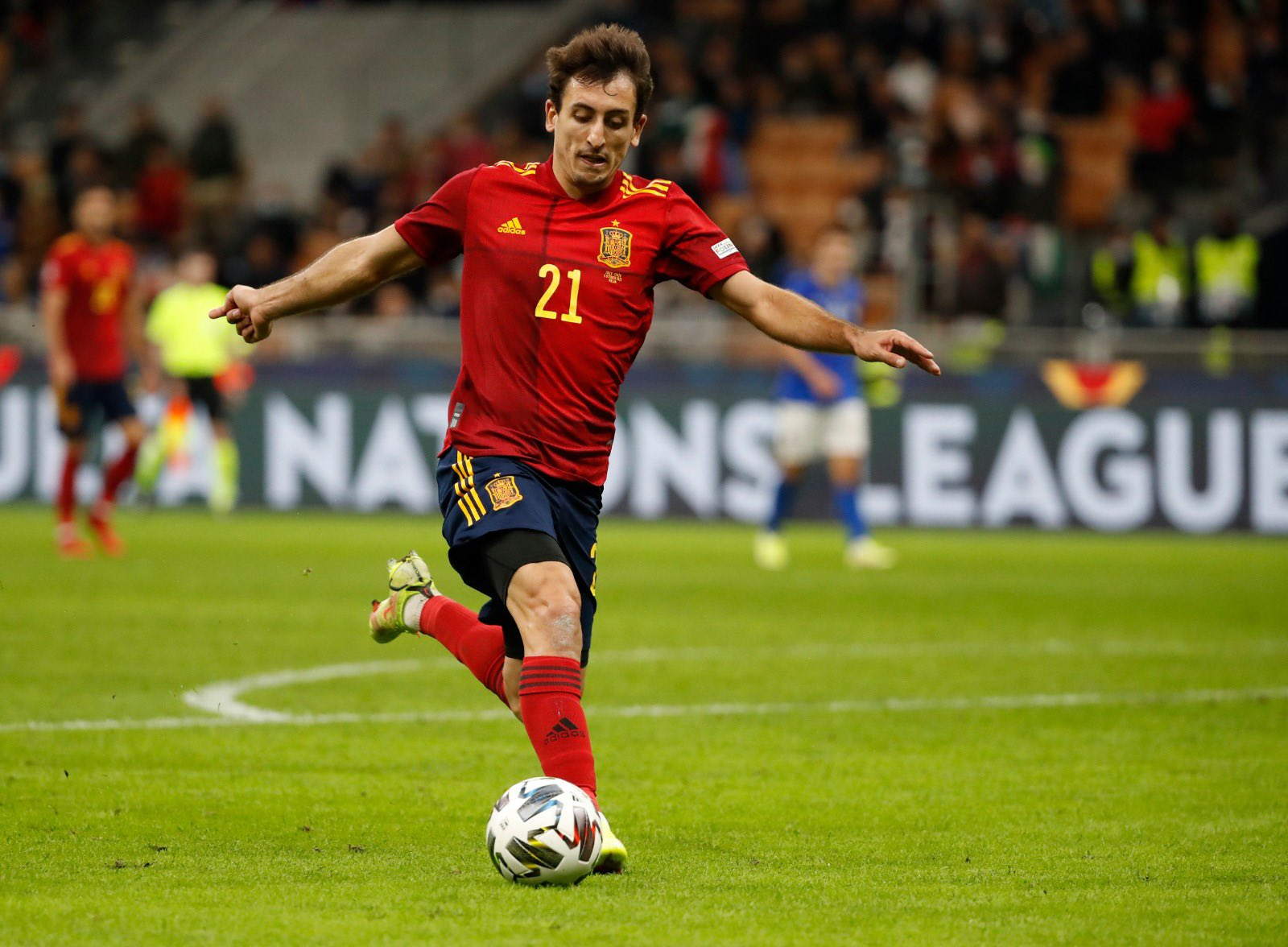 Fuente: Twitter


¿Jugador distinto en España?
El extremo izquierdo de 24 años de edad, Mikel Oyarzabal, esta teniendo una temporada fantástica en su club y ahora repartiendo asistencias con la selección de España.
En la semifinal contra Italia, fue influyente en los dos goles de Ferran Torres, dando dos asistencias determinantes en el primer tiempo.
Con esto, es importante destacar su aporte en el frente del ataque y su manera de encarar a los rivales, convirtiéndose en un jugador distinto e indescifrable para cualquier adversario.
¿Será de mucha ayuda en el ataque?
Con la aparición del joven Gavi en el mediocampo, veremos a Oyarzabal un poco más suelto en varios sectores de la cancha, tratando de alimentar al polivalente e inquietante Ferran Torres, quien a su corta edad comienza a aportar goles y a saber moverse como falso nueve.
¿Qué tengo para analizar?
Frente a Bélgica, la selección de Francia se vio mal en el retroceso y al momento de marcar al delantero centro. En esta ocasión, todo es distinto, debido a que España sólo tiene jugadores rápidos en el frente del ataque y cuenta con muchas individualidades para hacerle daño a los azules.
En cuanto a mi análisis deportivo, pienso que si dejan jugar a Mikel Oyarzabal, Francia se verá mal y no podrán frenar el buen ritmo de los Españoles. Esa es la clave y los Franceses deben neutralizar a este futbolista, es decir, no dejarlo pensar.
Different player in Spain?
The 24-year-old left winger, Mikel Oyarzabal, is having a fantastic season at club level and now dishing out assists with the Spain national team.
In the semi-final against Italy, he was influential in both of Ferran Torres' goals, providing two crucial assists in the first half.
With this, it is important to highlight his contribution in front of the attack and his way of facing the rivals, becoming a different and indecipherable player for any opponent.
Will he be of much help in the attack?
With the emergence of the young Gavi in midfield, we will see Oyarzabal a little looser in various sectors of the field, trying to feed the versatile and restless Ferran Torres, who at his young age begins to contribute goals and to know how to move as a false nine.
What do I have to analyze?
Against Belgium, the France team looked bad in the backline and when marking the center forward. This time, everything is different, because Spain only has fast players in front of the attack and counts on many individualities to hurt the blues.
As for my sporting analysis, I think that if they let Mikel Oyarzabal play, France will look bad and they won't be able to stop the good pace of the Spanish. That is the key and the French must neutralize this player, i.e. not let him think.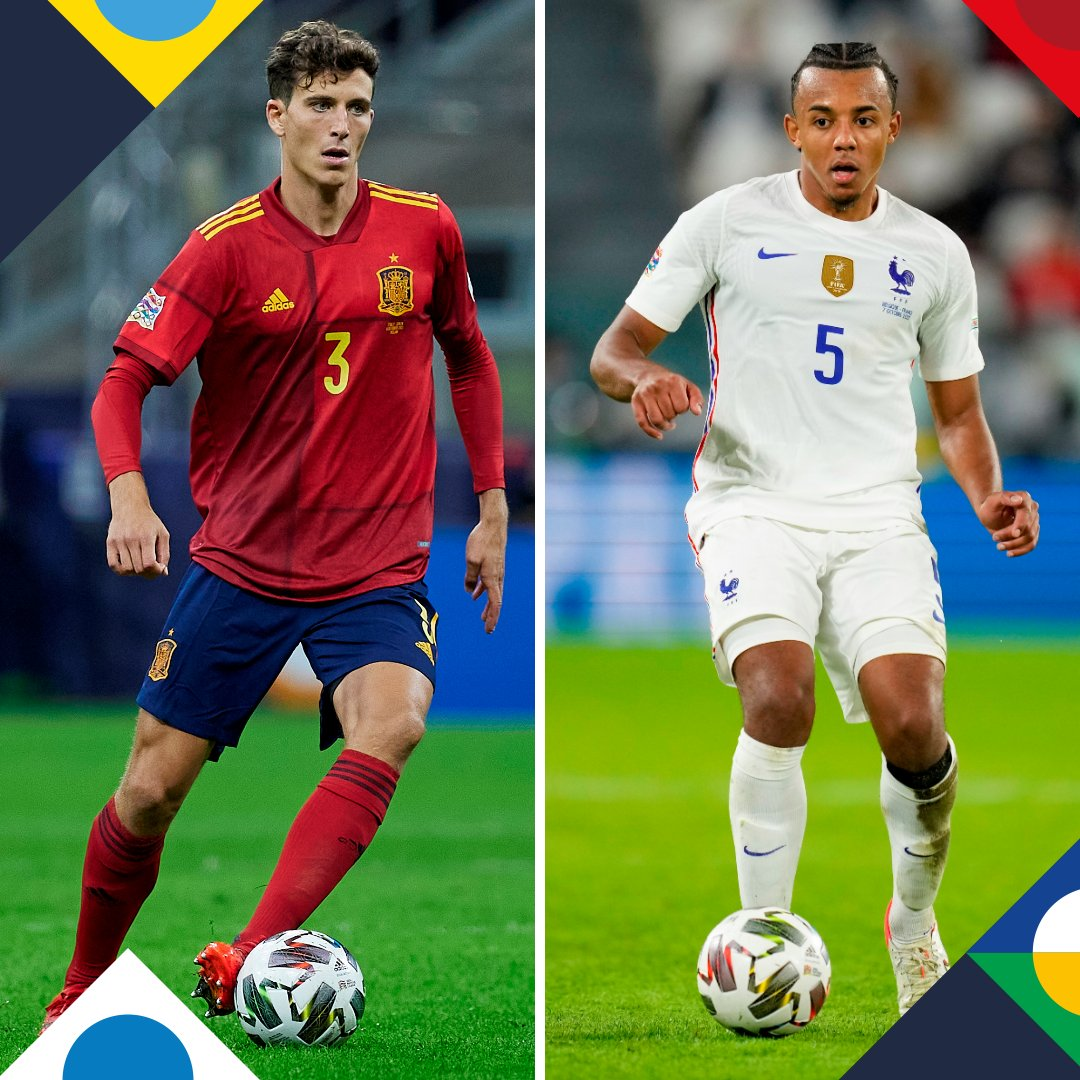 Fuente: Twitter


Sangre joven en la defensa
El defensor Español Pau Torres de 24 años de edad y el zaguero central Francés Jules Koundé de 22 años, están siendo solidos en cada una de sus intervenciones en esta competición tan exigente.
Y es que, no es fácil poder lidiar con jugadores de la talla de Federico Chiesa y Romelu Lukaku. Su velocidad los hace temible y difícil de marcar.
¿En qué equipos juegan y cuáles son sus cualidades?
Pau Torres, se encuentra jugando con el Villarreal Club de Fútbol de la primera división de España, mostrando solvencia, carácter, buen juego aéreo, salida a ras de césped y visión de juego.
Mientras tanto, Jules Koundé, lleva varias temporadas con el Sevilla Fútbol Club de la primera categoría del Fútbol Español, ganándose un puesto en la formación titular a pesar de su baja estatura de 1,78 metros. Koundé, se especializa por ser un defensor con actitud, lectura de juego, salida en sectores complicados, puede jugar como carrilero y muestra virtudes sorpresivas en el retroceso. Esto, será beneficioso frente a La Roja.
Vamos con el análisis final
Con la solidez de los experimentados zagueros centrales Aymeric Laporte y Raphaël Varane, ambas selecciones tratarán de demostrar su solvencia en el pasaje del encuentro, dando a valer su entendimiento y su frialdad para salir jugando.
Estos dos defensores, serán acompañados por Pau Torres y Jules Koundé, quienes a su cortad edad se han ganado un lugar indispensable y difícil en su selección.
Aunque, desde mi apreciación, veo con más entendimiento para este duelo a los Españoles. Laporte y Torres, vienen jugando desde la Eurocopa y eso es valioso para esta gran final, en donde se necesita más que comunicación y determinación en cada una de las jugadas.
Young blood on defense
Spanish defender Pau Torres, 24, and French center back Jules Koundé, 22, have been solid in each of their interventions in this demanding competition.
And it is not easy to deal with players of the stature of Federico Chiesa and Romelu Lukaku. Their speed makes them fearsome and difficult to mark.
In which teams do they play and what are their qualities?
Pau Torres, is playing with Villarreal Club de Fútbol in Spain's first division, displaying reliability, character, good aerial play, grass field play and vision.
Meanwhile, Jules Koundé, has spent several seasons with Sevilla Football Club in Spain's top flight, earning a place in the starting lineup despite his short stature of 1.78 meters. Koundé, specializes for being a defender with attitude, reading the game, exit in complicated sectors, can play as a winger and shows surprising virtues in the backline. This will be beneficial against La Roja.
Let's go with the final analysis

.

With the solidity of the experienced central defenders Aymeric Laporte and Raphaël Varane, both teams will try to demonstrate their solvency in the passage of the match, giving to assert their understanding and their coolness to come out playing.

These two defenders will be accompanied by Pau Torres and Jules Koundé, who at their young age have earned an indispensable and difficult place in their national team.

Although, from my point of view, I see with more understanding for this duel the Spaniards. Laporte and Torres, ​have been playing since the European Championship and that is valuable for this great final, where they need more than communication and determination in each of the plays.
---
¿Quién se llevará la victoria mañana?

⚽

Who will win tomorrow?
---
---