[ESP-ENG] Final de infarto en el Olímpico de la UCV // Heart-stopping finish at the UCV Olympic Stadium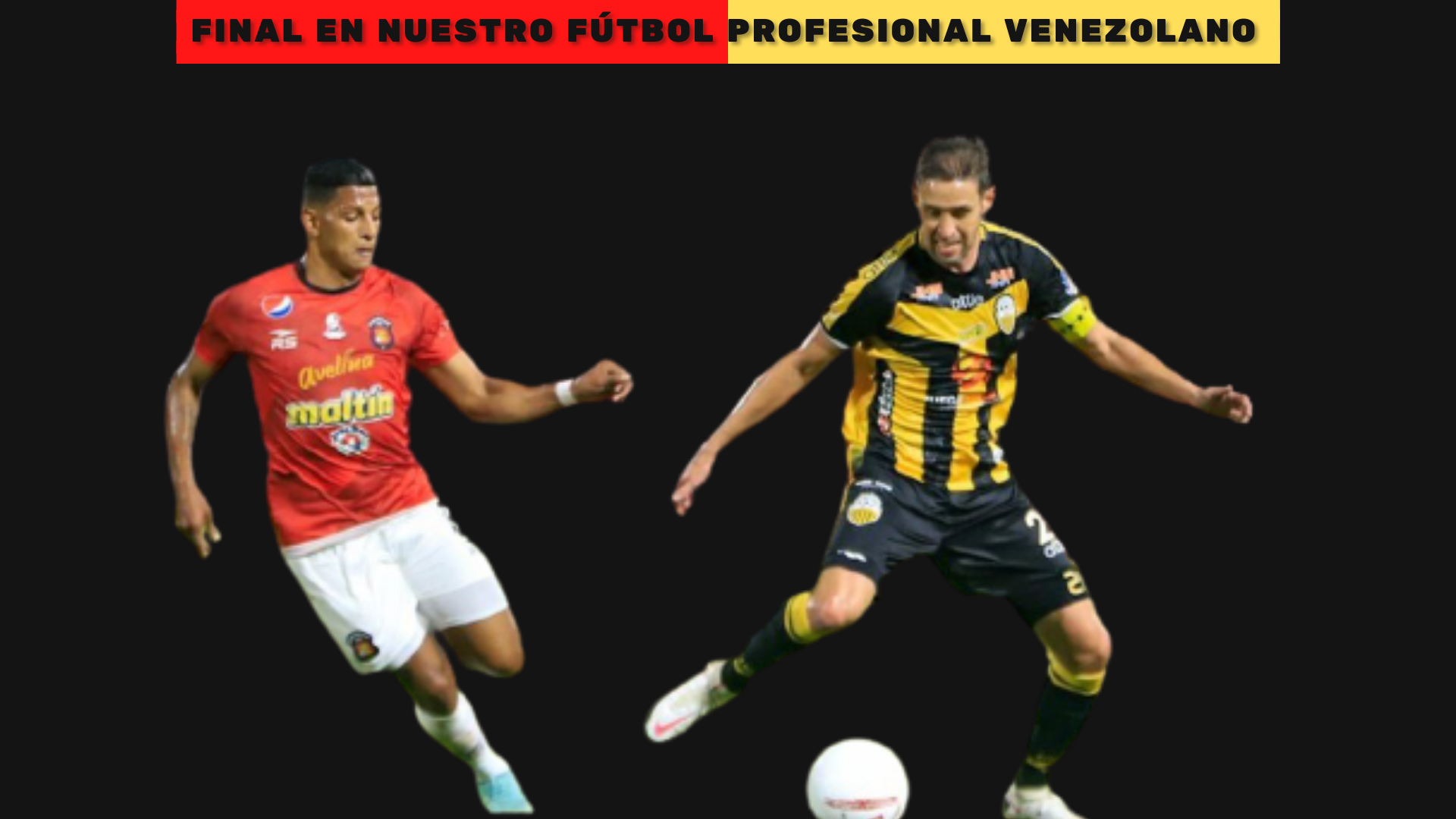 Fuente: Twitter. Edición desde canva


Este Sábado 11 de Diciembre del año 2021, se llevó a cabo de la final de la primera división de Venezuela, entre el Deportivo Táchira Fútbol Club y Caracas Fútbol Club, a partir de las 6:30 PM (hora venezolana), con el arbitraje del experimentado Jesús Valenzuela, de 38 años años de edad.
Todo estaba listo para que comenzará a rodar en el balón el Estadio Olímpico de la UCV, y con esto, las emociones en los dos arcos.
¿Y qué sucedió en los primeros 45' minutos, Anthony?
La primera etapa, conto con dos llegadas del El Carrusel Aurinegro, una del Panameño Freddy Góndola y la otra de Edgar Pérez Greco, mientras tanto, Los Rojos del Ávila, sólo llegaron una vez al arco y fue con un remate de larga distancia del delantero africano Samson Akinyoola, quien al minuto 35' exigió al portero Cristopher Varela.
Con estas tres llegadas y un juego intenso en el mediocampo durante el primer periodo, concluía los primeros 45' minutos en la capital, con igualdad a cero goles.
¿Pasó algo en el segundo tiempo?
Aunque los dos equipos se estaban cuidando mucho en el primer tiempo, ya en el segundo se veía mejoría en cuanto a la toma de decisiones, velocidad y en la manera de contratacar en cada uno de los elementos en cancha. Caracas Fútbol Club, estuvo cerca de ganar el partido, pero la suerte estuvo al lado del Los Aurinegros, quienes pudieron aprovechar los últimos 10' minutos de la recta final, luego de la expulsión de Kwaku Bonsu Osei en la fracción 80'. Esto, dejó al cuadro Avileño sin generar mucho en ataque, sino, defenderse en lo que quedaba del compromiso.
Finalmente, se termina el segundo tiempo y el marcador no se movió por nada del mundo. La igualdad a cero goles seguía y nos esperaban 30' minutos más en el tiempo extra de mucho nerviosismo.
Momento de analizar el primer y segundo tiempo
En cuanto a mi analisis deportivo, pienso que como todo clásico en nuestro balompié nacional, y por supuesto en una final, se guardan todo.
Aun así, los equipos fueron por más y con individualidad, y recurso técnico pudieron conseguir llegadas claras, que exigieron la humanidad de los guardametas.
Lucas Trejo, cuido muy bien al escurridizo Samson Akinyoola, este último, no tuvo mucha participación dentro del área chica rival.
This Saturday, December 11, 2021, the final of the Venezuelan first division, between Deportivo Táchira Fútbol Club and Caracas Fútbol Club, took place at 6:30 PM (Venezuelan time), with the refereeing of the experienced Jesús Valenzuela, 38 years old.
Everything was ready for the ball to start rolling at the Estadio Olímpico de la UCV, and with this, the emotions in both goals.
And what happened in the first 45' minutes, Anthony?
The first stage, counted with two arrivals of El Carrusel Aurinegro, one by the Panamanian Freddy Góndola and the other by Edgar Pérez Greco, meanwhile, Los Rojos del Ávila, only reached the goal once and it was with a long distance shot by the African striker Samson Akinyoola, who at minute 35' demanded the goalkeeper Cristopher Varela.
With these three strikes and intense play in the midfield during the first half, the first 45 minutes in the capital ended with a goalless draw.
Did anything happen in the second half?
Although both teams were taking care of each other in the first half, the second half saw an improvement in terms of decision making, speed and the way of counterattacking in each of the elements on the field. Caracas Fútbol Club came close to winning the match, but luck was on the side of Los Aurinegros, who were able to take advantage of the last 10 minutes of the final stretch, after the expulsion of Kwaku Bonsu Osei in the 80th minute. This left the Avileño team without generating much in attack, but rather defending for the remainder of the match.
Finally, the second half came to an end and the scoreboard did not move for nothing in the world. The tie was still scoreless and 30 minutes more of nervousness awaited us in the extra time.
Moment to analyze the first and second half
As for my sports analysis, I think that like any classic in our national football, and of course in a final, everything is saved.
Even so, the teams went for more and with individuality and technical resource they were able to get clear arrivals, which demanded the humanity of the goalkeepers.
Lucas Trejo took good care of the elusive Samson Akinyoola, the latter did not have much participation in the opponent's small area.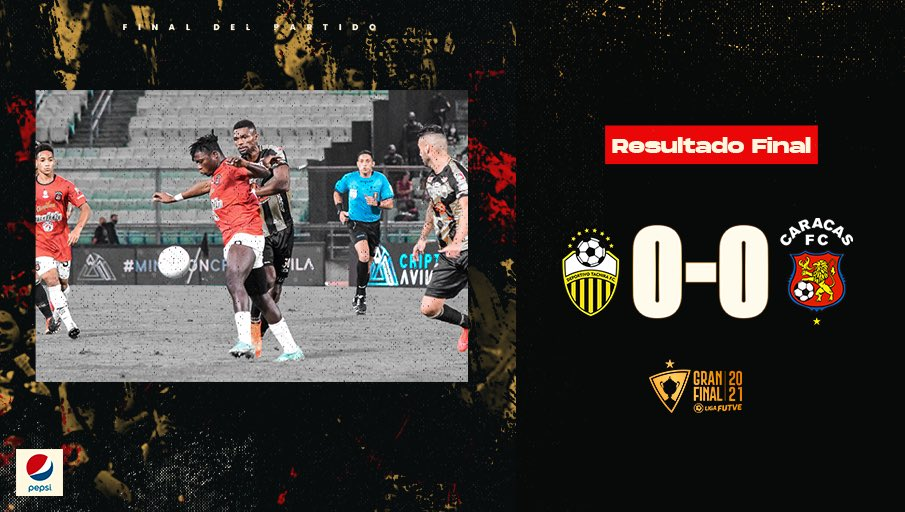 Fuente: Twitter


Primeros 15' minutos de la prórroga
En estos 15' minutos, el Caracas Fútbol Club tuvo que aguantar el cotejo con un jugador menos. Deportivo Táchira Fútbol Club, por poco anota al 98', tras una exquisita asistencia a tres dedo de Yeferson Velasco dentro del área chica del elenco capitalino. Para fortuna de los fanáticos Rojo, el balón lo sacó el defensor Rosmel Villanueva.
De esta manera, el primer tiempo del alargue terminaba, con igualdad a cero goles.
Los otros 15' de mucho nerviosismo, ¿ocurrió algo?
Y los otros 15' minutos que quedaban del tiempo extra, se vivió con mucha angustia en las dos áreas. Ninguno de los dos clubes quería conceder gol en esta parte cumbre del partido.
Deportivo Táchira Fútbol Club, no aprovecho una ocasión clarísima al 114', tras una excelente asistencia por el costado derecho del extremo Marlon Fernández, para la sorpresiva aparición del futbolista Nelson Antonio Hernández Belorín, quien de cabeza no pudo anotar y su cabezazo se fue arriba del arco que defiende Beycker Velásquez.
El encuentro no daba para más y el árbitro sentenció el termino del duelo. Ahora, llegaba lo que nadie estaba esperando: la muerte súbita de los penales. Una total angustia en el banquillo de los dos equipos.
Análisis de los 30' minutos
Desde mi apreciación, Deportivo Táchira Fútbol Club, no genero muchas jugadas ante el arco rival. Le costo mucho, sobre todo, poder romper esa muralla defensiva de Los Demonios Rojos.
First 15' minutes of extra time
In these 15' minutes, Caracas Fútbol Club had to hold the match with one less player. Deportivo Táchira Fútbol Club, almost scored at 98', after an exquisite three-finger assist by Yeferson Velasco inside the small area of the capital team. Fortunately for the Red fans, the ball was saved by defender Rosmel Villanueva.
In this way, the first half of extra time ended with a scoreless draw.
The other 15' were very nervous, did anything happen?
The remaining 15 minutes of extra time were spent with a lot of anguish in both areas. Neither club wanted to concede a goal in this crucial part of the match.
Deportivo Táchira Fútbol Club did not take advantage of a very clear opportunity at 114', after an excellent assist from the right flank by the winger Marlon Fernández, for the surprising appearance of Nelson Antonio Hernández Belorín, who was unable to score with his head and his header went over the goal defended by Beycker Velásquez.
The match was over and the referee sentenced the end of the match. Now came what nobody was waiting for: The sudden death penalty shootout. There was total anguish on the bench of both teams.
Analysis of the 30' minutes
In my opinion, Deportivo Táchira Fútbol Club did not generate many plays in front of the opponent's goal. It cost them a lot, above all, to be able to break through that defensive wall of Los Demonios Rojos.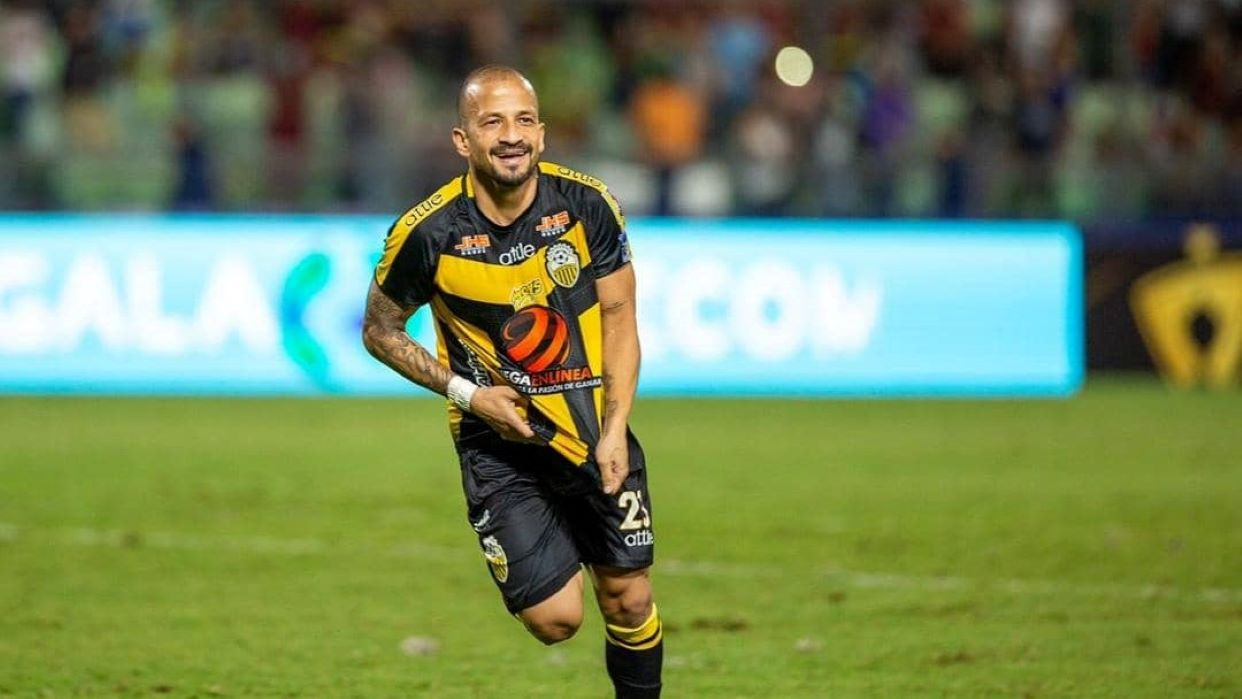 Fuente: El Universal


¿Quién ganó en los penales?
Los tiros del punto penal siempre generan nerviosismo en el jugador y más en esta etapa en donde sabes que esta en juego un título en el torneo.
Caracas Fútbol Club, desafortunadamente perdió 4-2 en los penales.
Falló:
Jorge Echeverría y Carlos Rivero.
Deportivo Táchira Fútbol Club, obtiene su novena estrella en la primera categoría de Venezuela. Merecido para un equipo que no bajo la guardia y que en los panales se creció, manteniendo la concentración ante todo.
Analisis final y felicitaciones al club campeón
Desde mi analisis, digo que:
Indudablemente de lo que haya pasado en esta final, el espectáculo fue increíble. Los jugadores se comportaron a la altura y se disfruto a lo grande.
Felicitaciones al Deportivo Táchira Fútbol Club por el campeonato y a todo ese cuerpo técnico que trabajo arduamente para alcanzar este objetivo.
Hasta una próxima entregada deportiva en mi blog.
Who won on penalties?
Penalty kicks always generate nervousness in the player and more so at this stage where you know that a title is at stake in the tournament.
Caracas Fútbol Club, unfortunately lost 4-2 on penalty kicks.
Missed:
Jorge Echeverría and Carlos Rivero.
Deportivo Táchira Fútbol Club, obtains its ninth star in the first category of Venezuela. Deserved for a team that did not let its guard down and that grew in the honeycombs, keeping its concentration above all.
Final analysis and congratulations to the champion club

.

From my analysis, I would say that:

Undoubtedly whatever happened in this final, the show was incredible. The players behaved at the height and enjoyed themselves to the fullest.

Congratulations to Deportivo Táchira Fútbol Club for the championship and to all the coaching staff who worked hard to achieve this goal.

See you next time in my blog.
---


---
---