[ESP-ENG] La Vinotinto va con lo que tiene frente a Brasil // La Vinotinto goes with what it has against Brazil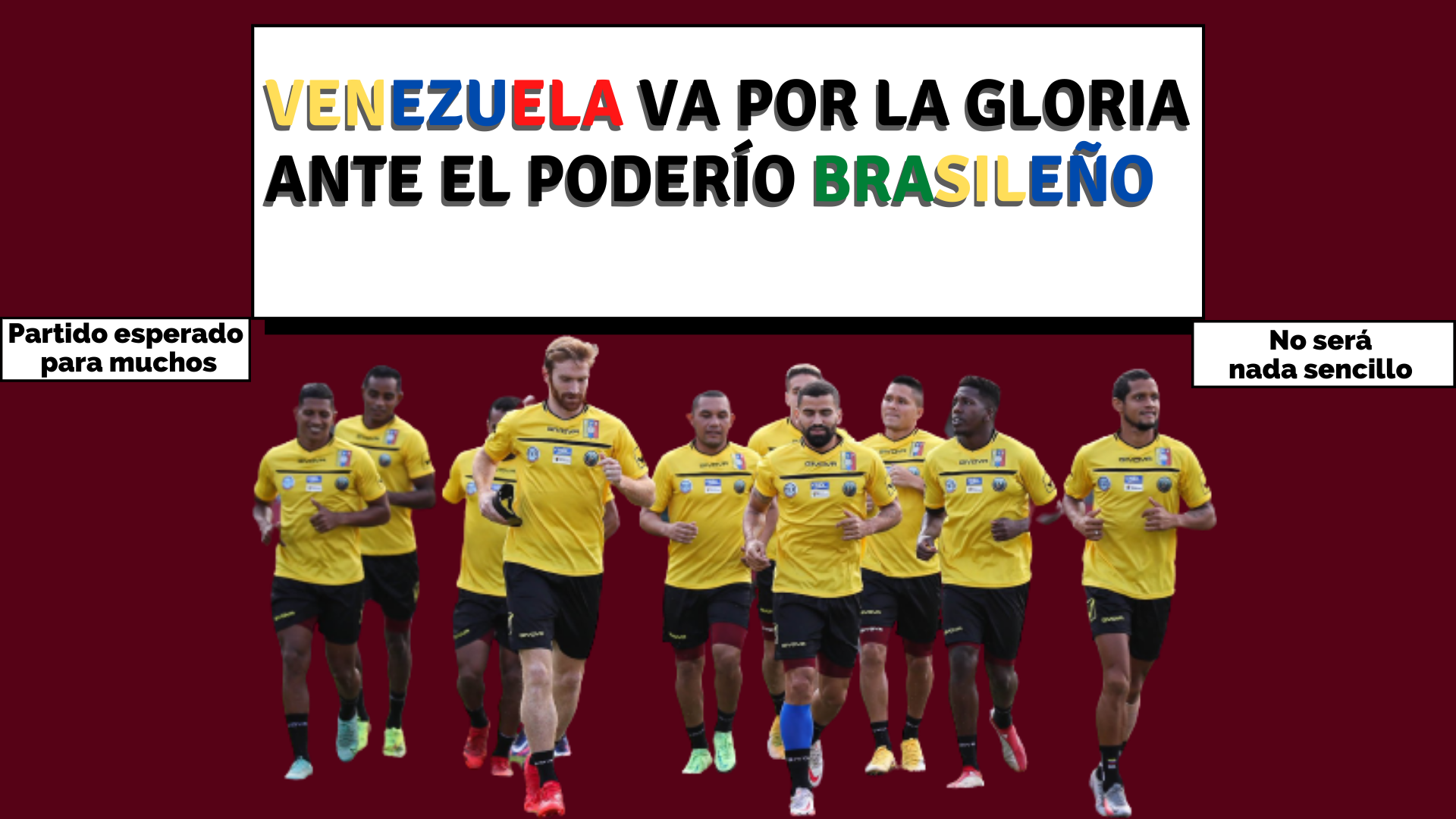 Fuente: Twitter. Edición desde canva


Este Jueves 07 de Octubre del presente año regresan las eliminatorias sudamericanas, rumbo al mundial de Catar 2022, en donde nuestra selección nacional de Venezuela se estará enfrentando a la siempre difícil selección de Brasil, en el Estadio Olímpico de la UCV, a partir de las 7:30 de la noche (hora venezolana).
De igual modo, el compromiso será correspondiente a la jornada once y contará con el arbitraje del Peruano Kevin Ortega, de 29 años de edad.
¿Cuál alineación espero para este encuentro?
A pesar de las adversidades y de las bajas confirmadas por la Federación Venezolana de Fútbol mediante este comunicado en Twitter, la Vinotinto Absoluta se prepara para enfrentar a una selección de Brasil que sigue sin perder en las eliminatorias sudamericanas, teniendo un récord de 8 partidos jugados, 8 ganados, ningún partido empatado, ningún encuentro perdido, 19 goles a favor y 2 tantos en contra, para un total de 24 unidades, ubicándose en el primer lugar.
Aún así, los de Leonardo González, saben que de ganarle a La Canarinha estarían dando un duro golpe al combinado de Brasil y compañía, ya que en estos momentos la selección llanera vive uno de sus peores arranques en las eliminatorias de CONMEBOL.
Para esto, espero esta formación titular para este duelo:
Portero: Wuilker Faríñez.

Defensores: Nahuel Ferraresi y (Jhon Chancellor o Josua Mejías).

Lateral derecho: Roberto Rosales.

Lateral izquierdo: Oscar González.

Mediocampistas: Tomás Rincón, Júnior Moreno y (Cristian Cásseres Jr o Edson Castillo).

Extremos: Yeferson Soteldo y Darwin Machís.

Delantero: Eric Ramírez.
Formación: 4-3-2-1.
De igual manera, creo que Edson Castillo y Josua Mejías podrían ser un carta esencial en este compromiso. Castillo, es un volante 5 con mucha llegada al corazón del área y Mejías es un defensor solvente, y que aparte, le gusta salir jugando a ras de césped.
¿Qué puedo analizar?
Desde mi análisis deportivo, pienso en una Venezuela con mucha gallardía y actitud en este cotejo. Además, los futbolistas criollos, deberán mantener la concentración durante los 90' minutos si quieren vencer o empatar ante la Verde-amarela.
Aunque, uno de los detalles que vi en la anterior triple fecha, fue que la Vinotinto perdió muchos balones en el mediocampo. En este enfrentamiento, no puede suceder esto, porque Brasil ha demostrado mucha eficacia y contundencia en tres cuarto de cancha.
This Thursday, October 7, the South American qualifiers for the World Cup Qatar 2022 are back, where our Venezuelan national team will be facing the always difficult Brazil national team at the Olympic Stadium of the UCV, starting at 7:30 pm (Venezuelan time).
Likewise, the match will correspond to the eleventh matchday and will be refereed by Peruvian Kevin Ortega, 29 years old.
Which line-up do I expect for this match?
Despite the adversities and the absentees confirmed by the Venezuelan Football Federation through this statement on Twitter, the Vinotinto Absoluta is preparing to face a Brazilian team that remains unbeaten in the South American qualifiers, with a record of 8 games played, 8 won, no drawn games, no lost games, 19 goals scored and 2 goals conceded, for a total of 24 units, placing them in first place.
Even so, Leonardo Gonzalez's team knows that if they beat La Canarinha they would be giving a hard blow to Brazil and company, since the llanera team is currently experiencing one of its worst starts in the CONMEBOL qualifiers.
For this, I expect this starting lineup for this duel:
Goalkeeper: Wuilker Faríñez.

Defenders: Nahuel Ferraresi and (Jhon Chancellor or Josua Mejías).

Right back: Roberto Rosales.

Left back: Oscar Gonzalez.

Midfielders: Tomás Rincón, Júnior Moreno and (Cristian Cásseres Jr or Edson Castillo).

Wingers: Yeferson Soteldo and Darwin Machís.

Forward: Eric Ramírez.
Formation: 4-3-2-1.
Likewise, I believe that Edson Castillo and Josua Mejías could be an essential card in this match. Castillo, is a midfielder 5 with a lot of arrival to the heart of the area and Mejias is a solvent defender, and who also likes to come out playing at grass level.
What can I analyze?
From my sporting analysis, I think that Venezuela will have a lot of courage and attitude in this match. In addition, the Venezuelan players will have to keep their concentration during the 90' minutes if they want to win or tie against the Verde-amarela.
Although, one of the details I saw in the previous triple date was that the Vinotinto lost a lot of balls in the midfield. In this match, this cannot happen, because Brazil has shown a lot of efficiency and forcefulness in three quarters of the field.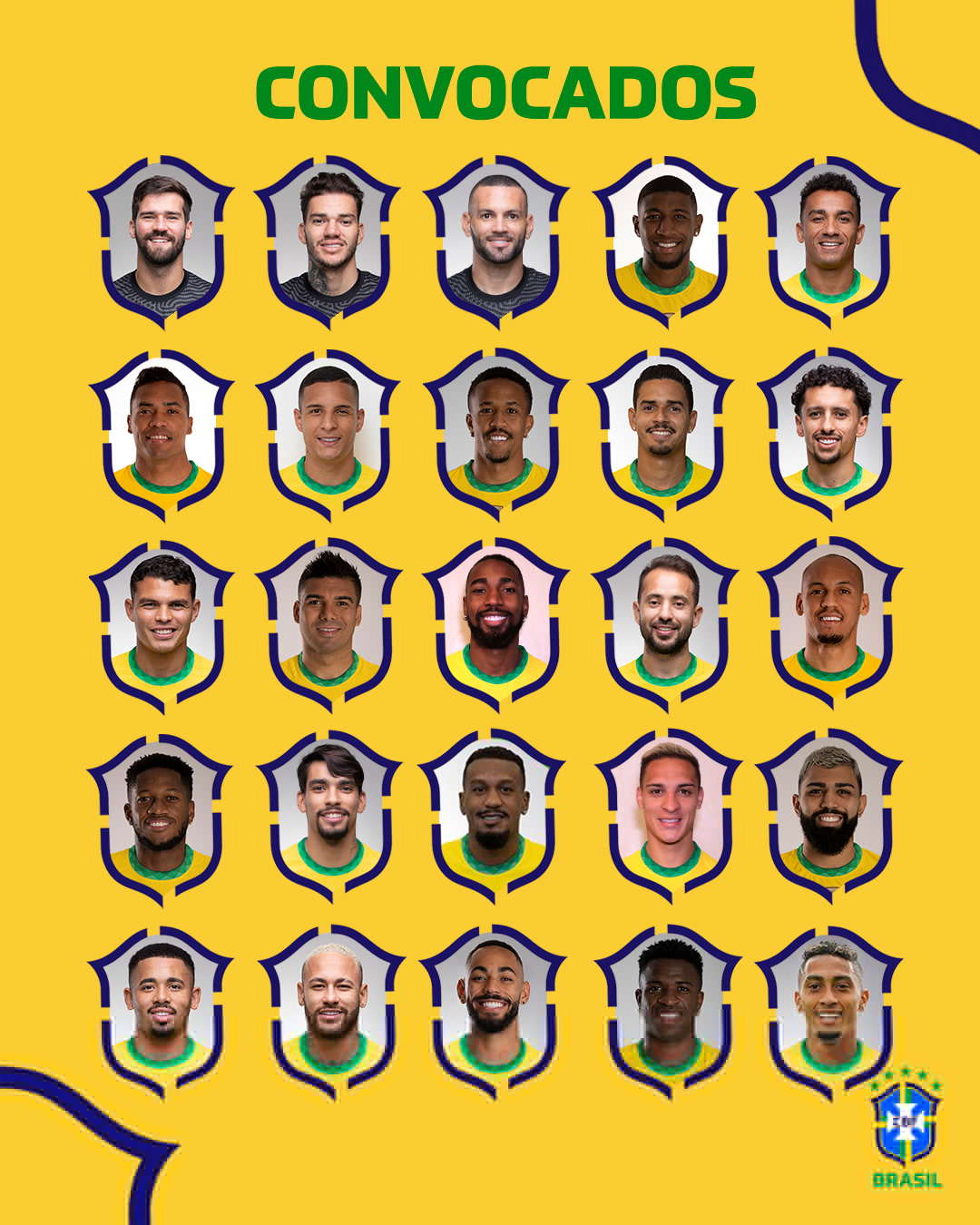 Fuente: Twitter


El Viernes 24 de Septiembre del año en curso, la selección de Brasil dio a conocer a sus 25 guerreros para esta triple fecha de las eliminatorias sudamericanas, en donde se estarán enfrentando a la ya mencionada Vinotinto, Colombia y Uruguay.
¿Quién se quedó fuera de la convocatoria de Brasil?
El futbolista del Club Atlético de Madrid, Matheus Cunha, queda fuera de la convocatoria de La Auriverde por lesión, dándole lugar al delantero Arthur Cabral, quien juega en la primera categoría del fútbol de Suiza con el Fútbol Club Basilea​​.
A sus 23 años de edad, Cabral, ha demostrado buenas habilidades en la Liga de Suiza. Su rapidez y viveza en el área chica, son unas de las tantas cualidades que tiene este atacante goleador, quien posiblemente sea titular frente a Venezuela este Jueves.
Y si es titular, ¿cómo neutralizarlo? - ¡Análisis!
Si Arthur Cabral llega a salir desde el arranque del partido, los defensores locales deberán ser cuidadosos con este ariete eficaz.
Lo ideal, seria mantener una comunicación entre los zagueros centrales Vinotinto, con el fin de no dejar jugar al delantero que milita en Suiza.
Esta tarea, desde mi opinión, la puede hacer muy bien Nahuel Ferraresi. Es muy inteligente a la hora de quitar el balón y tiene solidez en su posición.
On Friday, September 24 of this year, the Brazilian national team announced its 25 warriors for this triple date of the South American qualifiers, where they will be facing the aforementioned Vinotinto, Colombia and Uruguay.
Who was left out of Brazil's call-up list?
The player of Club Atlético de Madrid, Matheus Cunha, was left out of the call-up of La Auriverde due to injury, giving place to forward Arthur Cabral, who plays in the first category of Swiss soccer with Football Club Basel.
At 23 years of age, Cabral has shown good skills in the Swiss League. His speed and liveliness in the small area, are some of the many qualities that this striker has, who is likely to start against Venezuela this Thursday.
And if he starts, how to neutralize him? - Analysis!
If Arthur Cabral starts the game, the local defenders will have to be careful with this effective striker.
Ideally, the Vinotinto central defenders should communicate with each other so as not to let the Swiss-based striker play.
In my opinion, Nahuel Ferraresi can do this task very well. He is very intelligent when it comes to taking the ball away and he is solid in his position.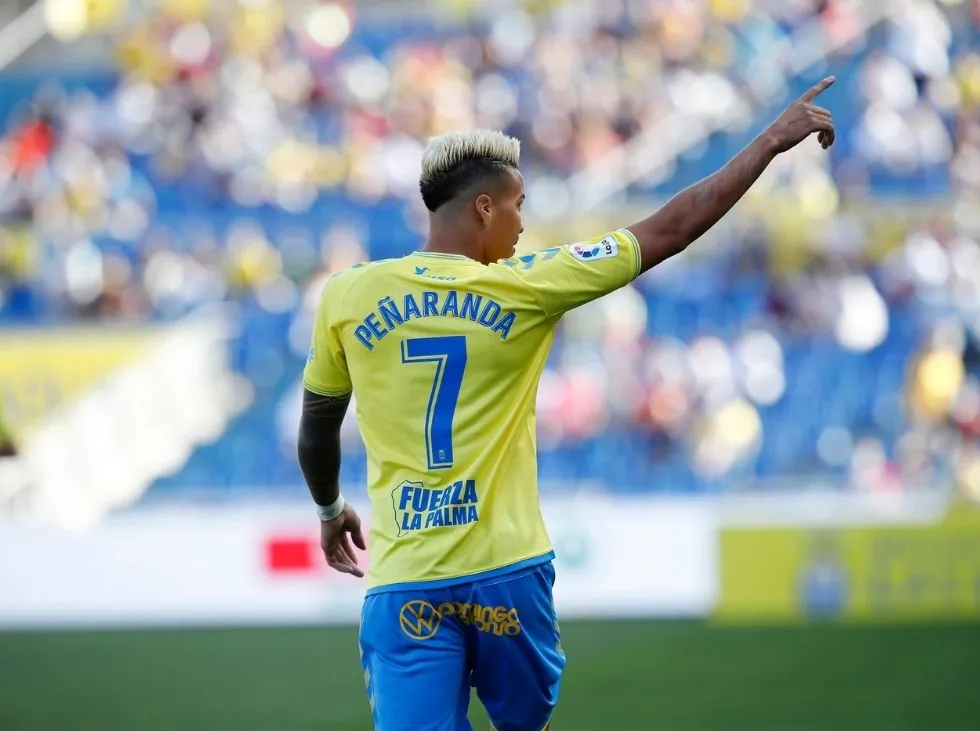 Fuente: Líder en deportes


¿Jugará algunos minutos Peñaranda?
No me sorprendería que Adalberto Peñaranda llegue a tener minutos contra Brasil.
Su presente en la segunda división de España, con el Unión Deportiva Las Palmas, ha sido destacable y sensacional. Además, en este encuentro, la selección local requiere de la habilidad y de la exquisita definición de él.
Pero, ¿qué no debe hacer Adalberto ? - ¡Análisis!
Luego de ser convocado por la selección nacional de Venezuela, Peñaranda, sabe que debe aportar su granito de arena al equipo en lo colectivo, en la actitud y en lo individual.
Pienso, que no debería abusar de la conducción del balón y ayudar a sus compañeros en el trabajo defensivo. Será un choque intenso y en donde los nuestros deben de mantener la concentración a como de lugar.
Will Peñaranda play some minutes?
I wouldn't be surprised if Adalberto Peñaranda gets some minutes against Brazil.
His current form in Spain's second division, with Unión Deportiva Las Palmas, has been outstanding and sensational. In addition, in this match, the local team needs his skill and exquisite definition.
But what should Adalberto not do? - Analysis!
After being called up by the Venezuelan national team, Peñaranda knows that he must do his bit for the team in the collective, in the attitude and in the individual.
I don't think he should abuse the ball and help his teammates in the defensive work. It will be an intense match and our team must keep their concentration at all costs.
---
¿Cómo te imaginas el duelo ante Brasil?

⚽

How do you imagine the match against Brazil?
---
---