[ESP-ENG] Primer asalto con muchas emociones en la Libertadores // First round with lots of emotions in the Libertadores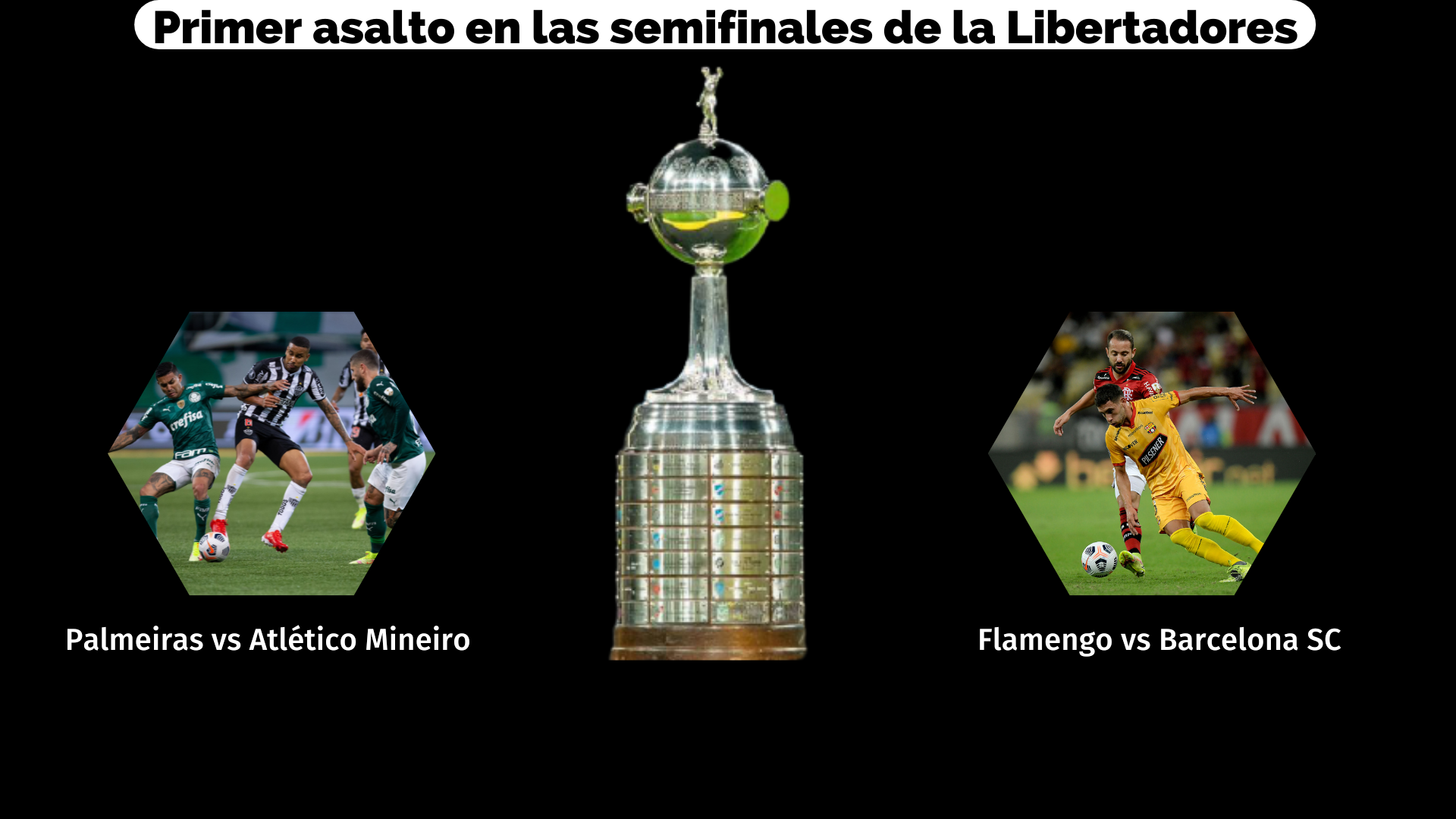 Fuente: Palmeiras vs Atlético Mineiro, Flamengo vs Barcelona SC y Trofeo de la Copa Libertadores.
Edición desde canva


Este 21 y 22 de Septiembre del año en curso, se disputaron los compromisos de ida correspondientes a las semifinales de la Copa Libertadores de América, en donde tres equipos Brasileños decían presente en esta instancia de la competición; solo un club Ecuatoriano se encontraba en la semifinales, y ese era Barcelona Sporting Club, equipo que venia de eliminar en los cuartos de final a Fluminense Football Club, de Brasil.
Ahora, ¿qué sucedería en el Palmeiras vs Atlético Mineiro?
El Estadio Allianz Parque, seria testigo de un amargo cero a cero entre dos equipos Cariocas que desde principio a fin buscaron abrir el marcador. Aún así, el cuadro de la visita, Atlético Mineiro, tendría una ocasión clara al minuto 42', en donde Hulk estrellaría el balón al travesaño, luego de tener en sus pies el gol desde el punto del penal.
Luego del termino de la primera etapa y con un Palmeiras apagado en el ataque, los segundos 45' minutos serian vibrantes y de mucho contacto en las aéreas.
Empezó el segundo periodo, con un Hulk más participativo y mentalizado en cambiar el penal que había fallado en el primer tiempo. Con dos remates violentos de larga distancia, dio a demostrar que el conjunto Galo fue superior en los 90' minutos.
Lo más triste de este cotejo, fue la salida de Diego Costa, quien salió en la fracción 55' con algunas molestias físicas.
¿Qué puedo analizar de este compromiso de ida?
Desde mi apreciación, los equipos salieron a guardarse todo para el choque de vuelta de la Libertadores. No se vio a un Palmeiras dominador, sino que se vio a un Atlético Mineiro con más herramientas en el ataque y con más volumen de juego en lo colectivo.
Si Palmeiras quiere avanzar a la gran final, debe corregir en la defensa y no dejar jugar tanto a Hulk, ya que este último puede ser determinante en la vuelta con su extensa experiencia como jugador profesional. Además, si lo dejan disparar de larga distancia, puede llegar hacer goles.
On September 21 and 22 of this year, the first legs of the semifinals of the Copa Libertadores de America were played, where three Brazilian teams were present at this stage of the competition; only one Ecuadorian club was in the semifinals, and that was Barcelona Sporting Club, a team that had just eliminated Fluminense Football Club, from Brazil, in the quarterfinals.
Now, what would happen in Palmeiras vs Atlético Mineiro?
The Allianz Parque Stadium would witness a bitter goalless draw between two Carioca teams that from start to finish sought to open the scoreboard. Even so, the visiting team, Atlético Mineiro, would have a clear chance at minute 42', when Hulk would crash the ball against the crossbar, after having the goal from the penalty spot at his feet.
After the end of the first half, and with Palmeiras' attacking was off, the second 45' minutes would be vibrant and with a lot of contact in the air.
The second half began with a more participative Hulk, who was determined to change the penalty he had missed in the first half. With two violent long-range shots, he showed that the Galo team was superior in the 90' minutes.
The saddest part of this match was the departure of Diego Costa, who came off in the 55th minute with some physical discomfort.
What can I analyze from this first leg?
In my opinion, the teams went out to save everything for the second leg of the Libertadores. We didn't see a dominant Palmeiras, but rather an Atlético Mineiro with more tools in attack and with more volume of play collectively.
If Palmeiras wants to advance to the final, they must correct their defense and not let Hulk play so much, as he can be decisive in the second leg with his extensive experience as a professional player. In addition, if he is allowed to shoot from long distance, he can score goals.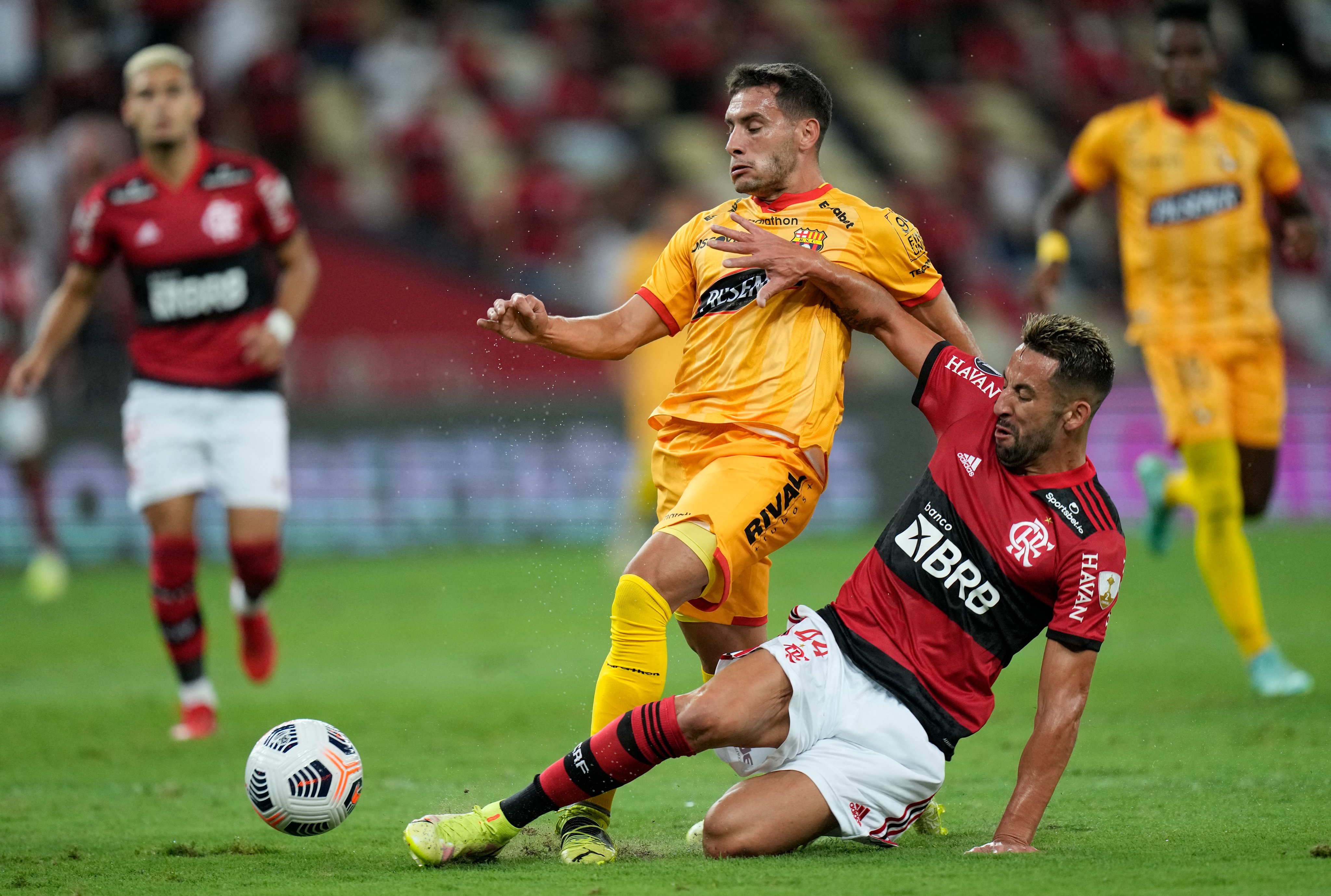 Fuente: Twitter


Flamengo vs Barcelona SC: ¡Un partido intenso y con muchas ocasiones de gol!
Con un nervioso a flor de piel, pero con la misión de rescatar un buen resultado, el equipo de Barcelona Sporting Club le tocaba visitar el Estadio Maracaná, con el fin de hacerle un partido correcto al Flamengo de Renato Portaluppi y compañía.
El elenco Ecuatoriano sabia que era imposible sacar un buen resultado en su visita al Maracaná, aunque, ellos entendían que si le jugaban de tú a tú, podían rescatar algo importante en la ida.
¿Qué sucedió en el primer tiempo?
Los primeros 15' minutos fueron dominados por el conjunto de la visita, quien arrincono a un Diego Alves que fue crucial para atajar las ocasiones de gol de los futbolistas Ecuatorianos.
Luego de ir neutralizando los ataque del cuadro Canario, los locales tomarían las riendas del compromiso, con un Gabriel Barbosa saliendo del aérea y participando en las jugadas colectivo de su equipo.
Flamengo vs Barcelona SC: An intense match with many scoring chances!
With nerves on edge, but with the mission of rescuing a good result, Barcelona Sporting Club had to visit the Maracana Stadium, in order to play a good game against Flamengo of Renato Portaluppi and company.
The Ecuadorian team knew that it was impossible to get a good result in their visit to the Maracana, although they understood that if they played as equals, they could rescue something important in the first leg.
What happened in the first half?
The first 15 minutes were dominated by the visitors, who cornered Diego Alves, who was crucial in saving the Ecuadorian players' chances.
After neutralizing the attacks of the Canario team, the locals took control of the match, with Gabriel Barbosa coming out of the air and participating in the collective plays of his team.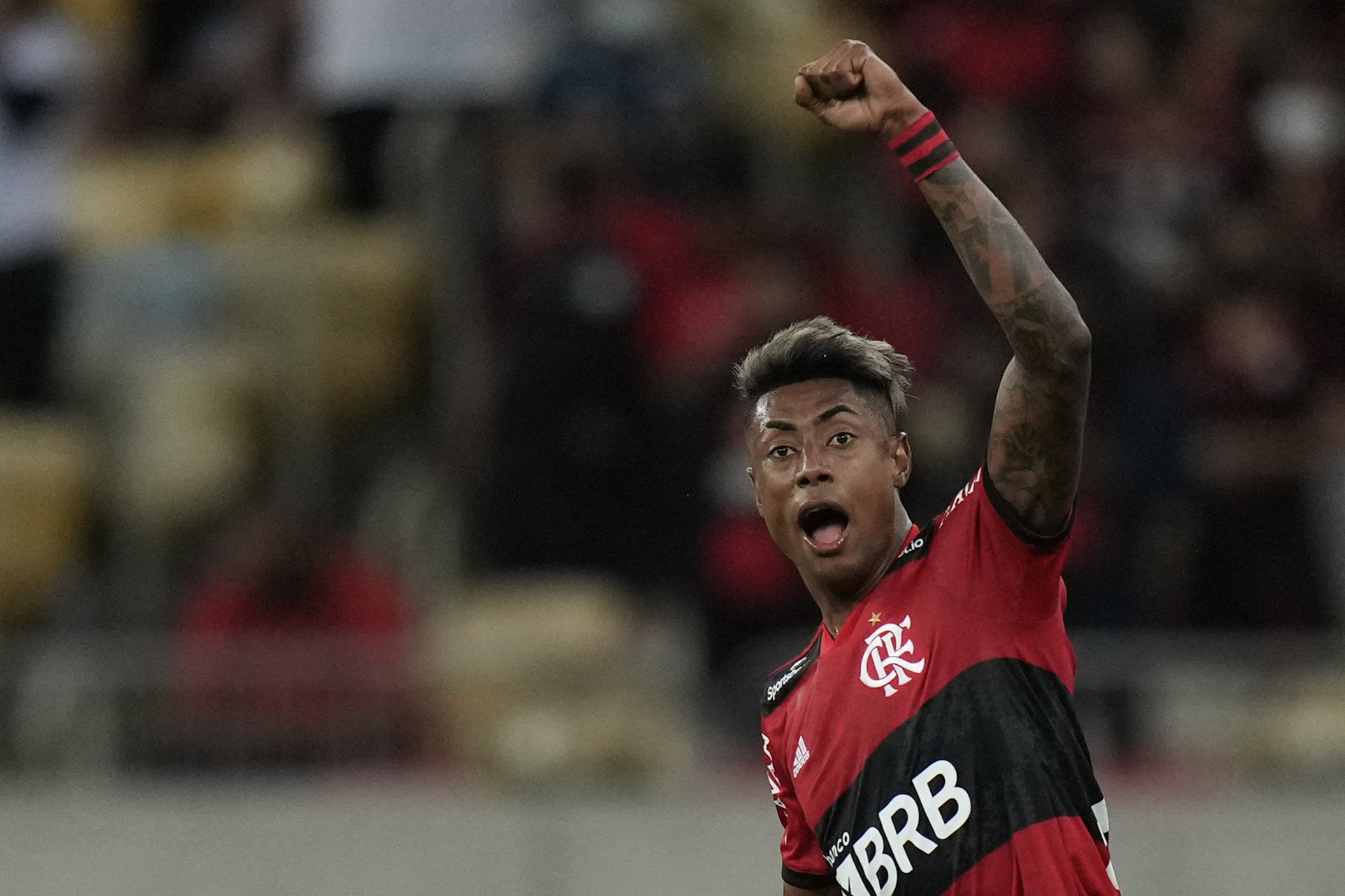 Fuente: Twitter


Y cuando nadie se lo esperaba, llega el primer gol
Al minuto 21' del primer periodo, Gabriel Barbosa, le da una asistencia exquisita a Bruno Henrique Pinto, quien de cabeza logra batir la humanidad del guardameta Javier Burrai.
En ese preciso momento, el Mengão se agigantaba y su juego colectivo en el mediocampo crecía de una manera muy rápida, logrando llegar con comodidad al arco del guardameta antes mencionado.
Y al 38', ¿qué pasaría?
En la fracción 38' y desde un contraataque, los Rojinegro, marcarían el segundo tanto del encuentro, tras una asistencia de Vitinho, quien vio sin marca a Bruno Henrique Pinto en el corazón del aérea, este último le daría con su pierna derecha el 2-0 en el marcador para el cuadro local.
Expulsiones y un segundo tiempo en donde no se movió el resultado
Con la expulsión del mediocampista Nixon Molina al 45+2' del primer periodo, los visitantes, empezarían un segundo tiempo en donde les toco ocupar espacios y no dejar que el marcador fuera abultado.
Después de varias llegadas de Flamengo, al minuto 89' saldría expulsado el zaguero central Léo Pereira, luego de propinarle un golpe a Luis Fernando León.
Finalmente, con un partido resuelto y con un resultado contundente desde lo mostrado en la primera etapa por los locales, sellaría el triunfo en este primer asalto en donde salió victorioso el elenco Brasileño, pór dos a cero.
¿Y que tengo para analizar?
Sin duda alguna, Flamengo, mostro virtudes y una reacción rápida para voltear el juego a su favor, con jugadas colectivas que hicieron bajarle el ritmo de juego a la visita.
Aunque, los Brasileños se vieron débil en defensa y en el mediocampo. Les costo mucho bajar y taparle los disparos a los Ecuatorianos, quienes poco a poco fueron ganando en confianza.
Para la vuelta, el Ídolo del Ecuador, deberá arriesgar y estar concentrado para no conceder goles durante los 90' minutos.
El Martes 28 de Septiembre y Miércoles 29, se jugaran los compromisos de vuelta de la Copa Libertadores.
And when no one expected it, the first goal arrived.
At minute 21' of the first half, Gabriel Barbosa gave an exquisite assist to Bruno Henrique Pinto, who headed the ball past goalkeeper Javier Burrai.
At that precise moment, Mengão was getting bigger and bigger, and its collective play in the midfield was growing in a very fast way, being able to reach the goalkeeper's goal with comfort.
And at 38', what would happen?
In the 38' and from a counterattack, the Rojinegro, would score the second goal of the match, after an assist from Vitinho, who saw Bruno Henrique Pinto unmarked in the heart of the air, the latter would give him with his right leg the 2-0 on the scoreboard for the local team.
Expulsions and a second half in which the score remained unchanged.
With the expulsion of midfielder Nixon Molina at 45+2' of the first half, the visitors would start a second half where they had to occupy spaces and not let the scoreboard be bulky.
After several Flamengo attacks, at minute 89, central defender Léo Pereira was sent off after hitting Luis Fernando León.
Finally, with the match decided and with a convincing result from the first stage by the locals, would seal the victory in this first round where the Brazilian team came out victorious, by two to zero.
And what do I have to analyze?
Undoubtedly, Flamengo showed virtues and a quick reaction to turn the game in their favor, with collective plays that made the visitors slow down the rhythm of the game.
However, the Brazilians were weak in defense and midfield. They had a hard time getting down and blocking shots from the Ecuadorians, who were gradually gaining confidence.
For the second leg, the Ecuadorian idol will have to take risks and be concentrated to avoid conceding goals during the 90' minutes.
On Tuesday, September 28 and Wednesday, September 29, the second leg of the Copa Libertadores will be played.
---
¿Cuáles serán los equipos finalistas de la Copa Libertadores?

✔

Which teams will be the finalists of the Copa Libertadores?
---
---